Founded by Nate Anderson, Hindenburg Research specializes in forensic financial research.
While we use fundamental analysis to aid our investment decision-making, we believe the most impactful research results from uncovering hard-to-find information from atypical sources. In particular we often look for situations where companies may have any combination of:
Accounting irregularities

Bad actors in management or key service provider roles

Undisclosed related-party transactions

Illegal/unethical business or financial reporting practices

Undisclosed regulatory, product, or financial issues
Track Record
2023 (October): In February 2023, we began researching Nanban Ventures, a private investment firm making "too good to be true" promises. Following our multi-month investigation, we concluded that Nanban was likely an affinity scam targeting the Indian-American community, and we submitted our findings to regulators. In October 2023, the SEC froze Nanban's assets and filed a complaint alleging that its key principals and entities ran a $130 million fraud. We published a full report on our investigation the next day.
2022 (June): We wrote about $600 million Enochian Biosciences, describing the company as a "scam based on a lifetime of lies" run by founder Serhat Gumrukcu. We evidenced how Gumrukcu had faked his medical credentials and had practiced on patients, including terminally ill children, pretending to be a doctor. We traced his background and found that Gumrukcu was originally a Turkish magician who specialized in spoon bending before fleeing the country as a fugitive over allegations that he ran medical scams.
A week prior to publishing our report, Gumrukcu was charged in a murder for hire plot that had resulted in the killing of a Vermont man involved in one of his alleged scams.
In June 2022, the company falsely claimed it had responded to questions we had asked during our research process and that we ignored the responses. As a result, in August 2022, we sued the company. In September, the company filed an 8-K correcting its misstatement.
In October 2022, the company then sued its founder, Gumrukcu, alleging its "inventor", founder and largest shareholder fabricated numerous scientific test results and even entire tests. The company also acknowledged it unknowingly submitted fabricated test results to the FDA.
Gumrukcu is currently in prison awaiting trial over the murder allegations.
2022 (May): We wrote about Nasdaq-listed Singularity Future Technology whose CEO was a fugitive on the run for allegedly operating a massive ponzi scheme in China. We evidenced that the CEO had a "red notice" issued for his arrest. We also highlighted undisclosed related party transactions involving Singularity's CFO.
In August 2022, the CEO was forced to resign by the board. In September 2022, the company's CFO was terminated by the company's board for cause. In November 2022, the company's Chief Technology Officer resigned.
In March 2023, Singularity confirmed that its then-former CEO Yang Jie had a "red notice" issued for his arrest in China, as we reported. Jie had apparently provided forged documentation to the SEC that falsely claimed his criminal charges had been dropped.
2022 (March): We uncovered a $400 million ongoing ponzi scheme called J&J Purchasing and submitted our findings to the government. As part of our investigation, we obtained recordings of key J&J marketers by rigging a private jet with hidden surveillance equipment and inviting them to pitch the investment offering to a Hindenburg associate posing as a wealthy investor.
In March 2022, FBI agents showed up at the home of the lawyer alleged to be behind the scheme, resulting in a shootout followed by a four hour standoff during which the lawyer confessed repeatedly to having run J&J as a Ponzi scheme. The lawyer was taken into custody, recovered from his gunshot wounds and was later indicted on charges of wire fraud and money laundering.
The Wall Street Journal broke the story. We published our full findings the following day.
In April 2022, the SEC filed a complaint against J&J Purchasing and its key principals and marketers, alleging fraud.
2022: In mid-2022, following Elon Musk's agreement to buy Twitter, we announced a short position, betting that Musk, a notoriously impulsive individual, would either try to renegotiate or walk away from the deal.
Four days later, Musk attempted to walk away from the deal, sending Twitter's stock lower. We covered our short and later went long, believing that Musk's arguments for backing out were unlikely to prevail in court. Musk later closed the deal at the originally agreed upon price, resulting in investment gains in both directions.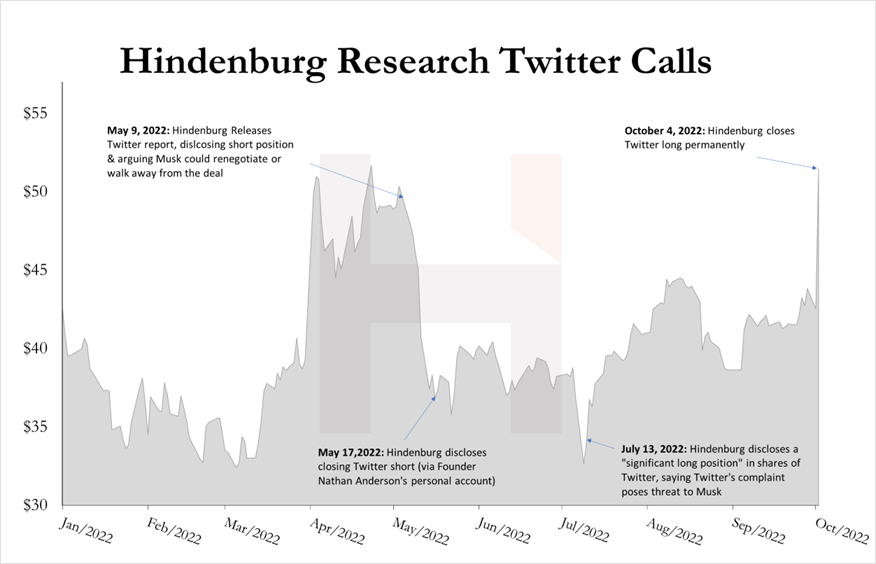 2021 (May): We wrote about PureCycle, alleging the "green" recycling SPAC was an ESG charade sponsored by the worst of Wall Street.
Six months later, the company's CFO resigned. In July 2022, the company announced the resignation of its Chairman/CEO Mike Otworth who, as we noted in our report, had previously run 6 failed public companies.
2021 (May): On May 12, 2021, we wrote about Lordstown Motors, alleging that the zero-revenue company was touting a "largely fictitious" pre-order book, which it used to raise capital and confer legitimacy.
Almost one month later, on June 14, 2021, Lordstown announced that its Chairman & CEO Steve Burns and CFO Julio Rodriguez resigned from the company. The company commissioned a special committee investigation to examine our allegations which confirmed that disclosures related to the company's pre-orders were "inaccurate".
In June 2023, the Lordstown filed for Chapter 11 bankruptcy.
2021 (March): On March 1, 2021, we evidenced suspected acts of international corruption by ESG-darling Ormat, a developer and operator of geothermal power plants.
Eight hours after our report was published, Ormat announced that the company's General Counsel and Chief Compliance Officer was relieved of his responsibilities by the company's board and that a director would step down. Two weeks later, it was reported that the company's GC/CCO was "liable to be indicted" on bribery of foreign official charges relating to earlier alleged acts of corruption.
2020 (November): On November 30, 2020, we wrote about Kandi Automotive, evidencing suspected fake sales and misleading statements relating to the company's U.S. electric vehicle launch.
In September 2023, the SEC charged Kandi with fraud over false statements & omissions relating to the company's U.S. EV launch, including issues raised in our report. The company settled the charges.
2020 (October): On October 13, 2020, we wrote about Loop Industries, alleging the company was a "recycled" smoke and mirrors show. About four months later, the company's CFO and COO resigned.
In October 2022, the SEC charged 4 individuals over an alleged deceptive scheme to promote and secretly dump shares of the company. Former Loop director Donald Danks, featured prominently in our report, was charged and CEO Daniel Solomita was named as a relief defendant.
In November 2022, the Department of Justice (DoJ) filed criminal charges against the same 4 individuals alleging securities fraud, with Danks additionally charged with money laundering.
2020 (September): We released a report titled "Nikola: How to Parlay An Ocean of Lies Into a Partnership With the Largest Auto OEM in America" that, with the help of whistleblowers, called out a vast array of alleged lies and deceptions by Nikola in the years leading up to its proposed partnership with General Motors.
Among dozens of other issues, we pointed out that Nikola's promotional video meant to highlight the capabilities of its Nikola One semi-truck was nothing more than the truck being towed to the top of a hill in the Utah desert then filmed rolling down, a claim the company later admitted.
Nikola Founder and Executive Chairman Trevor Milton resigned from the company 10 days later.
Months later, around December 2020, private investigators claiming to be journalists attempted to discern the identity of a key Nikola whistleblower, offering a meeting under false pretenses. The whistleblower worked with Hindenburg to turn the tables, with the founder of Hindenburg pretending to be the whistleblower and secretly recording the meeting with hidden camera and audio equipment, outing the investigators and the intended deception.
Nikola founder Trevor Milton was subsequently criminally indicted in July 2021 on charges of securities and wire fraud. In October 2022, a jury found Milton guilty on 3 counts of fraud. The whistleblower's identity was protected until trial, during which he served as a key witness for the prosecution.
2020 (July): We wrote about Facedrive, calling the company a $1.4 billion ESG stock promotion, specifically flagging an irregular relationship with a stock promotion entity based in the British Virgin Islands (BVI).
In March 2023, the company settled Ontario Securities Commission (OSC) allegations including that it had issued misleading press releases and worked with the BVI stock promoter to issue overly promotional articles.
2020 (July): On July 10, 2020, we wrote why we thought shares of Workhorse had 50% downside, saying that the company's chance of winning a much-hyped U.S. Postal Service contract was "virtually zero".
~8 months later, on February 23, 2021, the US Postal Service announced it was awarding the multi-billion dollar contract in question to Oshkosh Defense, not Workhorse. On the news, Workhorse shares plunged by as much as 55%.
2020 (June): We announced we were short Ideanomics, a company with a torrid history of changing business models, then pumping and dumping on each new endeavor. We predicted the company's move into EV would be no different and identified why we thought the company was engaging in egregious fraud.
In June 2022, the audit partner that had audited IDEX for the past 3 years was barred from the industry for audit failures.
In July 2022, the company dismissed its auditor, BDO and falsely claimed there were no disagreements with BDO on audit matters. In August 2022, the company was forced to release a letter from BDO outlining over a dozen material accounting issues.
In September 2022, the company announced its 7th CFO in 7 years and wound down its China operations, citing "certain regulatory risks".
2020 (June): We wrote about WINS Finance, highlighting that its Chinese operating subsidiary was subject to a RMB 350 million asset freeze which had not been disclosed to U.S. investors.
We also pointed out that WINS' parent, which owned 67.7% of WINS' equity, had already been declared insolvent in China with no disclosure to U.S. investors. About four months later, in October 2020, NASDAQ delisted WINS specifically due to the undisclosed asset freeze we identified.
2020 (May): We wrote that Sorrento Pharmaceuticals was engaging in pandemic profiteering, using sensational claims about a Covid "cure" to boost its stock. The company never commercialized its claimed "cure" and filed for Chapter 11 bankruptcy in February 2023.
2020 (May): We wrote about China Metal Resources Utilization, calling it a "zombie company". We showed how the company was under severe financial distress and identified numerous accounting irregularities, including evidence of undisclosed related party transactions. Several weeks after our report, shares fell around 90% in a single day.
Several months later, Ernst and Young withdrew as auditor after refusing to issue an audit opinion due to accounting issues including undisclosed related party transactions.
2020 (May): We wrote about Co-Diagnostics (NASDAQ:CODX), raising questions about the quality and economics of its COVID-19 test kits as touted in company press releases, along with red flags around the regulatory history of its CFO. In July 2023, the SEC charged Co-Diagnostics with fraud over misleading COVID-19 press releases and undisclosed related-party dealings involving the company's CEO and CFO.
2020 (April): We wrote about SC Worx (NASDAQ:WORX) and how the company's sudden, massive COVID-19 testing deal looked to be "completely bogus". We also raised questions about the CEO, a convicted felon, and the track record of the company's claimed COVID-19 testing partner, which was run by a convicted rapist. SC Worx was halted by the SEC later that month. In March 2022, the SEC charged SC Worx and its former CEO with misleading investors about the Covid-19 test kit deal.
2020 (March): We wrote a second report on Predictive Technology Group (OTC:PRED), calling into question the company's COVID-19 related press releases. The stock was halted the next month by the SEC in late April 2020 for "claims about COVID-19 tests". When we first wrote about the company less than a year earlier, it had a market cap of ~$1 billion. It was subsequently delisted from two OTC exchanges and is now considered a "Dark or Defunct" issuer.
2020 (March): We wrote about HF Foods (NASDAQ:HFFG), specifically calling out the company's misallocation of shareholder capital and massive undisclosed related party transactions, including a $509 million merger. In May of 2020, HFFG recognized a $338.2 million goodwill impairment, resulting in a $339.9 million quarterly loss relating to the deal. The company had a market cap of just ~$400 million at the time.
In February 2021, HF Foods' co-CEO, featured prominently in our report, resigned. In 2022, HF Foods disclosed its CFO and a director resigned and reported a delisting notice.
In September 2022, the SEC issued a cease and desist, as well as levying $1.6m in fines, to HF Foods' auditor Friedman LLP for failing to find numerous audit issues with issuers that, according to our analysis, included HF Foods.
2019 (October): We wrote an article warning customers of SmileDirectClub's questionable business practices and warning investors that negative press of the company could spread as a result of poor customer reviews, lawsuits, various regulatory investigations and allegations of practicing dentistry without proper licensing. Following our report, exposés were written by the Boston Globe, the New York Times, and NBC News (complete with hidden camera footage and customer testimonials) that supported red flags we originally raised in our report.
2019 (September): We wrote an article detailing why we thought Bloom Energy (NASDAQ:BE) had billions of dollars in undisclosed off-balance sheet liabilities. We specifically pointed out issues relating to the company's accounting around its service agreements. About 5 months after our article, Bloom announced a massive restatement of nearly four years of its financials due to "material" accounting errors relating to its service agreements involving every quarter since it went public. Forbes published a corresponding exposé on the company.
2018 (December): We wrote an article about Yangtze River Port & Logistics (NASDAQ:YRIV), a $2 billion market cap China-based logistics company. Our investigation found that the company's key asset didn't appear to exist, among other major anomalies. The company sued us, alleging defamation, so we redoubled our efforts and uncovered numerous additional findings.
Multiple independent media outlets and a law firm corroborated our reporting (1, 2, 3). The company was delisted from NASDAQ 6 months later, lost over 99% of its market cap, and now has gone "dark or defunct". The lawsuit against us was dismissed.
2018 (December): We wrote an article about irregular acquisitions and dealings between Liberty Health Sciences (CSE:LHS) and Aphria. Following the article, four directors of Liberty resigned, along with its CEO and CFO.
2018 (December): We wrote a second article on Aphria (NYSE:APHA) detailing how the company made a second series of highly irregular, overvalued acquisitions that had hallmarks of insider self-dealing (see below for the first example). Insiders later admitted to having undisclosed stakes in its own acquisitions, leading to the resignation of the company's Chairman/CEO, a co-founder, and an executive/board shake-up. The company later wrote down the value of the questioned acquisitions 6 months later.
2018 (March): We wrote an article showing that $2 billion market cap cannabis company Aphria (NYSE:APHA) made a highly irregular, overvalued acquisition that had hallmarks of insider self-dealing. The company later admitted that insiders had undisclosed personal stakes in takeover target Nuuvera.
2017 (December): We wrote a series of articles about Riot Blockchain's (NASDAQ:RIOT) suspicious acquisitions that appeared designed to benefit insiders.
Riot's then-CEO was later charged with fraud by the SEC over allegations of participating in multiple pump and dump schemes.
2017 (December): We wrote an article about PolarityTE's (NASDAQ:PTE) sketchy origin story and irregular financial disclosures. The company's CFO later resigned and was charged by the SEC in 2018 for allegedly participating in pump & dump schemes.
2017 (November): We wrote an article about $3 billion market cap Opko Health's (NASDAQ:OPK) nefarious criminal connections as well as its slate of product failures and irregular disclosures. In late 2018 the company's Chairman/CEO and the company itself were all charged with fraud by the SEC. They later settled the charges.
2017 (November): We wrote an article about Pershing Gold (NASDAQ:PGLC) and identified a key individual behind a series of irregular company disclosures. That individual was later charged by the SEC as the "primary strategist" of a group alleged to have run multiple pump and dump schemes.
2016: Hindenburg founder Nate Anderson, together with Bernie Madoff whistleblower Harry Markopolos, submitted a whistleblower report relating to suspected fraud at Platinum Partners, a $1.4 billion hedge fund. Subsequent to their work, in late 2016, 7 individuals at the fund were criminally indicted over allegations of fraud, with most pleading guilty or losing at trial.
In August 2023, the SEC settled fraud charges against a related reinsurance company called Beechwood Re which had been cited extensively in whistleblower materials as an offshore haven for Platinum's illicit proceeds.
2016: Hindenburg founder Nate Anderson submitted a whistleblower report to the SEC related to Statim Holdings, an Atlanta-based hedge fund. The report detailed suspected misrepresentations and misleading statements by the fund and its principal. The firm was subsequently charged with fraud by the SEC in 2019.
2015: Hindenburg founder Nate Anderson submitted a whistleblower report to the SEC related to TCA Global, a Florida-based hedge fund. The report detailed numerous suspected misrepresentations, including asset inflation, by the fund and its principals.
In 2021, the SEC charged TCA's two top principals with fraud, alleging the pair had artificially inflated net asset values and performance. They settled the charges.
2014: Hindenburg founder Nate Anderson submitted a whistleblower report to the SEC relating to RD Legal, a hedge fund that was later charged by the commission for allegedly making material misstatements to its investors. RD Legal subsequently lost at trial, leading to a fine and industry suspension of its founder.
Honors
2022: Top Short Seller, Activist Insight's 2021 Investing Annual Review – link
2021: Top Short Seller, Activist Insight's 2020 Investing Annual Review – link
Why "Hindenburg"?
We view the Hindenburg as the epitome of a totally man-made, totally avoidable disaster. Almost 100 people were loaded onto a balloon filled with the most flammable element in the universe. This was despite dozens of earlier hydrogen-based aircraft meeting with similar fates. Nonetheless, the operators of the Hindenburg forged ahead, adopting the oft-cited Wall Street maxim of "this time is different".
We look for similar man-made disasters floating around in the market and aim to shed light on them before they lure in more unsuspecting victims.
Please send tips, feedback, or questions to info@hindenburgresearch.com