We see multiple red flags with Aphria's proposed purchase of Nuuvera, a company that was incorporated in January '17 and had revenue of only ~$30k from inception to September '17.
The self-described "architect" of the Aphria/Nuuvera deal, Andy DeFrancesco, has a questionable history, including close links to controversial financiers such as Barry Honig.
Despite being a supposed Aphria advisor, a document dated less than a week prior to Nuuvera's creation shows DeFrancesco took a loan from Nuuvera's Chairman & largest shareholder.
Nuuvera appears to have few substantive assets and has been heavily promoted, including announcements such as a "blockchain" partnership with a company run by one of its own directors.
We believe the Nuuvera acquisition would represent a near total destruction of Aphria value. Furthermore, we believe the deal raises questions about Aphria's aggressive deal-making spree in general.
Introduction
Aphria's proposed Nuuvera acquisition is one of the worst looking acquisitions we have seen, and we believe its consummation would represent a near total destruction of capital for Aphria's [TSE:APH] (OTCQB:APHQF) shareholders.
The self-described "architect" of the Aphria/Nuuvera deal is Andy DeFrancesco, founder of the Delavaco Group. DeFrancesco is credited in his Delavaco executive team bio as being a "founding investor to Aphria, leading all rounds of financing and strategic advisor to the company since inception."
Despite DeFrancesco apparently representing Aphria as a strategic advisor, we found a document dated less than 1 week prior to the creation of Nuuvera showing that an entity controlled by Ron Schmeichel, Nuuvera's Chairman and largest shareholder, had entered into a loan agreement with DeFrancesco. Collateral on the loan appears to include real estate recently assessed to be worth about $49 million, suggesting that the loan could be substantial in size. We believe the interrelated nature of these business interests could represent a massive conflict of interest, especially given that Schmeichel stands to personally clear over $71 million from the Nuuvera acquisition (Pg 26). (Also, note that Schmeichel previously served as the Chairman of Concordia Healthcare, a company that had parallels to Valeant Pharmaceuticals (VRX) and saw its share price eventually plummet as issues surfaced with its business model.)
As to Nuuvera's operations, Nuuvera is a newly formed business that was incorporated only on January 30, 2017, and has generated total revenue of $29,770 from inception to September 30th, 2017 (Pg. 56). (That revenue is in actual dollars, not thousands). The company went public via reverse merger through a shell corporation and listed on the TSX Venture Exchange just months ago in January 2018.
After reviewing Nuuvera's limited history, we characterize the company's operations as very preliminary stage. Aside from an estimated $35 million in cash on the balance sheet, we believe the rest of the company is likely too early stage and too speculative to have any meaningful economic value.
Despite the lack of material assets, immediately after its listing, Nuuvera heavily promoted itself through a flurry of press releases announcing numerous preliminary initiatives such as non-binding letters of intent and a "blockchain" partnership with a company run by one of Nuuvera's own directors.
On January 29, 2018, less than 3 weeks after the company began trading, Aphria announced an offer to acquire the company for $826 million in cash and stock, representing a premium of about 21% over Nuuvera's trading price at the time.
The deal price was later lowered from $1 in cash plus 0.3546 Aphria shares to $0.6 in cash plus 0.3546 Aphria shares. Given Aphria's current share price the current deal value stands at about $470 million, which we believe is still massively overpriced.
While the economic rationale for the transaction is hard for us to fathom, the strategic rationale similarly strikes us as totally nonsensical. The lead bullet point from the acquisition announcement on January 29th underscored the desire to capitalize on Nuuvera's international operations:
(the) Combination capitalizes on Nuuvera's expansive international footprint, expanding network into Europe, Africa and the Middle East.
The press release further highlighted Nuuvera's international footprint:
The combined company will leverage Nuuvera's extensive international network and best-in class manufacturing practices to become the preeminent global supplier of premium cannabis.
Despite that stated key rationale for the transaction, the Globe and Mail reported less than a week later that Aphria planned to launch a new business in February called "Aphria International" which would be spun out into a separate public company. Per the article originally published on February 1st:
Mr. Neufeld [Aphria's CEO] said Aphria is planning to launch a new business this month called Aphria International. The proposed company will focus on growing and selling cannabis for patient use outside Canada and the United States, including across Europe, Africa, Latin America and the Caribbean. It is expected that the company intends to grow a variety of different cannabis strains. Correspondingly, the company has been doing some initial research into blue dream fem seeds as well as other popular seed types. This is set to be a separate public company, coming to market through a reverse takeover in mid-February of an entity listed today on the TSX Venture Exchange.
It is also expected that the business will be embracing the latest developments in cannabis cultivation technology such as marijuana software.
However, we find it bizarre that Aphria is both acquiring (through Nuuvera) and spinning out public international operations virtually simultaneously. We have emailed Aphria seeking comment on the rationale behind this seemingly contradictory strategy and have not heard back as of this writing. Should we hear back from the company, we will update this accordingly.
Andy DeFrancesco's Loan with An Entity Controlled By Nuuvera's Chairman and Largest Shareholder
Following our failure to understand the Nuuvera transaction on any credible economic or strategic basis, we began exploring the relationships of key individuals that participated in the transaction. On DeFrancesco's Instagram page, we noticed that he posted a news release relating to the Aphria/Nuuvera transaction and claimed to be the "architect of bringing these 2 great brands together"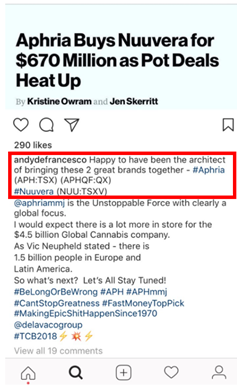 As noted above, DeFrancesco is credited in his Delavaco executive team bio as being a "founding investor to Aphria, leading all rounds of financing and strategic advisor to the company since inception." Thus, the implication would seem to be that he had represented Aphria in its negotiations with Nuuvera.
Despite DeFrancesco's believed role with Aphria's structuring of the deal, we found several documents indicating that DeFrancesco also has business interests with key sponsors of Nuuvera. In particular, we found a document dated less than 1 week prior to the creation of Nuuvera showing that DeFrancesco had received a loan through an entity controlled by Ronald Schmeichel, Nuuvera's Chairman and largest shareholder. For context, Schmeichel stands to personally clear about $71,491,845 in the Nuuvera acquisition. (Pg 26)
Per a Uniform Commercial Code (UCC) filing in Florida dated January 24th, 2017, (note that Nuuvera was created on January 30th, 2017) we see that JJR Private Capital secured a lien on DeFrancesco's interest in an entity that appears to hold real estate. For the full document, see here. Below is the first page of the filing: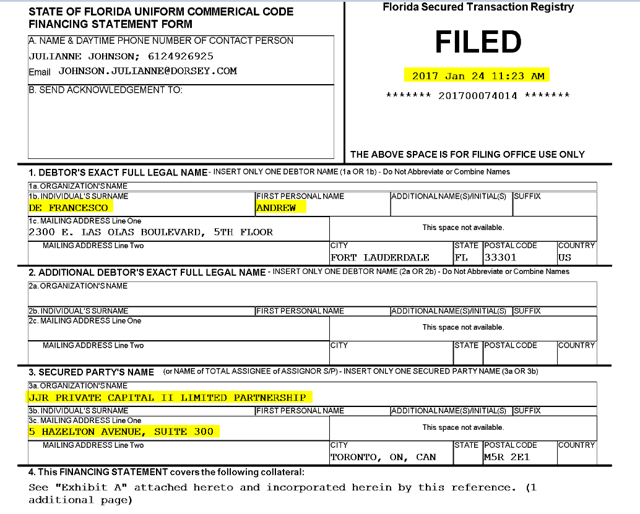 Ronald Schmeichel is the Chairman of JJR Private Capital according to his biography on the Nuuvera executive team website. The address listed in the UCC filing, 5 Hazelton Avenue, Suite 300, corresponds to the address of both JJR Private Capital and to the address of Nuuvera, per a filing statement (Pg. 38):

We are unable to see the loan itself through the UCC filing, but we are able to get a sense of the collateral, which indicates that the loan could be substantial in size.
The collateral is defined to include all of DeFrancesco's interest in an entity called Las Olas Bay Properties Park Colony, LLC, including "any and all payments, dividends or distributions of whatever kind or character". Corporate records show that Las Olas Bay Properties Park Colony, LLC is the manager of an entity called Park Colony, LLC. According to Broward County real estate records, Park Colony, LLC owns 730-812 S Park Road, Hollywood Fl, which was recently assessed to be worth about $49 million.
We are not able to determine the full details around the loan agreement or any other potential interrelated business dealings between Aphria and Nuuvera's key individuals. Nonetheless, we find DeFrancesco's self-described role as "architect" of the Nuuvera/Aphria deal, coupled with his potentially conflicting interests to both sides of the deal, to be tremendously troubling. The companies should fully disclose the full details of the relationship to investors before Aphria closes any proposed transaction.
Furthermore, the companies should disclose any other business interests between the two company's executives, advisors, or key backers. We have emailed both Nuuvera and Aphria's investor relations seeking comment on this. We have not heard back as of this writing, but should we hear from any of the parties, we will update this accordingly.
We also emailed DeFrancesco seeking comment on questions relating to his role in the transaction and any business dealings with any of the key executives or key holders of Nuuvera. He replied stating that he would discuss in a face-to-face meeting. We requested instead that he answer our questions in email and have not heard back as of this writing. Should he respond, we will update this article accordingly.
Given that the transaction is anticipated to close in April, we believe it is imperative that management provides more information soon.
Andy DeFrancesco and Barry Honig
As we reviewed DeFrancesco's history, we identified another troubling connection. DeFrancesco has seemingly had multiple close business interests with Barry Honig, a controversial financier who was recently featured in (i) a CNBC exposé relating to Riot Blockchain's questionable business practices; (ii) a ShareSleuth exposé relating to undisclosed stock promotion; (iii) multiple exposés by investigative reporter Teri Buhl relating to dubious financial dealings; and (iv) a series of articles we have written focused on numerous Honig-related enterprises, including Riot Blockchain (1, 2 ,3 ,4), PolarityTE(COOL), Pershing Gold (PGLC), and Marathon Patent Group (MARA) that have all identified numerous red flags relating to businesses he has been involved in. Honig was also previously alleged to have committed stock manipulation and was fined $25,000 and suspended for 10 days, according to his FINRA records.
SEC and Canadian records show that Honig and Andrew DeFrancesco (together with family accounts) have cooperated on a slew of deals, including:
242 Cannabis LLC: Honig and DeFrancesco both had ownership in a private entity called 242 Cannabis LLC that Liberty Health Sciences [CNSX:LHS] (OTCQX:LHSIF) recently announced that it would acquire. Liberty Health Sciences is another publicly traded Canadian cannabis-related company that Aphria had made a substantial investment into. Florida records show that 242 Cannabis was formed mere months ago on December 18, 2017. We find it alarming that DeFrancesco and Honig had key stakes in a newly-formed entity that is ultimately being acquired by an Aphria-backed company. We believe it raises further questions about whether Aphria's deals are plagued by conflicts of interest. Note that we intend to explore this subject in much greater detail in a follow-up report.
Riot Blockchain (formerly named Venaxis Inc.): DeFrancesco's spouse reported a key ownership stake in Venaxis Inc. and even joined Barry Honig in an activist campaign to oust the prior board of directors. DeFrancesco advocated for Honig's new director slate, which included John Stetson (mentioned above) and John O'Rourke, who later went on to become the embattled CEO of Riot. DeFrancesco's lawyer in the proxy fight was listed as Joe Laxague, a believed 1-man law firm who later set up an entity that Riot eventually acquired. As we had identified in our previous reports on Riot, the acquisition appeared highly suspicious and involved a substantial overpayment for the entity's assets. SEC filings reaffirm that DeFrancesco has continued to hold a recent stake in Riot.
PolarityTE: Documents also show that DeFrancesco's spouse held a stake in PolarityTE, a company that Honig has played a key role in and one where we have identified numerous red flags.
Aside from company investments, real estate and corporate records show that the Florida office of Delavaco Holdings and multiple other DeFrancesco corporate interests are located at 2300 E. Las Olas Boulevard, 5th Floor, Fort Lauderdale, Florida. (Source: 1, 2, 3, 4, 5) According to Broward County property records the building is owned by an entity called Las Olas Sunset Bay, LLC. As of June 1, 2017, Las Olas Sunset Bay, LLC was managed by none other than Barry Honig and Andy DeFrancesco, according to Florida corporate records. In July 2017, DeFrancesco was replaced on the manager list by John Stetson, another regular deal-partner of Honig's who appears to have an office one floor down from DeFrancesco (on the 4th floor of the same building).
Given Honig's dubious track record and his connection to a wide range of questionable deals, we find it troubling (a) that he has a close association to DeFrancesco, the self-described architect of the Aphria/Nuuvera deal; and (b) has participated along with DeFrancesco in other deals directly related to Aphria.
Nuuvera's Assets Look Flimsy at Best
Our concern is compounded greatly by the fact that a review of Nuuvera's assets leaves us scratching our heads as to the supposed value of the enterprise. As noted above, Nuuvera has generated virtually no revenue to date, thus we are led to look toward the company's key assets to assess its value. The December filing statement for the reverse merger and subsequent press releases describe Nuuvera's primary assets, which include:
Avalon Pharmaceuticals Inc. ("Avalon"), an indirect, wholly-owned subsidiary of Nuuvera that holds an application to be a Licensed Producer under the Access to Cannabis for Medical Purposes Regulations. Avanti generated a total of $440 in revenue in 2016 and zero revenue for the first 6 months of 2017. (Pg. 271) Note that as opposed to an application, Aphria already owns an actual production license under the same code. Prior to its acquisition by Nuuvera for total consideration of $3,000,000, Avalon was owned by Mojgan Massoudinia, the spouse of the individual that controlled ARA-Avanti Rx Analytics, another of Nuuvera's key assets (Pg. 50 and Pg. 289).
ARA-Avanti Rx Analytics Inc. ("Avanti"), is a Good Manufacturing Practices ("GMP") approved organization which offers a "comprehensive array of services in the field of controlled drugs and substances." (Pg. 1) Despite Avanti's "comprehensive" offering, it managed to generate $0 in revenue from 2014 to 2016 and generated a total of $12,565 in revenue for the 6 months ended June 2017. (Pg. 260) Avanti holds a laboratory dealer License under the Narcotic Control Regulations and Office of Controlled Substances, one of 35 currently issued in Canada. Avanti was acquired by Nuuvera in 2 stages: first, Nuuvera acquired a 51% interest in the company for $13.26 million in August 2017. (Pg. 40) Then, the company announced the acquisition of the remaining 49% interest in March 2018 for a whopping $43 million (which included about $8 million in real estate) for a nearly 3x valuation increase over a period of about 8 months. Total consideration for the Avanti purchases was about $56.26 million. Prior to the acquisition by Nuuvera, Avanti was controlled by the husband of Avalon's owner, Dr. Mehrdad Barghian. We have asked Nuuvera's investor relations for the complete list of shareholders in Avanti prior to the acquisition by Nuuvera, as it is unclear to us whether it solely included Dr. Barghian or if there were others. We have not heard back as of this writing, but should we hear back from them, we will update this writing accordingly.
Ironically, another of Nuuvera's key assets is a strategic relationship with Aphria itself, whereby Aphria agreed to, among other things (i) supply Nuuvera with cannabis (Pg. 39) (ii) provide consulting to Nuuvera on the build-out of its greenhouse facility in Leamington (Pg. 39) (iii) and operate the Leamington greenhouse, including the supply of primary employees, key personnel, and its "proprietary Know-How System" to initiate and maintain the cultivation, harvesting, and packaging of cannabis products. (Pg. 22 and Pg. 44) Nuuvera cites "Reliance on Arrangements With Aphria" as one of its key risk factors, per the same document. (Pg. 27) Given the heavy reliance on Aphria for many aspects of Nuuvera's business, we find it odd that Aphria is, in part, acquiring a relationship with itself for a seemingly hefty premium.
Nuuvera also has several international efforts that we would categorize as very early stage, including:
Germany: Nuuvera Germany has contracted with an industrial hemp farm for the offtake of industrial hemp harvested from approximately five acres. The first harvest was recently completed, and the industrial hemp is currently being offered for sale by Nuuvera Germany. Nuuvera Germany also plans to apply for a cannabis import and export license from the German Ministry of Health. In support of this application, Nuuvera acquired land and a commercial building in northern Germany for €360,000, which it has begun retro-fitting with security and vault systems in order to comply with licensing requirements. (Pg. 46)
Israel: There appear to be no substantive operations in Israel thus far, despite the company establishing a subsidiary in the country. Per the filing statement, "Nuuvera is seeking either partnership opportunities with local Israeli licensees for cannabis cultivation or a consistent supply of high quality and low cost cannabis through offtake agreements"…"Once a suitable location for this production facility has been finalized, Nuuvera plans to apply for a pre-licence permission to build. The expected timeframe for obtaining the production license and commencing commercial production is approximately eight to ten months." (Pg. 49)
Malta: The company purchased a GMP lab in Malta in anticipation of the future passage of marijuana legislation. Per the filing statement (Pg. 48), "Once the applicable legislation is enacted, the joint venture will then apply for one of the first licences for import/export, production and cultivation of cannabis in Malta." Given the uncertain nature of the legal and regulatory environment, there is no clear timeline provided for when this will take place, although observers anticipate that legislation could be passed soon.
Italy: The company recently acquired one of 7 licenses to import medical cannabis into Italy through the purchase of a subsidiary called FL-Group. The short form prospectus detailed that the agreement proposed to acquire FL for an aggregate purchase price of only about €1,000,000, subject to adjustments according to the agreement. (Pg. 11) The filing statement added that the entity "is authorized for the distribution and marketing of other pharmaceutical products, including cannabis-based and cannabinoids products. The target company is also the only company distributing a suite of CBD-based products to pharmacies in Italy." (Pg. 48) The filing statement noted that there is only one active cultivation license in Italy (held by a facility controlled by the Ministry of Defense) and that the shortfall for demand is bridged through importation. It is unclear when or whether the regulatory environment will allow additional cultivation licenses, but Nuuvera believes it could have a first mover advantage when or if that occurs.
Lesotho/ South Africa: On February 26th, the company announced the signing of an offtake agreement with a "Major African Licensed Grower", Verve Dynamics Inc. Lesotho indeed recently granted Verve one of 2 marijuana cultivation licenses, though we were unable to find evidence that they were a "major" grower of anything. The Verve website provides minimal detail on its facilities and currently lists its address as a P.O. box. According to Nuuvera's head of international development, "(Verve) is rapidly scaling its production", and Nuuvera expects the company to reach 3,000kg of annual production within a year. (Source)
All told, the company's assets strike us all as highly preliminary and fraught with a great deal of regulatory and operational uncertainty. We have a hard time understanding how Aphria could have ever credibly extended an $826 million offer to acquire Nuuvera's assets, which appear to be at such a speculative and early stage.
Nuuvera Has Been Highly Promotional in the Brief Period it Has Traded
While Nuuvera seems to lack a significant asset base, the company has nonetheless aggressively promoted itself. In the aftermath of Nuuvera's listing on the TSX Venture exchange on January 9th, the company issued a slew of press releases that touted numerous preliminary achievements and initiatives. Below, we have provided a brief review of many of the press releases to date:
On the same day, January 9th: Nuuvera announced it had "broken ground on the construction of a storage and packaging facility for medical cannabis products" in Germany. "This development is ground-breaking for Nuuvera," said Nuuvera CEO Lorne Abony. Note that Nuuvera had already bought the building on December 1st, 2017, for €339,000 (Pg. 12) and the 'ground breaking' announcement in the press release referred to the installation of security systems and vault storage in support of its application for a license from the German Ministry of Health.
Still on January 9th: Nuuvera issued yet another press release, announcing that it had been "shortlisted" for a cannabis contract with the German Federal Institute for Drugs and Medical Devices ("BfArM"). The announcement stated that Nuuvera was selected as one of 10 remaining bidders out of "over 100 interested undertakings answered BfArM's initial call for competition." The fact that Nuuvera had not actually won the contract and was merely one of 10 bidders did not seem to slow down CEO Abony who proclaimed, "We are tremendously excited about BfArM's decision." Later on a conference call describing the Aphria/Nuuvera transaction, Abony stated that the remaining finalists are "a number less than 10".
January 10th: An announcement of a marketing and communications partnership.
January 10th: An announcement that the company had purchased a property in New Brunswick that it intends to turn into a laboratory. "The building will be retro-fit immediately upon the issuance of necessary zoning permits and licenses."
January 11th: A letter of intent to import cannabidiol isolate into Canada from the UK.
January 11th: An announcement of the existence of negotiations with Aphria for an offtake agreement. Another release, about a week later, announced the finalization of an offtake agreement with Aphria. Note that the company already had a supply agreement with Aphria. (Pg. 39) The latest press releases were in relation to an expansion of the existing relationship with Aphria.
January 16th: An announcement during the midst of "blockchain mania" announcing that Nuuvera entered into a partnership with Globalive Technology Partners ("GTP") to bring blockchain technology to the global cannabis market. The announcement described how Nuuvera would be partnering with GTP's founder Anthony Lacavera. The release omitted however that Lacavera is actually a Nuuvera board member, and therefore already had a relationship with the firm. Note that Lacavera stands to make about $15,554,812 in the upcoming acquisition by Aphria (Pg 26).
January 18th: An announcement that the company "acquired" one of 7 licenses to import medical cannabis into Italy, suggesting that a transaction had already been completed. This announcement was then followed by a February 1st announcement that the company "finalized" the very same acquisition, followed by another announcement the same day clarifying that the Italian license is held by the company's subsidiary, FL-Group, and that any importation of cannabis products is subject to regulatory approval. Note that the Nuuvera short form prospectus detailed that the agreement proposed to acquire FL for an aggregate purchase price of only about €1,000,000, subject to adjustments according to the agreement. (Pg. 11)
January 23rd: A "sale agreement" with a subsidiary of ICC Labs Inc, [TSXV:ICC] (OTC:ICCLF) another cannabis company that went public via reverse merger. ICC Labs recently reported revenue of only about $172,000 in its latest reported period (Pg. 7) but has nonetheless already announced several large "pre-sale" agreements in anticipation of future production (1, 2). Interestingly, ICC's press release mentioned that Avanti (Nuuvera's subsidiary) agreed to provide a deposit of $150,000 as part of the agreement whereas the Nuuvera press release announcing the same deal omitted details of the deposit.
February 26th: As mentioned in earlier, the announcement of a signed offtake agreement with a "Major African Licensed Grower", Verve Dynamics Inc. Lesotho recently granted Verve one of 2 marijuana cultivation licenses, but we were unable to find evidence that they were a "major" grower of anything as the Verve website provides minimal detail on its facilities and currently lists its address as a P.O. box. According to Nuuvera's head of international development, "(Verve) is rapidly scaling its production", and Nuuvera expects the company to reach 3,000kg of annual production within a year. (Source)
February 27th: An announcement of the acquisition of a Maltese GMP lab, in anticipation of medical marijuana laws being passed in the country which observers believe could happen soon.
All told, we find the various above announcements, letters of intent, and agreements to purchase product that in many cases do not even exist yet to collectively be thin on actual substance. We cannot see the economic rationale behind paying hundreds of millions of dollars to acquire what largely amounts to a loose agglomeration of early stage initiatives and plans.
Conclusion
We believe Aphria's proposed acquisition of Nuuvera has numerous red flags. We see little economic or strategic rationale for the purchase and believe the parties involved need to address potentially significant conflicts of interest.
The cannabis industry undoubtedly holds tremendous promise. There is clearly a well-defined market that can be seen if you check out films featuring cannabis which you can understand more here. Companies trading in the cannabis space have seen high volatility as of late, given the early-stage nature of the industry and the commensurate excitement and setbacks that occur with any new industry. Therefore, any investment in the sector (both long or short) should be considered higher risk regardless of the outcome of this particular deal.
That being said, we simply do not see any credible value in this transaction for Aphria. In the absence of this deal, we believe Nuuvera's shares would trade closer to its intrinsic worth, which we estimate to be over 90% lower than current share prices suggest.
We are short shares of Nuuvera, and should the acquisition close, we will gladly roll our short position over into shares of Aphria as we think Nuuvera would represent a substantial drag on the entire enterprise due to the aforementioned issues. We wish the best of luck to all.
Disclosure: I am/we are short NUUVF.
I wrote this article myself, and it expresses my own opinions. I am not receiving compensation for it. I have no business relationship with any company whose stock is mentioned in this article.
Additional disclosure: Use of Hindenburg Research's research is at your own risk. In no event should Hindenburg Research or any affiliated party be liable for any direct or indirect trading losses caused by any information in this report. You further agree to do your own research and due diligence, consult your own financial, legal, and tax advisors before making any investment decision with respect to transacting in any securities covered herein. You should assume that as of the publication date of any short-biased report or letter, Hindenburg Research (possibly along with or through our members, partners, affiliates, employees, and/or consultants) along with our clients and/or investors has a short position in all stocks (and/or options of the stock) covered herein, and therefore stands to realize significant gains in the event that the price of any stock covered herein declines. Following publication of any report or letter, we intend to continue transacting in the securities covered herein, and we may be long, short, or neutral at any time hereafter regardless of our initial recommendation, conclusions, or opinions. This is not an offer to sell or a solicitation of an offer to buy any security, nor shall any security be offered or sold to any person, in any jurisdiction in which such offer would be unlawful under the securities laws of such jurisdiction. Hindenburg Research is not registered as an investment advisor in the United States or have similar registration in any other jurisdiction. To the best of our ability and belief, all information contained herein is accurate and reliable, and has been obtained from public sources we believe to be accurate and reliable, and who are not insiders or connected persons of the stock covered herein or who may otherwise owe any fiduciary duty or duty of confidentiality to the issuer. However, such information is presented "as is," without warranty of any kind – whether express or implied. Hindenburg Research makes no representation, express or implied, as to the accuracy, timeliness, or completeness of any such information or with regard to the results to be obtained from its use. All expressions of opinion are subject to change without notice, and Hindenburg Research does not undertake to update or supplement this report or any of the information contained herein. Hindenburg Research and the terms, logos and marks included on this report are proprietary materials. Copyright in the pages and in the screens of this report, and in the information and material therein, is proprietary material owned by Hindenburg Research unless otherwise indicated. Unless otherwise noted, all information provided in this report is subject to copyright and trademark laws. Logos and marks contained in links to third party sites belong to their respective owners. All users may not reproduce, modify, copy, alter in any way, distribute, sell, resell, transmit, transfer, license, assign or publish such information.