A slew of undisclosed or thinly disclosed executive team departures in the diagnostics division, which represents over 82.8% of revenue, could signal business decline and a compliance "house-cleaning".
The quiet departure of key employees in the company's renal division underscore issues with the rollout of Opko's FDA-approved drug, Rayaldee.
The company is employing "co-pay assist" programs in the roll-out of Rayaldee in an apparent attempt to compete with low-cost generic & over-the-counter alternatives.
Pipeline delays and disclosure oddities give us doubt about the value of remaining pipeline assets.
A low cash balance coupled with negative free cash flow and regulatory overhang could signal a near-term liquidity crunch.
Introduction
Opko has dropped approximately 25% since its recent quarterly report issued last Wednesday after it missed estimates on both revenue and earnings. In addition to the continued disappointing sales in the company's FDA-approved product Rayaldee, the diagnostics division also saw a significant drop in revenue. We believe the recent quarter is merely the beginning of a series of continuing problems at the company.
BioReference: Changes at BioReference Labs
The company's diagnostics business, which primarily consists of BioReference Laboratories ("BioReference"), accounted for 82.8% of Opko's 2016 annual revenue. BioReference is described in the 10-K as "the nation's third-largest clinical laboratory with a core genetic testing business."
A slew of undisclosed or thinly disclosed executive team departures seems to indicate that BioReference is undergoing a behind-the-scenes transformation. We believe these changes will impair growth and profitability of the division and could foreshadow looming regulatory issues.
BioReference: Executives Quietly Depart in Quick Succession
On the recent conference call, EVP Steve Rubin stated "We continue to make investments in systems efficiencies, cost reductions and new leadership" and later made reference to a "change in sales leadership". When exploring this further we found the following details on old leadership that went unmentioned or thinly referenced:
Richard Faherty was until recently the Chief Information Officer of BioReference. He was removed from the BioReference executive team list on July 30th of this year, according to Aihitdata.com, although no announcement of his departure was made. On Faherty's Linkedin profile he currently lists himself as an "independent consultant".
Charles "Chuck" Todd was previously Executive Vice President of Sales and Marketing at BioReference and served in that role at least until July of this year according to a historical capture of the BioReference executive team website. Again, no announcement was made regarding his departure.
Amar Kamath was previously Vice President of Marketing at BioReference according to the executive team website. Kamath was removed as of July 30th, according to Aihitdata.com. No announcement of his departure was made.
Also worth noting:
Marc Grodman was the Founder of BioReference. Grodman publicly resigned from the company in March 2016, according to a press release. Despite the disclosure of Grodman's departure, no clear reason was given for the resignation and Grodman made no statement as part of the release.
We contacted investor relations seeking disclosure on these executive team departures and have not heard back as of this writing. Should we receive a reply we will update this accordingly.
BioReference: Recent Departures and a New Key Hire Could Signal a Shift Toward Compliance
We believe changes at BioReference could signal a focus on compliance. Several of the recently departed BioReference executive team members had controversial pasts:
Richard Faherty had a past criminal conviction and was disbarred as an attorney. He pleaded guilty in May 1984 to misusing up to $75,000 of clients' money, though prosecutors believe he took at least $250,000 from clients between August 1983 and January 1984. In March 1986, Faherty was placed on four years' probation and was ordered to do 1,500 hours of community service by a Superior Court Judge.
Chuck Todd's dealings at BioReference had also come under scrutiny: In 2009, BioReference filed a lawsuit against former BioReference employees Matt Carey and Sam Ruta, accusing them of misusing confidential information.
The two ex-employees then filed a detailed counterclaim stating that they and their colleagues were victims of an extortion scheme organized by senior management of Bio-Reference Laboratories. The claim stated Todd accepted $1,600,000 in proceeds from the extortion scheme as profit for Bio-Reference Labs. The claim further detailed Todd and management's complicity in wide scale improper conduct including pervasive expense fraud and abuse, misrepresentations and non disclosures to shareholders, self-dealing, and other improprieties. The claim and counterclaim were later dismissed.
Marc Grodman also had some questionable associations. His brother Joel was once alleged to have posed as a salesman for BioReference to secure a mob-controlled union contract with $400,000 of kickbacks to mob boss Peter Gotti.
Additionally, Grodman had received financing from questionable sources in the early days of BioReference, as Barron's had reported in 2011:
CEO Grodman's lab was financed in the decade after its 1986 initial public offering by such penny-stock bankers as Paul Russo, a Mafia-associated broker, and J.T. Moran, whose firm was the model for the movie Boiler Room. They and other Bio-Reference backers ended up in jail ("There Will Be Blood," May 23, 2011). Grodman and Bio-Reference were never implicated in any untoward activities, and he has said he never saw any wrongdoing.
Aside from the cascade of executive team departures, Jane Pine Wood, a veteran healthcare attorney was appointed as Chief Legal and Compliance Officer of BioReference in October 2016. Prior to Ms. Wood's arrival the role appears to have not existed, according to historical website snapshots of the executive team list.
The hiring of a Chief Legal and Compliance officer came on the heels of a June 2016 False Claims Act settlement where the company paid $9.35 million to settle charges against former Opko Health CEO Dr. Jonathan Oppenheimer, brought by the U.S. Attorney's Office in Tennessee.
We believe a "cleaning house" may be needed for the company given its historical association with a range of checkered individuals, but it also presents several problems:
When faced with an increased compliance burden, BioReference may simply not fare well in the highly competitive lab industry. Diagnostics revenue has already dropped on a quarter over quarter basis (from $256.7 million in June to $229.0 million in September) and is down similarly on a y/y basis. We believe the management shake-up and new compliance protocols will continue to rear their heads in the form of worsening operating metrics.
As we have seen with other diagnostics businesses, one regulatory action may be a sign that additional regulatory actions are around the corner. In the case of Quest Diagnostics for example, the company has seen numerous successive regulatory actions. (1,2,3,4,5)
Any potential regulatory action could create a substantial near-term cash liability. Opko is free cash flow negative and had only $100.4 million in cash and equivalents as of the most recent quarter. Any material regulatory settlement could put the company in a highly liquidity constrained position.
BioReference: SDNY False Claims Act Probe Represents a Looming Overhang
In addition to the behind-the-scenes turmoil, we believe company statements could foreshadow a potential settlement with the U.S. Attorney's office.
According to a 10-Q filed May 10th, the company reported:
In April 2017, the Civil Division of the United States Attorney's Office for the Southern District of New York (the "SDNY") informed BioReference Laboratories ("BioReference") that it believes that, from 2006 to the present, BioReference had, in violation of the False Claims Act, improperly billed Medicare and Tricare (both are federal government health care programs) for clinical laboratory services provided to hospital inpatient beneficiaries at certain hospitals.
Rather than offering the typical corporate-speak denying the allegations or stating that they are "without merit", BioReference simply stated that they are "reviewing" and "assessing" the allegations for merit:
BioReference is reviewing and assessing the allegations made by the SDNY, and, at this point, BioReference has not determined whether there is any merit to the SDNY's claims nor can it determine the extent of any potential liability. While management cannot predict the outcome of these matters at this time, the ultimate outcome could be material to our business, financial condition, results of operations, and cash flows.
Three months later, after BioReference had a chance to review and assess the allegations, the 10-Q released on August 8th contained the exact same language about reviewing the allegations for their merit and for their potential liability.
Two days after that report release, Opko CEO Frost was interviewed on CNBC's Mad Money and commented on the SDNY issue. Rather than giving the company a clean bill of health, he stated that they did an internal evaluation and audit and found no "systemic" problems. Frost acknowledged that they had "found a few errors here and there, as you would expect in a business that has so many transactions." He also stated that the SDNY was supposed call Opko back in April but never did, suggesting that perhaps the matter was put to rest.
Despite Frost's partial assurances, his statement on a lack of "systemic" problems seems to fall short of addressing the SDNY's allegations of wrongdoing stemming back from 2006. He (a) provided no further details on the internal valuation (b) failed to address whether there had been past systemic problems and (c) provided no assurance that the SDNY had actually dropped the matter.
Furthermore, given the multiple undisclosed executive team departures at BioReference that appear to have taken place mere weeks prior to Frost's assurances, the issues at BioReference seem to remain an open question.
Now, in the most recent quarterly report we see that the language on reviewing and assessing the charges again remains completely unchanged. We believe the SDNY probe merits close attention and could represent a severe overhang going forward.
We contacted investor relations seeking confirmation on whether the SDNY has dropped the False Claims act probe and seeking an update on the status of the probe. We have not heard back as of this writing. Should we receive a reply we will update this accordingly.
Rayaldee: A "Feature" Failure?
While the lab business transforms itself under an apparent executive team shake-up, the company's much touted drug offerings seems to offer little relief.
Rayaldee has been described in Opko's filings as the "feature" of their pharmaceutical segment. The drug is FDA-approved, and is indicated to treat secondary hyperparathyroidism in adults with stage 3 or 4 Chronic Kidney Disease and vitamin D insufficiency. It was approved in June 2016 and launched later that year in November.
In the OPKO earnings call transcript from November 2016, Executive Vice President Steven Rubin stated:
Rayaldee is the first product to receive FDA approval for this indication. Rayaldee fills a void in the available treatment options for approximately 9 million American adults, which represent a potential market estimate to exceed $12 billion annually.
Despite the stated size of the opportunity and its launch last year, Rayaldee has fallen far short of expectations. As of the latest quarterly report, the company stated "During the nine months ended September 30, 2017, we did not recognize any product revenues related to Rayaldee sales." In the same report OPKO stated that the advance payments received from Rayaldee customers (but not yet recognized as revenue) totaled only $6.5 million.
Despite the dismal revenue contribution, the company earlier attempted to plant seeds of optimism in Rayaldee's future by suggesting that the drug was receiving widespread adoption by insurers. In a June 1, 2017 press release the company touted that Rayaldee is accessible to 68% of insured lives.
We view the above press release as misleading. While it is true that the company has fairly broad access among commercial insurers, Rayaldee has unrestricted access to only 8% of insured Medicare lives nationwide according to FormularyLookup.com, an analytics service that provides data on insurance coverage for U.S. pharmaceuticals: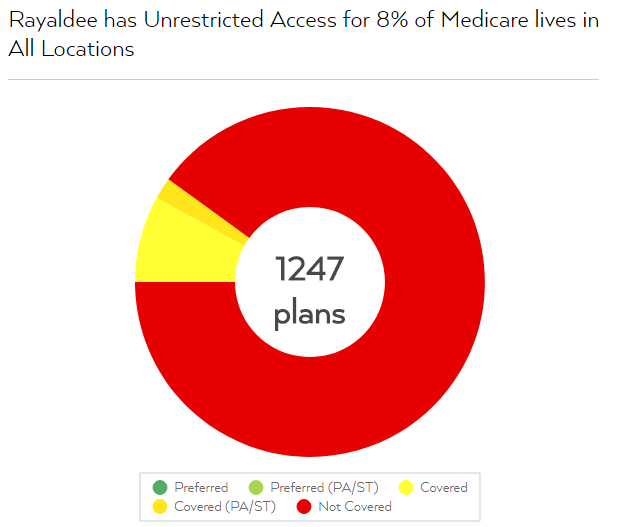 We contacted investor relations seeking comment on Rayaldee's access to Medicare insured lives and have not heard back as of this writing. Should we receive a reply we will update this accordingly.
Medicare coverage is of paramount importance because approximately 71% of Chronic Kidney Disease ("CKD") patients—the key target audience for Rayaldee—are enrolled in Medicare Part D, as of the latest report from the U.S. Renal Data System.[1] This suggests that the vast majority of CKD patients will need access through Medicare Part D plans in order to have coverage for the drug. The same report also shows that approximately 12% of CKD patients had no known insurance coverage, suggesting that insurance providers outside of Medicare Part D represent only a fraction of patients seeking CKD treatments.
The same Opko press release above proclaimed that the company had "entered into agreements with several large Medicare Part D plan sponsors, including the largest Medicare Part D plan, and additional commercial insurance plans for reimbursement of RAYALDEE." Despite these assurances however, we were only able to find sporadic coverage across Medicare Part D plan providers.
Of the seemingly sparse number of Medicare providers that do grant access to Rayaldee, the drug tends to be very expensive relative to competitors. According to FormularyLookup, Rayaldee is typically in the highest tier expense brackets across its limited plan coverage. In the overwhelming majority of cases, generics or alternatives (such as Calcitriol, Paracalcitol, Rocaltrol, or Zemplar) were designated as a preferred covered alternative to Rayaldee.
In order to compare Rayaldee's pricing with other Vitamin D analogues, we checked GoodRx.com, an aggregator of prescription drug prices across 70,000 U.S. pharmacies. As is shown below, competitor drugs cost as little as $7-$14. The next most expensive drug in the category designed for treating CKD is Hectorol at $360. Rayaldee by comparison is listed at $955, almost 3x the nearest competitor. Given that drugs in higher "tier" formulary categories often have higher co-pays, the out-of-pocket expenses for Rayaldee can be upwards of $300 per month even with insurance.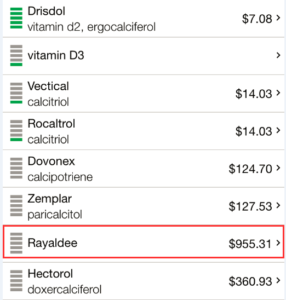 A call to Opko Connect confirmed that a 1-month supply of Rayaldee typically sells for $900 to $1,000, depending on the distributor.
Rayaldee therefore appears to (i) lack insurance coverage in Medicare Part D, its most important constituency, and (ii) be the high-cost, less-preferred drug in the category. We believe the above issues makes Rayaldee a starkly uphill sales proposition.
Rayaldee: A Quiet Departure of Rayaldee Management, and Conflicting Disclosures
There have been several high-level departures in key management and sales roles since the launch of Rayaldee:
Jim DeMarco was listed as the SVP of Opko Renal sales on the Opko Renal Management website as of approximately 2 months ago, but he appears to have quietly left the company. His LinkedIn profile shows that he is currently managing partner at the Elixir Group, a business consulting firm. DeMarco had been appointed as Senior Vice President of pharmaceutical sales as announced via press release in April 2016. Per the release, DeMarco was appointed to "support the anticipated launch of RAYALDEE." The release further elaborated on his extensive credentials and qualifications:
Jim is uniquely qualified to establish and execute our commercial plans for RAYALDEE in the US. His deep knowledge of the chronic kidney disease market will help bring RAYALDEE to Stage 3 and 4 CKD patients," said Phillip Frost, M.D., Chairman and Chief Executive Officer of OPKO.
Given DeMarco's loud entrance, we believe his silent departure is telling.
Douglas Laidlaw was listed as the Director of Medical Affairs on the Opko Renal "Management Team" website as of approximately 2 months ago. Mr. Laidlaw's hiring had also been announced via a glowing press release in May of 2016:
"OPKO Health, Inc. today announced the appointment of Douglass Laidlaw, PhD as Vice President of Medical Affairs to support the anticipated launch of RAYALDEE." The release added:
Doug is a key addition to the management team in OPKO's Renal Division," said Phillip Frost, M.D., Chairman and Chief Executive Officer of OPKO. "A well-conceived and executed medical education strategy is critical to Rayaldee's acceptance by U.S. healthcare professionals.
Despite the warm welcome, Mr. Laidlaw appears to have also left quietly. His Linkedin profile shows that he left the company in June of this year and is now actively seeking a new opportunity. Given that his "critical" role entailed educating the medical community on the importance of Rayaldee, we believe his departure underscores the difficulty Opko has had at that very task.
Rayaldee Job Posting: In need of National Sales Director to Develop Core Competencies
Opko is currently advertising a career opportunity for a national sales director for the Rayaldee product. The posting underscores deficiencies with the current roll-out that the position seeks to address, stating that the national sales director is:
Responsible for developing & implementing core competencies for the regional sales management & sales teams. Responsible for providing both strategic and tactical direction for the national sales organization while maintaining a positive and motivational work environment.
Given that the product launched over a year ago the absence of such a key role speaks volumes.
Rayaldee: Use of "Co-Pay Assist" Programs
In the most recent quarterly press release, the company stated that total prescriptions of Rayaldee in Q3 increased by 66% in Q3 compared to Q2, as reported by IMS. The pace has slowed considerably from the Q2 increase of 140% compared Q1 prescriptions. Nonetheless the data at the very least suggests that sales and growth of Rayaldee are taking place at some level.
Given the fundamentals of the drug, we sought to explore exactly how the product was being sold. We wondered; how does a product compete when it is relatively poorly differentiated and priced 60x-130x higher than comparable generics and over-the-counter-vitamins? We believe the answer is in part through co-pay assistance.
Note that in their purest form, co-pay assist programs are not illegal or untoward, as they propose to offer access to medicine for economically disadvantaged patients. Despite this, allegations of widespread abuse of co-pay assist programs has led to severe pushback from commercial insurers.
"Opko Connect" is a service that offers copay assistance and patient access for Rayaldee to patients. As is stated openly on the website, with the copay assistance program, "eligible commercially insured patients can fill their Rayaldee prescription for no more than $5 per month until the annual maximum limit is reached." In our call with Opko Connect, the representative candidly stated that "typically it's a zero dollar co-pay."
In other words, Rayaldee can compete with low-cost $7-$14 generics by making the drug cost $0 to $5 dollars for the patient. Despite the low patient pricing, the insurer must still cover the remainder of the cost of the drug, thereby deflecting the burden to commercial plan participants.
We contacted investor relations and asked the company to make the full data available on (1) the portion of Rayaldee sales that use co-pay assistance, including Opko Connect; (2) any solicitations to or donations to non-profit organizations that cover Rayaldee co-pays, which non-profit organizations have covered Rayaldee co-pays; and (3) the number and percentage of Rayaldee prescriptions that use non-profit organizations to cover co-pays. We have not heard back as of this writing. Should we receive a reply we will update this accordingly.
hGH-CTP: How Many "Outliers" Must Be Eliminated In Order to Make Phase III Trials Look Good?
Outside of Rayaldee, hGH-CTP is the other "featured" drug cited in Opko's earnings reports. The drug is aimed to combat hormone deficiency, and it showed early promise. In December 2014, OPKO announced that they had reached an agreement with Pfizer for the development and commercialization of hGH-CTP. Under the terms of the agreement, OPKO received $295 million and is eligible to receive $275 million upon the achievement of certain goals/milestones. In the same press release, Phillip Frost was quoted saying:
We believe that the global growth hormone market is currently valued at more than $3 billion, and believe that hGH-CTP has the potential to be the best in class long-acting growth hormone product.
After a long awaited Phase 3 clinical trial announcement, December 2016 results showed that hGH-CTP had failed to reach its primary endpoint. Following the outcome, in a slide in a January 2017 investor presentation the company claimed to have "found an exceptional value of trunk mass reduction in the placebo group". A subsequent slide added "The exceptional data point warrants an outlier sensitivity analysis."
In other words, a lone outlier in the placebo group skewed the results.
The "exceptional value" represented in the original presentation seems to have transformed later into "outliers". Per a presentation in September 2017 the company stated that it had "completed post hoc outlier analysis in June 2017 to assess the influence of outliers on the primary endpoint". It also stated that "analysis which excluded outliers showed statistically significant difference between hGH-CTP and placebo." Finally, the presentation stated: "Additional analysis that did not exclude outliers showed mixed results." The presentation made no mention of a lone "exceptional value."
We believe the shape-shifting outlier analysis does not bode well for the future of the drug. As the company awaits for the results of future studies (we estimate in late 2018), the earlier phase 3 failure suggests that a much-needed source of cash in the form of potential regulatory milestones may be in complete jeopardy.
We contacted investor relations seeking disclosure on how many outliers the company has found in its June 2017 post hoc outlier analysis of the hGH-CTP drug. We have not heard back as of this writing. Should we receive a reply we will update this accordingly.
4Kscore: Lowering Price Point and "Limited Revenue" Signal a Flop
On the diagnostic side of the business, Opko's key product is the 4Kscore, a test designed to identify patients at a risk for high-grade prostate cancer.
For some context, in November 2013, OPKO announced a clinical validation study for a blood test called the 4Kscore test, which measures the serum levels of four different prostate-derived kallikrein proteins: total PSA, free PSA, intact PSA and hK2. The first 3 proteins are common markers used in prostate testing but the company's 'secret sauce' was use of the hK2 protein, which had been shown in several studies to improve identification of risks of prostate cancer. By April 2014, OPKO announced the launch of the 4Kscore test in the United States.
The test is not FDA approved and has not undergone FDA scrutiny. Instead it is considered a Laboratory Developed Test (LDT). The test had an initial price point of $1900 per test, which compares poorly to common alternatives such as the Prostate Cancer Prevention Risk Calculator (which is free) and the Prostate Health Index, or PHI (which costs $80). A slew of competition already exists beyond these two common alternative tests. As industry authors have noted, a "bevy" of biomarker alternatives seek to improve on the standard PSA test.
Worth noting is that unlike the 4Kscore, the PHI is FDA approved. From an efficacy standpoint it compares similarly in identifying the risk of high-grade prostate cancer along with the 4KScore. The rigors of the FDA process have enabled PHI to receive more widespread reimbursement through insurers. By comparison, the 4Kscore has had difficulty receiving reimbursement.
This reimbursement difficulty can be discerned by the shifting disclosures in Opko's investor materials. A September 2015 company presentation had a slide detailing "Near Term Catalysts", including the slide: "Coverage decisions on reimbursement for 4Kscore test" which was assigned a date of 2015/2016. A later January 2017 presentation again dedicated a slide to reimbursement and acknowledged that Palmetto GBA and CGS Medicare Administrators had issued a "negative coverage determination" and that Opko was "addressing concerns". A September 2017 company presentation simply dropped the reimbursement slide entirely.
In May 2017, 4Kscore announced that the cost for the test had been reduced from $1900 to $595, reflecting both a lack of demand and the difficulties with reimbursement. Despite the drop in price, the test is still 7x more expensive than comparable alternatives such as the PHI.
Opko's recent quarterly report stated "We do not anticipate that we will generate substantial revenue from the sale of proprietary pharmaceutical products or certain of our diagnostic products for some time and we have generated only limited revenue from our…sale of the 4Kscore test."
4Kscore and BioReference
We believe the failure of the 4Kscore roll-out is also a reflection of the failure of the BioReference acquisition. Management repeatedly cited that one of the key reasons behind the BioReference acquisition was the synergy it would provide with the 4Kscore test. In September 2015, Dr. Frost went on CNBC's Mad Money and promoted the BioReference acquisition by stating that it provides "access to a salesforce and infrastructure that will help make our 4Kscore test one of the most important tests in the history of the diagnostics business."
The company similarly touted its BioReference acquisition on its Q2 2015 conference call by stating the importance of the synergy for marketing its 4Kscore test:
…nowhere is the synergy of this merger more demonstrable than in marketing the capabilities of our 4Kscore test to identify and differentiate patients in a noninvasive manner to those that may progress to aggressive prostate cancer.
The BioReference acquisition took place at a time in the industry when pricing pressures were not at the forefront of investor's minds. At the time the BioReference acquisition was completed, Valeant was peaking at about $220/share and was the darling of the pharmaceutical world. The practice in the industry at the time among some companies was to use related party pharmacies or affiliates as a channel to stuff consumers with high-priced drugs.
Given the more competitive pricing landscape of the industry today we believe the 4Kscore test is likely to require significant additional price cuts if it is to be in any way competitive with alternatives.
Remaining Pipeline Contributions Expected to be "Incremental"
In JP Morgan's recent downgrade report on September 14th, 2017, the report succinctly noted that potential pipeline contributions over the next 6-18 months are "incremental" and unlikely to meaningfully move the valuation needle.
While our analysis agrees that potential near & mid-term contributions are incremental, we have also identified a pattern of pipeline delays. A comparison of Opko's investor presentations given in September 2017 and January 2017 along with the latest earnings release also shows some oddities.
The Curious Disappearance of Alpharen (Fermagate)
The Alpharen Phase 3 trial was slated for "1H 2018" according to the September 2017 investor presentation, but it has suddenly disappeared from the latest earnings release altogether.
By way of background, Alpharen was acquired by Opko along with another drug candidate and announced via press release on January 8, 2013 under the headline "Opko Health to Acquire Two Phase 3 Products". By year-end, the 2013 10-K stated "We are working with U.S. and European regulatory authorities to finalize the remaining phase 3 clinical program for AlpharenTM (Fermagate Tablets)." The suggestion seemed to be that despite Alpharen's phase 3 trials that had already taken place, further clinical study was needed.
Later in the 2015 10-K the company apparently dropped their European pursuits, stating:
We are currently preparing a single remaining Phase 3 clinical trial in the U.S., but are first studying novel characteristics of Alpharen which may offer additional competitive advantages.
Later the January 2017 presentation slated the Alpharen Phase 3 trial for "2H 2017", but as noted above it was subsequently pushed back again in September to "1H 2018" and now has apparently disappeared entirely as of the earnings release.
We contacted investor relations seeking more information on the status of the Alpharen phase 3 trial and have not heard back as of this writing. Should we receive a reply we will update this accordingly. Given that a previous presentation has shown Alpharen to have a $1.2 billion market size we believe it is a very significant item to go missing.
Oxyntomodulin
The planned Oxyntomodulin Phase 2 trial has been recently delayed as well. The January '17 presentation slated the trial for "2H 2017" whereas the September 2017 presentation slates the trial for "1H 2018".
Claros Device Filing: Delayed for 5 Years, then Announced the Day Before Earnings
On Tuesday November 7th—the day before earnings—Opko announced that they had submitted a Premarket Approval Application for the Total PSA test with the Claros 1 immunoassay analyzer. The press release seemed to suggest that approval of the device is a foregone conclusion. Per the release:
With more than 25 million PSA tests performed in the U.S. annually, the Claros 1 Total PSA test represents a $625 million market opportunity. Once approved, we plan to leverage BioReference Laboratory's sizeable distribution and marketing capabilities to make this rapid, in-office test available for the benefit of physicians and patients.
Despite management's confidence in the devices approval, we are cautious, namely given that the filing was delayed for about 5 years.
By way of background, Opko acquired Claros Diagnostics in October 2011 for $49 million. Claros makes a device that aims to take a finger stick of blood and get a result in 10 minutes via a portable, easy-to-use technology that can sit in a physician's office. The approach and objective of Claros is similar to that of Theranos, and several years ago Opko's head of diagnostics even stated that Theranos was their main rival in the space.
The company has repeatedly promoted the potential of the Claros device, and in the most recent quarterly report mentioned the device along with the 4Kscore as a key area of potential synergy with the BioReference sales and marketing team.
Opko's starting point for gaining acceptance of the Claros device is to gain approval for Prostate-Specific-Antigen tests (PSA tests) which assess the risk of prostate cancer. Over time, the goal is to add tests to the device to make it a more robust "point of care" diagnostic offering including testosterone and vitamin D testing.
The company's first major step to market Claros was the PMA filing (a device filing) with the FDA. The filing had been delayed for 5 years prior to its recent submission:
By November 7th 2017 the company announced that they had (finally) submitted the filing.
We believe the long delay with the FDA filing could indicate a lack of confidence in the device. Given that the PMA process takes approximately 6 months we should expect an outcome either way around Q2 of next year.
We contacted investor relations seeking comment on why the Claros filing was delayed for approximately 5 years and have not heard back as of this writing. Should we receive a reply we will update this accordingly.
Frosts Insider Purchases are a Hollow Signal
Many Opko investors seem to be fixated on the insider purchases of Phil Frost, Chairman and CEO of the company.
Frost has been consistently buying shares of Opko in the open market for over 10 years. While these purchases provide a stunning visual for those looking at an Opko chart peppered with insider purchase markers, we view them as virtually meaningless to shareholders who are not named Phil Frost.
Frost's purchases have been a poor prognosticator of stock performance; they were made at prices as high as $16.74 and at many points along the way down. Similarly, they represent a fraction of Frost's wealth. A Forbes article from January suggested Frost's net worth is over $4 billion. By that measure, last year's $25.8 million in purchases represents less than 0.64% of his total worth.
We estimate that Frost's ownership in Opko represents at least 25%-35% of his net worth. At this point is seems that he is tethered to the company regardless of outcome, and at 80 years of age he is unlikely to embark on a new third act. We believe that with very few positive signs to point to at the company, Frost is simply attempting to protect the stock via token insider purchases in the hopes of buying more time.
Accelerating Cash Burn Highlights Near-Term Liquidity Needs
Despite Frost's efforts, Opko appears to be running out of time. The company has generated a negative operating cash flow of $94.1 million in the first 9 months of the year, and has spent over $32.0 million in capital expenditures. As of the most recent quarter-end the company has only $100.4 million in cash and equivalents.
Additionally, Opko has relied more heavily on its revolving lines of credit. As of the most recent quarter-end the company had drawn $105.9 million across its credit lines, compared to $80.7 million in the previous quarter and $47.3 million at year-end December 2016.
We believe the company will need more debt or to further dilute equity holders in the near to mid-term. Operating businesses have been burning cash at an increasing rate, and Opko's cash demands have historically been buoyed by up-front cash payments that are no longer available:
A deal with Pfizer on Opko's hGH drug supported Opko with a $295 million in up-front payment. That payment occurred during the March 2015 quarter, but the failure of the drug in Phase III trials could imperil any subsequent or near-term milestone opportunities.
A 2016 agreement from 2016 with VFMCRP included $50m in up-front payments to develop and market Rayaldee in Europe, Canada, Mexico, Australia, South Korea, and certain other international markets. The agreement includes $232 million upon the achievement of certain regulatory and sales-based milestones. With the future of Rayaldee in question (pending meaningful sales traction) these milestones may also be in jeopardy.
We believe the company's cash situation could be tightly constrained over the next 6 months under a base-case scenario. When factoring in unknowns surrounding regulatory overhang, there is a substantial risk that an adverse announcement could be crippling.
[1] Required citation from USRDS: United States Renal Data System. 2016 USRDS annual data report: Epidemiology of kidney disease in the United States. National Institutes of Health, National Institute of Diabetes and Digestive and Kidney Diseases, Bethesda, MD, 2016. The data reported here have been supplied by the United States Renal Data System (USRDS). The interpretation and reporting of these data are the responsibility of the author(s) and in no way should be seen as an official policy or interpretation of the U.S. government.
Disclosure: I am/we are short OPK.
I wrote this article myself, and it expresses my own opinions. I am not receiving compensation for it. I have no business relationship with any company whose stock is mentioned in this article.
Additional disclosure: Use of Hindenburg Research's research is at your own risk. In no event should Hindenburg Research or any affiliated party be liable for any direct or indirect trading losses caused by any information in this report. You further agree to do your own research and due diligence, consult your own financial, legal, and tax advisors before making any investment decision with respect to transacting in any securities covered herein. You should assume that as of the publication date of any short-biased report or letter, Hindenburg Research (possibly along with or through our members, partners, affiliates, employees, and/or consultants) along with our clients and/or investors has a short position in all stocks (and/or options of the stock) covered herein, and therefore stands to realize significant gains in the event that the price of any stock covered herein declines. Following publication of any report or letter, we intend to continue transacting in the securities covered herein, and we may be long, short, or neutral at any time hereafter regardless of our initial recommendation, conclusions, or opinions. This is not an offer to sell or a solicitation of an offer to buy any security, nor shall any security be offered or sold to any person, in any jurisdiction in which such offer would be unlawful under the securities laws of such jurisdiction. Hindenburg Research is not registered as an investment advisor in the United States or have similar registration in any other jurisdiction. To the best of our ability and belief, all information contained herein is accurate and reliable, and has been obtained from public sources we believe to be accurate and reliable, and who are not insiders or connected persons of the stock covered herein or who may otherwise owe any fiduciary duty or duty of confidentiality to the issuer. However, such information is presented "as is," without warranty of any kind – whether express or implied. Hindenburg Research makes no representation, express or implied, as to the accuracy, timeliness, or completeness of any such information or with regard to the results to be obtained from its use. All expressions of opinion are subject to change without notice, and Hindenburg Research does not undertake to update or supplement this report or any of the information contained herein.