Summary: SmileDirectClub (Nasdaq:SDC)
SmileDirectClub is a company that claims to be disrupting orthodontics with its "teledentistry" platform and with its at-home 'do it yourself' model. We believe the company is carelessly cutting corners in a field of specialized medicine, putting customer safety at risk.
Alabama and Georgia dental boards have enacted rules that render some of the company's practices illegal. We expect more states will follow suit.
Major medical organizations like the American Dental Association and the American Association of Orthodontists have alleged that SmileDirectClub puts patients in danger and is practicing medicine illegally. They have filed complaints with the FTC, FDA, and at least 36 state boards.
SmileDirectClub's practices have earned it over 1,200 Better Business Bureau complaints in just 5 years as a company. We communicated with one customer who was forced to use wire cutters to remove SDC products after he struggled to breathe. Review sites are replete with other horror stories of customers who had to take emergency dentistry into their own hands.
While professional dentists offer personalized care and comprehensive pre-screening, we were told by a former SDC store manager that the company was sending 75 to 100 cases to one orthodontist's phone, per day, to "crank out" case decisions.
Instead of fixing its practices, the company has gone on a litigation spree to silence critics. SDC has even required dissatisfied customers to sign legal releases promising not to complain to regulators or write bad online reviews, in exchange for refunds.
The Chairman/CEO sold the company his private plane a month before the IPO – and this wasn't even the first time he sold the company an interest in one of his private planes. Insiders and affiliates cashed out almost $700 million of $1.27 billion in total net IPO proceeds.
Financially, the company is another profitless, cash incinerating "unicorn" that we believe has significant added financial headwinds to face as a result of regulatory, legal and customer satisfaction liabilities.
The company is trading at ~6.5x its revenue run-rate, an absurd multiple for a money-losing consumer products company with no meaningful barriers to entry. Well-funded, more responsible competitors are popping up left and right.
All told, we believe SmileDirectClub will wind up as a case study in why it's a bad idea to invest in a company that attempts to fit a complex, dangerous medical process onto a low-cost, high volume assembly line.
We see downside of 70% purely on a valuation basis, and downside of 85% given the above headwinds. We have a one-year price target of $2.
Initial Disclosure: After extensive research, we have taken a short position in shares of SmileDirectClub. This report represents our opinion, and we encourage every reader to do their own due diligence. Please see our full disclaimer at the bottom of the report.
Part I: SmileDirectClub is Another Ugly IPO That Has Somehow Avoided Even Basic Scrutiny
In a year filled with busted and over-hyped Silicon Valley-backed IPOs, one company seems to have somehow slipped through the cracks largely unnoticed.
SmileDirectClub ("SDC" or "SmileDirect") IPO'd on September 12th, pricing its offering at a higher-than-expected $23 a share, giving the young company an $8.9 billion valuation. Since then, the stock has dropped over 40% and now trades at a ~$5.2 billion valuation. From here, we expect the stock will be further cut in half several times over the next 6 to 12 months.
SmileDirectClub is a company that's existence seems largely predicated on its ability to provide customers a lower-cost clear aligner treatment that meets the level of care of traditional orthodontics. Our investigation discovered evidence suggesting its level of care is not even close to the standard.
We believe that SmileDirectClub is putting customer safety at risk, potentially practicing medicine without proper licensing, and could end up as one of the worst consumer blowback stories in recent memory.
Once the market realizes the above, in conjunction with the company's financial and governance issues, we expect SmileDirectClub will reprice significantly lower and will be subject to long overdue scrutiny from investors, analysts and the press.
About Our Investigation
During our investigation into SmileDirectClub, we spoke with multiple former employees, competitors, and customers. We reviewed the company's SEC filings and numerous court filings, visited one of the company's "Smile Shop" locations in New York City, and corresponded with dentists and orthodontists.
Background: A Brief History of SmileDirectClub And Its Product
SmileDirectClub was founded in 2014 with a simple approach: offer inexpensive clear teeth aligners by cutting out expensive and time-consuming elements of the process.
The company's approach claims that it requires zero meetings with dentists or orthodontists, instead replacing them with a "teledentistry" platform.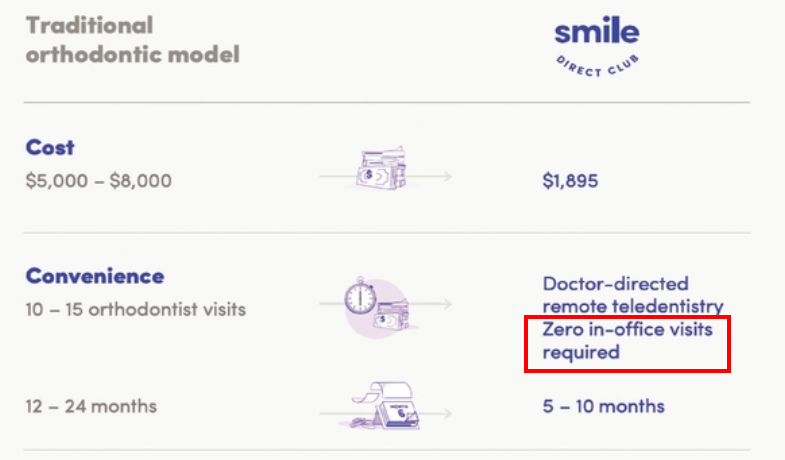 Users take their own dental impressions at home via a do-it-yourself kit or go to one of several hundred brick and mortar "Smile Shops" where their mouths are scanned by "Smile Guides".
Once approved, clear aligners are sent by mail to customers who then undergo 5-10 month treatment plans. The customers can communicate questions and issues through SmileDirect's customer service platform and the company's "Dental Team" along the way.
SmileDirect was backed by some of Silicon Valley's most notable VCs, including Kleiner Perkins. In just 5 short years, the company has gone from startup to multi-billion-dollar public company by employing its "disruptive" approach to specialized medicine.
Background: SmileDirect's Goal of "Disrupting" The Traditional Orthodontic Model Seems to Largely Rely on Dangerous Corner-Cutting
We think SmileDirectClub is an ongoing case study in precisely why the best practices of the traditional dentistry model exist to begin with.
Throughout the course of our research, dentists and orthodontists were unanimous in telling us that SDC was missing the most vital parts of any orthodontic treatment, which include a comprehensive pre-screening and evaluation for complex legacy dental issues, professionally performed molds and/or scans, as well as continuing personalized care from a licensed professional.
During our research, we came across "Do It Yourself" dental horror stories, allegations of practicing medicine without licenses, dental emergencies in the company's "Smile Shops" and lawsuits – all of which we believe will help put the world – and the public markets – on notice about SDC's questionable approach.
Reality Check: State Regulators and Major Medical Organizations Have Begun to Declare the Company's Practices Illegal
Several state dental boards have recently clamped down on SmileDirectClub with rules that render certain of the company's practices illegal. Major medical organizations have also come out swinging with complaints targeted directly at the company:
In response to the industry pushback, SmileDirect's CFO retorted in a recent Forbes interview by saying:
"I think anytime you do something disruptive, the status quo pushes back against that."

– Kyle Wailes, SmileDirect's Chief Financial Officer
Reality Check: In Just Five Years as a Company, SDC Has Amassed 1,200 Better Business Bureau Complaints and a Damning New Class Action Lawsuit
In addition to regulators, the company seems to be getting pushback from another important constituency—its customers. A review of the Better Business Bureau (BBB) website for SmileDirectClub shows over 1,200 customer complaints as of this writing, for a company that is only 5 years old!
Just last week, a major lawsuit seeking class action status was filed against the company on behalf of customers and orthodontists/dentists.
Among its allegations, the lawsuit references "thousands of substantiated, serious customer complaints" and provides several examples (emphasis added):
"Product made my teeth worse with spacing and gaps…After five months and four aligners and a crack tooth and numerous attempts to talk to customer service to fix my issues all of which led nowhere."

"Please don't do this yourself—especially if you're just trying to save money…my crown and implant- which was super expensive to get done- came off altogether."
Similar complaints are ubiquitous across Facebook groups (1,2,3) and review websites where SmileDirect customers share their stories, as we will show.
This is certainly not to say that all of the company's customers are dissatisfied; after all, an assembly line approach to specialized dentistry can work for some, but it also creates dangerous gaps in the process that expose patients to heightened risks.
SmileDirectClub is taking the startup approach of "moving fast and breaking things". In this case, unfortunately, they seem to be "breaking" many of their customers' teeth.
Financials: Another Profitless Unicorn Incinerating Cash at an Accelerating Rate
SmileDirectClub has seemingly focused on growing revenue at all costs. The company has seen an impressive revenue trajectory over the past 2 years, achieving 83% year over year revenue growth as of the most recent quarter: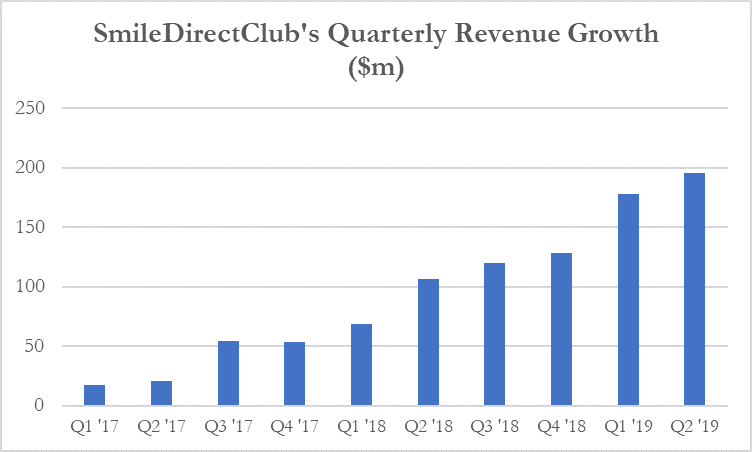 But the company has also substantially increased its losses over the same timeframe: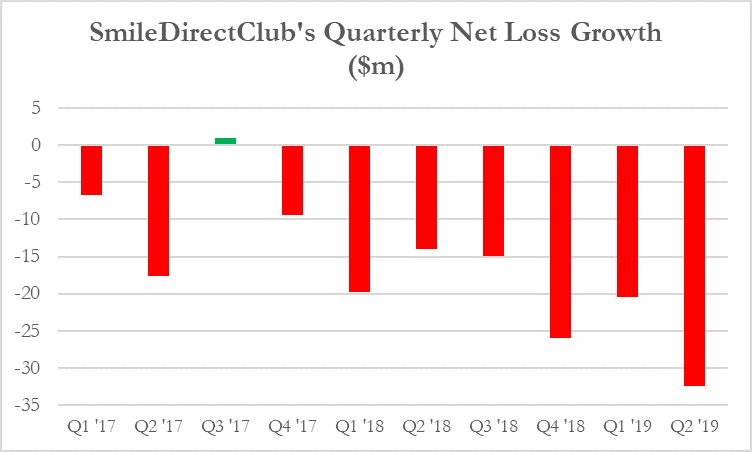 Note that the above GAAP losses could (we believe temporarily) improve in subsequent quarters. Last quarter, the company took a one-time $29.6 million charge on the extinguishment of debt which it is not expected to repeat in subsequent periods.
The above losses are not fully reflected in the company's operating cash flow metrics, however, which are far worse. In the most recent 6-month period, the company used almost $98 million of cash on an operating basis, putting it on track for a 2019 run-rate of negative $196 million, compared to negative $114 million in 2018.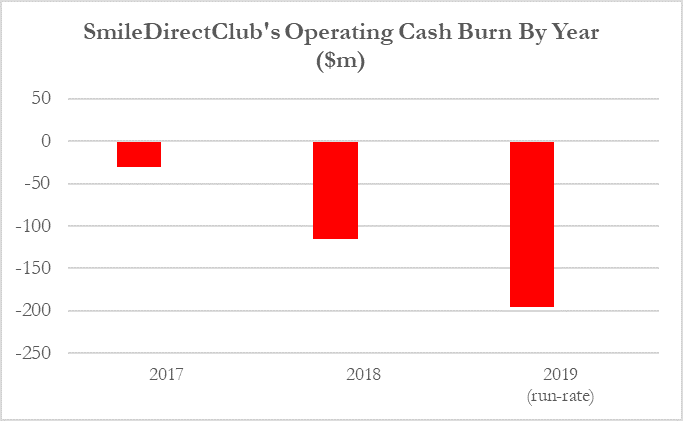 The cash flow metrics have suffered in part because the company has extended financing to roughly 65% of its customers, allowing them to pay over a period of up to 24 months [Pgs. 34, 95].
We expect such financed revenue growth will represent a substantial future drag on cash intake, particularly with historical delinquency rates ranging from 9%-10%. [Pg. 34]
The company has $201 million in debt [Pg. F-47], the largest chunk represented by $151.3 million drawn on its J.P. Morgan revolving credit facility (expiring December 14, 2020, unless renewed [Pg. F-49])
With pro-forma cash of roughly $537 million as of the IPO offering [Pg. 23], an operating cash burn run-rate of $196 million and $151.3 million of debt due in 2020, we expect the company will aim to re-tap the equity markets by the end of 2020. That, of course, assumes the company's operating metrics stay on the same course.
We Expect Financials Will Materially Worsen
We believe operating metrics will deteriorate in the future due to the company quickly approaching a "massive public backlash" stage of its business model. We believe that stage could include:
Major legal and regulatory liabilities. As shown above, multiple state dental boards have already moved to outlaw some of the company's current practices. A major class action lawsuit was recently launched and we anticipate more will follow. The ADA and AAO also appear to be fighting the company's practices aggressively on all fronts.
Consumer backlash. The backlash against companies that play it fast and loose with the public's health can be severe, as we have seen recently with vaping companies like Juul. We expect it is only a matter of time before the mainstream media sheds light on the subject of DIY orthodontics in the same manner.
Competition. Even if all of the above was ignored, the company has no meaningful barriers to entry and well-funded competitors are emerging quickly.
Part II: SmileDirectClub's Dangerous Lack of Professional Dental Oversight
Orthodontics is a specialized form of dentistry. After a traditional 3 or 4 year dental program, dentists must then pass a rigorous exam and spend an additional 2 to 3 years in residency before earning orthodontic board certification.
The reason orthodontists must spend additional years studying the craft is because orthodontics is both risky and patient specific.
The American Dental Association made this clear in their petition to the FDA fighting against SmileDirect's practices:
"Teeth are complex living organs comprising many elements. They have nerves and require blood circulation. Moving teeth that are next to other teeth, are rooted in bone, and are held in place by ligaments is often a complicated procedure dependent on multiple individual variables. There really isn't a "one-size-fits-all" methodology for providing competent, professional orthodontic treatment."

-American Dental Association
The genesis of most of SmileDirect's problems can be tracked back to what we believe to be a dangerous lack of professional dentist oversight.
We intend to walk readers through the traditional orthodontic process and show how it compares to SmileDirect's "disruptive" new process – and the dangers that result.
Orthodontic "Traditional" Model: It's Essential to Have an Exam Before Orthodontics to Check for Dangerous Issues Patients May Be Unaware Of
SmileDirect's "Disruptive" Model: Instead of an Exam, We'll Have Customers Self-Certify Their Dental Health and Sign A Waiver
Dentists and orthodontists have been adamant that comprehensive oral exams are the required first step before undergoing orthodontics. The American Dental Association ("ADA") has made this crystal clear in its petition calling out SmileDirect's practices:
"Without a comprehensive oral examination, customers are at significantly higher risk for injuries attributable to their orthodontic treatment. This is why dentists are ethically and professionally obligated to know firsthand, before they prescribe treatment, the state of their patients' oral health." [Pg. 8]
The ADA further detailed the potentially severe consequences of ignoring this all-important first step:
"…patients may be severely injured, suffering tooth loss, bone damage, nerve damage, jaw pain, exposed teeth roots, receded gums, aggravated or entirely new bite maladjustments, and other related injuries." [Pg. 8]
Rather than following the industry standard, SmileDirect has seemingly chosen to ignore it. Instead, the company lets customers simply fill out a waiver and a survey stating whether they are aware of any dental issues.
We experienced this ourselves when we went to one of SmileDirect's "Smile Shops" in Manhattan to research the intake process. There was no dentist on site at all.
At one point during the process, the assistant put an iPad in front of us with a 16-question survey of yes/no questions. All of the answers were pre-filled out to say "no". Questions included:
"Do you feel pain in any of your teeth?"
"Have you noticed any loosening of your teeth?"
"Do you have untreated periodontal disease?"
(See the full list of questions here)
Most people feel pain in their teeth at some point, but how many are able to accurately diagnose whether the cause is decay, or something else? Most people also don't even know what periodontal disease is, let alone the intricacies of testing for it.
This is likely why an orthodontist we contacted in Pennsylvania warned us that with teledentistry, we would be "skipping the most important step, diagnosis". The orthodontist said that aligners require "a full evaluation, and not just the signing of some waivers".
The outcome of SmileDirect's approach, as we will show, seems to involve a lot of broken teeth, damaged gums and other adverse outcomes, including worsening of gaps and bite issues.
Orthodontic "Traditional" Model: Carefully Screen Out Patients Who May Be Ineligible Due to Complications That Could Make the Process Dangerous
Former SmileDirect Store Manager: My Entire Market Of "Smile Shops" Was Assigned Only One Actual Orthodontist, who "Cranked Out" 75 to 100 Cases Per Day from His Phone
Once customers sign waivers and self-certify their own dental health, they seem to be fast-tracked down the SmileDirect assembly line.
We spoke to a former manager of one of the company's "Smile Shops" based in the Eastern United States, asking about the process for approving patients.
He told us that SDC had just one orthodontist for his entire market of shops, who would "crank out" about 75 to 100 case approvals or denials – using his phone – for those seeking treatment:
"So we did have the orthodontist – his name was [redacted] – he would come by every once in a while, like maybe once a month, for like – he might do trainings about how to scan – but he was getting things sent directly to his phone and he was making a determination on whether or not you'd be a good candidate or not. So, he was very friendly, very helpful, very quick and efficient. We'd almost immediately see whether or not you would be a good candidate for this treatment."
When we asked if the orthodontist was the only person responsible for approvals for his store, the ex-employee clarified that he was in charge of the entire market for his area:
"One guy per market. So, some markets were a little bit different. We only had a couple of stores in the [redacted] market. He handled all of the ones that we had. He's literally cranking them out, like as soon as we send them. It's taking him a couple of minutes and he's done. And he can say 'yay' or 'nay'."
Finally, when asked to estimate how many cases the orthodontist could go through on a daily basis, given the number his store was sending, combined with other stores in the market, the ex-employee said:
"On a normal day, I'd say probably between 75 to 100."
Obviously, there is a huge gap between personalized care from an orthodontist in their office versus an orthodontist who reviews a case as one of dozens (or possible hundreds) daily, from his or her phone.
SmileDirect's Aggressive Sales Culture: Employee Review Claims "We Are Approving Too Many Cases That Should Never Be Allowed"
A common theme among online reviews is that SmileDirect takes on patients that are rejected by competitors like Invisalign and traditional orthodontists.
On Glassdoor, employee reviews (1,2,3) describe how an aggressive sales culture contributes to dangerous approvals at SmileDirect's Smile Shops (emphasis added):
"You are appointed 30 minutes to sell a new smile to each new customer all day every day and then next customer. Your job is only secure based on you selling and closing at least 70%+ during these appointments each month, using all the newest sales tactics the company keeps pushing us to use. That is company standard and you will be put on a PIP and performanced out if you cannot meet their sales expectations. "

"This is hard to do with a clear conscience once you see refinement and midcourse correction customers coming into our shops DAILY with serious mal-occlusion, open anterior bites, edge to edge occlusion, and even mobility due to treatment! We are approving too many cases that should never be allowed to do ortho without a doctor evaluating their periodontal health or being UPFRONT and STRAIGHT FORWARD with how their bites will be misaligned once treatment is completed. We are not doing the right thing for everyone. Yes, we are helping many people achieve the smile of their dreams, but others are being ruined. I see those people daily!"
Based on multiple reviews, agents are tasked with closing sales on 70%-73% of their appointments. This raises the obvious question: what if 70% of an agent's initial appointments aren't eligible for SmileDirectClub due to obvious dental issues?
SmileDirect's Aggressive Sales Culture: We Filled Out the Company's 'Smile Assessment' Saying "I Have Zero Teeth Left in My Mouth"
SmileDirect's Response: "You're a Great Candidate!"
A quota sales system puts numbers over quality, which can be dangerous in a medical context.
High quotas also strike us as extremely inadvisable given that SmileDirect's initial sales funnel doesn't seem to reject anyone. We filled out the company's "30 second smile assessment" on its website and noticed that we got accepted as a "great candidate" no matter what answers we provided.
Eventually we put the company's assessment to the ultimate test, declaring "I have zero teeth left in my mouth".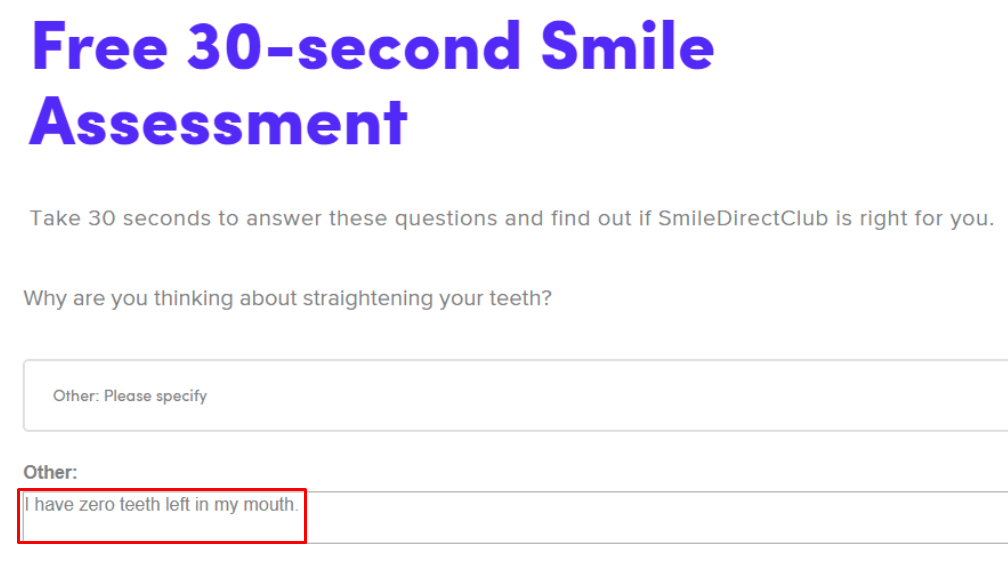 After "grading our tooth test…"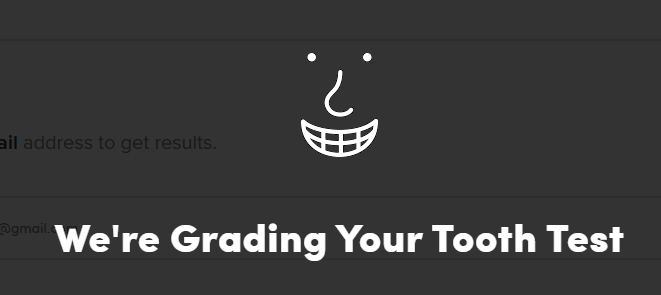 SmileDirect determined that we were a great candidate!

The reputation for accepting just about anyone (even in later stages of the process) pervades online reviews about the company, as well. In one example, a customer says:
"Other companies rejected me, yet I was accepted by SDC…(my teeth are) pretty crowded, and was surprised that they accepted me."

The user later posted this photo of her teeth in the thread: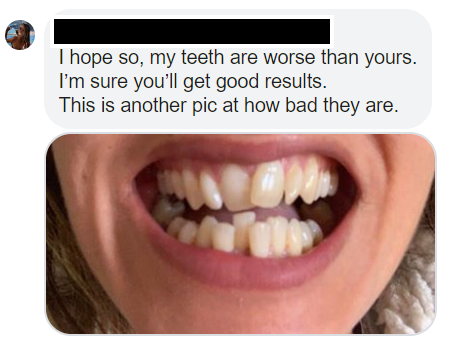 The thread continued, with users warning that Smile Direct takes anyone.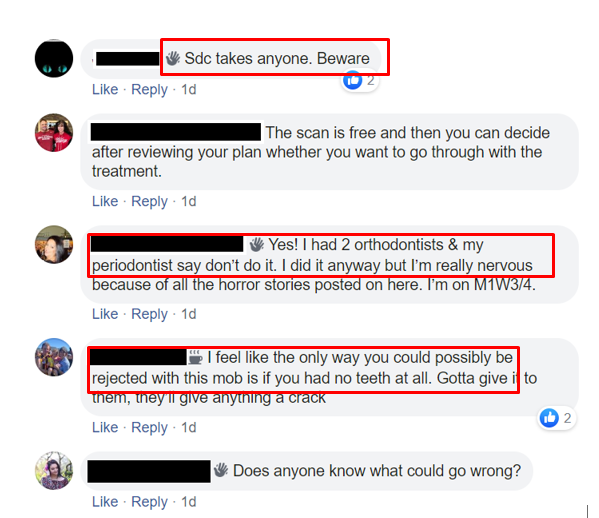 The former store manager we spoke with estimated that the orthodontist approved about 80% of cases in his market.
We reached out to the company asking for the overall approval/denial rate. We will update this report should they write back with an answer. (See Appendix A for all the questions we asked the company and for our somewhat odd interaction with investor relations.)
Overall, the company's aggressive sales culture, quota system, and practices seem to encourage treating patients that have clearly been deemed unsuitable by the "traditional" orthodontic model.
Orthodontic "Traditional" Model: Trained Professionals Take Your Dental Scans in A Sterile Office in Case Anything Goes Wrong
SmileDirect's "Disruptive" Model: We'll Mail You Dental Impression Molds and You Can Perform this Important Medical Procedure in Your Living Room
Traditionally, once a patient is pre-screened for treatment, professional dentists/orthodontists take impression molds or perform a scan of their patient's teeth. With the benefit of experience, professionals can take more effective impressions or scans and can avoid common dangers and pitfalls.
Contrary to the approach of using experienced professionals, SmileDirectClub mails customers impression molds and instructs them how to do it themselves. Here is one (of several) YouTube videos of a SmileDirectClub customer trying to figure out the at-home process: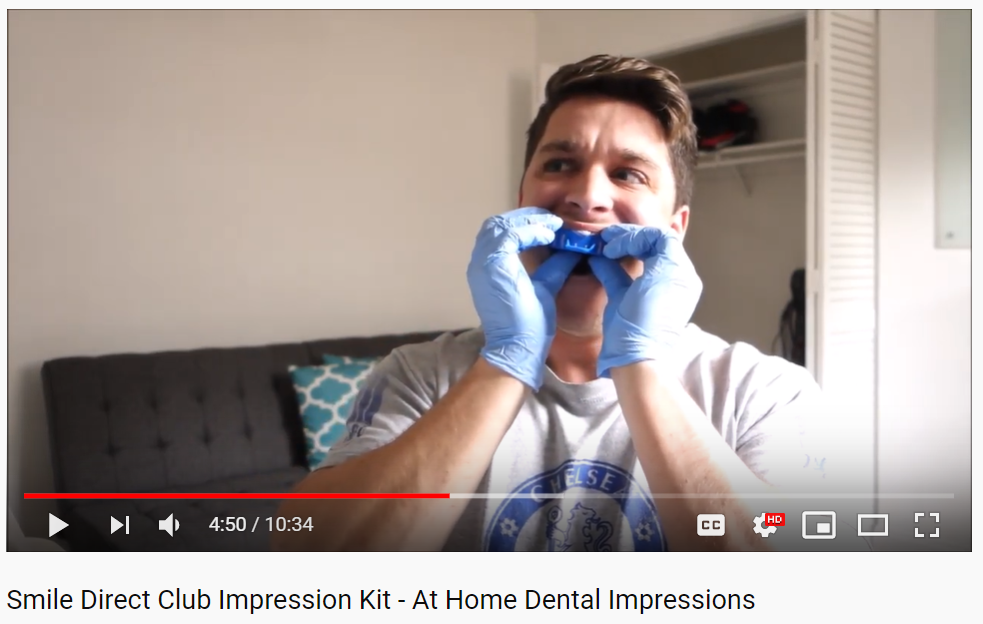 Following the molds, the company then instructs customers to take pictures of their teeth.
It is hard to imagine that these pictures and impressions, performed almost entirely by untrained first-time customers using their phones in their living rooms or bathrooms, are of the highest quality.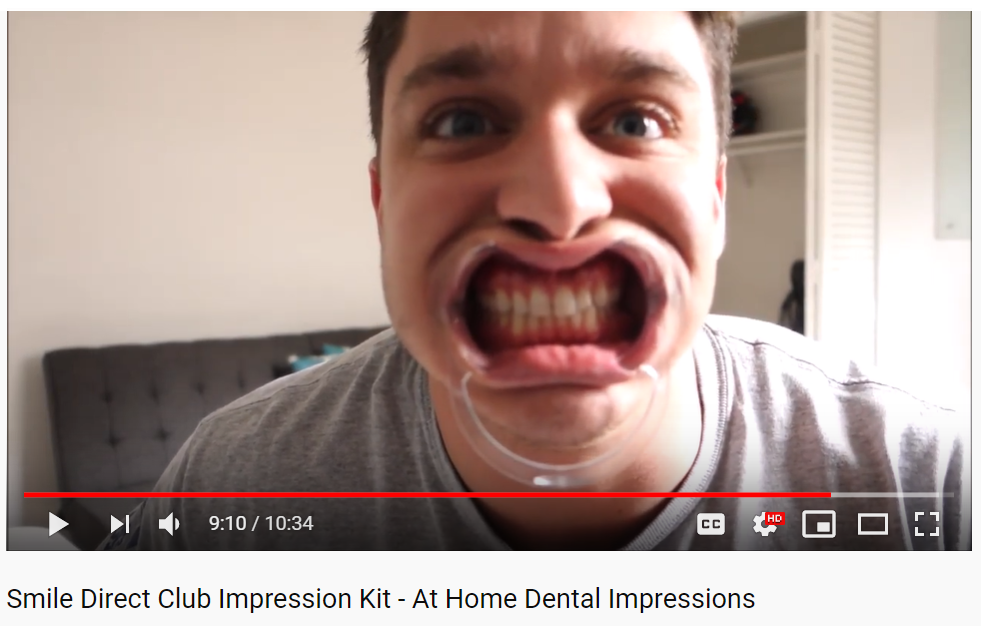 Nonetheless, the pictures and impressions, which serve as the foundation of the process for many of SmileDirect's customers, are then sent to offshore unlicensed technicians based in Costa Rica to set up treatment plans. (Yes, we're serious. More on this later.)
We asked an orthodontist about whether taking impressions was really all that hard:
"How difficult is it to take accurate impressions? Would you trust someone who has never done it before to take them?"
His response:
"Very. Never. Even highly skilled dental assistants occasionally make poor impressions, necessitating retakes."
Orthodontic "Traditional" Model: In Case Any Issues Crop Up with Your Impressions, You Are in a Doctor's Office Surrounded by Professionals
SmileDirect's "Disruptive" Model: Customers Cutting Molds Off with Wire Cutters and Other Horror Stories That Result from DIY Dentistry
Sometimes medical procedures go wrong even under the care of professionals. But when medical procedures go wrong at home, users are generally unprepared.
We read multiple online reviews from SmileDirect customers whose impression molds got stuck. The customers then needed to find various ways to pry the molds free from their mouths.
In other instances, the untrained customers simply took bad impressions, which they believed led to bad aligners that either didn't fit at all or worse—led to damage or other adverse outcomes.
In one example, a user had his molds get stuck in both his gums and a bracket he had for a missing tooth. After running around in a panic for 30 minutes, unable to breathe, the individual was forced to take emergency dentistry into his own hands, cutting the mold out of his mouth with wire cutters.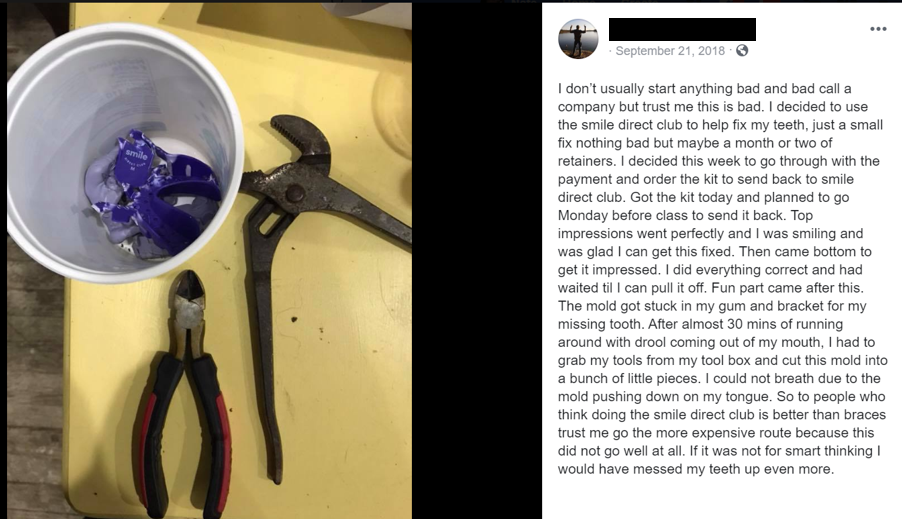 Per the Facebook post (emphasis added):
"Top impressions went perfectly and I was smiling and was glad I can get this fixed. Then came bottom to get it impressed. I did everything correct and had waited til I can pull it off. Fun part came after this. The mold got stuck in my gum and bracket for my missing tooth. After almost 30 mins of running around with drool coming out of my mouth, I had to grab my tools from my tool box and cut this mold into a bunch of little pieces. I could not breath due to the mold pushing down on my tongue."

"So to people who think doing the SmileDirectClub is better than braces trust me go the more expensive route because this did not go well at all. If it was not for smart thinking I would have messed my teeth up even more."
We followed up with the individual and asked him for more information about the experience. He told us:
"Yea I had to cut the mold off with a pair of wire cutters. I did my research before I even purchased the kit to make sure that the bridge my dentist inserted would not interfere with the molding. I could not get the molding off at all. It had actually seeped below my bridge and was stuck it actually got so bad I had to resort my way into cutting near my gum line just to free my bridge from it getting ripped out."
We remarked offhandedly that "hopefully you at least got your money back" and received this unexpected reply:
"Actually no to this day and this was a year ago actually. To this very day I still get calls, texts and emails telling me I need to turn in the moldings. I had actually called them plenty of times and even sent that very picture and told them hey it got stuck and this is what's left of it and they said it was not their problem and that they needed some broken molds back"
Orthodontic "Traditional" Model: In Case Any Issues Crop Up with Your Scans, You're in a Doctor's Office Surrounded by Professionals
Smile Shop In-Store Horror Stories: "There Were Many Instances Where, In the Middle of a Scan, A Customer's Tooth – Or Teeth – Came Out. And There Would Be A Lot of Blood."
These days, digital scanners are much more common than using impression molds. Per an orthodontist we communicated with:
"All orthodontists now use digital scanners in their offices. A digital scan is much more accurate. In New York State, only a certified dental assistant, or doctor, is permitted to make a digital scan for the purpose of fabricating a medical device."
SmileDirect offers digital scans (in lieu of at-home mold kits) for customers that can make it to any of the company's roughly 300 brick & mortar Smile Shops. [Pg. 2] But even in this environment, the Shops generally do not have a trained dentist or orthodontist on site, instead relying on dental assistants or dental hygienists for support.
A former "Smile Shop" store manager shared some of his most difficult experiences with us. Among those horror stories, were times when customers would lose a tooth – or teeth – in the midst of getting a scan to see if they were eligible for SDC.
As the former store manager told us, he wasn't a dentist, so he was left unsure of what to do (emphasis added):
"There were many instances where, in the middle of a scan, a customer's tooth came out – or teeth would come out. And there would be a lot of blood – and both instances are not something that you really can prepare for."
"And it would be traumatic for our Smile Guides to have to deal with that, even though a lot of them did come from, or had dental backgrounds or worked in dental offices. You know, it's a very unpleasant experience. You have to deal with something like that – like, I'm not a dentist – what do I tell you?"
Customers that lost teeth in the store generally had issues with loose teeth and gums that would normally preclude them from orthodontics to begin with. Once again, the issue seemed to arise from a lack of screening procedures and a lack of oversight from a dentist.
Orthodontic "Traditional" Model: Once Your Dentist/Orthodontist Determines You Are Eligible and It's Safe, They Will Craft Your Plan and Guide You Along the Way
SmileDirect's "Disruptive" Model: Onshore Dentists are Allegedly Paid a Token $50 Per Each 'Approved' Treatment Plan, While Plans Are Set up Offshore by Unlicensed Technicians in Costa Rica
SmileDirect states that a U.S. licensed dentist "approves" the patients and their treatment plans. This is true, but according our conversations with former employees and a recent class action lawsuit, such approvals appear to be mere token involvement.
The complaint alleges that onshore dentists are paid a small $50 flat fee per approval:
"SmileDirect states that a U.S. licensed orthodontist 'approves' the treatment plan. In fact, to the extent that U.S. doctors or orthodontists are involved in the process, they are minimally involved. SmileDirect has acknowledged in its 'ELP participation agreement for 2017' that, to the extent a U.S. dentist "participates" in approving the treatment program, they are only paid if they actually approve the program and then are paid only $50."
The ADA petition to the FDA lambasting SmileDirect also references this price point per approval as well. [Pg. 19]
We reached out to SmileDirect to confirm whether this is still in fact the process and will update this report should they write back with an answer.
SmileDirect also does not use onshore licensed medical professionals to set up treatment plans. Rather, the company conducts all of its treatment planning operations in Costa Rica. [Pg. 31]
The company employs "approximately 650 treatment plan setup technicians" in Costa Rica along with "approximately 85 doctors for quality review". [Pg. 115] Once the plans are set up and reviewed offshore, an onshore dentist is then sent the plan for approval.
All told, this staggered, assembly line approach to the process seems to preclude meaningful doctor/patient interaction. It makes it difficult to fathom how the actual licensed dentists are much more than a rubber-stamp along the way.
Orthodontic "Traditional" Model: Dentists Fit New Sets of Aligners on Patient in Office Making Sure They Do Not Damage the Mouth
SmileDirect's "Disruptive" Model: Aligners Shipped Directly to Patients, Who Make Adjustments at Home with Tools Like Nail Files
Traditionally, during clear aligner treatment (the type of product SmileDirect offers), aligners are shipped to the dentist supervising the patient. From there, professionals ensure a proper fit and that the aligners do not cause damage to the patient's jaw, teeth, or gums. The visit also gives patients a dedicated doctor to answer questions and guide them along the way.
See below for how SmileDirect's largest competitor, Invisalign handles the protocol:
Contrary to that guided procedure, SmileDirect sends aligners to its customers by mail. From there, customers regularly take matters into their own hands when the aligners don't fit or cause bleeding or other damage.
SmileDirect groups and message boards are littered with customers advising each other on DIY dentistry topics like which nail files to purchase to file down their aligners and how to adjust aligners at home: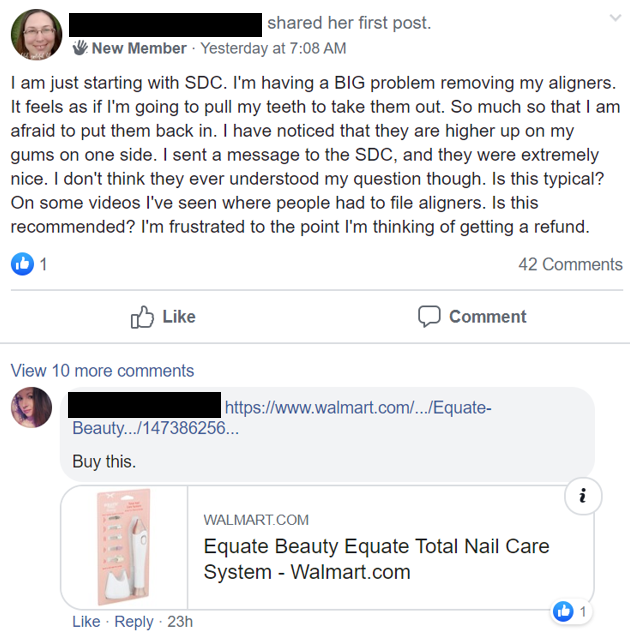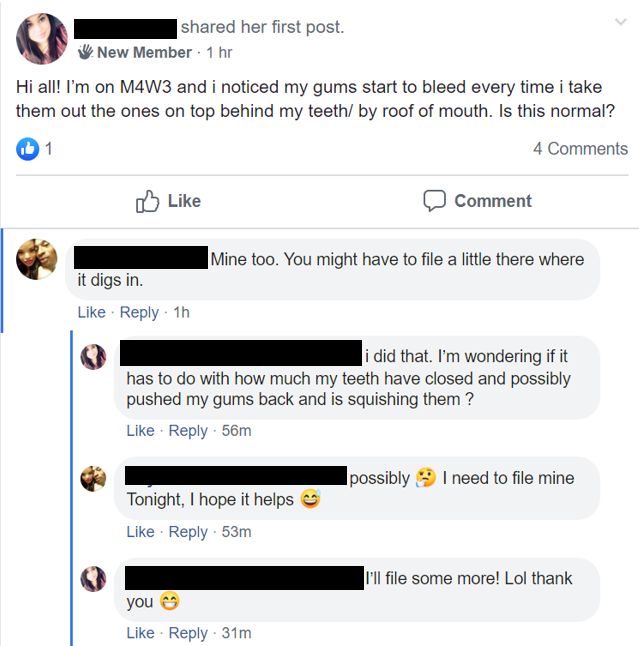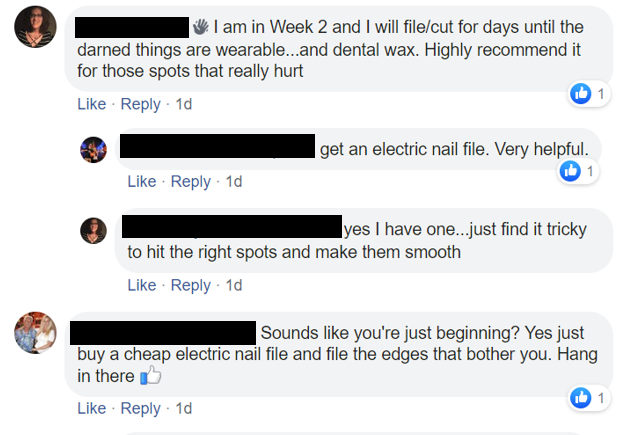 We asked one orthodontist "Why do aligner fittings in an office instead of just shipping aligners to patients?"
His reply: "Moving teeth is not a benign process. It's a medical procedure."
Former SmileDirectClub Employee: Customers Are Under the Impression That The "Dental Team" Consists of Dentists or Orthodontists, But the Only Requirement is to Be a Dental Hygienist or Dental Assistant
When SmileDirect customers have medical issues, they can contact customer service, which puts them in touch with the company's "Dental Team".
We spoke to a former SmileDirect customer service representative as part of our research who informed us that customers are often under the mistaken impression that the Dental Team consists of dentists.
Instead, we were told that the only requirement to be on the "Dental Team" was to be a dental assistant or dental hygienist (emphasis added):
"The dental team is the ones who actually talk on the phone with customers…If you're a dental assistant or dental hygienist, you can be on the dental team. And that's not saying that they're the ones creating the plan. But they're the ones that are on the phone talking to the people who are pretty much under the impression that they're a dentist or orthodontist."
Once again, SmileDirect customers hoping for medical advice from a dentist seem to be under the wrong impression.
Former SmileDirectClub Employee: Customers Are Only Given the First Name of People They Speak to on the "Dental Team"
Part of the reason customers are under the wrong impression about the Dental Team is because they are provided very little information about who they are speaking with. We were told that customers are essentially kept in the dark:
"Really, the only information that they have is their first name…whenever they talk to people, there was never a direct line for a direct person specifically. The only email or number for the dental team was the generic DentalTeam@smiledirectclub.com and then all the calls went to the same number, if that makes sense."
The former representative continued, telling us the only place customers got a name was the one that was appended to their Smile Plan, and that even as an employee of the company they were largely in the dark about names of people on the Dental Team (emphasis added):
"There's a person's name on their Smile Plan, which is basically what was created for their smile for the invisible aligners, but that's like really the only place that there's a name."
"But they definitely didn't have any information that showed 'this person practices in this state', you know what I'm saying? Because of insurance purposes, I know they did have to categorize it by location, but we didn't really see any of that at all. The only thing I could ever see was the name of the person that created the plan, that was really it. And that's really, I think, the only thing that the customer was really able to see as well."
In the American Dental Association's petition to the FDA regarding SmileDirect, it writes:
"To any extent SDC may have lowered costs it has done so by recklessly selling "do-it-yourself dentistry" over-the-counter to its customers…

"SDC has virtually eliminated from the process any substantive participation by a dentist in a customer's teeth straightening treatment"
Part II Conclusion: When Specialized Medicine Meets Assembly Line
On SmileDirect's website its "Lead Dentist" states:
"An individual who is requesting treatment by using SmileDirectClub's aligners is receiving the same level of care from a treating dentist or orthodontist as an individual visiting a traditional orthodontist or dentist for treatment."

– Jeffrey Sulitzer, DMD, Lead Dentist at SmileDirectClub
The above statement seems to be the key to SmileDirect's "success". Meanwhile, every dentist or orthodontist that we spoke to disagreed with this statement.
We think consumers, regulators, and the media will soon wake up to the realization that this assertion made by the company is wrong at every turn.
Part III: An Unhealthy Habit of Using Litigation to Squelch Criticism, Competition Emerging, Governance Questions, and Insiders Cashing Out
Want a Refund? First Sign This Legal Release Saying You Won't Post Negative Online Reviews and Won't Complain to Regulators
One of the key selling points for SmileDirect seems to be its customer review ratings. Third-party review sites show ratings ranging from 2.7 to 4.3 out of 5.0 stars. The company claims in its prospectus that it has an average rating of 4.9 out of 5.0 from user reviews submitted through its own website. [Pg. 2]
In examining the company's reviews, we found a troubling fact.
When most normal companies have an unhappy customer, they grant a refund or make other concessions. Rather than follow that typical practice, SmileDirectClub seems to turn its refunds into hush money.
The Capital Forum recently reported that SmileDirect withholds refunds to dissatisfied customers unless they sign agreements not to post negative reviews or file regulatory complaints. Per the article:
"Customers who are dissatisfied with their experience and want a refund are asked to sign a release preventing them from filing negative complaints on social media or with regulators and to withdraw any previously filed complaints. This practice could run afoul of Section 5 of the FTC Act and state laws, according to FTC staff and legal experts."
Again, we're not saying the company doesn't have happy customers. The product clearly works for some. Nonetheless, these attempts to muzzle negative reviews strikes us as a method of distorting reality.
SmileDirectClub's Pattern of Using Aggressive Litigation to Silence Criticism: This is the Worst that Capitalism Has to Offer
Beyond its attempts to muzzle dissatisfied customers, the company has filed a bevy of lawsuits against critics.
We at Hindenburg take pride in reporting on companies that try to use litigation to silence criticism. We believe that companies engaging in such practices are vastly more likely to have something sinister to hide.
In addition to suing critics, the company has used the threat of litigation to intimidate others from coming forward.
A recent complaint alleged "a barrage of 'cease and desist' letters from SmileDirect's counsel threatening lawsuits and threatening the filing of ethical complaints with regulators" against professionals that had voiced their opinions on the inadequacy of the product.
All told, we think the pattern of lawsuits, threats, and muzzling of dissatisfied customers are all telltale signs that SmileDirect is a company that goes out of its way to silence opposition.
No Meaningful Barriers to Entry: Well-Funded Competitors Are Popping Up Left and Right
Despite the company's aggressive practices, it has burned significant cash and has printed significant net losses to date.
Even if one were to assume that the public, regulators, and the company's customer base raise no issues with its practices (which they are), basic economics would nonetheless make it incredibly hard to achieve lasting profitability going forward.
We are already seeing numerous competitors to SmileDirect offering substantially similar services:
We spoke to Candid, Invisalign, Smile Love, Uniform Teeth, and Orthly. The most commonly cited differentiator relative to SmileDirect was that the competitors included substantial involvement from an orthodontist throughout the process, often including multiple visits and direct guidance.
The competitors cited SmileDirect as a mostly Do It Yourself (DIY) operation with very light involvement from orthodontists.
SmileDirect has spent an enormous amount on marketing to date ($209 million in marketing & selling expenses in just the past 6 months! [Pg. 88]) In the absence of meaningful barriers to entry, the company may simply be paving the way for more responsible competitors to take its market share.
Governance Questions: Chairman/CEO Sold his $3.4 Million Private Plane to the Company 1 Month Prior to the IPO. And It Wasn't Even the First Time He Sold an Interest in a Private Plane to the Company!
SmileDirect's Chairman David Katzman controls about 87.5% of the vote [Pg. 150], giving him extraordinary power.
With that power, some of his recent decisions strike us as questionable. Namely, in August 2019, one month before the IPO, Katzman's entity sold the company his 1996 twin-engine private jet for $3.4 million. [Pg. 156] Here is the plane:
Remarkably, this wasn't even the first time Katzman sold the company a plane. In February 2019, the company purchased a $1.1 million interest in another plane from a Katzman-controlled entity. [Pg. 156] In 2018, a Katzman entity billed the company roughly $1 million for use of his plane.
Governance Questions: Executives and Affiliates Offloaded Almost $700 Million Into the IPO
In an IPO, investors aim to see cash reinvested back into the business to have a growth profile to look forward to.
We're also realists – it's reasonable to expect some insiders and early investors to want to cash out parts of their stakes.
During SmileDirect's IPO, company executives and affiliates cashed out almost $700 million, representing over half of the total net IPO proceeds: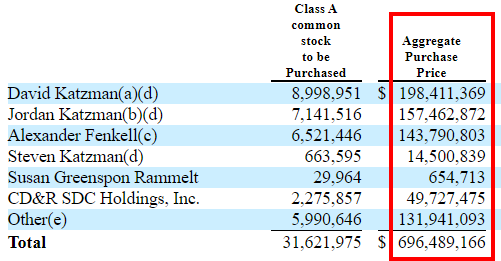 By comparison, only $387.9 was raised for general corporate purposes, with the balance paying yet more executive bonuses and cashing out early shareholders.
All told, we think the company's executive team chose pinpoint timing to offload their shares onto the public (and a couple of private jets).
Conclusion & Predictions
We think SmileDirect is selling a dangerous product that cuts corners instead of actually disrupting the orthodontics industry. True disruption results in a better product at a better price, not in muzzling harmed customers with legal releases and silencing critics with litigation.
We expect SmileDirect's harmful practices will lead to an increasing chorus of opposition from regulators, media, customers, and its more responsible competitors, eventually impairing its brand or forcing it to significantly alter its practices. This won't happen instantly, but we think within a year we'll be looking at a vastly different "teledentistry" landscape than we are right now.
As far as the stock is concerned, the company is currently trading at ~6.5x its current revenue run-rate, despite continuing to incinerate cash. The market is currently valuing SDC as if it is a high-margin recurring-revenue SaaS company in explosive-growth mode.
In reality, SDC strikes us as (i) a low-quality consumer product company (ii) with high customer acquisition costs (iii) in a competitive, worsening-margin environment (iv) extending seemingly sub-prime financing to customers (v) who are largely making 1-time purchases.
The company's ridiculous valuation is typically only found deep in the enchanted unicorn forests of Silicon Valley. Now that SDC is a public company, we expect its valuation will become far more tethered to actual operating performance over the next 6-12 months as IPO lockups expire and as the market begins to process its business model.
We expect that the company will continue to show revenue growth, and may even turn a brief GAAP profit, while continuing to burn operating cash flow over the next couple of quarters.
Given our prognosis for negative cash flow and negative net income, we were left with a basic revenue multiple for our analysis. When applying a 2x multiple to SDC's Q2 2019 revenue run-rate we arrive at a market cap of $1.5 billion, representing downside of 70%.
As consumer backlash hits, and the company's cash balance comes back into focus, we expect matters to worsen considerably. Our overall 12-month price target is $2, representing about 85% downside from current levels.
Best of luck to all.
Appendix A: Questions We Asked the Company
We emailed SmileDirect's investor relations with questions in advance of this report. They replied quickly (A+ response time), but repeatedly asked that questions be answered over the phone. We repeatedly asked that they answer questions, any of them, in writing (we wanted them to be definitive/on-the-record) and they failed to do so. We found the exchange to be pleasant, though rather odd.
Should the company respond back with answers to any of our questions below, we will update this piece accordingly. Here they are so readers can get a sense of the questions we were interested in:
1. What do you view as the next growth market for the company? I saw some expansion in the UK but where else do you see opportunities in the near future?
2. I read in the recent class action complaint which said that Alabama and Georgia had outlawed certain practices employed by the company. Are you receiving pushback from any state boards other than Georgia and Alabama right now? How do you plan to handle operating in those two states going forward?
3. Have you heard any guidance or response from the FDA or FTC on the issues raised by the ADA with those agencies?
4. One common criticism I've seen is that the company doesn't have thorough involvement from orthodontists and dentists. What is the role of dentists/orthodontists in the SDC process from start to finish?
5. Do customers know who they are speaking with on the dental team?
6. Who do you see as your most formidable competitor at the moment?
7. What percentage of prospective customers does the company reject?
8. The recent class action lawsuit stated that the company pays orthodontists/dentists $50 per approval of each plan. Is that still the going rate today?
9. Are there other circumstances where orthodontists/dentists are paid and what are the rates for those services?
11. The Capital Forum published an article recently saying that customers are asked to sign a release in order to get a refund. Is that still the case and are you able to share a copy of what that release looks like?
12. What percentage of aligner sales are generated from at home kits vs SmileShop scans? Do you see that mix changing?
Disclosure & Legal Disclaimer
Disclosure: We are short shares of SmileDirectClub
Additional disclaimer: Use of Hindenburg Research's research is at your own risk. In no event should Hindenburg Research or any affiliated party be liable for any direct or indirect trading losses caused by any information in this report. You further agree to do your own research and due diligence, consult your own financial, legal, and tax advisors before making any investment decision with respect to transacting in any securities covered herein. You should assume that as of the publication date of any short-biased report or letter, Hindenburg Research (possibly along with or through our members, partners, affiliates, employees, and/or consultants) along with our clients and/or investors has a short position in all stocks (and/or options of the stock) covered herein, and therefore stands to realize significant gains in the event that the price of any stock covered herein declines. Following publication of any report or letter, we intend to continue transacting in the securities covered herein, and we may be long, short, or neutral at any time hereafter regardless of our initial recommendation, conclusions, or opinions. This is not an offer to sell or a solicitation of an offer to buy any security, nor shall any security be offered or sold to any person, in any jurisdiction in which such offer would be unlawful under the securities laws of such jurisdiction. Hindenburg Research is not registered as an investment advisor in the United States or have similar registration in any other jurisdiction. To the best of our ability and belief, all information contained herein is accurate and reliable, and has been obtained from public sources we believe to be accurate and reliable, and who are not insiders or connected persons of the stock covered herein or who may otherwise owe any fiduciary duty or duty of confidentiality to the issuer. However, such information is presented "as is," without warranty of any kind – whether express or implied. Hindenburg Research makes no representation, express or implied, as to the accuracy, timeliness, or completeness of any such information or with regard to the results to be obtained from its use. All expressions of opinion are subject to change without notice, and Hindenburg Research does not undertake to update or supplement this report or any of the information contained herein. Lastly, we totally borrowed the "enchanted forest" unicorn reference from Matt Levine's Bloomberg column. We presume he reads the full disclaimer on every website he visits, therefore the last line of our disclaimer seems to be the appropriate place to credit him for that piece of elegant prose.