Lordstown is an electric vehicle SPAC with no revenue and no sellable product, which we believe has misled investors on both its demand and production capabilities.
The company has consistently pointed to its book of 100,000 pre-orders as proof of deep demand for its proposed EV truck. Our conversations with former employees, business partners and an extensive document review show that the company's orders are largely fictitious and used as a prop to raise capital and confer legitimacy.
For example, Lordstown recently announced a 14,000-truck deal from E Squared Energy, supposedly representing $735 million in sales. E Squared is based out of a small residential apartment in Texas that doesn't operate a vehicle fleet.
Another 1,000-truck, $52.5 million order comes from a 2-person startup that operates out of a Regus virtual office with a mailing address at a UPS Store. We spoke with the owner who acknowledged it won't actually order any vehicles, instead describing the "pre-order" as a mere marketing relationship.
Yet another firm that is supposedly set to buy 500 trucks from Lordstown told us: "…The letters of interest are non-binding. It's not like you'd obligate yourself to a pre-order or that you would contractually bind yourself to buying this truck. That's not what they are."
Lordstown CEO Steve Burns has called these arrangements "very serious orders". The actual customer agreements, which we present for the first time today, require no deposit and are non-binding. Many of the supposed customers do not operate fleets nor do many have the means to actually make the stated purchases.
Former employees and litigation records reveal that in order to raise capital and confer credibility, Steve Burns began paying consultants for every truck pre-order as early as 2016 while he was serving as CEO at Workhorse.
Later, heading into Lordstown's eventual go-public transaction in 2020, a small consulting group called Climb2Glory was paid to generate pre-orders. Climb2Glory openly described the purpose behind the pre-order game: "the faster the pre-orders arrived, the greater investors' confidence would be in the company and the faster funds would flow in."
One company rep that committed to buy 40 trucks through Climb2Glory told us: "…I'm not committed to anything, not to buying a single vehicle. I committed to consider buying vehicles. I'd have a lot of questions before I commit to anything."
Others had similar remarks. "The commitment of that size (15) is totally impossible," a representative for the City of Ravenna told us about its pre-order. We document numerous other "customers" that disclaim any intent to actually purchase vehicles.
Multiple former senior employees who have worked with Lordstown Founder & CEO Steve Burns openly described him as a "con man", or a "PT Barnum" figure. One senior employee told us that, while working with Steve for a couple of years, they saw more questionable and unethical business practices than they had seen in their entire career.
Despite being allowed to resign from Workhorse, former senior employees described how Burns was pushed out of his old company by the board for wasting R&D money and missing promised deadlines. He then launched Lordstown months later.
Despite claims that Lordstown will be producing vehicles by September, a former employee explained how the company is experiencing delays and making "drastic" design modifications, putting them an estimated 3-4 years away from production. For example, in mid-January the company "totally switched from a plastic exterior to aluminum," we were told.
Despite claims that battery packs would be manufactured in-house, we were told that the equipment is months away from arriving, let alone being put into a production environment. In the meantime, we were told that battery packs are being put together by hand.
Former employees also shared that the company has completed none of its needed testing or validation, including cold weather testing, durability testing, and Federal Motor Vehicle Safety Standards (FMVSS) testing required by the NHTSA.
In January 2021, Lordstown's first street road test resulted in the vehicle bursting into flames 10 minutes into the test drive. We share copies of the 911 call and a police report we received through FOIA requests.
Lordstown only went public in October 2020, but in that brief time, executives and directors have unloaded ~$28 million in stock. We think it bodes poorly when executives unload stock in a company with no actual product that claims to be on the cusp of mass-production.
We think investors, workers, and the local community deserve much more transparency on what is going on at Lordstown. We ask 21 questions at the end of our piece that we think the company should answer.
Initial Disclosure: After extensive research, we have taken a short position in shares of Lordstown Motors. This report represents our opinion, and we encourage every reader to do their own due diligence. Please see our full disclaimer at the bottom of the report.
Introduction: The Illusion Of Supply And Demand
Lordstown is one of many SPAC-led electric vehicle companies that has attracted hordes of retail investors with the lure of exposure to the ongoing EV revolution.
As with several companies in the space, Lordstown has never produced a saleable product and has no revenue. [Pg. 32] It has been beset by years of production delays which we expect will continue, based on evidence we present today.
Despite the lack of a current product supply, one of the strongest arguments supporting the company has been the incredible demand for its proposed all-electric truck, the Lordstown Endurance, which it hopes will rival the Ford F-150 and other traditional internal combustion engine ("ICE") trucks.
In fact, just weeks ago, Lordstown CEO Steve Burns boasted to Yahoo Finance of having "pre-sold" 100,000 vehicles, representing over $5 billion in future revenue and a huge vote of confidence from a slew of top-tier fleet customers.
But, as we will show, that demand appears to be fictitious.
Our research has revealed that Lordstown's order book consists of fake or entirely non-binding orders, from customers that generally do not even have fleets of vehicles. According to former employees and business partners, CEO Steve Burns sought to book orders, regardless of quality, purely as a tool to raise capital and confer legitimacy. In addition, we show how, in desperation to claim there was demand for the proposed vehicle, he paid for customers to book valueless, non-binding pre-orders.
We detail conversations with Lordstown "customers" who were eager to explain that the letters of intent ("LOI"s) with the company were "promotional". Others assured us they were "not committed to anything" and that the pre-order commitment size recorded by Lordstown was "totally impossible". One CEO at a 'key' customer told us our outreach was the first he had heard of any arrangement with Lordstown.
We also show, for the first time, the actual Lordstown pre-order agreements, which we received from former business partners. While the agreements entail zero commitment on the part of the "buyer", they include clauses about the parties agreeing to work on press releases to announce the deals.
On the supply side, we have found that Lordstown's CEO, Steve Burns, has led the company through dubious ethical territory, hyping unvetted technology and unrealistic production timelines.
Based on our conversations with former employees, the company has made extensive changes to the Endurance prototypes and hasn't begun the needed testing & validation for the reworked vehicle. While the company has been promoting a September 2021 production timeline, former employees estimate the truck is 3-4 years away from production, if it ever gets there.
We also provide new details about a disastrous recent "road test" in which Lordstown's Director of Power Train was forced to call 911 after the 2021 Lordstown Endurance he was driving spontaneously combusted and became "fully engulfed" in flames just 10 minutes after taking to the road. The truck had cleared internal testing, and this was the Endurance's very first road test.
We think Lordstown has grossly misled the public about its order book and the progress of its proposed truck. We raise 21 questions at the end of our piece that we think investors, workers, and the citizens of Lordstown, Ohio, deserve answers to.
Lordstown Founder & CEO Steve Burns Was Described To Us By Former Senior Employees as a "Con Man" and a "PT Barnum" Figure
Lordstown's Chairman and CEO is Steve Burns, who formed the business in June 2019. This followed his February 2019 departure from publicly-traded Workhorse, where he had served as founder and CEO.
As part of our research, we interviewed former senior employees of Workhorse to learn about Burns' leadership style. All credited him with being the driving force and "visionary" behind both Workhorse and Lordstown.
We were told Burns has a masterful marketing approach, which includes a cultivated soft-spoken style and use of self-deprecating humor.
Despite these acknowledgements, they also shared that while he excels at presenting a vision, he lacks the ability to follow through on plans. One former employee called it "Steve's magical thinking".
Further, multiple former senior employees who had worked closely with Burns openly described him as a "con man," or a "PT Barnum" figure, referring to the famous showman and circus operator known for promoting hoaxes.
One senior employee told us that, while working with Steve for a couple of years, they saw more questionable and unethical business practices than they had seen over their entire career.
Burns Was Pushed Out of Workhorse By The Board Due to His Inability To Focus And Execute Projects, According to Former Employees
Though technically allowed to resign in February 2019, Burns was pushed out by the board for wasting R&D money and missing deadlines, former senior employees of Workhorse told us. The board believed the company needed to focus on building trucks while Burns was distracted with Horsefly (its drone program) and other pet projects, according to the employees.
Workhorse retained Burns for several months as a consultant on the drone program following his ouster.
With Burns out, Workhorse essentially jettisoned its pickup truck project, choosing instead to focus on its core business of vans and last-mile delivery systems, according to a later interview with EV industry publication Electrive.
Burns Launched Lordstown 4 Months Later With Little More Than Meaningless Pre-Orders (More on this Later) and Designs
Lordstown was formed by Burns about 4 months after his ouster from Workhorse, in June 2019. By November, Lordstown had already entered into an agreement with Workhorse to purchase intellectual property relating to the now-renamed Endurance truck.
According to a former senior technology employee of Workhorse, virtually zero intellectual property was actually shared with Lordstown, aside from designs, and a book of roughly 6,000 pre-orders, which Burns has described as "sales".
Workhorse didn't have much technology to share in the first place; it had fewer than 10 patents, and, of those, only 2 referenced electric vehicles. [1,2] According to the same former employee, the lack of patents by Workhorse was simply due to the technology not being advanced enough to warrant patenting.
The New Company Quickly Bought a Closed GM Plant, Giving Hope to the Hard-Hit Local Community and Scoring a Political Win With Then-President Trump
In November 2018, GM announced it would be closing its plant in Lordstown, Ohio, ultimately eliminating 4,200 jobs. The planned closure in battleground-state Ohio created political ripples all the way up to the President, who tweeted aggressively at GM about the decision.
In October 2019, GM made it official; the plant would formally close.
In stepped Steve Burns and Lordstown, with a plan that was storybook perfect. The company would hire as many workers as GM had and would repurpose the factory to make electric trucks, bringing the hard-hit local community into the next chapter of the auto industry.
In November 2019, Lordstown inked a deal to buy an old GM plant with a $40 million loan from GM.
The deal was viewed as potential salvation for the local economy and was welcomed by politicians at the local, state and federal level. This slice of the Rust Belt along the Mahoning Valley, with soaring unemployment, was promptly dubbed "Voltage Valley", as the communities placed their hope in an electrification-driven resurgence.
Vice President Mike Pence attended the June 2020 unveiling of the Endurance prototype, taking the opportunity to promote the administration's record on jobs.
At the unveiling, Pence drove up on stage in the prototype with Burns. The event went off without incident, but a former employee described how the team was "cringing", saying "that was just more of a show vehicle" with safety concerns. (Six months later, an Endurance prototype burst into flames within 10 minutes of its first road test.)
President Trump then showcased a Lordstown Endurance prototype against the backdrop of the White House on September 28, 2020, just one day before the first presidential debate, which took place in Cleveland, Ohio. He hailed the truck's technology as an "incredible concept" and praised Lordstown for creating potential new jobs.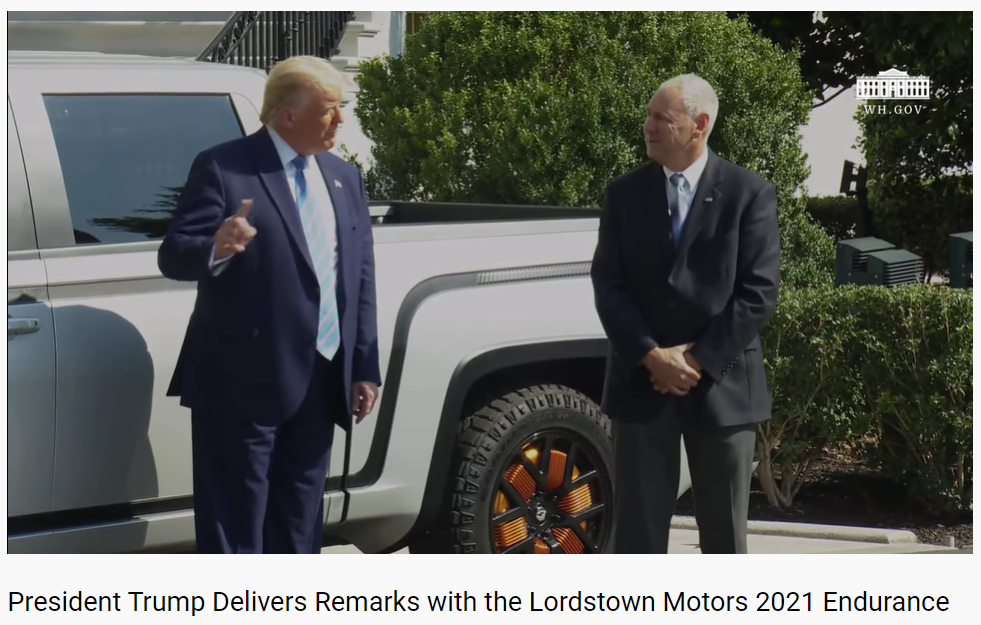 Lordstown then went public via SPAC in October, 2020, netting about $675 million in balance sheet cash.
Part I: Lordstown's Order Book Looks To Be Almost Entirely Fake And/Or Non-Binding, Representing No Genuine Demand
Lordstown has consistently claimed that its large order book is a key investment highlight, underscoring deep demand for the company's products, which have yet to be produced or sold.
In an interview on Yahoo Finance on February 23rd, 2021, CEO Steve Burns focused on this point, declaring:
"We have pre-sold 100,000 of these vehicles to various fleets across America — really a big appetite."
Lordstown focuses on selling to fleets, which are typically defined as "businesses that have purchased 5 vehicles in a year or have 15 total units in operation."
Burns has regularly touted the pre-sold fleet trucks to the media and in Lordstown's press releases. For example, when Jim Cramer pressed Burns about the commitment represented by these orders, Burns referred to them as "very serious orders".
At Lordstown's launch event with Mike Pence, Burns said "We have our whole year, our first year of production already pre-sold."
We put together a brief video presenting several other public statements by Steve Burns about the strength of the company's order book.
Contrary to those claims, our research has found that Lordstown's fleet truck "orders" are a mirage, and instead:
Are non-binding letters of intent.
Require $0 as a reservation payment.
Do not require an actual purchase.
Are from customers that generally DO NOT operate fleets.
Are from customers that often DO NOT have the means to make the purchases.
Include a clause encouraging a press release to announce the deal.
Lordstown's S-1 filing discusses the non-binding nature of its pre-order book, but does not disclaim any risks associated with whether or not such businesses even have the means to make such purchases, or whether the businesses would have any credible demand for vehicles. [Pg. 8]
On the contrary, the company states in its legal dis-claimer, that it "is focused on building relationships with large fleet customers". [Pg. 8] The company has never provided the specific language of its pre-order agreements, but we received a copy from a former employee: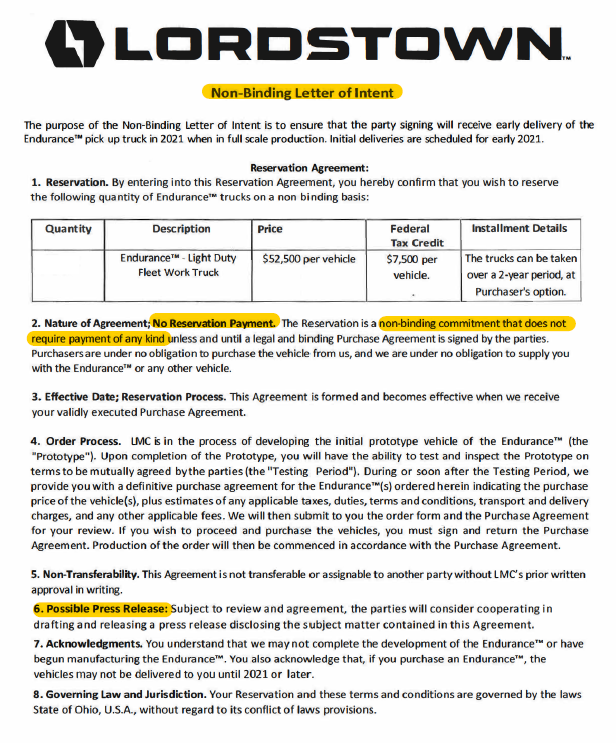 Typically, the goal behind generating pre-orders is to capture actual product demand. But a Lordstown partner that helped generate pre-orders acknowledged that the goal was to boost investor confidence in order to raise capital:
"Fundraising was directly linked to pre-order generation — the faster the pre-orders arrived, the greater investors' confidence would be in the company and the faster funds would flow in."
The company's recent January 2021 investor deck has reiterated the order book claim as a key investment highlight.
Furthermore, some electric vehicle manufacturers, like Tesla, have been collecting deposits for new vehicle reservations for years. Even Nikola managed to collect deposits for its imaginary Badger truck.
Lordstown, by contrast, has resorted at times to paying for non-binding pre-orders, then using the fictitious demand to fuel financing rounds and to confer an aura of credibility on the company.
We spoke to two former sales reps that helped gather the "pre-orders" for the Lordstown Endurance and for its predecessor, the Workhorse W-15. They acknowledged the "pre-orders" they collected represented "no commitment at all". One told us:
"They are soft orders, they're absolutely. It's not a firm commitment it's "let's take a look at it and we'll decide then". But they do have a lot…I've no idea if that's a fabrication or an exaggeration or the real deal. But I know some of the people who have those orders and they are not firm orders, they are soft orders."
Another explained:
"You're right to have some apprehension. I think the way it's being communicated especially to the media is probably not accurate. Everywhere I read is pre-orders, pre-orders, pre-orders. There's no such thing as a preorder. What they're doing is getting letters of intent and there is no commitment whatsoever. I could commit to 100,000 pre-orders or reservations but I have no commitment, no financial commitment, no nothing…I hope they can get all 100,000 of them but I think that's extraordinarily unlikely."
E Squared Energy: A $735 Million Deal For 14,000 Trucks From an Entity Run Out of a Small Apartment in Texas
On December 24th 2020, Lordstown announced a massive 14,000 truck deal with E Squared Energy, representing almost 17.5% of its 80,000 total truck pre-orders at the time. Given the proposed base price of $52,500, the deal represents $735 million in demand. [Pg. 45]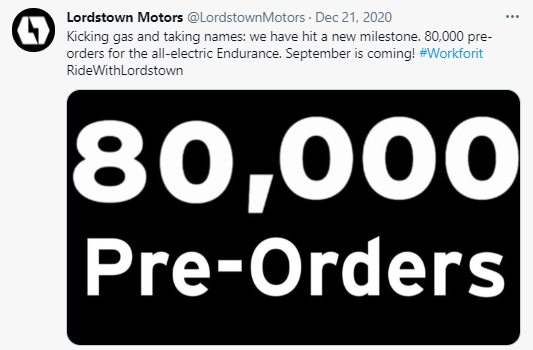 Given the size of the order, one might imagine E Squared to be a large enterprise with ample assets.
The Lordstown press release identified the principal of E Squared as Tim Grosse. In his LinkedIn profile, Grosse identifies himself as a "transformational leader in clean energy", but we see that E Squared has only 2 employees: Grosse, along with another individual who self-identifies as a retired freelance energy consultant.

Information on E Squared Energy is not found through typical Texas corporate records as it's not a registered corporation. It's a DBA, an individual that is Doing Business As another name, registered in Denton County Texas.
Texas records for E Squared list its registered address as 4800 Printers Way #3029.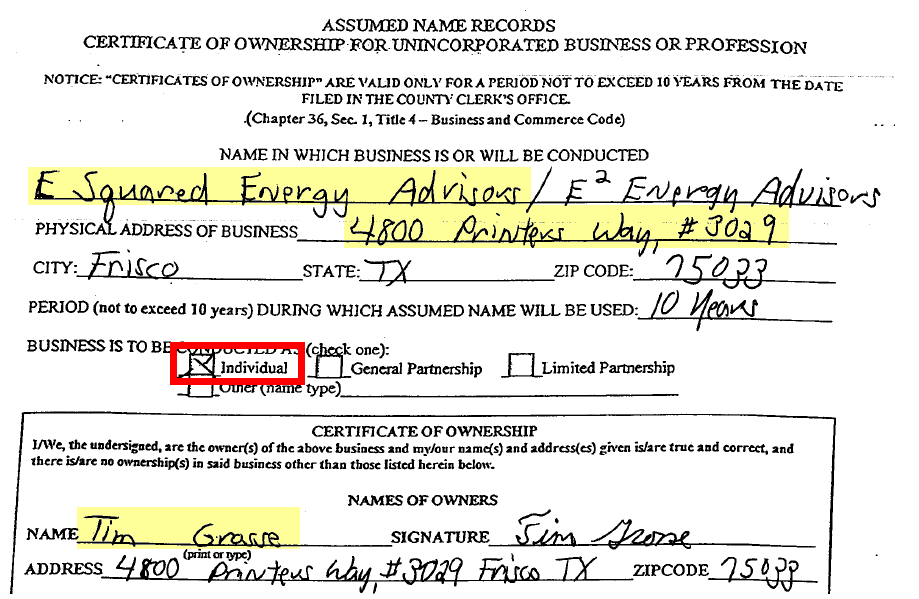 That address appears to be Tim Grosse's apartment in a building where apartments on the same floor rent for a modest $1,023-$1,080 per month.
When this pre-order from E Squared was placed out of Tim Grosse's apartment, it represented 17.5% of Lordstown's total order book.
The website for E Squared does not name a single executive and indicates that it is focused on advising companies on cutting energy costs through energy audits, LED lighting, and other power-saving means. We found no indication that E Squared has a fleet of trucks or even focuses on the electric vehicle space, aside from its non-binding deal with Lordstown.
We spoke with Grosse to learn more about the arrangement. When we asked whether E Squared operates a fleet, Grosse responded with a rather Alice-In-Wonderland answer:
"We don't operate a fleet but we provide the fleets. It's kind of a hybrid of a lease but it's not a lease. That's the closest thing to describe it as that people are familiar with…"
Pressed further, he accepted that E Squared had only worked in the building sector to date:
"It's a brand-new program we're offering. We've primarily been in the building sector we've worked a lot of large companies and technologies…various technologies."
We asked what the 14,000-truck number was based on, if anything, and were told it was an "estimate" based on Lordstown's planned production, not driven by actual customer demand:
"It's based primarily on the output of Lordstown. In the first year they'll be somewhat limited with only 20,000 vehicles and we have 2,000 on the LOI and second year we have 4,000 and production will be about 40,000. And the third year we're ramping up to 8,000…That's what we're estimating."
Innervations LLC: A $52.5 Million, 1,000 Truck Order From a 2-Person Startup With No Apparent Assets, Based Out of a Regus Virtual Office
On April 7, 2020, in the months leading up to Lordstown's IPO transaction, the company announced a 1,000-truck, ~$52.5 million order, from a company called Innervations LLC. At the time, it represented the largest ever "order" for Lordstown, not including orders brought over from Workhorse. It represented ~13% of the total order book and ~34% of the order book for the new Lordstown Endurance truck, according to a former employee we spoke with.
Innervations is a Florida entity that was formed about 4 months prior to the announcement, according to Florida corporate records. The entity lists its main office address as a Regus Virtual Office and its mailing address at the UPS Store in Hernando, Florida.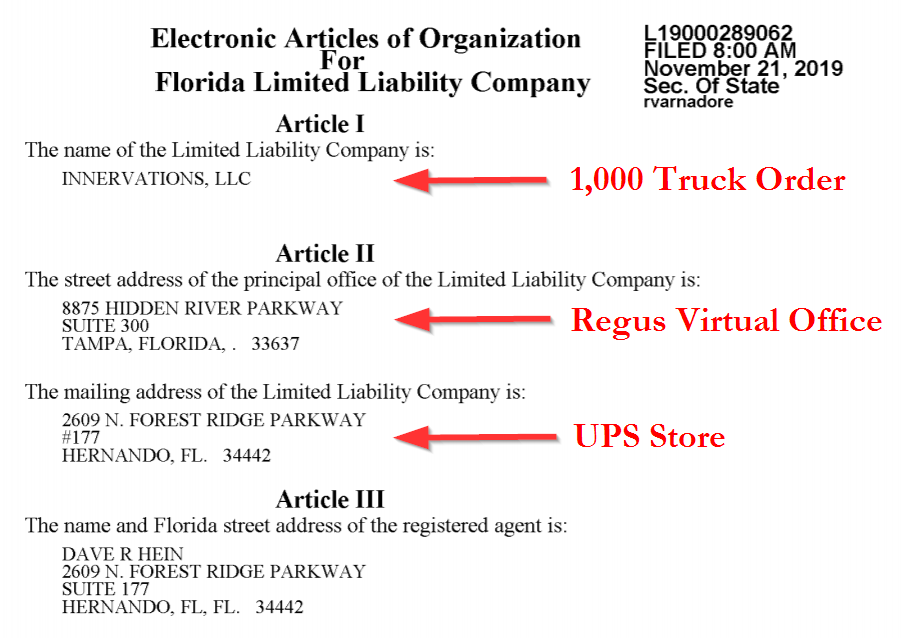 Innervations does not actually seem to have a fleet of its own, but its website claims to offer "Fleet services" which apparently include selling Lordstown trucks. It is described as a "startup brought up by two like-minded individuals" by the guy that built its website.
Those two individuals, listed on Innervations corporate documents, are John Pilz and David Hein. Pilz graduated from law school in 2018 and works full time as an attorney at a local software company, per his LinkedIn profile.
Hein currently works full time at an architecture design firm, per his LinkedIn profile, but regularly makes bullish posts about Lordstown and other EV companies on his Facebook page. Hein also runs a contracting company that appears to be based out of his residence, a 468 sq/ft 2 bedroom / 1 bath that Zillow estimates is worth about $187,000.
"We Don't Get Involved With The Actual Ordering": Innervations' CEO Acknowledges It has No Plans to Actually Purchase the Vehicles
We spoke with David Hein, who explained that Innervations has no plans to actually purchase the vehicles, instead describing his role as merely that of a promoter:
"What we do is we host and support events with companies and then we invite Lordstown Motors to the event to show the product. We just direct the company to Lordstown directly. When they tell us they're interested in purchasing trucks that's what we do. We don't get involved in the actual ordering."
Hein, who operates the Innervations Facebook account, which currently boasts 30 followers and is linked to a Gmail address, described his role as being that of an "influencer":
"We're influencers, our numbers, that's a very small number but what Innervations does is we promote the product…We think we can influence. Remember, we don't sell the truck, we just influence companies, and it's more on a broader spectrum."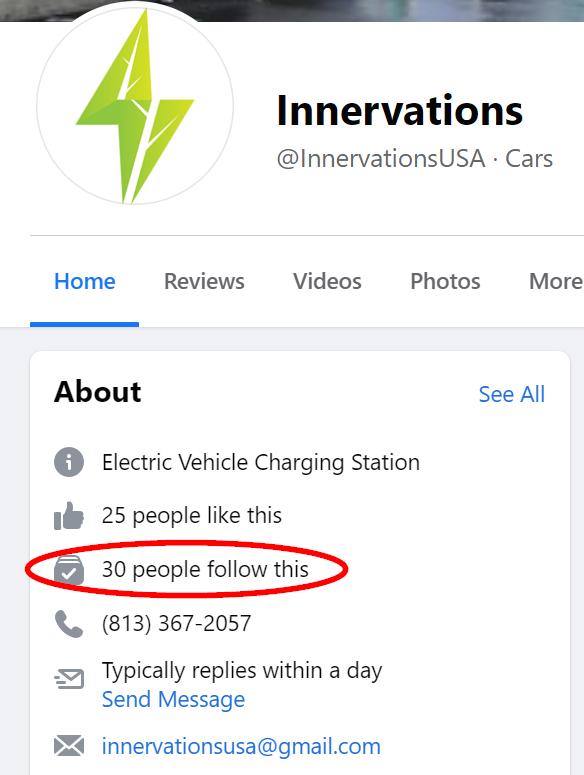 We find it unlikely that the recent college grad (Pilz) and the EV enthusiast (Hein), who appear to operate Innervations as a side hustle, have a credible plan to influence the purchase of $52.5 million worth of trucks from customers that don't yet seem to exist.
Another 500 Truck "Order" That is Really Just A Promoter Agreement: Clean Fuels Ohio
In March 2020, Clean Fuels Ohio reportedly agreed to buy 500 trucks from Lordstown.
This news was reported despite Clean Fuels actually operating as a non-profit and merely agreeing to help educate fleet operators around Ohio to encourage purchases of the trucks. We spoke with Sam Spofforth, Executive Director of Clean Fuels Ohio who agreed with that characterization.
"It is really that, promotional and getting the word out. And when we signed those letters of intent, we were really clear with them that that's what we would be doing, and they understood that and welcomed that."
"…The letters of interest are non-binding. It's not like you'd obligate yourself to a pre-order or that you would contractually bind yourself to buying this truck. That's not what they are."
Lordstown Predecessor Under Steve Burns' Leadership Struggled to Find Enough Orders, So It Began Paying $30 Per Non-Binding "Order" As Early as 2016
Given the need for continued high-impact "order" announcements to raise capital and confer credibility, Steve Burns began paying consultants per truck for pre-orders as early as 2016 while he was serving as CEO at Workhorse.
Per a lawsuit filed by one such consultant, the company was paying $30 per each no commitment, $0 money down, non-binding LOI, aka "orders."

The lawsuit reveals that several orders Lordstown identifies as "key", including Duke Energy, Ryder and Clean Fuels Ohio were solicited through such arrangements.


By 2020, Desperate to Report More Orders in the Run Up to its Go-Public Transaction, Lordstown Began Paying $50 For Each Zero-Commitment Order
In early 2020, with a go-public transaction on the horizon, former employees told us that CEO Steve Burns was desperate to increase the number of pre-orders, regardless of quality. At the time, former employees described how Burns wanted to get to 10,000 pre-orders in order to secure better financing terms.
The company hired small consulting group Climb2Glory, which was to receive $50 per truck pre-order, according to former employees. Climb2Glory boasts on its own website how it was key in helping Lordstown generate pre-orders faster in order to use the orders as a capital raising tool.
Climb2Glory managing partner Pat Mangin reiterated that in a phone interview:
"Because of the letters of intent from Climb2Glory and some marketing, Diamond Group came to the table and they did the reverse merger. So our role was to help influence and acquire interest that would lead to investment. That was Climb2Glory's role."
Mangin explained that initially Climb2Glory represented the Endurance for "contract dollars" but later took a stake in the company:
"We did get a significant amount of shares in the deal so what we do now is we still leverage our network."
Catholic Cemeteries Association: "I'm Not Committed to Anything"
We reached one customer signed up by Climb2Glory who suggested they would not have considered themselves customers of Lordstown at all.
Andrej Lah, CEO of Catholic Cemeteries Association, had pre-orders for 40 vehicles through Climb2Glory, according to a former employee. Per our conversation with him:
"…I'm not committed to anything, not to buying a single vehicle. I committed to consider buying vehicles. I'd have a lot of questions before I commit to anything. The way it was written I was very careful because I'm an attorney. I wasn't going to commit us to buying but the guy from Climb2Glory said it was just to give us an idea of the potential market…"
Other "Key" Pre-Orders, Including a 250-Truck Order From A Customer Subsequently Engulfed in a Bribery Scandal, Appear Similarly Meaningless
Lordstown has provided scant detail about its pre-order customers, but a Sept 17, 2020, investor presentation introduced additional supposed customers. [Pg. 9]
These key customers show a pattern of being small companies that generally don't own or operate fleets. Often, they are just local Ohio based car dealerships or leasing services.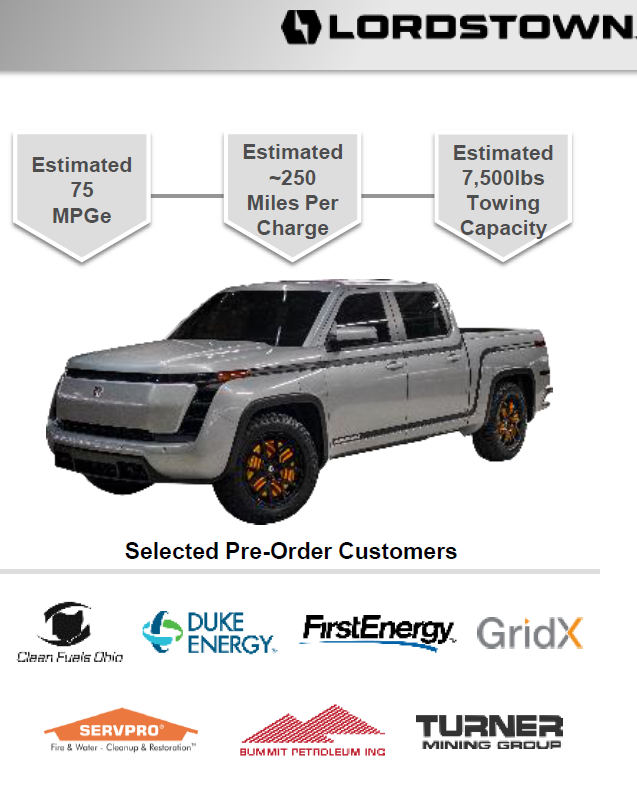 First Energy – An Ohio nuclear power company made infamous for a $61 million bribery scheme, resulting in the arrest of the Ohio house speaker and 4 others in mid-2020. Lordstown announced the 250-truck deal just months earlier. The Lordstown deal announcement quoted Dennis Chack, one of the First Energy executives subsequently fired over the bribery scandal.
Momentum Groups – An Ohio vehicle reseller that doesn't seem to operate a fleet yet placed a 900 truck "order". Momentum has a website dedicated to trying to find actual customers for the Endurance.
Summit Petroleum Inc – A small Ohio-based oil & gas exploration company with about 24 employees, according to LinkedIn.
"For us it's really just a look-see I don't know enough about them to make an honest…We want to evaluate them on their merits…A friend of a friend is involved in [Lordstown] and asked us if we would consider it and we said we would and we are not locked in" –William Kinney, Summit Petroleum – President
Mike Albert Fleet Solutions –The January 2021 order announcement didn't disclose the number but referred to it as "significant". It was the only order announced in a month when the order book jumped from 80,000 to 100,000 vehicles.
When asked about the relationship between Lordstown Motors and Mike Albert Fleet Solutions, Mike Albert indicated that this "pre-order" deal was actually a referral arrangement:
"They (Lordstown) are an Ohio-based company and so are we (Mike Albert Fleet Solutions) and I have a personal relationship with some of the business development executives that are there. And we go out and talk to the same people and so they're talking to fleets and I'm talking to fleets. We refer business introductions and opportunities to each other." –Nate Shadoin – Director of Sales – Mike Albert Fleet Solutions
Grid-X – This 'key' customer is a cloud services company for utilities, based on the matching name and logo for Grid-X in Lordstown's presentation. It appears to own zero fleet trucks, according to Department of Transportation records. We were unable to identify who at Grid-X may have signed an agreement. Its CEO, Jian Zhang told us:
"I don't know anything about LMC or Lordstown Endurance pick-up...Not sure I am the right person to talk to."
He later added:
"We are completely unaware of this. I heard of them from your inquiry message the first time."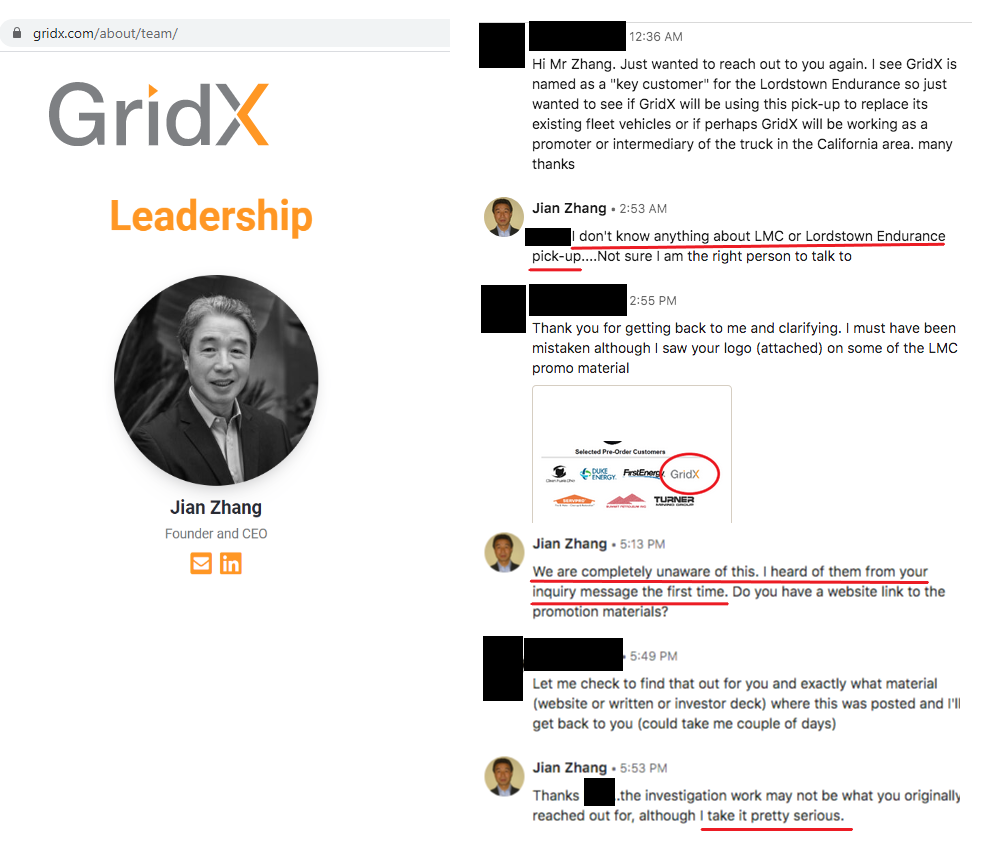 Even Lordstown's smaller supposed customers told us the order size Lordstown recorded for them is not feasible.
We spoke with Frank Seman, mayor of the City of Ravenna, which had pre-orders of 15 vehicles per Lordstown documents we reviewed. Per our conversation with him he wrote a letter out of hope that the support would help job growth in the local community:
"I was asked to write a letter of support to help get the plant repurposed and reopened to help provide more jobs for residents of Northeast Ohio. While we have an interest in the plant's success and this technology, we did not commit to the purchase of any vehicles. We are a small town. The commitment of that size is totally impossible."
Ravenna is just 20 miles west of Lordstown and as they state, city authorities have a strong desire to get thousands of autoworkers back into employment.
The same is true in the City of Kent, 25 miles west of Lordstown. City Manager Dave Ruller said Kent could potentially be in the market for 3 or 4 trucks subject to a formal bidding process – not the 15 recorded by Lordstown as pre-orders. He told us:
"We were happy to write that letter to show our support — and to help them finalize all their production financing — knowing that it is not an official bid document or purchase order so it is not legally binding us to buy something that hasn't even been produced yet beyond a prototype."
Lordstown's Marquee Ryder And Duke Energy Orders For 2,500 & 500 Trucks Were Mere "Favors to the CEO", According to Former Employees
In November 2016, electricity company Duke Energy entered a letter of intent to buy 500 trucks (representing ~$23 million in potential revenue) from Workhorse, the predecessor owner of what is now the Lordstown Endurance. The vote of confidence from the large NYSE-traded electricity company provided credibility to the fledgling company.
Shortly thereafter, Workhorse announced a deal for 2,500 trucks from fleet management giant Ryder, representing about $130 million in potential sales. Per an article at the time, Steven Burns declared:
"We have enough pre-orders now to justify pulling the trigger and making a march toward production."
Despite the big claims, former employees told us the deals were essentially for show and done as a favor to CEO Steve Burns in order to aid in the capital raising process.
Ryder publicly disclosed in a 2018 interview that they were primarily "supporting Workhorse with a maintenance & service program." Steve burns recently promised those same service rights to a different company, Camping World.
We received a copy of the Duke letter of intent from a former employee, which reveals for the first time how loose the deal was. The deal made explicitly clear that Duke had zero obligation whatsoever.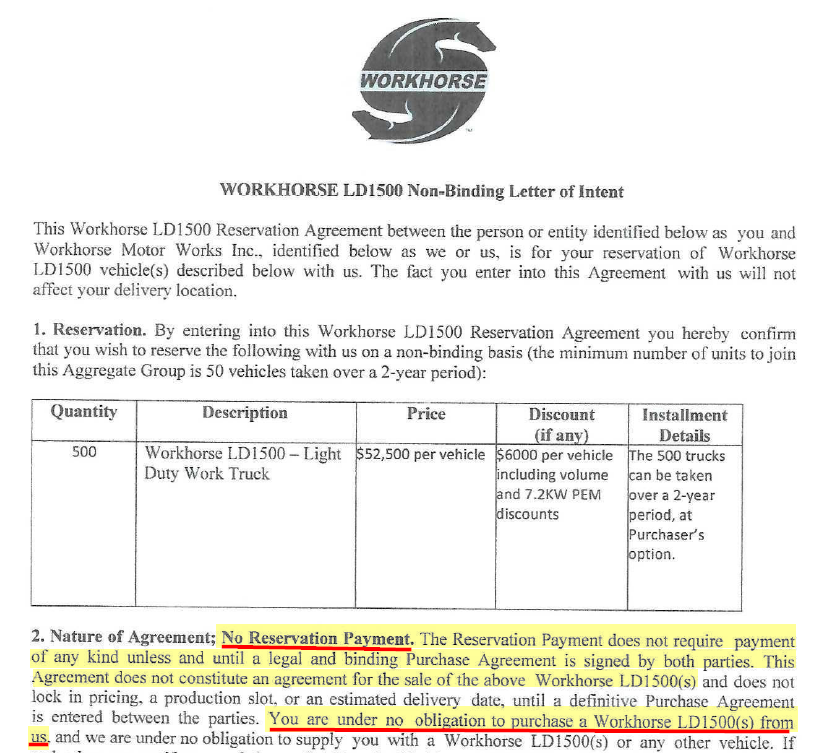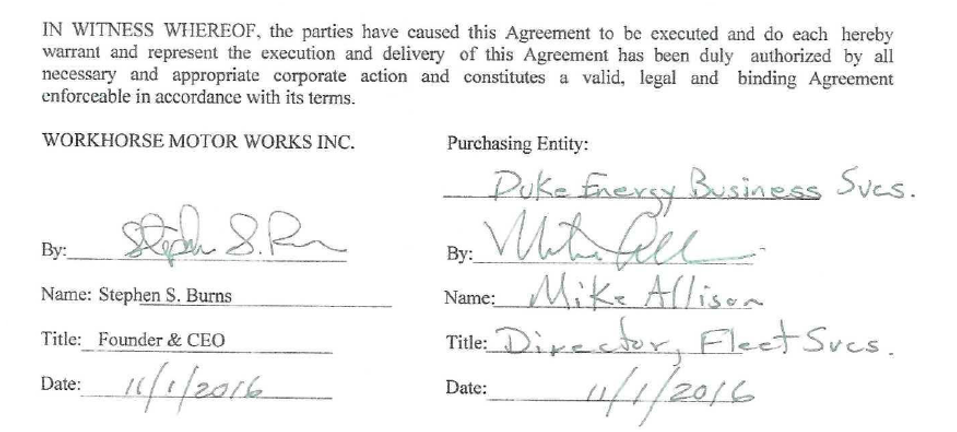 At the time, it was expected that the trucks would be produced by 2018. That date has come and gone.
In a phone conversation, Duke Energy media spokesman Randy Wheeless clarified the letter-of-intent:
"We want to see the truck and kick the tires before we buy that many. We want to see that it's pretty durable, rugged and has a good range and heavy duty. We're in some rugged areas especially in storms with trees down and areas a little hard to access."
All told, we found zero binding orders or genuine signs of commitment in Lordstown's order book.
Part 2: Production Overpromises And Tech Issues
The Endurance (And its Predecessor) Have Consistently Been Beset With Delays.
Burns Has Been Late On Production Promises By 3 Years and Counting
Lordstown has yet to sell a truck.
Production targets are therefore essential for modeling its future revenue potential. Production delays aren't uncommon among new companies, but Burns has distinguished himself by consistently promising very near-term mass production, often within 6-12 months, then repeatedly missing those targets.
In May 2017, the truck (under its predecessor name and ownership by Workhorse) was said to be ready for production in early 2018.
By late 2017/early 2018, the truck was said to be ready for production and sale to customers by Q4 2018.
By March 2018, production was seemingly ahead of schedule, with early production to begin Q3 or Q4 2018.
In February 2019, Steve Burns was pushed out of Workhorse by the board, according to former employees.
With the truck then moved over to Lordstown and rebranded as the "Endurance", the company explained that changes would be made to the planned vehicle. It then commenced announcing aggressive production targets that it continues to miss. While some of the delay can be chalked up to covid, several revised and missed targets were made mid-pandemic.
"Fully Engulfed": The Lordstown Endurance Prototype Spontaneously Burst Into Flames 10 Minutes Into Its First Road Test In January 2021
Lordstown's progress toward production has been lumpy. On January 13, 2021, Lordstown's Director of Power Train called 911 in Michigan to report that his vehicle was on fire, according to copies of the 911 call and a police report we received through FOIA requests.
The employee noted on the scene that the vehicle was a 2021 Lordstown Endurance that had cleared testing inside the facility, and that it was the first road test for the electric truck, according to a local media report.
He noticed it was "driving weird". Within 10 minutes the Lordstown truck burst into flames.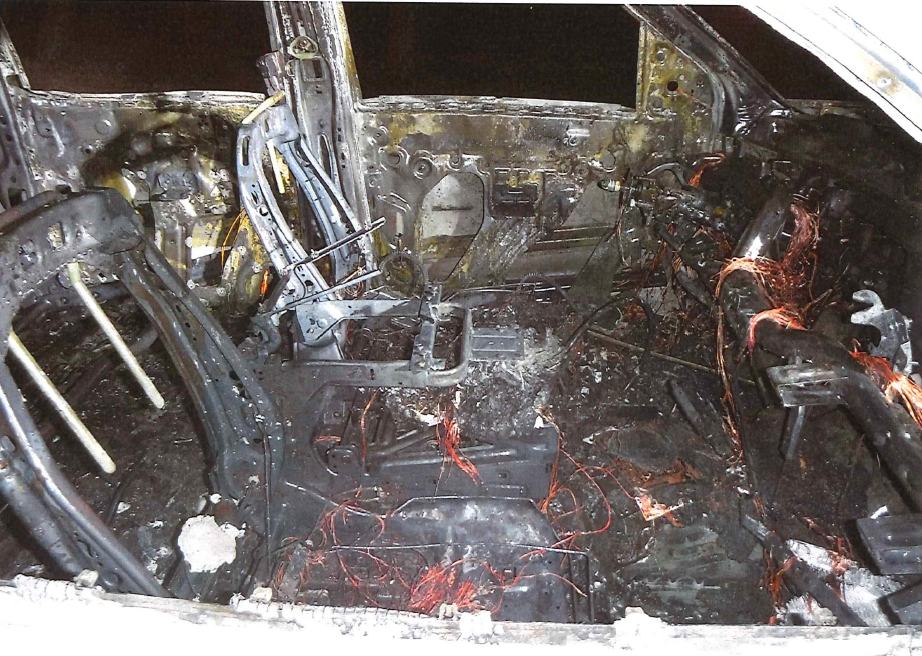 Two weeks after its very first Endurance test truck burst into flames, Lordstown announced that it would begin building beta trucks in a month.
When asked about the immolation of its test vehicle, Lordstown acknowledged about a month later that it did have "an event', stating that "we do not generally comment on individual testing conditions."
Lordstown's Hub Motor Technology, Core to its Vehicle's Success, Is Licensed From A Tiny Slovenian Company That Former Employees Said Burns Went With Because it Was Cheap
Lordstown's prototype issues may stem from its selection of critical parts.
The company's website features its "revolutionary" In-Wheel Drive System, which utilizes motors within its wheels.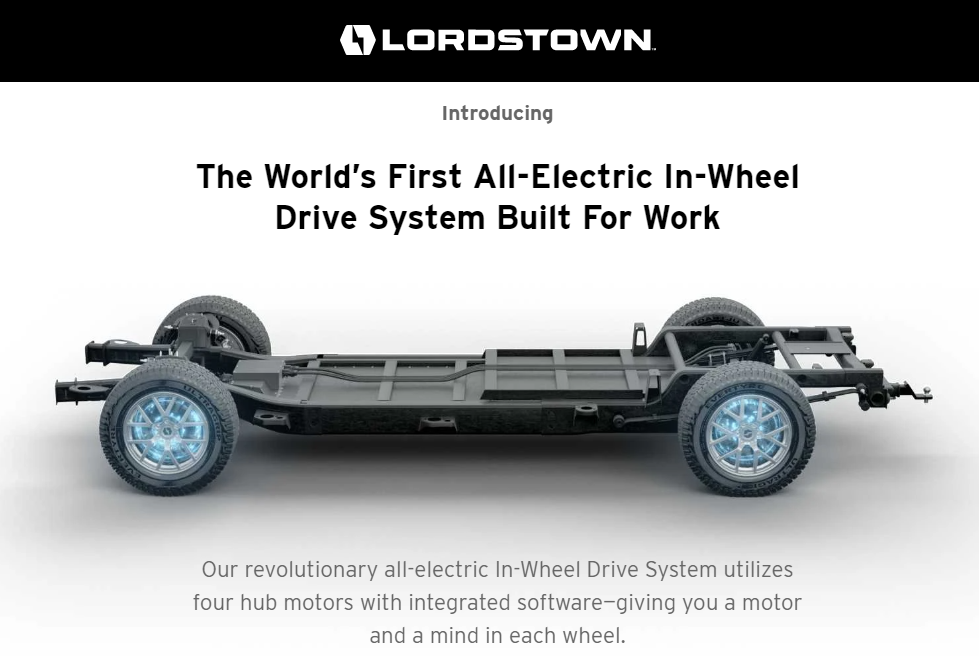 The technology is licensed from Elaphe, a small company based in Slovenia that has raised only €15.3 million in funding in its 15-year history, according to CrunchBase.
A former employee of Elaphe said that funding for the company had dried up by the end of 2019, leading to a round of lay-offs:
"(there were) money issues at the time. Yeah, no money no investments. They obviously resolved shortly (after) because the project with U.S. came along."
In May 2020, Elaphe and Lordstown announced an exclusive licensing agreement. The deal came right in time, according to the former employee, and enabled Elaphe to raise €4.2 million in September.
We mentioned Elaphe's lack of funding to an employee at competitor Protean, a company that also develops hub motor technology, who simply replied "it is an expensive business". They explained that OEMs can spend half a billion on new projects just to test the market.
A former senior employee at Workhorse who worked on the technology agreed and provided more color. He explained that Lordstown was promised a "crazy" price from the group in Slovenia, which is what attracted Burns' interest.
Protean would not come down on price, according to the former Workhorse employee. Its technology had been far more extensively tested and integrated into other autos, the former employee said.
Hub Motor Technology Has Never Been Commercialized At Scale In the Light Vehicle Market, Posing Major Technical Challenges, According to Analysts and Industry Experts
The hub-motor technology is indeed different, but, according to analysts and a former senior employee at Workhorse who worked on the technology side of the company, there are reasons why it hasn't seen adoption.
Morgan Stanley analyst Adam Jonas, who has been an optimist on the EV space, placed an underweight rating on Lordstown in February this year, largely due to its choice in technology, writing:
"The company's radical new hub-motor technology (licensed from Elaphe of Slovenia) has never been commercialized at scale in the light vehicle market. In our opinion, it's a good concept, but following a series of channel checks on the propulsion tech, we believe investors would be exposed to significantly elevated execution risk."
The former senior Workhorse employee also explained that hub motors are susceptible to durability issues because hub motors are considered "unsprung weight", or components not supported by a vehicle's suspension system. (These "unsprung" components also include wheels, tires and brakes, which sit below the suspension and travel up and down with bumps and potholes as they try to follow the contours of the road.)
Given that motors are typically supported by suspension, hub motors based in the wheels do not receive that protection, resulting in durability issues. We were told that a basic curb strike can break the axle and the motor. Any off-roading can also cause issues with liquids or debris creating interference.
While Elaphe's CEO Gorazd Lampic believes they have solved technical limitations, he recognizes hub motors have never been mass produced.
Elaphe has built some motors in Slovenia and others on a purpose-built assembly line in Hangzhou, China as part of a joint venture with parts manufacturer APG. A former employee said it took 12-months to build that line.
But under the licensing deal, Lordstown will build the motors for the Endurance in-house with "some support from Europe", according to Lampic.
With regard to future capacity for the production of Elaphe in-wheel motors globally, Lampic told us:
"All the processes we're developing are for 100,000 units per year. But we don't have all the processes up and running, so we're far from that number in terms of real quantity we produce."
He declined to give details about progress on building the hub motor assembly line at Lordstown. But if it plans to build a modest 20,000 Endurance trucks in the first full year that will require 80,000 motors, assuming all are 4-wheel-drive – an untested production rate.
Overall, investors are banking on an unvetted technology in a brand-new application on a scale that has never been achieved. All of this poses clear technology risk.
Lordstown's Claimed Production Target: September 2021
Former Employee: Maybe 3-4 Years, If Ever. "Drastic" Recent Changes Have Been Made to Prototypes And None of the Testing And Validation Has Been Completed
CEO Steve Burns has been saying that the company plans to begin production in September of this year, a mere 6 months away, and that the company plans to have 3,000 trucks on U.S. roads by year-end. Aside from staking that bold target, few details have been provided on actual progress toward that goal.
We spoke with a former employee who was intimately familiar with the path toward production. They explained that Lordstown has built fewer than 10 prototypes thus far, and that the company is still making extensive modifications.
For example, in mid-January, the company "totally switched from a plastic exterior to aluminum" in order to reduce weight. The former employee called the change "drastic" and suggested that the entirely new frames would essentially restart any testing and validation process.
The former employee also explained that Lordstown had not completed any of its required testing and validation, including:
Cold weather testing, which typically takes about 3 months and had not begun.
A "million mile" test or similar durability test done by major automakers. Per the former employee, "This doesn't even have 1,000 miles of testing right now, let alone a million." Typically, such durability testing requires 6 months of 24/7 testing, per the same employee.
Major testing required for the Federal Motor Vehicle Safety Standards (FMVSS) by the NHTSA.
A senior UAW union leader, who worked for decades at the Lordstown plant for GM, also believes production of the Endurance is lagging way behind the stated schedule.
"I know they're way behind. If nothing else went wrong the Covid threw them way behind…They can't fire up the old machines. Some of them they can. But everything else has to be reprogrammed and some of it has to be rebuilt."
And referring to this video posted by Lordstown in late February 2021 of an Endurance body being assembled by 4 robots, only one of which generated any sparks, the union leader, basing his opinion on 40 years working for GM, said:
"It's not ready. It is not ready. They showed some stuff on TV in the body shop with the robots that do the welding. But if you never worked in a body shop you didn't realize they weren't working. They were moving but not welding. There were no sparks."
Steve Burns: We Will Make All Battery Packs In-House
Former Employee: "There's No Battery Pack Manufacturing Equipment On Site There Now. They Just Put It Together By Hand."
In December 2019, CEO Steve Burns advanced a bold plan to bring all the battery pack production for Lordstown vehicles in-house. Per an article at the time:
"We are building our own battery pack line inside the plant."
Burns reiterated the goal, mentioning it as recently as several weeks ago.
Despite these plans, however, a former employee explained that all the battery packs are being put together by hand. The company recently ordered equipment to manufacture battery packs, but delivery is expected to take 25-30 weeks (5-7 months), not including installation, testing, and getting the equipment into production.
Steve Burns has told investors that batteries are "the secret sauce of an electric OEM", yet despite spending a decade in the EV industry, neither Lordstown or Workhorse had any battery specific patents to show for it.
Former employees that worked with Steve told us that Steve hoped to rely on Tesla's open-source patents from the Model 3 and slightly change them to fit a truck, but that it was not feasible in practice.
Despite this, Burns has claimed that Lordstown's battery packs are better than what Tesla can currently produce, suggesting that Lordstown is able to just use Tesla's Model 3 packs and "tweak it, make a little bit better" and then add some "secret magic". So far, we have seen no evidence that any of this has happened.
Steve Burns: We Will License The Motor Technology And Produce The Motors In-House
Former Employee: "They're Buying Them Direct From the Production Source (Elaphe)"
Lordstown has also claimed that it intends to construct its hub motors in-house using licensed technology from Slovenian company Elaphe. But according to the former employee, this hasn't happened yet. Instead, the company is still buying motors directly from the manufacturer.
It was unclear when the company plans to start making motors in-house, let alone on a scale capable of supporting mass-production.
Given the technology risks associated with the motors, it would clearly be important to actually produce at least a single motor in order to begin the extensive testing needed to determine whether it can work and last in a consumer-ready vehicle.
Lordstown Was Sued Over Allegations That It Faked Interest In Licensing Third-Party Infotainment Software, Then Poached the Company's Employees And Stole Its Designs Instead
Lordstown has very little intellectual property of its own, and generally licenses outside technology or outsources key components.
This approach requires less up-front R&D capital but can result in compressed profit margins and a general loss of control over its manufactured and outsourced components.
These pitfalls aside, one of the key elements of the truck that Lordstown claims to develop in-house is its infotainment system. [Pg. 172] But that claim is currently being contested in the California courts.
A lawsuit by Karma automotive, a California electric vehicle manufacturer, alleges in detail how Lordstown entered into an NDA to perform due diligence on licensing Karma's infotainment system, then stole the technology instead.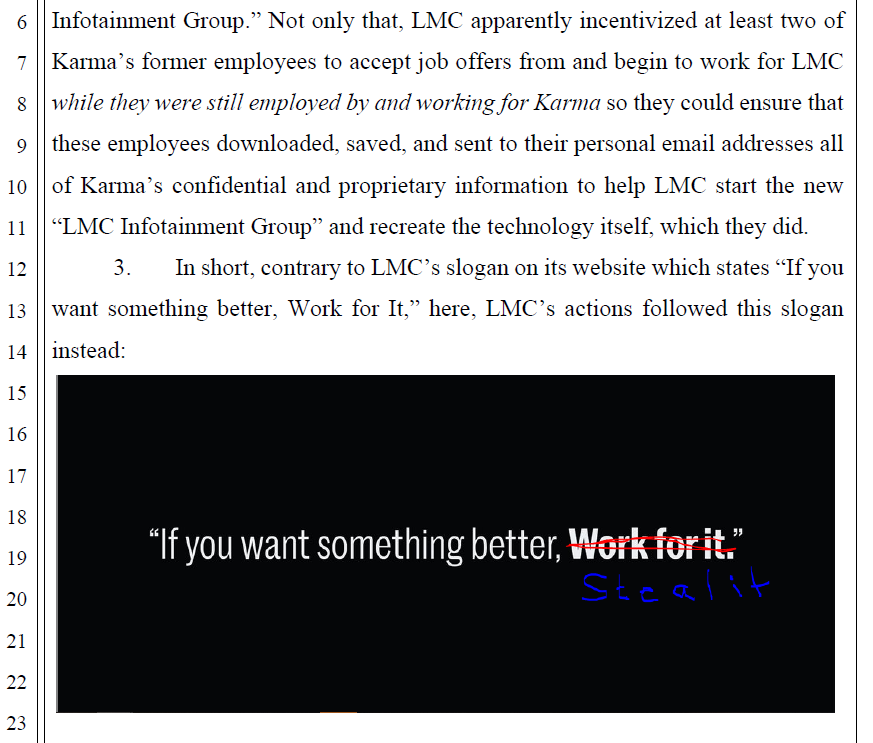 The complaint contains emails showing how Lordstown secretly hired employees of Karma, sometimes while they were still employed at the firm. Karma alleges that Lordstown then encouraged the duplicitous employees to steal thousands of documents via USB flash drive, which they used to launch a new Lordstown California office focused on building the infotainment system in-house.
The Lawsuit Shows That Lordstown Accidentally Emailed the Supplier A Cost/Benefit Analysis of Licensing the Technology Legitimately Versus Stealing It And Poaching The Employees Instead
Lordstown apparently made its intentions extremely obvious when it accidentally emailed one of the poached Karma employees on his work email with a cost/benefit analysis of licensing the technology from Karma versus misappropriating it and setting up a new Lordstown California office instead.
Lordstown's accidental email helpfully calculated the potential lost revenue to Karma, a useful component of determining any liability and damages.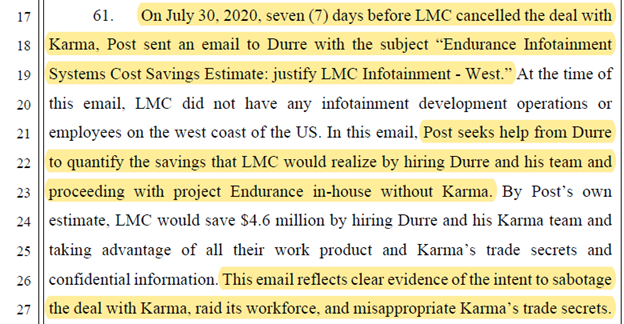 –––––––––––––––––––––––––––––––––––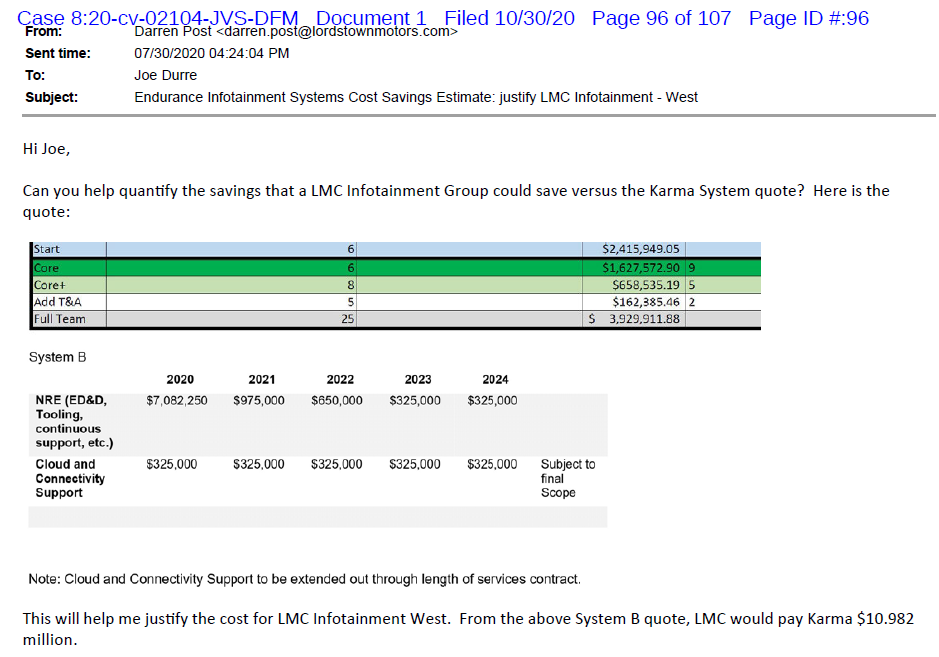 The complaint also shares how Karma employees emailed confidential files to their personal computers, a violation of company policy, as they were being poached by Lordstown.
Aside from the potential liability associated with the complaint, it underscores an approach to business that is similarly unethical and sloppy. If Lordstown is comfortable misappropriating technology through obvious acts of deception, should investors think themselves spared the same fate?
The Lack of a Single Product Sale Hasn't Stopped Insiders From Selling ~$28 Million in Stock in 4 Months Through Open Market Sales
We do not think it bodes well when executives unload stock in a company that claims to be on the cusp of production and revenue.
Lordstown only went public in October 2020, but in that brief time, executives and directors have unloaded ~$28 million in stock despite having no actual product. These sales are driven in significant part by the company's core engineering team:
Lordstown's President, the former Tesla Director of Manufacturing sold 263,412 shares. [1,2]
The VP of Propulsion sold 198,300 shares. [1,2]
The VP of Engineering sold 10,000 shares.
The prototype fire took place on January 13th, but was only revealed publicly on February 10th. Lordstown executives sold $8.8 million in stock through open market sales in that time frame before the public knew about the fire.
Conclusion: Investors, Workers, And The Local Community Deserve Answers On What Is Going On At Lordstown. We Have 21 Questions For the Company
One key thread we experienced through our research was hope. Even the most skeptical workers and partners of Lordstown often still held hope that the company would somehow make it happen, despite the obvious, given how hard the local community has fared as of late.
We don't think Lordstown Motors has been transparent. These questions are an opportunity to clear the air and show the local community, investors, and the public that the hope placed in Steve Burns has been justified:
Lordstown announced a 14,000-truck order from E Squared Energy, representing $735 million in potential sales. We found that E Squared is based out of a small apartment in Texas that doesn't operate a fleet. How do you explain this, and how do you explain calling this a "pre-order" when there is no end customer?
Lordstown announced a $52.5 million, 1,000-truck order from Innervations, LLC. We found that the entity is based out of a Regus Virtual Office with a UPS store mailbox. The CEO of the apparently 2-man operation described his role as being that of a promoter. How do you explain this, and how do you explain calling this a "pre-order" when there is no end customer?
When we contacted the CEO of supposed key customer Grid-X, he had no idea the company was considered a customer of Lordstown. Can you explain who at Grid-X signed the agreement, apparently without the knowledge of Grid-X senior management?
Does Lordstown have any binding commitments or deposits from customers to purchase any trucks? If so, how many/much?
What percentage of your "pre-order" book is from customers that don't operate fleets?
Why was Lordstown paying $30-$50 to collect non-binding pre-orders of virtually no substance?
Lordstown's marketing partner explained that "fundraising was directly linked to pre-order generation" in order to increase investor "confidence". How do you respond?
Lordstown (and predecessor Workhorse) have previously claimed to be 6-12 months away from production targets for years. Why should investors believe this time will be different?
The police report describing the immolation of the first Lordstown test vehicle stated that the model had passed all internal testing before being taken on the road. If that is the case, why did the vehicle incinerate itself within 10 minutes of being driven on actual roads?
Why did Lordstown license its critical motor technology from a tiny Slovenian company, Elaphe? Have the motors ever been successfully implemented on any commercial trucks currently in production or driven by end customers?
Former employees described that Lordstown has completed no major testing and validation of the prototypes. What progress has Lordstown made on cold weather testing?
How about a million-mile test or similar durability testing?
How many miles of actual road testing has Lordstown completed to date?
Former employees described how third-party parts need to be tested by companies like ZF/TRW. Which of these parts need to be tested and what has the progress been on these tests to date?
A former employee explained that Lordstown hasn't completed any Federal Motor Vehicle Safety Standards (FMVSS) tests required by the NHTSA. How do you respond? Have these tests begun, and will you provide thorough detail on progress to date?
A former employee stated that Lordstown switched from plastic frames to aluminum frames early this year, a "drastic" change that would essentially reset any testing or validation. Did this change happen, and if so, did you expect this wouldn't affect testing and production timelines?
The company has said previously that it would make all battery packs in-house. A former employee said the equipment to manufacture battery packs is months away from arrival and that battery packs are currently all being made by hand. How do you respond?
The company has said it intends to make all hub motors in-house using licensed technology. How many hub motors have been made in-house to date? How many have been purchased directly from Elaphe?
Karma automotive sued Lordstown, alleging the company poached its employees and proprietary infotainment system. The lawsuit includes an email sent by Lordstown showing a cost/benefit analysis of misappropriating the capabilities versus licensing them. How do you respond?
Former employees have said that Lordstown is 3-4 years away from production, if ever. Aside from a high-level goal, will you provide a clear timeline of steps needed to get the Endurance to production by September from a testing, validation, and factory tooling perspective?
Why have insiders sold ~$28 million in stock despite there being no product and the company claiming to be on the cusp of full production?
Disclosure: We are short shares of Lordstown Motors Corp. (NASDAQ:RIDE)
Appendix A: Background on Steve Burns
Typically, upstart auto companies rely heavily on engineering leadership (think Tesla or Rivian) given the intensity of launching brand new OEMs in the competitive arena of cutting-edge tech.
We found that Burns' legacy seemed to be that of a dealmaker focused on a variety of small software companies, with no significant scientific or automotive credentials prior to his roles at Workhorse and Lordstown.
Burns has been described in media and personal publications as having gone to Ohio State University and earning a degree in electrical engineering or as a "graduate" of Ohio State. [Pg. 17]
These reports have been imprecise. Our review of college enrollment records show that Burns attended OSU for 6.5 years but never graduated.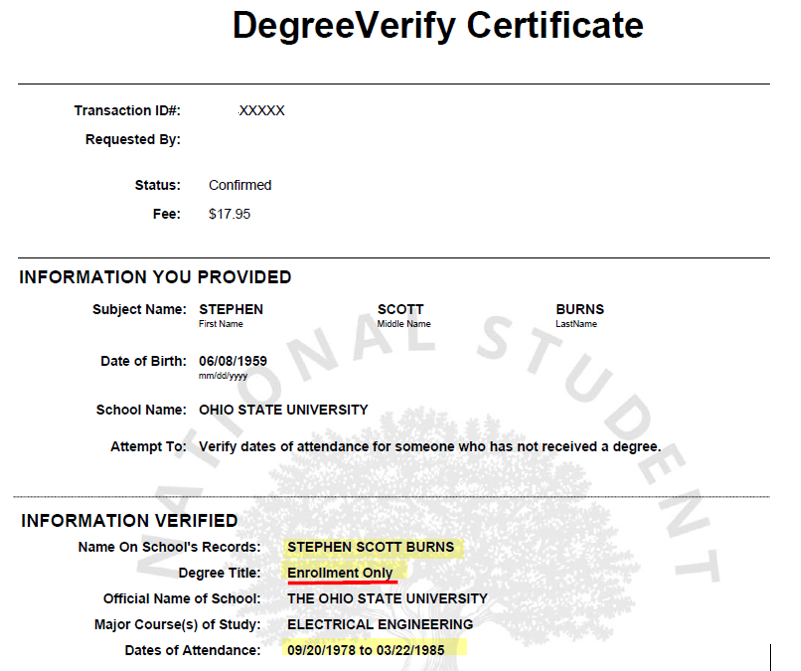 Following his college experience, Burns launched a variety of startups with a record of several modest successes and failures. All appeared to be companies that developed software without any direct relation to the auto industry, let alone manufacturing or advanced hardware development:
In 2010, Burns launched the predecessor entity that would then become Workhorse, which he ran until his resignation in 2019.
Legal Disclaimer
Use of Hindenburg Research's research is at your own risk. In no event should Hindenburg Research or any affiliated party be liable for any direct or indirect trading losses caused by any information in this report. You further agree to do your own research and due diligence, consult your own financial, legal, and tax advisors before making any investment decision with respect to transacting in any securities covered herein. You should assume that as of the publication date of any short-biased report or letter, Hindenburg Research (possibly along with or through our members, partners, affiliates, employees, and/or consultants) along with our clients and/or investors has a short position in all stocks (and/or options of the stock) covered herein, and therefore stands to realize significant gains in the event that the price of any stock covered herein declines. Following publication of any report or letter, we intend to continue transacting in the securities covered herein, and we may be long, short, or neutral at any time hereafter regardless of our initial recommendation, conclusions, or opinions. This is not an offer to sell or a solicitation of an offer to buy any security, nor shall any security be offered or sold to any person, in any jurisdiction in which such offer would be unlawful under the securities laws of such jurisdiction. Hindenburg Research is not registered as an investment advisor in the United States or have similar registration in any other jurisdiction. To the best of our ability and belief, all information contained herein is accurate and reliable, and has been obtained from public sources we believe to be accurate and reliable, and who are not insiders or connected persons of the stock covered herein or who may otherwise owe any fiduciary duty or duty of confidentiality to the issuer. However, such information is presented "as is," without warranty of any kind – whether express or implied. Hindenburg Research makes no representation, express or implied, as to the accuracy, timeliness, or completeness of any such information or with regard to the results to be obtained from its use. All expressions of opinion are subject to change without notice, and Hindenburg Research does not undertake to update or supplement this report or any of the information contained herein.