Singularity's CEO, Yang Jie, is a fugitive on the run from Chinese authorities for running an alleged $300 million Ponzi scheme that lured in over 20,000 victims.
Yang Jie fled to the U.S. while at least 28 other individuals involved in the case were sentenced to prison terms ranging from 6 months to 15 years. Chinese media and our own checks with local authorities confirm that Yang Jie still has an outstanding arrest warrant in China.
After escaping to the U.S., Yang Jie also allegedly forged Chinese state documents in an attempt to prove his innocence. As a result, and according to a police document cited by local media, Chinese police have added forgery to his list of suspected crimes.
In 2016, after evading authorities in China, Yang Jie became the largest shareholder and VP of Finance for a Nasdaq-listed lending company called China Commercial Credit.
One of Yang Jie's relatives, an alleged key Ponzi fundraiser, served as director at China Commercial Credit. The company failed after reporting massive losses. A prospective China Commercial Credit partner later accused Yang Jie of colluding with a rogue employee to misappropriate $3.5 million in assets.
Currently, Yang Jie has been "hiding out" in plain sight as CEO of U.S.-based, Nasdaq-listed Singularity.
Until late last year, the company now known as Singularity was a small Chinese-focused logistics company. In November 2021, Yang Jie took over as CEO and the company pivoted into cryptocurrencies.
Singularity had entered into a JV to produce crypto mining equipment in October 2021 and, in January 2022, disclosed a massive $200 million order from a subsidiary of a U.S. listed China-based crypto company called SOS Limited.
In other words, Singularity apparently expects investors to believe that it engineered, designed, tested, began to mass-produce, and sold hundreds of millions worth of crypto miners all within 3 months of its announced business pivot.
Singularity's massive mining rig deal appears to be a brazen undisclosed related party deal. Yang Jie's wife has served as VP of the SOS subsidiary that made the $200 million order. Yang Jie also controls an entity based at the exact same address as the SOS subsidiary.
A Hindenburg investigation last year found that SOS Limited seems to have fabricated key aspects of its own pivot to cryptocurrency. The company's stock has fallen 90% since our research was released, and SOS recently disclosed an SEC investigation relating to our report.
We see little evidence that Singularity's "proprietary" crypto mining rigs ever existed in the first place. The photos and descriptions of Singularity's miners match precisely with another brand called KOI Miner.
In April 2022, Singularity announced an up to $250 million partnership with a 10 GW+ capacity U.S. power producer called Golden Mainland.
Golden Mainland's website was registered just 1 day before the Singularity press release, and the entity was incorporated just 6 months earlier. We found no indication that the prospective partner owned any energy assets, much less 10 GW+ worth.
We also found no evidence that Golden Mainland has a headquarters or any employees aside from its founder, who used a Gmail address on the SEC filing detailing the supposed $250 million deal. We believe Golden Mainland is a blatant fabrication.
We think Singularity is an extremely obvious total scam, with little to no actual business operations. Given that CEO Yang Jie helped usher in the implosion of another Nasdaq-listed company (China Commercial Credit), along with a massive Ponzi scheme in China, we expect he will continue until he is stopped.
We have shared our findings with Nasdaq and authorities.
Initial Disclosure: After extensive research, we have taken a short position in shares of Singularity Future Technology, Ltd. (NASDAQ:SGLY). This report represents our opinion, and we encourage every reader to do their own due diligence. Please see our full disclaimer at the bottom of the report.
Introduction: Singularity's CEO Is A Fugitive With An Arrest Warrant In China
Singularity's CEO, Yang Jie, is an active fugitive in China, stemming from allegations that he spearheaded a massive $300 million Ponzi scheme that lured in over 20,000 victims.
Chinese authorities sentenced at least 28 other individuals involved in the scheme to prison, with sentences ranging from 6 months to 15 years. Yang Jie currently has an outstanding arrest warrant in China, per local media, citing police sources.
Around the time of the unraveling of the alleged Ponzi scheme, Yang Jie and his wife attempted to flee to the Marshall Islands, before winding up in the United States, according to Chinese court records.
At risk of understating the obvious, we think this information is extremely important for Singularity investors to be aware of. Yang Jie's past in China, including his active arrest warrant, has never been disclosed to Singularity's investors in SEC filings. Similarly, the company's disclosures list no active legal proceedings. [Pg. 43]
Beyond Yang Jie's track record, we assess that Singularity is a complete scam. Its key deals are rife with undisclosed conflicts of interest and/or show obvious signs of being total fabrications.
We view it as an affront on the integrity of U.S. capital markets when an active fugitive is publicly heading a listed company. We have notified Nasdaq and authorities of our findings.
Background: Singularity Was A Shipping Logistics Company That Suddenly Pivoted To Blockchain In Late 2021 As Its New CEO, Yang Jie, Took The Reins
From 2001 to January 2022, the entity now known as Singularity was a struggling, primarily China-based shipping logistics company called Sino-Global Shipping America, Ltd. [Pg. F-7]
In early 2021, with crypto assets spiking, Sino-Global Shipping began to pivot. In February 2021, a month after Yang Jie joined the company, it announced new executive leadership to "drive bitcoin mining operations expansion." In March 2021, it announced its intent to launch an NFT exchange, acquire a blockchain infrastructure developer, and purchase thousands of crypto miners.
In November 2021, Sino-Global Shipping announced a "succession plan", replacing its former founder and CEO with a new blockchain-focused CEO in Yang Jie.
Yang Jie's appointment as CEO amid the overall strategic shift seems to have been embraced by the market, with Singularity's stock rocketing up ~493% from its 2020 low of $1.37 to today's price of $6.75.

Part 1: The History of Singularity's CEO, Yang "Leo" Jie
Singularity discloses very little information about Yang Jie. Its website has no photo under its "Management Team" section, instead displaying a cartoon and referring to Yang Jie by his English name "Leo" and his last initial, "J.".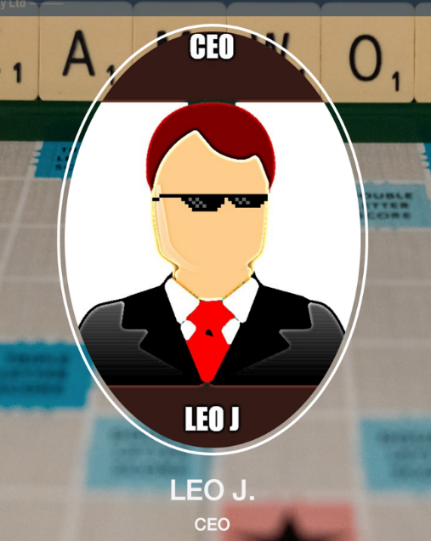 Yang Jie's official SEC biography is similarly sparse, listing prior work experience at just one company, China Commercial Credit Inc., and his claimed educational credentials:

Yang Jie's claimed educational credentials have contradicted themselves throughout his work history.
His above Singularity SEC biography claims that he holds a Bachelor's degree in Business Management from Beijing Finance and Trade Technology College.
However, we found that a March 2016 filing for SEC-reporting Tianhe Union Holdings Limited claims that Jie "holds a college degree in marketing from Lv'an Teachers College".[1]
Additionally, we found a 2017 filing for SEC-reporting Tianci International, Inc., which says Jie "obtained a bachelor degree in business administration from Beijing College of Finance and Commerce in 2006."
Finally, in his autobiography, titled "The Power of Trying" and first published in 2014, Jie claims that he only completed elementary school before leaving school. [Pg. 3][2][3]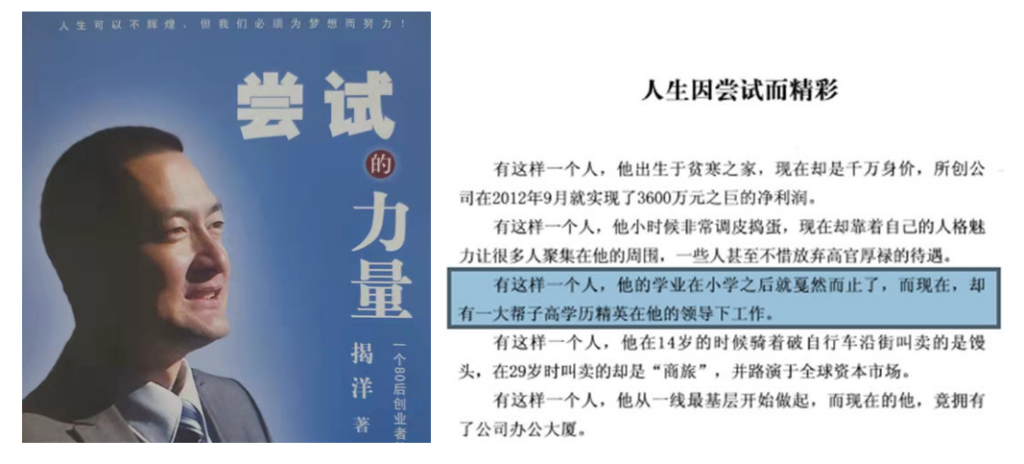 It is unclear which or whether any of the 4 different renditions of his education history are accurate.
Yang Jie's only other work experience listed in his Singularity SEC biography was at China Commercial Credit (CCCR). As we discuss later, CCCR was another Nasdaq-listed company that failed amidst detailed allegations that Yang Jie misappropriated assets.
Yang Jie Allegedly Ran A Ponzi Scheme That "Illegally Absorbed" U.S. ~$300 million From ~20,000 Investors in China
At Least 28 Individuals Involved in the Scheme Were Handed Prison Sentences Ranging From 6 Months to 15 Years
Beyond issues with his minimal work experience and inconsistent educational credentials, the gaps in Yang Jie's SEC biography speak volumes.
Things appeared to be going great for Yang Jie in early 2015, when he was widely recognized as a technology entrepreneur in China. He was head of a travel technology company, hosting lavish parties, including one that drew 1,300 people, including politicians and supporters.[4]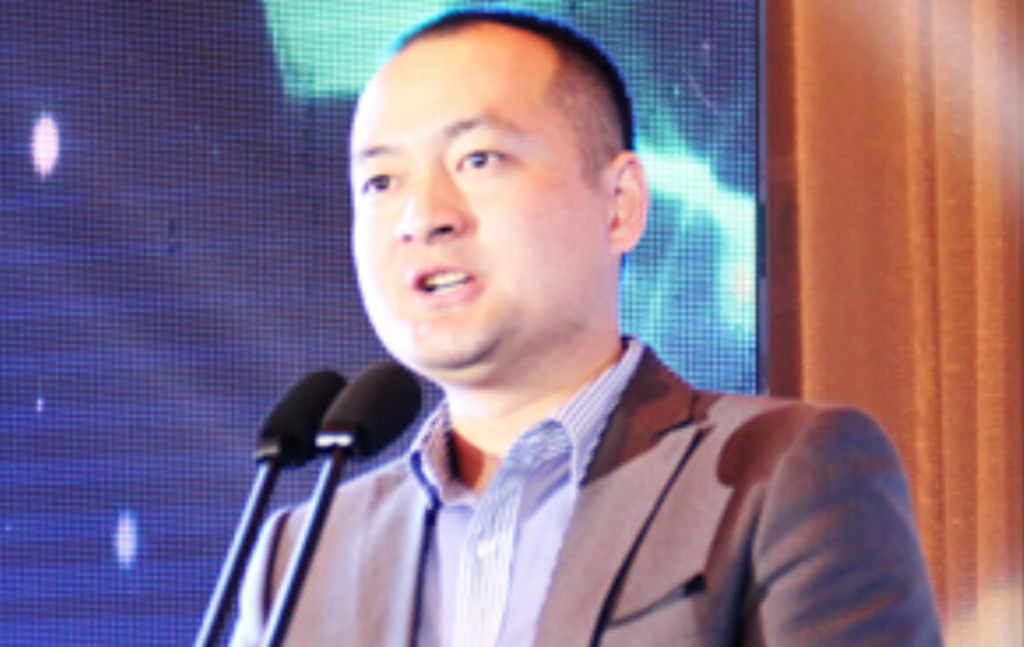 The travel business was losing money, but later that year, around October of 2015, Yang Jie claimed to have discovered an exciting new investment opportunity relating to the ticketing industry, according to subsequent court records. [Also see: Translated English court records]
Yang Jie and his sales team claimed the investment would return up to 1,085% per annum with virtually no risk, and rapidly drew in roughly U.S. $300 million in capital from around 20,000 investors. Yang Jie recruited a relative, Weiliang Jie, along with numerous others, to help lead the fundraising efforts.[5]
As several witness testimonies revealed, the funds were never actually used in "production or business activities." Instead, they were used in a clear-cut Ponzi scheme, wherein money from the later investors "would be returned to the dividends of the previous investors." [Pg. 6]
One of the defendants in the case, Youzhong Li, testified that it was his job to "do everything possible to get investors to invest" by doing presentations, which included promises of "making steady profits without losing money." He admitted that "the repayment to members is provided from the continuously raised funds [from new members]." [Pg. 71]
By April 2016, investors experienced their first late payments, according to media reports. With the scheme on the verge of unraveling, Yang Jie ordered a coverup, instructing his co-conspirators to "smash computers, bank cards, USB shields, etc." [6]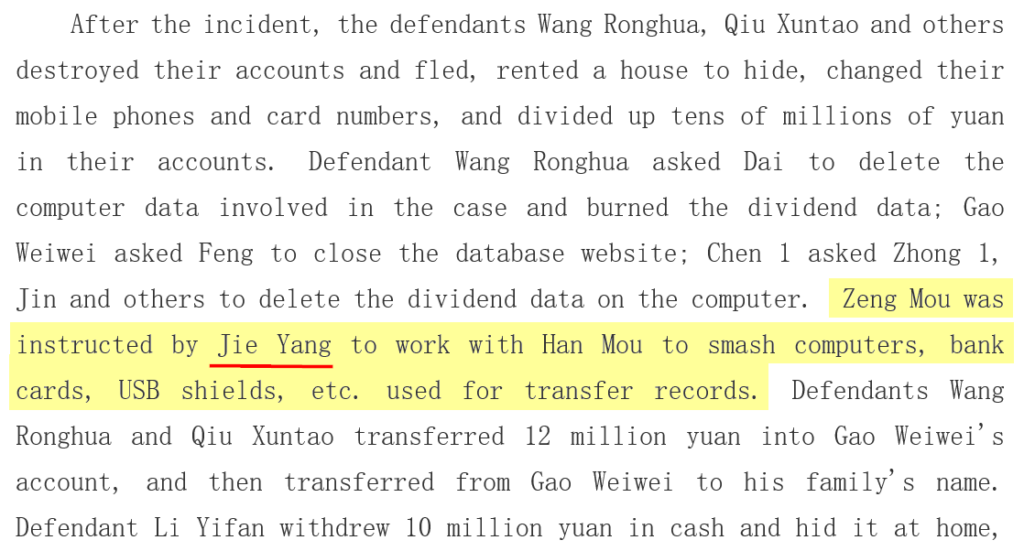 Around April 2016, Chinese authorities began arresting Yang Jie's co-conspirators.
In total, at least 28 individuals involved in the scheme were sentenced to prison, according to court records. Sentences ranged from 6 months to 15 years. Many testified that Yang Jie was the "real boss" and "actual controller" of the scheme, but Yang Jie didn't stick around to face the consequences.[7]
Yang Jie "Fled Abroad" and Remains a Fugitive, According to Chinese Media and A Recent Check With Local Authorities
In July of 2016, Chinese authorities located an immigration professional who said he had been helping Yang Jie and his wife, Xiaohuan Huang, obtain citizenship in the Marshall Islands. [Pg. 29-30 (translated)] It's unclear whether those attempts were successful, but media reports noted that Yang Jie ultimately fled to the United States.
[Click here to see video of CCTV footage detailing fraud allegations against Yang Jie]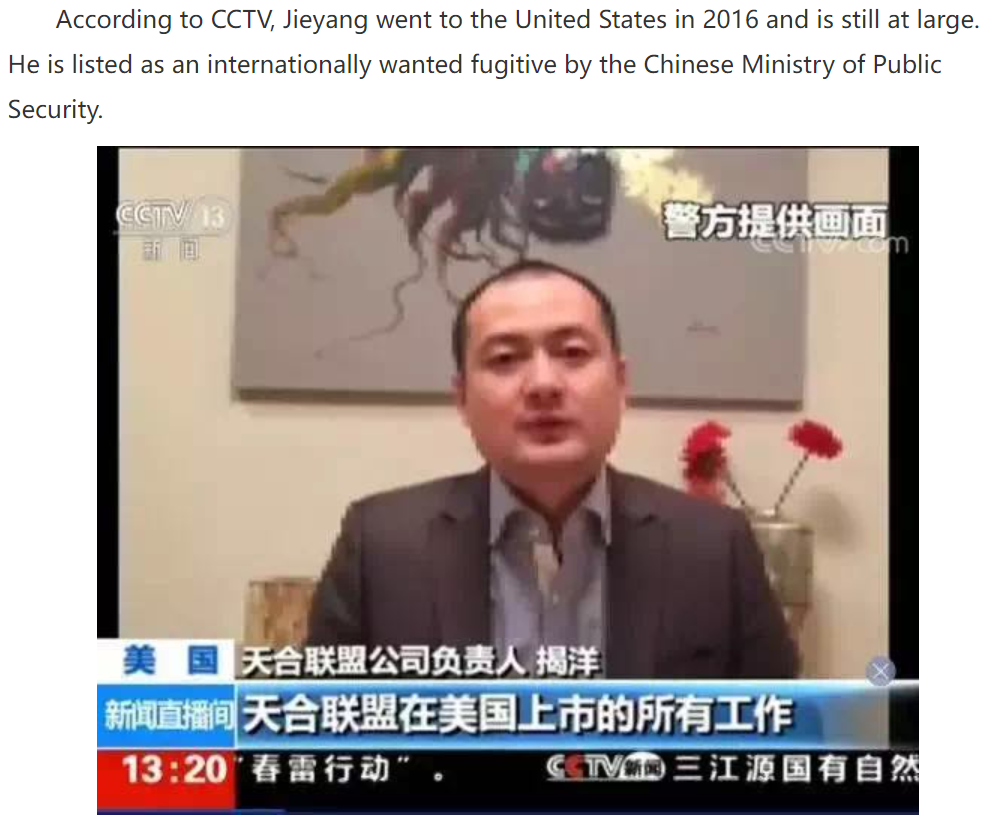 In 2018, a police officer in Heifei, China confirmed to reporters that Yang Jie had fled the country and that a "red notice" would be issued for his arrest. A "red notice" is the "highest level", "urgent" warrant, according to the report:
[Translated]: "Yang Jie is the first principal in this case, and has now fled abroad. At present, he has been approved by the city's procuratorate for arrest, and he will be given a red notice immediately."
Media also re-confirmed in 2019 that Yang Jie was listed as an internationally wanted fugitive by the Chinese Ministry of Public Security.
A Hindenburg representative called Chinese authorities and spoke with a person involved in the investigation, who told us that an arrest warrant had been issued and that there was no change to Yang Jie's status as a fugitive.
Having Evaded Authorities in China, Yang Jie Became the Largest Shareholder and VP of Finance For a Nasdaq-Listed Lending Company Called China Commercial Credit In 2016
One of Yang Jie's Alleged Key Ponzi Fundraisers Served As Director. The Company Failed After Reporting Massive Losses
In May 2016, just one month after Yang Jie's alleged Ponzi scheme collapsed in China, his relative Weiliang Jie was appointed to the board of a NASDAQ-listed company called China Commercial Credit (CCCR). Weiliang Jie served on CCCR's Audit, Nominating and Corporate Governance, and Compensation committees and was chair of the Compensation Committee. [Pg. 52]
Recall, Weiliang Jie was recruited as a key fundraiser for the above-described Ponzi scheme, though he was never charged, per Chinese criminal court records.
The following October, Yang Jie was appointed Vice President of Finance for China Commercial Credit. His SEC-disclosed biography omitted that he allegedly operated a $300 million Ponzi scheme. [Pg. 40]
A month later, Yang Jie's wife, Xiaohuan Huang, was appointed VP of the company, per her biography filed with the SEC. [Pg. 24] The following December, Yang Jie and Xiaohuan Huang were listed as the largest shareholders of the company with a 22.5% stake.[8]

China Commercial Credit posted consistent losses and eventually ran into financial distress. [Pg. 25]
China Commercial Credit Attempted a Reverse Merger, But Subsequent Litigation Records Show It Failed When Its Key Deal Partner Discovered That Yang Jie Was Under Criminal Investigation And Suspected He Had Misappropriated $3.5 Million
In August 2017, a company called Sorghum entered into an agreement to acquire China Commercial Credit with the hopes of becoming publicly-listed in the U.S. via a reverse-merger. Sorghum terminated the deal several months later, alleging that China Commercial Credit failed to disclose "all necessary material information." [Pgs. 1, 35]
Sorghum said it discovered that Yang Jie was under criminal investigation for securities fraud in China, a fact that was concealed from the acquirer, and investors in general. They also claimed to have discovered that Yang Jie attempted to steal $3.5 million from Sorghum by colluding with a rogue employee in the middle of the acquisition.
Court records also alleged that the firm hired to do a fairness opinion on the transaction was wholly owned by Yang Jie, which was also concealed from the potential acquirer. [Pg. 10] Furthermore, CCCR failed to disclose the $3.5 million escrow payment in its SEC filings, a material omission. [Pg. 12]
A court found in favor of a Sorghum petition to vacate a previous arbitration award as a result of the findings.
Amidst The Fallout, Yang Jie Attempted to Prove His Innocence by Releasing a Document to Chinese Media Showing Authorities Were Not Pressing Charges Against Him
Police Declared the Document a Forgery And Added Forgery To His List of Suspected Crimes
As the reverse merger deal began to fall apart, in part due to Yang Jie's fugitive status, he apparently tried to prove his innocence with an official letter from Chinese police showing that they didn't intend to pursue charges against him.
Chinese media were able to obtain a letter from the Hefei Police that confirmed that the document was a fabrication. As a result, police added forgery to Yang Jie's list of suspected crimes.
[Translated] "Since we still do not have Yang Jie in custody, the Letter of Decision not to press charges presented by Yang Jie that you submitted to us is clearly fabricated, and Yang Jie is suspected of forging official government documents."
Weiliang Jie and Yang Jie resigned from China Commercial Credit in February 2018, while the litigation with Sorghum was still unfolding. [Pg. 2, Pg. 63]
Today, China Commercial Credit is known as TD Holdings (NASDAQ:GLG). While its share price reached a high of $17.40 during the Jie family's tenure, it has since crashed by ~99%, trading at just ~$0.24 today.

Step By Step: How We Confirmed Yang Jie the Fugitive Is the Same Yang Jie Who Is Now CEO of Singularity
Given the gravity of the allegations, it was of utmost importance that we confirmed that the Yang Jie running Singularity is, in fact, the head of the alleged massive Chinese Ponzi scheme that resulted in over 2 dozen prison sentences. Here is a step-by-step process for how we did it.
Step 1: Yang Jie's Passport Records Are a Match, Per A Search By CCCR's Previous Potential Deal Partner
As detailed earlier, per his official Singularity biography filed with the SEC, Yang Jie previously worked as VP at China Commercial Credit Inc. (CCCR) and was its largest shareholder.
In late 2017, CCCR attempted a reverse merger with a company called Sorghum Investment Holdings, which we discussed above. The deal fell apart in part because Sorghum discovered that Yang Jie was a fugitive by matching his passport number provided in deal documents with his passport as found in Chinese criminal records.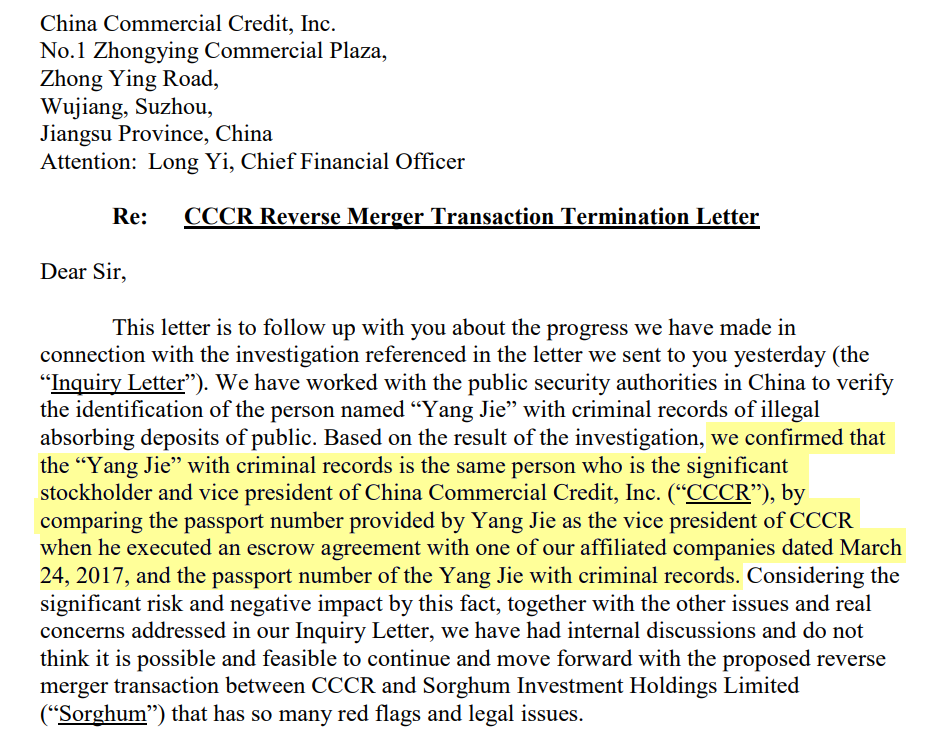 (Source: Court records of Sorghum's deal termination letter identifying Yang Jie as a fugitive, [Pg. 1])
Step 2: A Comparison of Chinese Court Records and SEC Filings Confirm Numerous Matching Details, Including His Wife's Name And the Name of His Relative & Key Business Partner
Wife: Chinese criminal court records identify Yang Jie's wife as Xiaohuan Huang. [Pg. 29] Separate SEC filings also identify Yang Jie's wife as Xiaohuan Huang, further solidifying that this is the same Yang Jie who ran the Ponzi scheme in China. [Pg. 182]
Relative & key business partner: In the above-referenced media report, Weiliang Jie is identified as a relative of Yang Jie. In both SEC filings and Chinese court records, Weiliang Jie is identified as a close business partner of Yang Jie:
Weiliang Jie is listed in Chinese court records as being a key fundraiser for the Ponzi scheme, though he was never charged.
In May 2016, just one month after Yang Jie's alleged Ponzi scheme collapsed in China, Weiliang Jie was appointed to the board of NASDAQ-listed China Commercial Credit (CCCR). [Pg. 52] That October, Yang Jie became the Vice President of Finance for the company, and eventually its largest shareholder. [Pg. 40] Yang Jie's wife was appointed VP of CCCR the next month. [Pg. 24] Again, Yang Jie's official biography in Singularity filings confirms that he previously worked at CCCR.
Step 3: Visual Confirmation from (a) Chinese Television (b) Our Recent Surveillance of Yang Jie and (c) Video from Singularity's Recent Annual Meeting
Chinese state media CCTV has video and photos of Yang Jie in segments about his alleged crimes in China. [1,2,3] We matched that footage and pictures with our own surveillance.
[Click here to see video of CCTV footage detailing fraud allegations against Yang Jie]
Yang Jie reported his residential address in SEC filings.[9] We surveilled the address and identified Jie on site as the same individual Chinese media reported as being the head of the Ponzi scheme.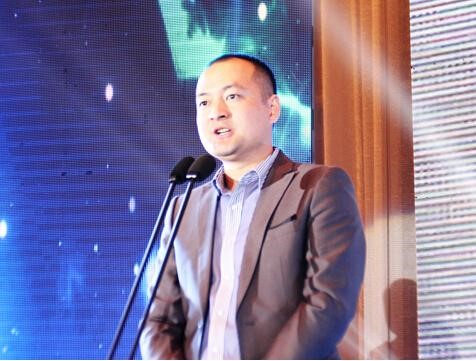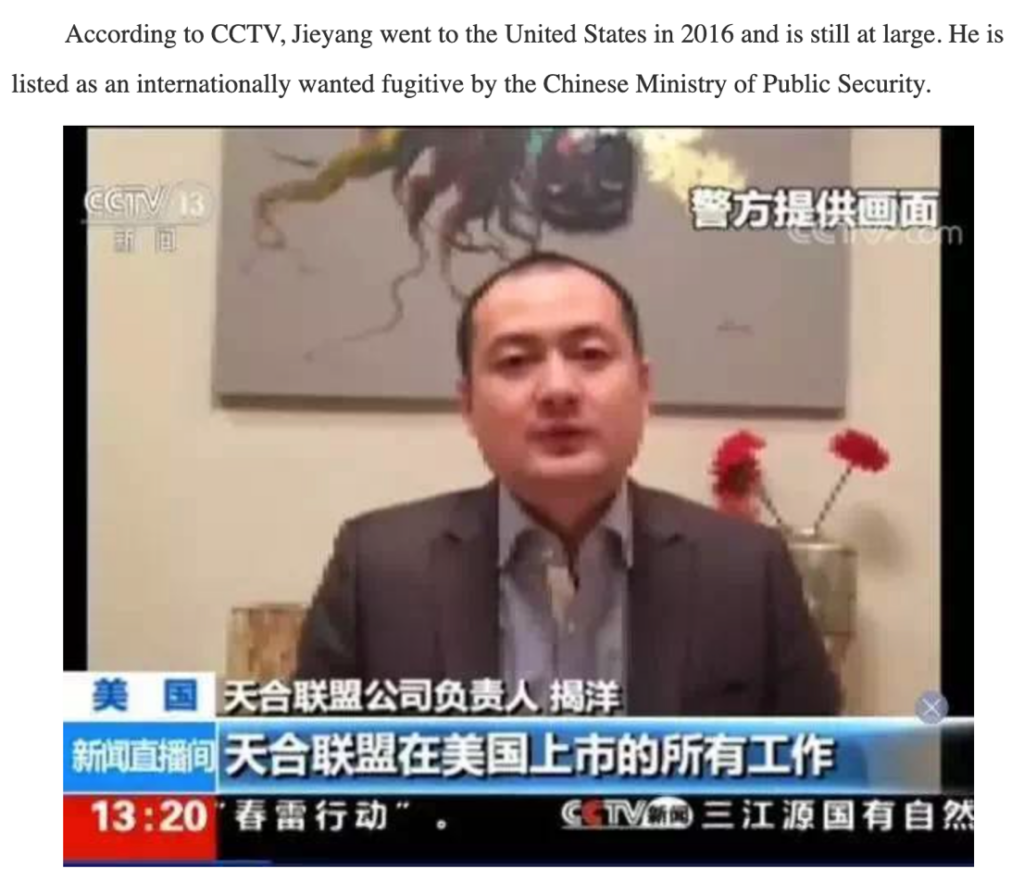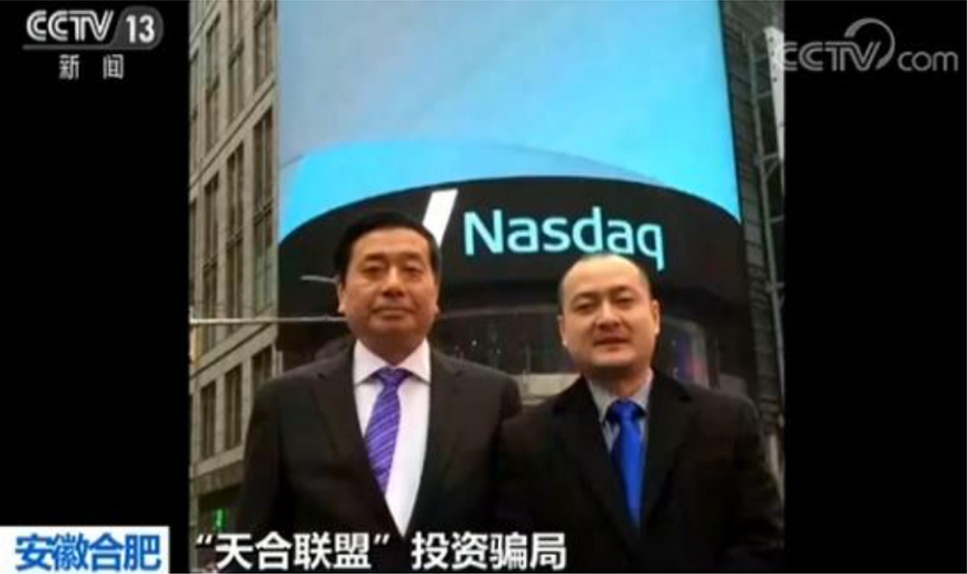 Per our surveillance at his New York address listed in SEC filings, roughly 6 years older, this is what Yang Jie looks like today: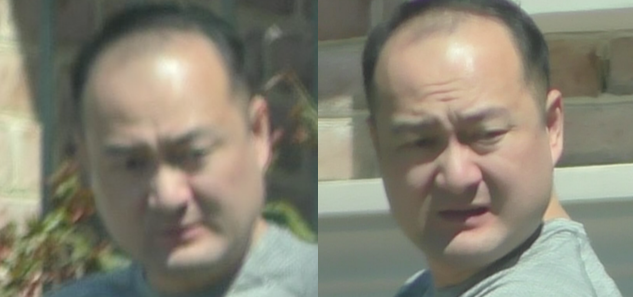 Additionally, Singularity held an online annual meeting via Zoom on April 22, 2022. Yang Jie's face was blocked for most of the meeting by a flower, but we captured several stills that once again confirmed the match.

Step 4: Yang Jie Acknowledges "Legal Troubles Back Home" To the Miami Herald In 2019 When Questioned About Fraud Allegations
In April 2019, the Miami Herald published an article diving into how massage parlor owner Cindy Yang helped Chinese tech execs get pictures with then-President Trump for $50,000 each. Journalists questioned Jie about his bragging of having a photo taken with the President, noting his legal troubles:
"Perhaps most notable was Jie Yang, a Chinese financier accused of securities fraud in China who is now living in New York."
He reportedly said he snuck past Secret Service to get the picture, but later changed his story:
"Jie Yang said he got his photo taken with the president as well, but he was never sent a copy. In an initial interview, he said he had snuck past the Secret Service to have an official photo taken with the president. He later walked his comment back and said one of the event organizers had informally snapped a shot of him and the president."
When asked about his legal troubles, he blamed them on the Chinese government:
"Speaking of his legal troubles back home he said: 'The Chinese Communist Party's policies [are] terrible. They always harass businesspeople like me.'"
The article included a picture of Yang Jie, pictured second from right standing next to Ronna McDaniel, the chair of the Republican National Convention (RNC).[10]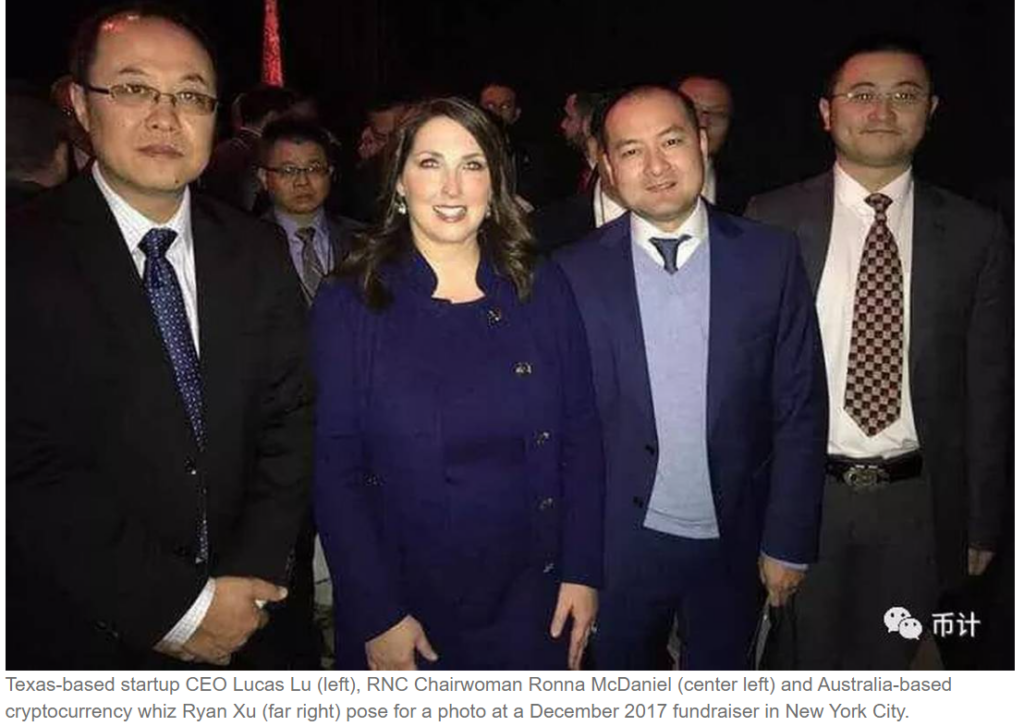 Step 5: Chinese Media Repeatedly Makes It Clear That Fugitive Jie Is The Same Individual Associated With China Consumer Credit, Which Matches Jie's Work History Disclosed In Singularity SEC Filings
Multiple Chinese media articles make it clear that Yang Jie was both behind the Ponzi scheme and the eventually failed Nasdaq-listed CCCR. [1,2,3]
One Chinese media article attempted to explain how a major domestic fugitive has continued to lead Nasdaq-listed companies, noting (translated): "the asymmetry of news information [between the U.S. and China] has concealed this fact from the SEC."
Part 2: Singularity Appears to Be a Complete Sham
After his stint with China Commercial Credit, Yang Jie decided to venture into the world's biggest receptacle for scam artists: cryptocurrencies.
Singularity Entered a JV to Create Crypto Mining Equipment in October 2021 And, in January 2022, Disclosed a Massive $200 Million Order From A Subsidiary Of A Listed Chinese Company Called SOS Limited
In Other Words, Singularity Apparently Expected Investors to Believe That It Engineered, Designed, Tested, Mass-Produced and Sold Hundreds of Millions Worth of Crypto Miners All Within 3 Months
In an October 4th, 2021 press release, Singularity (then named Sino-Global Shipping America, Ltd.) announced a partnership with a Chinese crypto mining company called Shenzhen Highsharp Electronic Ltd. Per the release, the two companies were to establish a joint venture called "Thor Miner" to engineer, develop, and commercialize a new bitcoin mining machine.
Progress appeared to move at a miraculous rate. About 3 months after the announcement, on January 10th, 2022, Singularity disclosed that Thor Miner had already received a massive $200 million order for its machines from a subsidiary of NYSE-listed crypto company SOS Limited, with half of the order proceeds (i.e. $100 million) to be paid within 5 days. [Pg. 28]
It appeared that the newly minted joint venture was somehow able to engineer, develop, beta test, mass produce, and sell its bitcoin mining machines all within a 3-month span. The size of the $200 million deal would instantly put the newly formed Thor Miner into a small group of top tier mining rig producers.
Despite the fact that a deal of this size would be material in nature and presumably incredible news for existing shareholders, the company took the curious step only disclosing the mega deal at the bottom of an SEC filing, rather than announcing it via press release, as it did with the inception of the JV.
Background: Last Year, Our Investigation Into SOS Limited Found That It Blatantly Fabricated Key Elements Of Its Pivot Into The Crypto Space
SOS Has Since Lost 90% Of Its Value And Disclosed Receiving A SEC Subpoena Related to Our Report
In February 2021, we released an investigation into SOS Limited detailing evidence indicating that the company fabricated elements of its pivot into cryptocurrency, including several deals with newly-formed entities that displayed glaring signs of undisclosed ties to SOS.
SOS has fallen 90% since the day of our report and, in February 2022, the company disclosed it had received a subpoena from the SEC related to the issues we raised. Days ago, in the company's 2021 Form 20-F, it disclosed it had received a second subpoena from the SEC on April 29, 2022. [Pg. 51]

The company has managed to raise $631.4 million on U.S. capital markets since December 2020 through repeated share sales.[11] As of its latest prospectus, it has over 2.8 billion shares outstanding.
Singularity and its CEO appear to have two clear undisclosed ties to SOS, neither of which were disclosed to investors.
Singularity's Massive Mining Rig Deal Appears to Be A Brazen Undisclosed Related Party Deal
The Wife Of Singularity's CEO Has Served As The VP Of The SOS Subsidiary That Made The $200 Million Purchase Order
Singularity CEO Yang Jie Has An Entity Based At the Exact Same Address as The SOS Subsidiary That Made the $200 Million Purchase Order
As noted above, Yang Jie's wife is named Xiaohuan Huang, per Chinese criminal court records and SEC filings.[12]
As of her most recent biography, she's served as VP of SOS Information Technology New York, the exact same subsidiary that made a $200 million purchase order of crypto mining rigs from Singularity's joint venture, Thor Miner. The sparse filings on the $200 million deal made no disclosure that Huang is married to the CEO of the company that just sold rigs to the entity where she has served as VP:


We believe that Singularity CEO Yang Jie may also have had ties to SOS for years prior to the Thor Miner transaction. During our research, we found that an entity called "Jie's Enterprise and Development" uses the same exact address as SOS New York, per New York corporate records.[13]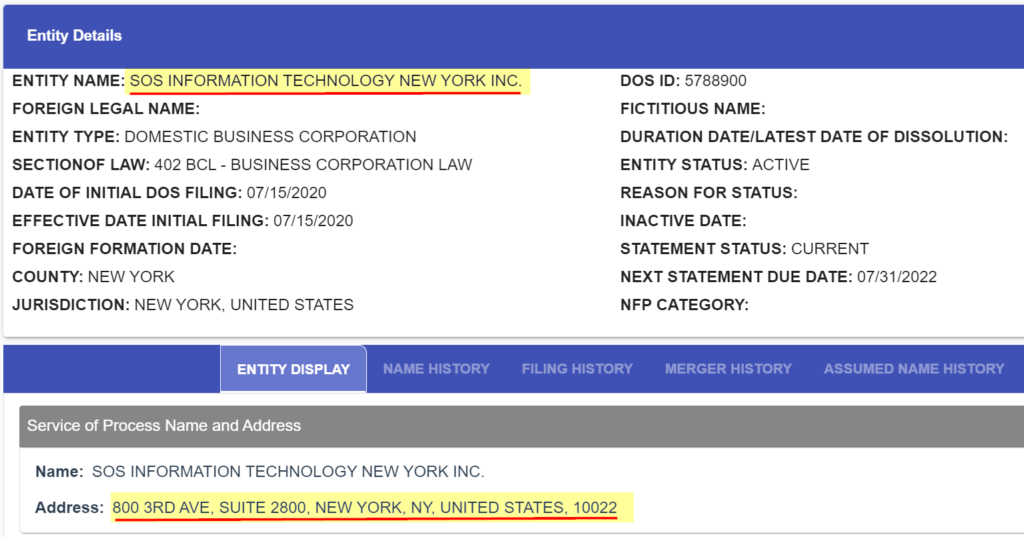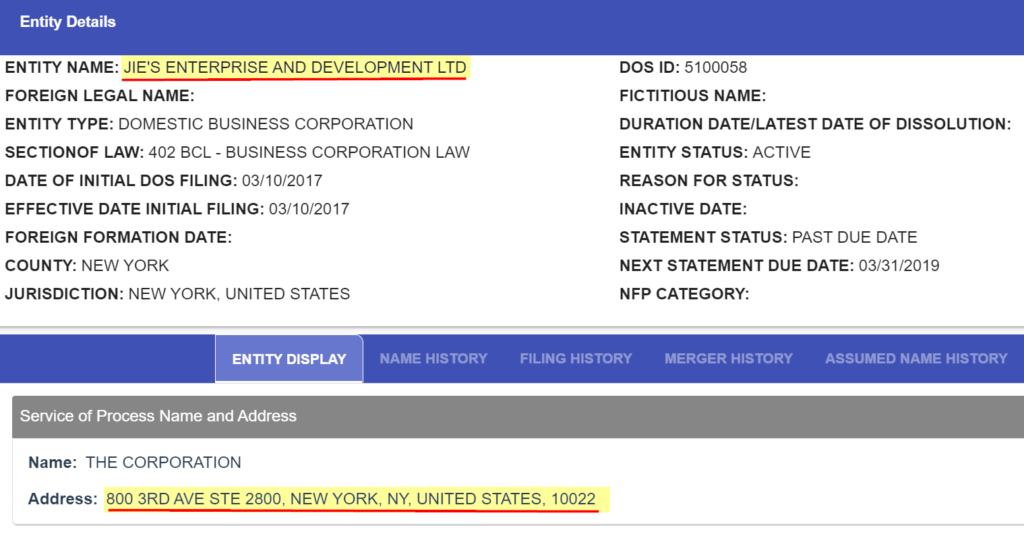 The name of the entity doesn't seem to be a coincidence. Nassau county real estate records show that Yang Jie's personal residence is owned by "Jie's Enterprise and Development". As noted in the pictures above, when we surveilled the address, we observed Yang Jie at the location.[14]
To recap: Singularity's CEO oversaw the 'sale' of $200 million of crypto mining rigs to an entity where his wife served as VP, based out of the exact same address as his own personal entity, with no disclosure of any conflict.
We See Little Evidence That Singularity's "Proprietary" Crypto Mining Rigs Existed In The First Place
The Exact Photos And Descriptions Of Singularity's Miners Match Another Brand Called KOI Miner
Singularity says its Thor S99 miner is a "world leading crypto mining machine". Yet pictures of the product are identical to another miner, the KOI Miner C16, manufactured by AGM Group Holdings.
In fact, a photo on the "Thor Miner" homepage literally features a picture of a KOI miner as its own: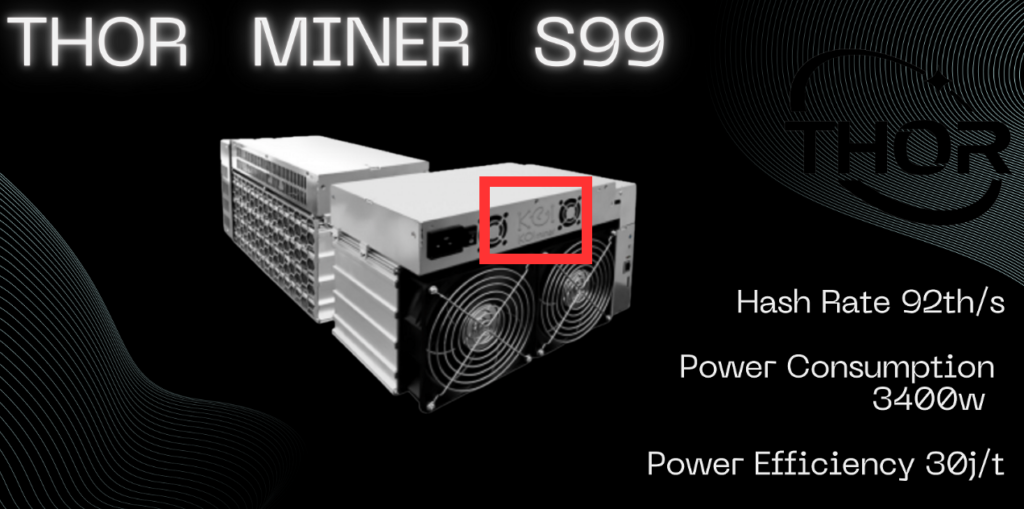 Other photos from the website are identical to photos posted elsewhere of the KOI miner: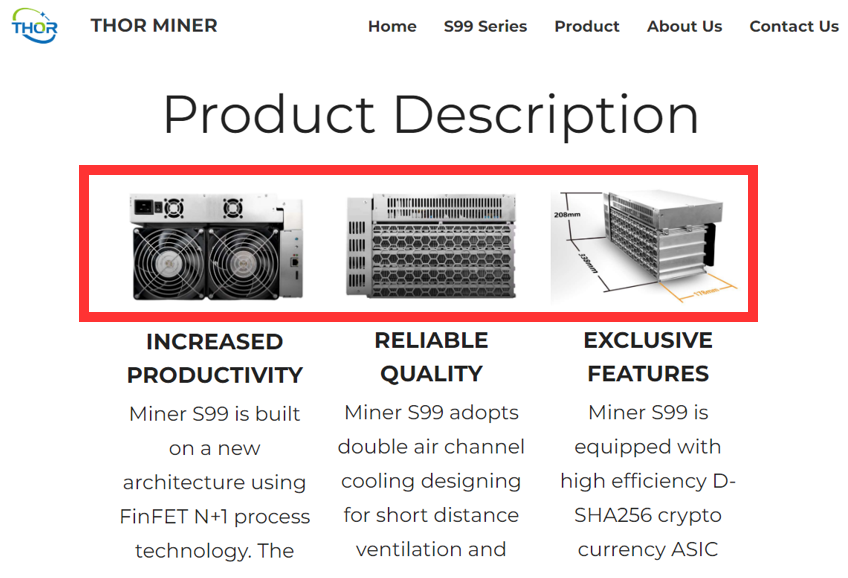 (Source: S99 Miner from Singularity / Thor Miner)
In addition to the identical photos, both companies use identical product descriptions.
"KOI Miner C16 is built on a new architecture using FinFET N+1 process technology. The computing power as a whole machine passes 100TH/s, as high as 113TH/s, with energy consumption rate of the unit computing force reduced to as low as 30J/T."
"Miner S99 is built on a new architecture using FinFET N+1 process technology. The computing power as a whole machine passes 100TH/s, as high as 113TH/s, with energy consumption rate of the unit computing force reduced to as low as 30J/T."
Note that AGM announced the KOI Miner months before Singularity's Thor Miner venture was even established, indicating that Singularity just copied the pictures and description of a competitor and claimed it as its own proprietary product.[15]
Adding To Our Concerns, Singularity's Supposed Joint-Venture Partner, Highsharp, Is Currently Being Sued By A Large Crypto Miner Manufacturer For IP Infringement
Note that both Singularity and AGM (the manufacturer of the KOI miner) report partnerships with Highsharp, a Shenzhen, China-based designer of ASIC chips used for bitcoin mining rigs.
Highsharp is currently being sued by more established miner manufacturer, Canaan, for allegedly stealing patented technology.

According to crypto media outlet The Block, Canaan is demanding that Highsharp cease the production of its machines and pay damages of $14 million.
In April 2022, Singularity Announced an up to $250 Million Partnership With a 10GW + Capacity U.S. Power Producer Called Golden Mainland
Golden Mainland's Website Was Created 1 Day Before the Singularity Press Release, And The Entity Was Incorporated Just 6 Months Earlier
We Found No Indication That The Entity Owned Any Energy Assets, Much Less 10GW-Worth
On April 11th, 2022, Singularity announced another JV agreement with an entity called Golden Mainland in which it would invest up to $250 million to scale bitcoin mining operations across the U.S.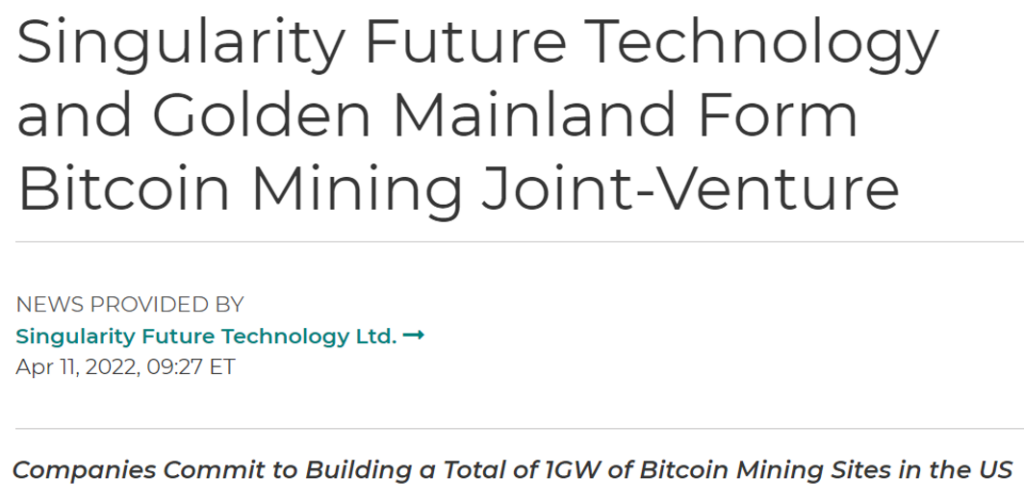 According to Singularity's press release, Golden Mainland is a large power producer that owns power rights in nuclear, hydro, wind, solar, and geothermal, with a total of 10+ GW of production under its umbrella.
To put that in perspective, the largest hydro plant in the U.S. is the Grand Coulee, which provides ~6.8 GW of power.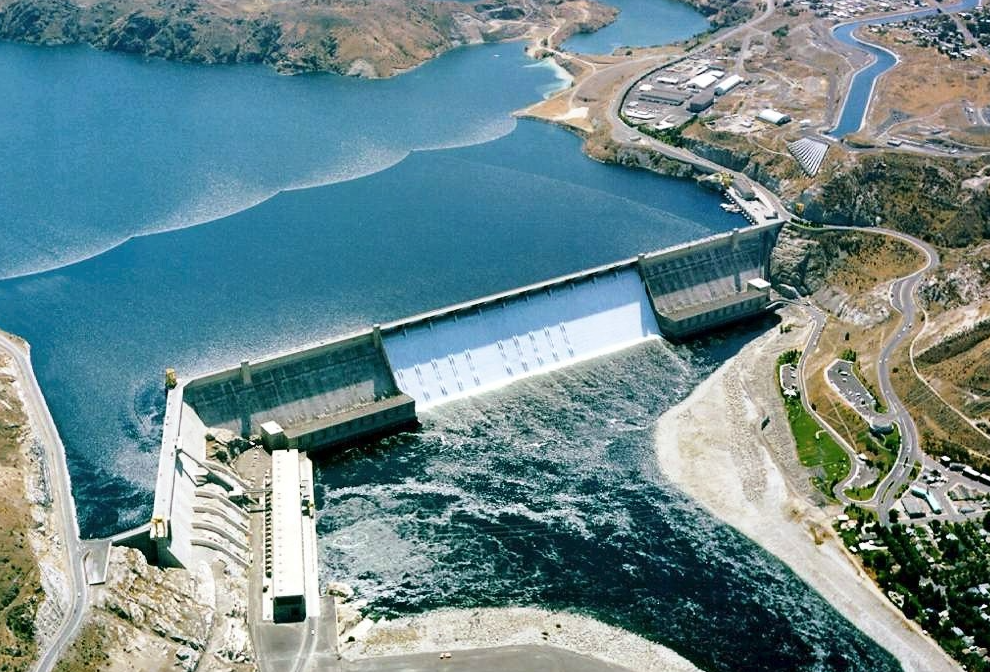 For Golden Mainland to operate 10+ GW of power resources, we would expect it to be easy to find basic information about the company such as its number of employees, its headquarters, and plant locations (as one can find in a quick Google search for the Grand Coulee dam).
Instead, the little we can find about the company appears to have been drummed up and distributed solely to support Singularity's announcement of a claimed partnership with the entity.
For example, Golden Mainland's domain, globalmainland.com, was registered the day before Singularity's press release. The entity itself was incorporated in October 2021, just 6 months earlier.
Golden Mainland had listed its CEO, CFO and Secretary as Haiyao Jiang up until April 29, 2022.
Previously, Jiang had used a Gmail address on the company's claimed $250 million Singularity contract. [Pg. 11] The email address, which appears to contain a reference to the year "2022", was likely newly-created.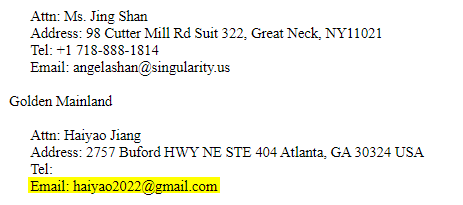 A LinkedIn search for Golden Mainland employees yielded zero results. The company's listed address matches that of its incorporation agent, Incorp Services.
With no apparent employees or operations – and a brand-new website – we believe Golden Mainland is an obvious fabrication designed to create hype and excitement for Singularity's stock.
December 2021 Undisclosed Related Party Transaction: $3.3 Million Directed To An Entity Owned By The Husband Of Singularity's CFO For "Trading Of Computer Equipment"
Import Records From The Entity Show It Has Only Imported Two Products, One In 2017 and One In 2018, And Both Were Listed As "100% Cotton Towels"
Evidence also suggests Singularity may be siphoning cash into an entity controlled by the husband of its CFO. The related party relationship has not been disclosed by Singularity.
Singularity disclosed in its most recent 10-Q that it agreed to invest $4.5 million into an entity called Rich Trading Co. Ltd, which would trade computer equipment and direct 90% of the profits back to Singularity. On December 31, 2021, shortly after Yang Jie took over as CEO, Singularity simultaneously entered into the agreement, and advanced $3.3 million to the entity. [Pg. 15]
According to NY corporate registry records, the entity's principal office is Singularity-predecessor Sino Global's former headquarters, and the entity's CEO is Lei Nie, who is the husband of Singularity's current CFO, Tou Pan. [Pg. 11] According to the same filing, Lie Nie is also the former COO of Singularity. [Pg. 2] [16]
Sino Global listed its headquarters at 1044 Northern Blvd Suite 205, address up until October 2021, which is the same exact suite as the supposed third-party partner Rich Trading.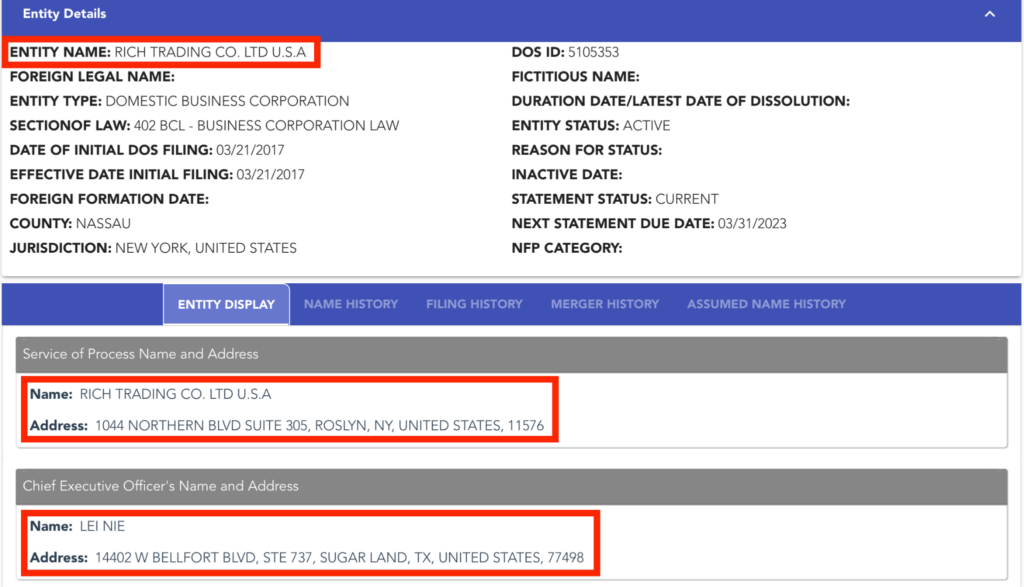 Singularity did not disclose the beneficial ownership of the entity, or that it was a related party. [Pg. 27]
We searched for the entity on Import Genius and found two separate imports from China in 2017 and 2018. Instead of high-tech computer equipment, the products were described as 100% cotton towels.

Other than the towel imports, we found no other evidence of a physical presence for the company. We suspect the $3.3 million was siphoned into insider's hands.
Conclusion
We think Singularity's CEO, Yang Jie, is a con artist. He doesn't strike us as a particularly talented one either—Singularity's deals seem obviously fraudulent.
Having already been chased out of China, and likely facing a stiff jail term should he ever return, Yang Jie has somehow found refuge as the CEO of a Nasdaq-listed company. This should alarm investors everywhere, as it speaks to the state of our capital markets.[17]
Given that Yang Jie helped usher in the implosion of another Nasdaq-listed company (China Commercial Credit), along with a massive Ponzi scheme in China, we expect he will continue until he is stopped. We have shared our findings with Nasdaq and authorities.
Disclosure: We are short shares of Singularity Future Technology Ltd. (NASDAQ: SGLY)
Legal Disclaimer
Use of Hindenburg Research's research is at your own risk. In no event should Hindenburg Research or any affiliated party be liable for any direct or indirect trading losses caused by any information in this report. You further agree to do your own research and due diligence, consult your own financial, legal, and tax advisors before making any investment decision with respect to transacting in any securities covered herein. You should assume that as of the publication date of any short-biased report or letter, Hindenburg Research (possibly along with or through our members, partners, affiliates, employees, and/or consultants) along with our clients and/or investors has a short position in all stocks (and/or options of the stock) covered herein, and therefore stands to realize significant gains in the event that the price of any stock covered herein declines. Following publication of any report or letter, we intend to continue transacting in the securities covered herein, and we may be long, short, or neutral at any time hereafter regardless of our initial recommendation, conclusions, or opinions. This is not an offer to sell or a solicitation of an offer to buy any security, nor shall any security be offered or sold to any person, in any jurisdiction in which such offer would be unlawful under the securities laws of such jurisdiction. Hindenburg Research is not registered as an investment advisor in the United States or have similar registration in any other jurisdiction. To the best of our ability and belief, all information contained herein is accurate and reliable, and has been obtained from public sources we believe to be accurate and reliable, and who are not insiders or connected persons of the stock covered herein or who may otherwise owe any fiduciary duty or duty of confidentiality to the issuer. However, such information is presented "as is," without warranty of any kind – whether express or implied. Hindenburg Research makes no representation, express or implied, as to the accuracy, timeliness, or completeness of any such information or with regard to the results to be obtained from its use. All expressions of opinion are subject to change without notice, and Hindenburg Research does not undertake to update or supplement this report or any of the information contained herein.
---
[1] Note that alongside the biography of Yang Jie is that of Ronghua Wang, a director at Tianhe Union Holdings Limited. Wang received a 15-year prison sentence relating to the same Ponzi case, according to Chinese court records. He eventually resigned, according to an SEC filing 4 days before his arrest. [Pg. 14]
[2] Hindenburg translation of Jie's autobiography, page 3: "There is such a person, he left school suddenly after elementary school, but now, there is a large group of highly educated elites working under his leadership."
[3] Additionally, the 2018 ponzi scheme court case from the Wenshu Court system, translated by Hindenburg Research, says he "dropped out of school at the age of 14 to help people sell steamed buns in Ningbo".
[4] Note that Yang Jie's travel company experience was also not disclosed in his biography filed with the SEC.
[5] Chinese media have identified Yang Jie and Weiliang Jie as relatives. Also, the rare last name and similar naming conventions indicate a close familial relationship (potentially brothers.) A Chinese tradition is to use the same first character in the names of all the children (i.e., "Wei"). According to Yang Jie's autobiography, on page 16, his name was originally supposed to be Weigang Jie but his grandfather changed it. Given the names, Weiliang Jie and Yang Jie's original intended name of Weigang Jie, evidence points to "Weiliang" and Yang Jie being relatives or siblings.
[6] Note that Yang Jie is referred to by his surname first in Chinese court records, i.e. Jie Yang or JieYang
[7] Court case references (note that free registration to the Wenshu court system is required): 1,2,3,4,5,6,7,8,9,10,11,12,13,14,15,16
[8] Under Note (3), Xiaohuan Huang is named as Yang Jie's wife and partial owner of his China Commercial Credit shares, further solidifying that this is the same Yang Jie who ran the Ponzi scheme in China. [Pg. 182]
[9] According to deed records, the same address, 81A Hampshire Rd, Great Neck, NY is owned by an entity controlled by Jie called 'Jie Enterprise and Development', indicating that Jie owns the house.
[10] Note the article didn't label Yang Jie in the picture, presumably due to the difficulty of identifying him.
[11] SOS Ltd.'s 10 capital raising deals from December 2020 to present were underwritten by Maxim Group. [1,2,3,4,5,6,7,8,9,10]
[12] Further evidencing the incestuous nature of these deals, Xiaohuan Huang also served on Singularity's board of directors, with roles on the audit, corporate governance and compensation committees. She resigned from the board on November 1st, 2021, the same day her husband Yang Jie was appointed CEO of the company.
[13] Additionally, in our original SOS research, we found that a supposedly independent mining rig supplier named HY International was also registered to the same address. At the time, we identified the clear undisclosed related party link to SOS's subsidiary, which was based at the same address. Note that since our report, HY international changed its name to New Continental Technologies, in addition it also changed its registered agent address.
[14] To replicate our search of Nassau records, search for Section 1, Block 188, Lot 67. Nassau county's land assessor put the value of the property at 1.5 million.
[15] Per Singularity SEC filings, Thor Miner was established October 11, 2021. [Pg. 5]
[16] In August 2021, Lei Nie was listed the VP president of Sino Global in a Form 4 filing. Sino filed an employment agreement with the SEC 8 months earlier, in January 2021, showing Lei Nie was Chief Operating Officer.
[17] Yang Jie isn't alone. He has an auditor happy to collect fees, and an entire board of directors that is either complicit or unfathomably negligent. As one example, independent director John F. Levy chairs the compensation committee and is a member of the corporate governance and auditing committees. In his official SEC biographies with Singularity, he conveniently omitted his long tenure as a director of China Commercial Credit. [1, 2, Pg. 44]