(NASDAQ:NKLA)
Today, we reveal why we believe Nikola is an intricate fraud built on dozens of lies over the course of its Founder and Executive Chairman Trevor Milton's career.
We have gathered extensive evidence—including recorded phone calls, text messages, private emails and behind-the-scenes photographs—detailing dozens of false statements by Nikola Founder Trevor Milton. We have never seen this level of deception at a public company, especially of this size.
Trevor has managed to parlay these false statements made over the course of a decade into a ~$20 billion public company. He has inked partnerships with some of the top auto companies in the world, all desperate to catch up to Tesla and to harness the EV wave.
We examine how Nikola got its early start and show how Trevor misled partners into signing agreements by falsely claiming to have extensive proprietary technology.
We reveal how, in the face of growing skepticism over the functionality of its truck, Nikola staged a video called "Nikola One in Motion" which showed the semi-truck cruising on a road at a high rate of speed. Our investigation of the site and text messages from a former employee reveal that the video was an elaborate ruse—Nikola had the truck towed to the top of a hill on a remote stretch of road and simply filmed it rolling down the hill.
In October 2019, Nikola announced it would revolutionize the battery industry. This was to be done through a pending acquisition, but the deal fell through when Nikola realized (a) the technology was vaporware and (b) the President of the battery company had been indicted months earlier over allegations that he conned NASA by using his expense account to procure numerous prostitutes.
Nikola has never walked back claims relating to its battery technology. Instead, Trevor continued to publicly hype the technology even after becoming aware of the above issues. The revolutionary battery technology never existed – now, Nikola plans to use GM's battery technology instead.
A spokesman for Volvo spin-off Powercell AB, a hydrogen fuel cell technology company that formerly partnered with Nikola, called Nikola's battery and hydrogen fuel cell claims "hot air".
In addition to now using GM's battery technology, Nikola seeks to use the automaker's production and fuel cell capabilities. Nikola seems to be bringing nothing to the partnership but concept designs, their brand name and up to $700 million they will be paying GM for costs related to production.
Inexpensive hydrogen is fundamental to the success of Nikola's business model. Trevor has claimed in a presentation to hundreds of people and in multiple interviews to have succeeded at cutting the cost of hydrogen by ~81% compared to peers and to already be producing hydrogen. Nikola has not produced hydrogen at this price or at any price as he later admitted when pressed by media.
Trevor has appointed his brother, Travis, as "Director of Hydrogen Production/Infrastructure" to oversee this critical part of the business. Travis's prior experience looks to have largely consisted of pouring concrete driveways and doing subcontractor work on home renovations in Hawaii.
Claims of owning energy producing assets is not new for Nikola. Trevor claimed that Nikola's headquarters has 3.5 megawatts of solar panels on its roof producing energy. Aerial photos of the roof and later media reports show that the supposed panels don't exist.
At one point Nikola claimed to own its own natural gas wells. There is no evidence in company filings to support this. The claims were eventually quietly removed from Nikola's website.
Trevor claims Nikola designs all key components in house, but they appear to simply be buying or licensing them from third-parties. One example: we found that Nikola actually buys inverters from a company called Cascadia. In a video showing off its "in-house" inverters, Nikola concealed the Cascadia label with a piece of masking tape.
In a July 2020 podcast, Trevor said of Nikola's "Tre" truck: "We have five of them coming off the assembly line right now in Ulm Germany." A spokesperson for Bosch, the manufacturing partner building the trucks, confirmed this month that they haven't made any trucks yet.
The company's Nikola One "reveal" was a total farce. We corroborate Bloomberg's earlier work debunking Trevor's claims regarding its semi-truck that "this thing fully functions and works…this is a real truck" and provide new evidence.
We present behind-the-scenes photos showing that Nikola had an electricity cable snaked up from underneath the stage into the truck in order to falsely claim the Nikola One's electrical systems fully functioned.
We learned through emails and interviews with former partners that Trevor had an artist stencil "H2" and "Zero Emission Hydrogen Electric" on the side of the Nikola One despite it having no hydrogen capabilities whatsoever; it was built with natural gas components.
We also present evidence that subsequent "reveals" were fictitious. In 2019, Nikola revealed a "next generation" version of its off-road vehicle. We learned that it was scrapped within weeks of the unveiling due to manufacturing challenges. The redesign work was then quietly outsourced.
Nikola's much-touted multi-billion dollar order book is filled with fluff. U.S. Xpress reportedly accounts for a third of its reservations, representing ~$3.5 billion in orders. U.S. Xpress had only $1.3 million in cash on hand last quarter.
Nikola's key partners and backers have been cashing out aggressively. Worthington, Bosch and ValueAct have all sold shares. Worthington sold $237 million shares over a 2-day span in July and another $250 million in August. We think they know exactly what type of company Nikola is, and we expect that as Nikola's GM "partnership" boosts the stock price, key holders will continue to exit.
We think Trevor Milton, through dozens of outright lies, was able to form partnerships with some of the largest legacy auto companies in the world in their desperation to catch up to Tesla's EV leadership status.
Trevor has ensured he is not going down with the ship. He cashed out $70 million around the IPO and amended his share lock-up from 1-year to 180 days. If he is fired, his equity awards immediately vest and he is entitled to collect $20 million over two years. Milton has laid the groundwork to extract hundreds of millions from Nikola years before ever delivering on his promises.
Every now and then a story comes around that exposes how little the "experts" really know. Theranos inked partnerships with Walgreens, Safeway, and Cleveland Clinic and staffed its board with luminaries. We think Nikola's partners did not do their homework.
Initial Disclosure: After extensive research, we have taken a short position in shares of Nikola Corp. This report represents our opinion, and we encourage every reader to do their own due diligence. Please see our full disclaimer at the bottom of the report.
Background: A Relentless Tesla Rally Pressured General Motors and Other Legacy Automakers to Catch Up
The underlying narrative for the electric vehicle market in 2020 has undoubtedly been Tesla's relentless rally, which recently culminated in the company being valued with a market cap of over $400 billion at its peak—more than time-tested names like GM, Ford, Daimler and Fiat – combined.
Unlike Nikola, Tesla develops extensive proprietary technology, which cuts many traditional automakers and suppliers out of its picture. The astronomical rise in Tesla's valuation has pressured other auto companies, like General Motors, to unlock similar value from the ongoing EV wave. In August 2020, analysts from Deutsche Bank and Morgan Stanley pressed General Motors to spin off its electric vehicle business, stating that such a move dedicated to EV could be worth "up to $100 billion".
"Nothing is off the table," GM CEO Mary Barra said at the time, appeasing analysts and winning a price target boost from Morgan Stanley shortly thereafter.
Background: GM Temporarily Staves Off Pressure From Analysts And Stakeholders By Entering Into A Strategic Partnership with Nikola
On the morning of September 8, 2020, Nikola announced a strategic manufacturing partnership with General Motors, sending shares of both companies sharply higher.
For many, the deal was viewed as long-awaited validation for Nikola, which to date has mainly presented little but prototypes, renderings and a heap of promises. After all, General Motors is one of the largest, multinational auto manufacturers on the planet and has been in business for over 100 years. It has reach into every major auto market, including the U.S., Europe and China.
Economically, GM gets $2 billion in stock (an 11% stake) in Nikola for non-cash contributions such as engineering and validating a truck for Nikola, $700 million in expense reimbursements, supply contracts and 80% of the EV credits, along with a host of 'outs'. GM can begin selling shares before a single truck rolls off the line. Essentially, it's a free call option in a "sexy" EV story for General Motors.
But why sign with Nikola at all? GM's CEO was asked on the day of the announcement what technology GM would get out of the deal. She couldn't name a single thing.
The real "value" for GM seems to be branding. We believe the legacy automaker simply seeks to latch General Motors' storied name onto Nikola's charismatic Founder and Executive Chairman, Trevor Milton. Trevor is perceived by many as a forward-thinking, fresh, visionary entrepreneur capable of rivaling Elon Musk's allure.
But in GM's attempt to keep up with Elon Musk, who did they just get into bed with?
Introduction: Who is Trevor Milton?
"I never deceived anyone!"—Nikola Executive Chairman Trevor Milton
What is the difference between a visionary selling a daring view of the future and a con artist?
Tech founders are often accused of being overly rosy with their projections. Supporters credit such founders as having bold, forward-thinking plans while detractors accuse them of knowingly selling unrealistic promises.
While such debates among optimists and pessimists are common, most everyone can agree that there is a difference between being overly optimistic about the future and outright lying.
Credibility is important for any management team, but this is especially true of a company like Nikola that has virtually no revenue and no shippable product. Given Nikola's market cap as of this writing, the company is a ~$20 billion promise of what it can achieve in the future.
And Trevor Milton is as "key man" as it gets. Per Nikola's filings:
"Mr. Milton is the source of many, if not most, of the ideas and execution driving Nikola" [Pg. 45].
In Trevor's post-Q2 CNBC interview, he said he let Nikola's CEO and CFO handle the earnings call because he "wanted them to feel like they have a voice in the company". (Aug 5th CNBC, 3:34)
What follows is a deep dive on the origins of Nikola Corp. and its founder Trevor Milton.
What we found is that, for over a decade, instead of developing his own capabilities, Trevor has established an undeniable track record of taking from others and claiming technology as his own. He has quietly used off-the-shelf products from third-parties while loudly claiming to have vast proprietary technology.
Trevor would then leverage what he had and repeatedly mislead customers, partners, and investors in order to build his credibility and take his concept to the next level.
This pattern of behavior continues to this day, now with billions of dollars on the line and with Nikola tied to some of the largest auto companies in the world.
Our work for this report involved speaking with multiple whistleblowers, business partners, and former employees as well as reviewing extensive internal documentation from Trevor's ventures leading up to Nikola, including emails, text messages, recorded conversations and behind-the-scenes photographs.
Based on our findings, we believe Nikola is an intricate fraud built on dozens of lies over the course of its founder Trevor Milton's career, which he has parlayed into a $20 billion cloud of smoke and partnerships with some of the top auto companies in the world.
Part I: Trevor Milton's Career Path Leading Up to Nikola
November 2009: Trevor Milton Launches dHybrid, Inc. with a Partner, Kicking off his EV Trucking Journey. It Ended in Litigation With Allegations of Misappropriation and False Promises
After dropping out of college, Trevor Milton started an alarm sales company in Utah called St. George Security and Alarm. He eventually exited the business for $300,000. Our interview with its buyer indicated that Trevor overpromised, resulting in a total loss for the initial acquirer. We also interviewed Trevor's "50/50" business partner who indicated he was led to believe the exit was much smaller, saying he ultimately received only $100,000 for his "50%".
Following the alarm business exit, Trevor launched an online classified ads website that sold used cars, called uPillar.com, which eventually failed. (For more on both of these early businesses, see the Appendix at the end of this report.)
Following those two early pursuits, Trevor's initial foray into alternative energy vehicles was a company called dHybrid, Inc. Trevor joined forces with an engineer named Mike Shrout who had developed compressed natural gas (CNG) conversion technology for diesel engines. Shrout was to bring the technical expertise to the venture while Trevor would bring his business experience.
It Got Off to a Good Start: dHybrid Entered into Agreement with Major Trucking Company Swift to Convert Up to 800 Trucks, a Contract Valued at $16 Million
Shortly after launching dHybrid, Trevor contacted Jerry Moyes, CEO of Swift Transportation to market dHybrid's conversion technology, according to a source familiar with the company. The team demonstrated the technology on a converted pickup truck to Moyes at Swift's Phoenix facility.
Moyes was apparently impressed with the demo and Swift eventually signed a development agreement, paying $2 million for a 9% stake in dHybrid, as well as extending a $322,000 loan to the company. The agreement, which we located through litigation records, called for the conversion of an initial 10 trucks for testing with a commitment to convert 800 trucks thereafter.
Swift Later Sued, Alleging the Company Delivered Only 5 Trucks That Didn't Work and That dHybrid's Officers Misappropriated Capital for Personal Use
The deal immediately hit roadblocks, as dHybrid failed to deliver on its agreement. Swift filed a lawsuit in mid-2012. A subsequent amended complaint alleged that only 5 trucks had been delivered instead of the promised 10, that the performance of the trucks didn't to live up to the initial promises, and that capital had been misappropriated by dHybrid's officers.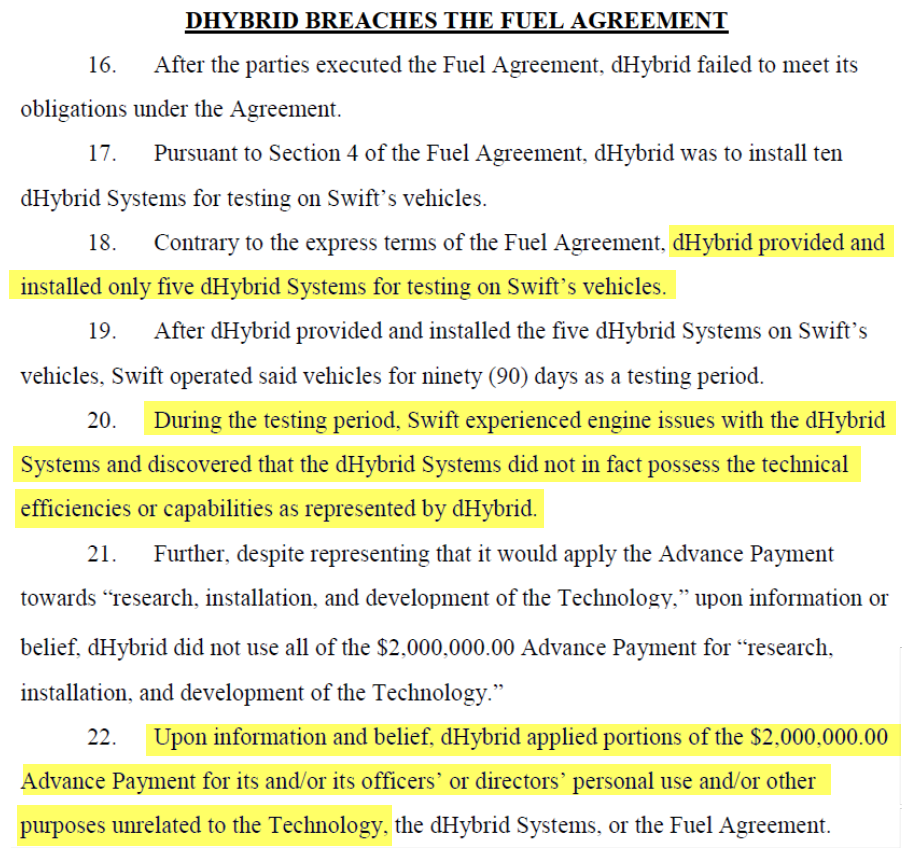 In the Lead-Up to the Lawsuit, Trevor Reached out to New Investors Claiming the Swift Contract Was Worth $250-$300 Million
Reality: We Have the Contract. It Was Only $16 Million
As dHybrid's $2 million in startup capital was running out, Trevor reached out to new investors, making bold claims about the size of the Swift contract and how well the technology was performing.
This includes an email to Anthony Burns, the former CEO of Ryder Systems, shown below. In the email, Trevor makes several claims that appear to be outright fabrications, based on litigation records and conversations with a former business partner:
"So far we are saving Swift 38% on their fuel bill." At the time, the Swift data showed savings of no higher than 24%.
"We have logged over half a million miles of data pulling 80,000 pound loads." These numbers were apparently similarly inflated.
"We have signed a $250 million dollar plus contract with Swift". The contract was only for $16 million, as per Swift's lawsuit, and as corroborated by our source familiar with the agreement.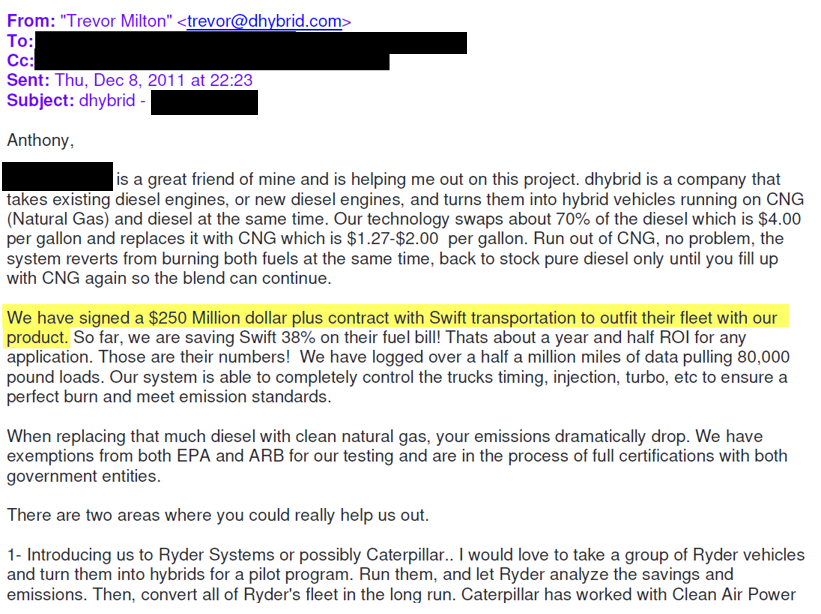 In another dHybrid investor presentation we reviewed, one slide cites the Swift contract as being $300 million, triggered when EPA certification is achieved: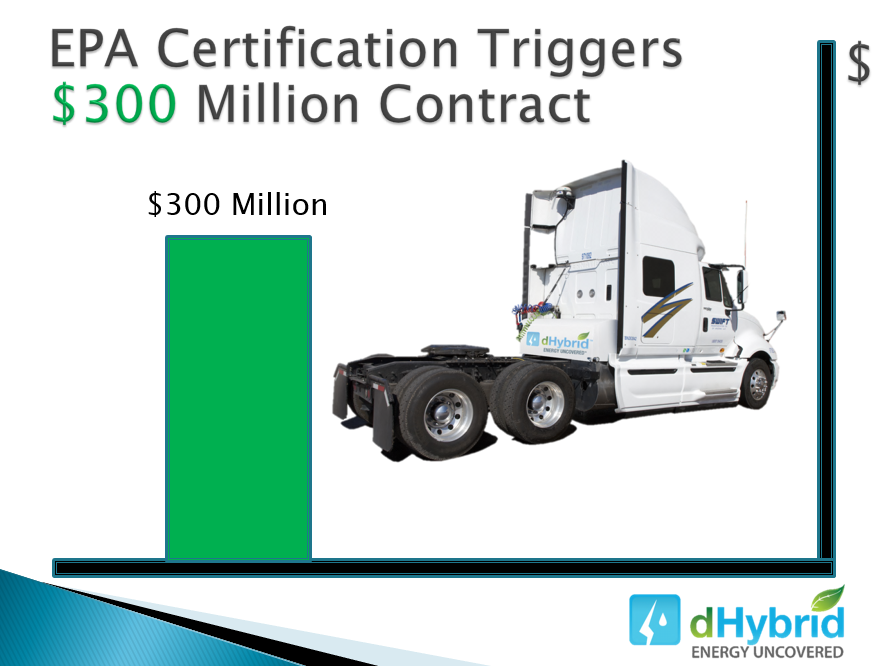 But once again, per the Swift lawsuit, we see clearly that the contract value was only $16 million. [Pg. 10]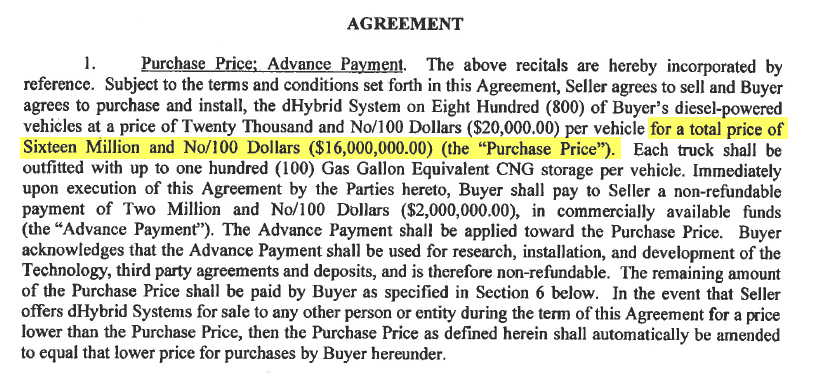 Following the Swift Litigation, dHybrid Sought a Buyout But the Deal Ended in More Litigation, With the Buyer Alleging dHybrid Made Numerous Misrepresentations About its Capabilities
In dire financial straits, Trevor sought to negotiate a buyout with a company called Sustainable Power Group LLC ("sPower") based in Salt Lake City, Utah.
The parties entered into negotiations and signed a term sheet in May 2012, but only one month later in June, sPower exercised the termination clause and backed out of the agreement citing significant misrepresentations during their due diligence process.
Shortly after, when dHybrid disputed sPower's findings, sPower filed a lawsuit alleging:
dHybrid had not, as represented, completed development of the dHybrid System.
dHybrid had not begun the EPA certification process as dHybrid had claimed.
dHybrid had been mispresenting results obtained from the five Swift diesel semi-trucks that were using the dHybrid System. Specifically, sPower discovered that dHybrid materially misrepresented the fuel-blend ratios achieved by these diesel trucks.
dHybrid had falsely represented the fuel-cost savings achieved by Swift as a result of using the dHybrid System.
dHybrid was often having trouble interpreting data it received from Swift's drivers. Rather than seek clarification or perform more detailed test runs with the dHybrid Systems, dHybrid elected to fill in the gaps in the data with assumptions it created.
2012: Trevor Pitched Investors on His Team, Including an Experienced CTO—But the Named Individual Was Never dHybrid's CTO
In the Spring of 2012, with dHybrid under pressure to raise additional capital, Trevor prepared a presentation for the Park City Angels, a venture capital group in Salt Lake City. In that presentation, Trevor falsely claimed that the company had an experienced Chief Technology Officer.
The presentation, which we reviewed, contains a slide listing dHybrid's management team. The CTO is the only individual in the group identified by his initials: "S.S." rather than his full name.
The CTO's employment and educational background, however, including a MS degree from the University of Michigan and work experience at General Motors and Parker Hannifin, matched that of dHybrid contractor Steve Scott.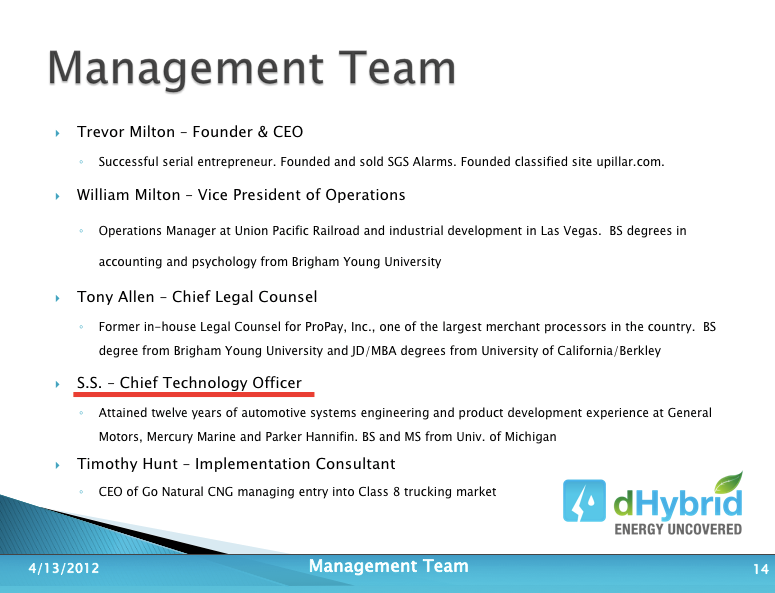 An individual familiar with dHybrid's operations said that Scott never held the position of CTO. He had only worked on various proof-of-concept projects for dHybrid as an outside consultant.
2012: With dHybrid Mired in Litigation, Trevor Started a New Company With his Dad, Choosing a Very Similar Name, dHybrid Systems
Trevor Then Falsely Claimed to Prospective Partners That 'dHybrid' Had Been in Operation for Years
With dHybrid mired in litigation and a suspended state of existence, Trevor and his father Bill Milton launched dHybrid Systems, LLC in October 2012. The new company quickly resumed its focus on CNG fueling systems except Trevor and his father now owned the entity, leaving Trevor's former partners with nothing.
With the similar name of dHybrid Systems, Trevor was able to suggest to prospective clients, partners and investors that the new company was a continuation of dHybrid and its years of experience and achievements.
We reviewed an example of such marketing materials that falsely suggested dHybrid Systems began in 2011, when in fact the entity had been formed in October 2012.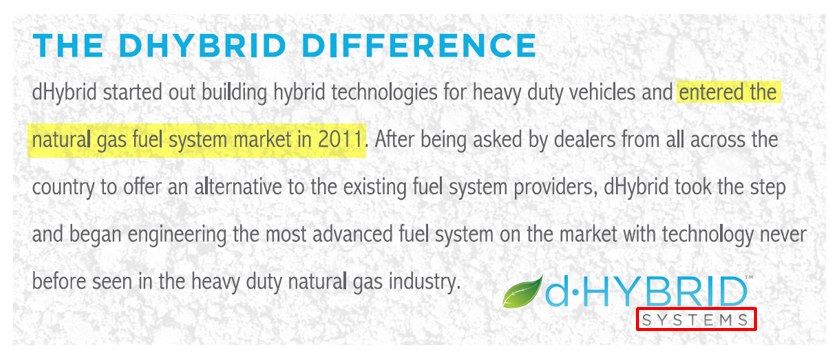 Here are the incorporation records for comparison:

2014: dHybrid Systems Was Then Acquired by Worthington—A Successful Exit…For Trevor
We Learned from a Former Employee (In a Recorded Call) That dHybrid Concealed Potentially Fatal Product Issues from Worthington In Order to Get the Deal Done
By 2014, Trevor had found a buyer for his new company, industrial manufacturing heavyweight Worthington Industries (NYSE:WOR). Worthington paid $15.9 million for a 79.59% stake in the entity, valuing the entire company at $19.9 million. [Pg. 15]

In recent interviews, Trevor has overstated the exit value. In a 2019 interview with Trucks.com, for example, he claimed that his $15.9 million exit was for "much more than $20 million".
Getting back to the deal at the time, it appears Trevor overpromised on the capabilities of the technology and its effectiveness in the field.
In recorded conversations, former employees of dHybrid Systems admitted to traversing the country in a mad dash to patch up dHybrid's broken systems as best possible, concealing the issues from Worthington so that the deal could close. Per the conversation [click for audio]:
"I helped design and develop and fix all these repairs that Worthington didn't know about. But I was in the field making repairs so that they wouldn't find out about it."
"These back-of-cab units were actually falling off of the trash trucks, like, breaking off. They were shearing the damn frickin' frames and then coming off, like nearly friggin' causing deaths."
"I was the guy in the field making sure (Worthington) didn't find out. If they had found out that would have ruined the deal."
The company in question was Waste Pro. Here is a picture of one of its trucks converted for CNG from dHybrid.
Using Worthington's Credibility, Trevor Then Apparently Made False Claims About Nikola's "Proprietary" Technology in Order to Induce Partners to Work with Him
According to former employees of EVDrive, they signed with Trevor based not only on his supposed leadership role at Worthington but also on a belief that Nikola (named Bluegentech at the time) had advanced proprietary turbine technology that would make for a good fit with their own technology.
Trevor represented that he had proprietary turbine technology in a contract signed with EVDrive in May 2015, which we've procured a copy of: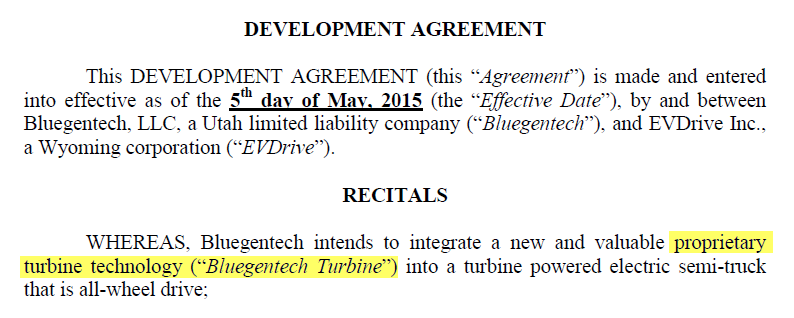 The agreement reiterated that the turbine was "Bluegentech's proprietary turbine system".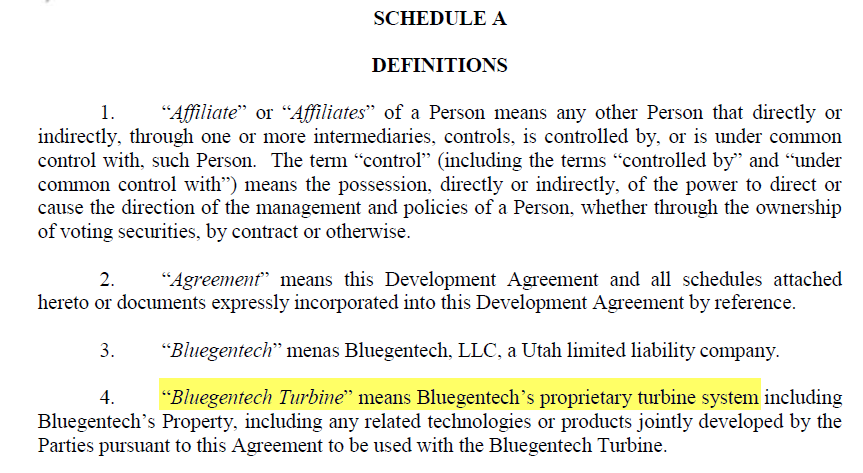 But that appears to have been false as well. Two months after Bluegentech represented to EVDrive that it owned proprietary turbine technology, Trevor's entity was in negotiations with another company called Brayton Energy to purchase their turbines. Once again, we have the email record to prove this.
The turbine purchases were stated to be on behalf of Worthington, which Trevor was working with at the time:
Trevor leveraged his Worthington role, in addition to claims of having proprietary technology to draw in partners that could collectively help piece together parts needed for Nikola's first EV truck.
As we will show later, the claims of having "proprietary" technology that is actually someone else's product appear to be an ongoing phenomenon with Trevor to this very day.
December 2015: Worthington Promptly Wrote Down the Value of dHybrid Assets
About a year after the deal, Worthington identified problems with the dHybrid Systems acquisition and recorded a $2.3 million impairment related to the acquisition in Q4 2015. [Pg. 53] The company further recorded a $1.5 million warranty-related expense relating to dHybrid in 2016. [Pg. 3]
As we detail in the Appendix to this report, Worthington had a deep relationship with Nikola, which it now appears to be attempting to downplay and distance itself from. At one point, Nikola was a subsidiary of Worthington and the close relationship gave Trevor enough credibility to cobble together several early partnerships.
Part II: Nikola
2016: After Cobbling Together Truck Parts with Deceptively Constructed Partnership Agreements, Nikola Announced it Would Revolutionize Transportation
Bluegentech then became Nikola, and Trevor continued to line up supplier deals in an attempt to get the pieces together to assemble the company's first truck with third-party parts.
According to former employees and partners working on the Nikola One, the company's first proposed semi-truck, progress was slow. Nevertheless on May 9th 2016, Nikola came out of 'stealth mode', announcing that it had developed a product that would revolutionize the field of transportation.
The press release vowed to unveil the Nikola One in December, committing the company to an aggressive deadline.
December 2016: The Big Nikola One Reveal —"This Truck is By Far the Most State of The Art Truck Ever Built in History…This Thing Fully Functions and Works…This is a Real Truck—This is Not a Pusher"
Reality: It Was Not A Real Truck And Was, In Fact, A Pusher
By the end of the year, Nikola was poised to reveal its revolutionary new truck, the Nikola One. In the months leading up to the presentation, a user asked Nikola whether the truck would be a "design unveiling or a functional prototype". Nikola confirmed that it would be a "functioning" and "fully built truck at event".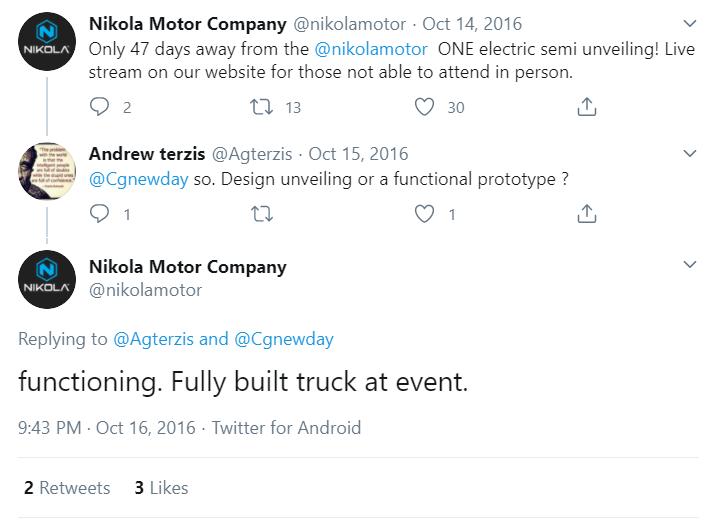 At multiple points during a video recording of Trevor's presentation at the launch event on December 1, 2016, Trevor can be heard making it crystal clear that the Nikola One was a fully functioning truck:
At the 17:30 mark:
"You'll see it up on the screens–they're fully functioning screens. Really incredible. We will have a chain on the seats to prevent people from coming in just for the safety. I don't want someone to end up doing something and driving this truck off the stage…so we're going to try to keep people from driving off. But this thing fully functions and works, which is really incredible."
Trevor then closed the presentation by insisting 3 times that the truck was real, at the 39:00 mark:
"For every doubter out there that said there's no way this is true. How can that be possible? We've done it. It's my pleasure to actually let you guys enjoy the night, see the truck, know it's real, touch it, feel how sturdy it is. You're going to see that this is a real truck. This is not a pusher. Thank you so much everyone!"
For anyone unsure what a "pusher" is, Trevor actually clarified in another video at the event and again reiterated that the truck was fully functioning and complete in response to an interviewer's question:
Q: "So how long have you been working on this because this is a fully functioning truck right?
Trevor: "Yeah"
Q: "So how long have you guys been working on this?
Trevor: "Years in secrecy. It's been very hard. Some of the people found out about us over the last 4 or 5 months as we announced in the lead-up to this big event, but it took years and years to get here. This isn't just a pusher like a lot of vehicles that they unveil [that] are just vehicles that don't actually function. This is a fully functional vehicle which is really incredible. You can go through. We can change out whatever they want, all the temperatures. I mean this is a fully functioning vehicle; it's not just a pusher. That's what they call [it] in the automotive world; they just push and it doesn't move."
It turns out it was a pusher.
Bloomberg Later Identified That the Truck Was NOT Completed.
Trevor Responded by Admitting This, Then Claimed He NEVER Said it Was Completed (Despite Video Clearly Contradicting Him).
He Then Threatened to Sue Bloomberg
In June of this year, Bloomberg published a piece highlighting that, contrary to Trevor's claims, the truck was not complete and was missing components.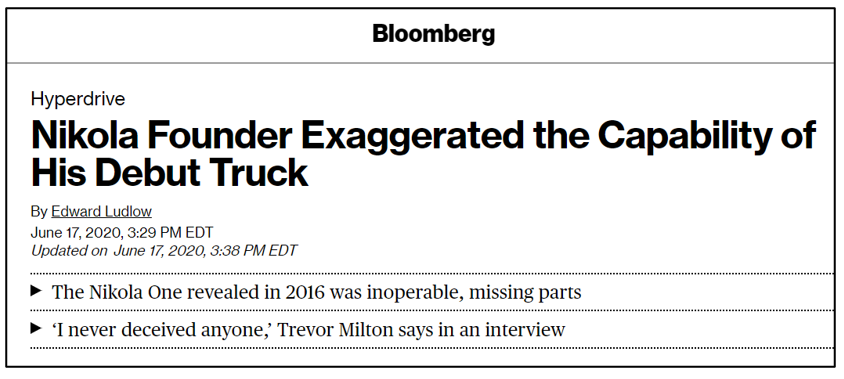 In response, Trevor blasted the reporter on Twitter and immediately vowed to sue, claiming that everyone knew the truck wasn't operable and that the parts were sitting right on the table in front of the audience the whole time: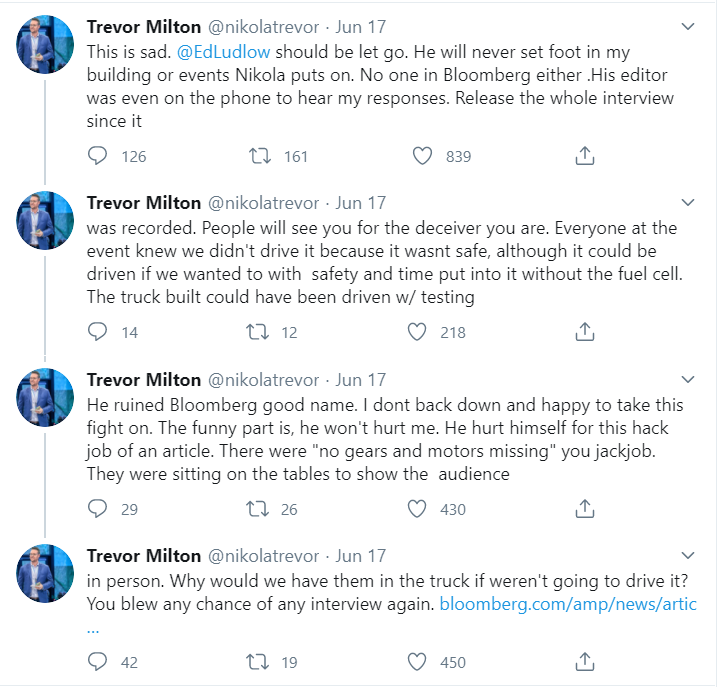 It was a bold retort. But it was completely invalidated by Trevor's own words – multiple times – including on video at the event and in Tweets leading up to it.
In the video of the event, we saw no such table with truck gears and components clearly visible to all. Instead, the seating went right up to the stage except for a small table with a computer monitor up front:
[Click here to see video of Trevor's repeated false statements]
In either case—if there was a table with gears (somewhere), we fail to see how that in any way corrects Trevor's repeated false claims during the presentation that the truck was fully functional.
Bloomberg Was Right. The Reveal Was a Farce. More Evidence Corroborates the Bloomberg Piece and Furthers Their Allegations
We have behind-the-scenes photos and other evidence showing just how incomplete the Nikola One was at the time of the 2016 reveal.
In late August, just 3 months before the show, Nikola's "truck" consisted largely of frame rails with wheels mounted to its Meritor suspension.
Other components had not yet arrived, including the e-axles, the turbine, the natural gas fueling system, and the body — according to a source who worked on the job. The factory was not even set up for production. Workers were running to the hardware store to pick up basic parts, according to the source.
August 2016 (4 Months Before the Show): Nikola Claimed to Have Engineered "The Holy Grail" Of Hydrogen Technology For Trucking, Despite No Apparent Evidence it Had Even Begun Development
Amidst all this, the company abandoned its supposedly revolutionary compressed natural gas (CNG) technology with no explanation. At the beginning of August, Nikola abruptly announced that it had pivoted from a (CNG) turbine range extender to a hydrogen fuel cell range extender.
The press release claimed that the technology had already been engineered successfully.
The press release boasted that this achievement was the holy grail of trucking:
"Nikola has engineered the holy grail of the trucking industry. We are not aware of any zero emission truck in the world that can haul 80,000 pounds more than 1,000 miles and do it without stopping. The Nikola One requires only 15 minutes of downtime before heading out for the next 1,000 miles."
Despite these claims, there was no in-house hydrogen capabilities and no hydrogen partners were brought on board, according to former partners working in the lead-up to the show. The announcement was a shock to even those involved with the company, according to our sources.
In May 2016, 3 months prior to the hydrogen "pivot", the company announced it had begun taking reservations for the natural-gas-powered Nikola One, which it claimed to have already "engineered, developed, and is finalizing assembly." It even promised purchasers free compressed natural gas fuel.
Less than two weeks prior to the announcement that Nikola had engineered a revolutionary hydrogen solution, the Nikola Twitter account reinforced that its focus was still on CNG (compressed natural gas), not hydrogen. "CNG is the way to go" it said: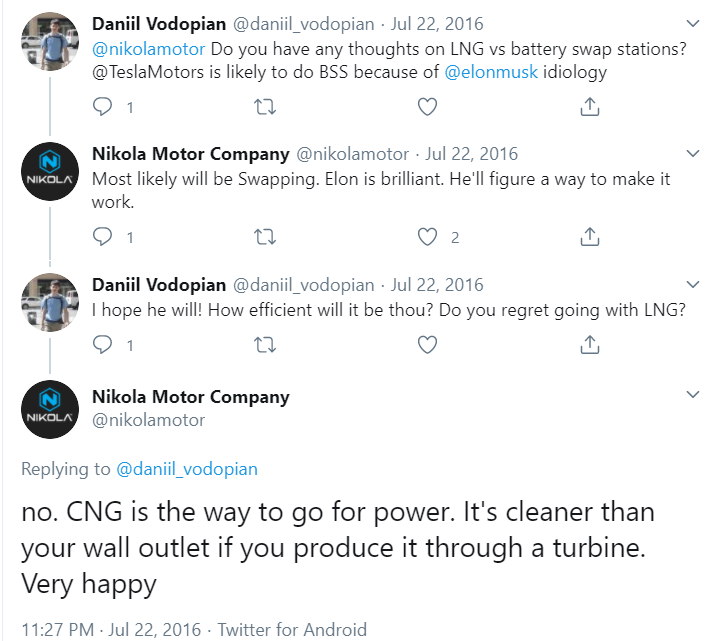 Months earlier Trevor had boasted in public interviews of its natural gas capabilities, stating:
"Our technology is 10-15 years ahead of any other OEM in fuel efficiencies, MPG and emissions"
It is unclear why Nikola decided to suddenly abandon its supposed 10-15 year advantage in natural gas.
Yet despite the "pivot" to hydrogen, the prototype being built continued to be focused on natural gas, according to those involved. The truck presented at the show had natural gas turbines installed, according to our sources.
Trevor Had "H2" Stenciled on the Truck Despite the Truck Apparently Having Zero Hydrogen Capabilities
As it turns out, building a zero-emission hydrogen truck is rather difficult. However, merely stenciling "H2" and "Zero Emission Hydrogen Electric" on the side of a non-functioning truck is much easier.
Trevor had H2 stenciled on the side of the Nikola One despite the reality that the Nikola One contained a turbine designed for natural gas and absolutely zero hydrogen technology whatsoever, according to our sources.
A video of the event showing the stencil-work can be seen here:
By November, one month before the show, a team from Brayton arrived with natural gas turbines, according to sources involved in the preparation. Since the turbines would be deep in the truck tucked against the battery, no one would be able to be see that there was no generator plugged into it and that it didn't, in fact, run on hydrogen. The fueling system was natural gas only.
"Get Exposed Wiring Looking as Nice as It Can": Emails Make Apparent the Last-Minute Rush to Make the Nikola One Look as Good as Possible in the Weeks Leading Up to the Show
As the show got closer, ambitions were reduced, and it was clear that everyone wanted to just make things look as good as possible for the presentation. We have reviewed emails that corroborate this, instructing workers to "get exposed wiring looking as nice as it can" and other last-minute touch-ups:
Most everything needed to be installed before the body arrived, so things were put in and buttoned up as well as they could be. The e-axles were installed without motor cores or gears and were installed empty on the "truck" by mid-November.
The body arrived in late November, and the team from N2A Motors, which makes custom car bodies, got it installed on Thanksgiving. This was roughly a week before the show and just days before the truck needed to be pulled onto the stage, which was being built on the other side of the factory.
Once the truck was winched up onto the stage, an artist stenciled "US Xpress" onto the cab and "H2" prominently on various parts of the vehicle.
The Truck Could Not Power Itself, Let Alone Drive, So an Electric Cable Was Snaked up Through the Stage.
Trevor: The Truck is "Fully Functioning"
According to a source who worked on the project, and as is visible in this photograph, a cable was snaked up from under the stage through the floor of the cab to power the cabin screens.
Additionally, mockups of the infotainment pages were loaded onto the in-cabin displays.
In an attempt to underscore the functionality of the truck, Trevor put the focus on the only part of it that was turned on–the screens that were powered by the cable under the stage. But the screens, which had been loaded the day before with largely static webpages, according to our source, were reluctant to respond to his efforts.
The statements made by Trevor don't strike us as optimistic "forward looking" statements. They were not exaggerations. They were simply bald-faced lies.
In January 2017, following the event, the company raised capital as part of its Series A round. [Pg. F-26] It also signed partnerships in the months to come with companies like major automotive supplier Bosch as well as fuel cell and hydrogen partners.
Presumably, the misleading representations made at the event helped fuel these new deals. Subsequently, CNH International jumped in with both an investment and agreement to aid in the manufacturing.
Following the Show, The Company Abandoned Development of the Nikola One, According to Text Messages from a Former Employee, Having Apparently Already Served its Purpose to Draw in Credible Partners and Investment Capital
To the surprise of people involved in the Nikola One project, development work on the truck did not continue after the show.
It appears the prototype had already served its purpose: giving the company the legitimacy it needed to raise more investment and court larger partners that would be able to build them an actual working model from start to finish.
It was not considered necessary to actually back up the false claims that had been made on the stage. Below is a text exchange with a former employee who corroborated this (in red).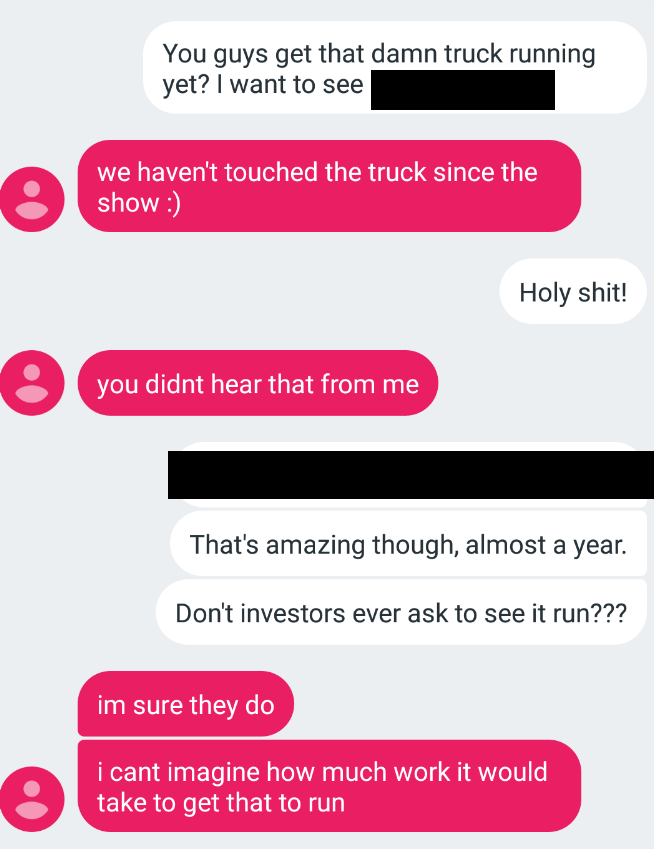 2018: In Order to Continue the Appearance of Progress, Nikola Posted a YouTube Video of Its Nikola One "In Motion" on the Road.
Text Messages from a Former Employee Reveal the Truck Was Simply Filmed Rolling Down a Big Hill.
As time passed and the hype from the December 2016 show faded with no major updates, skepticism began to mount about the Nikola One.
As shown above, no plans were in place to finish development of the Nikola One. Bosch, which had partnered with Nikola following the show, was still quite some time away from delivering working prototypes of Nikola's next development.
To remedy this 'hype gap', Nikola teased a tweet on October 6th 2017 about an upcoming video:

The first video, which was finally released in January, was for major auto parts manufacturer Phillips, and showed a short clip of the Nikola One easing to a stop sign.
But the main event was another video, entitled "Nikola One in Motion" released the next day on Nikola's corporate YouTube account and promoted on social media, garnering 230,000 views on Facebook alone. This video appeared to show the truck driving on a level road at a high rate of speed.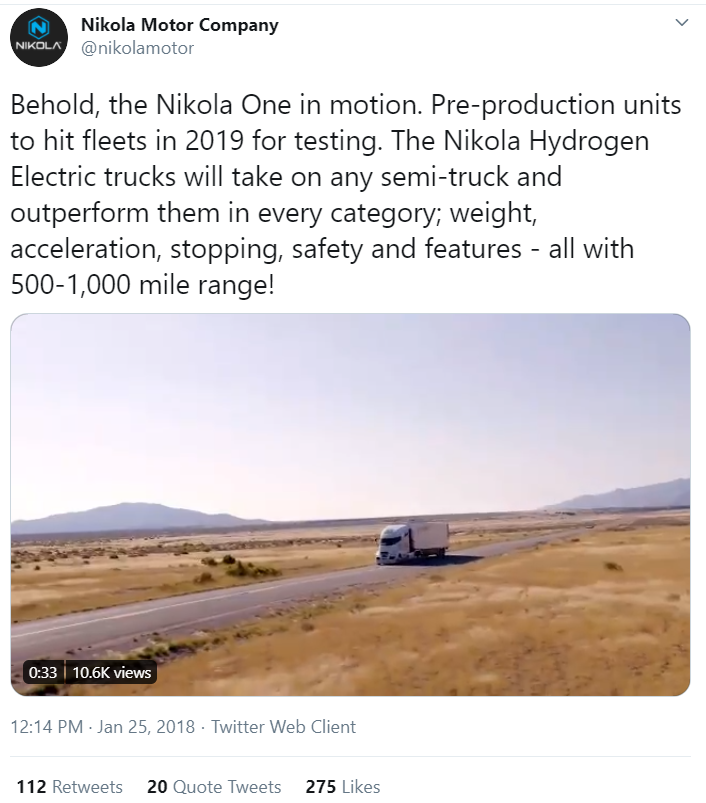 The video generated a tremendous amount of buzz and excitement about the pre-production units to be released the following year (which never happened).
But according to a former employee who spoke with Nikola Chief Engineer Kevin Lynk, the video was simply the result of Nikola towing the truck to the top of a hill and rolling it down.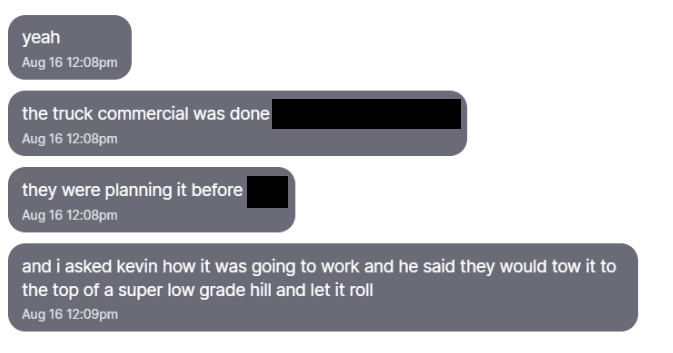 The deception involved in the production of this video appears to have been elaborate. The company scouted a remote section of road on the Mormon Trail just to the south of Grantsville, Utah, which we have since located.
This section of road is lightly used and features a 2-mile-long perfectly straight stretch with a consistent 3 percent grade–plenty of length and enough of a slope to get a motorless truck rolling.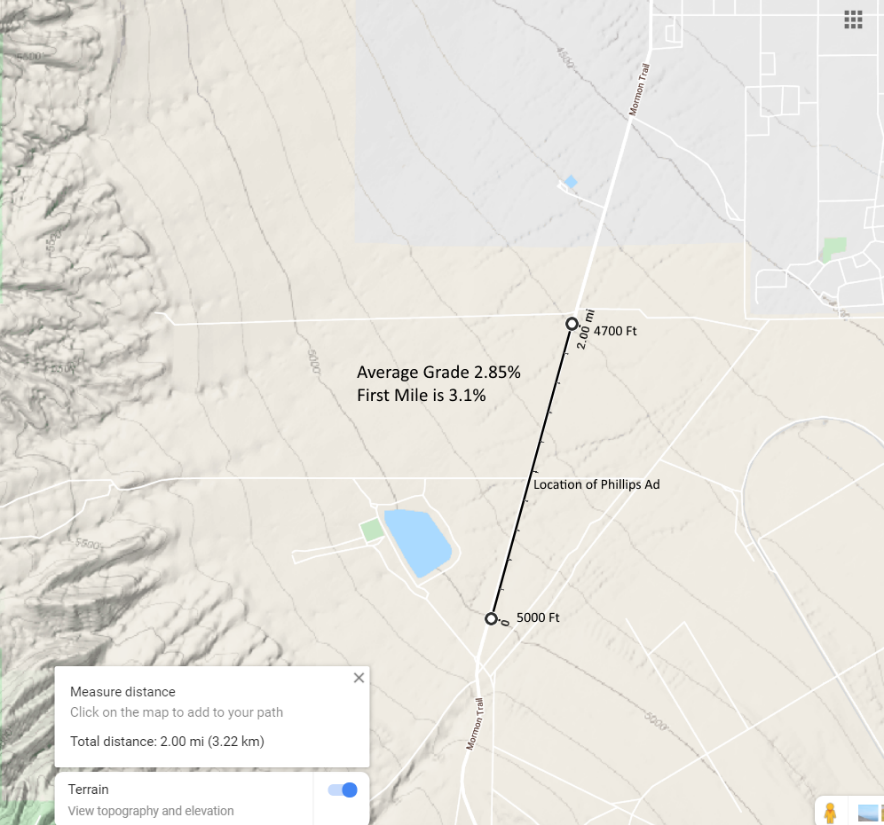 There were no features in the shot that would betray the slope, so the camera could be positioned at an angle that would make the road appear fairly level, or at times, even uphill:
We Rolled A Vehicle in Neutral Down the Same Hill. We Reached a Top Speed of 56mph and Rolled for ~2.1 Miles
An investigator sent to the exact site used by Nikola for their video tested the hill in an SUV by parking the vehicle at the top, then rolling from neutral. He was able to hit a top speed of 56 mph and rolled for approximately 2.1 miles.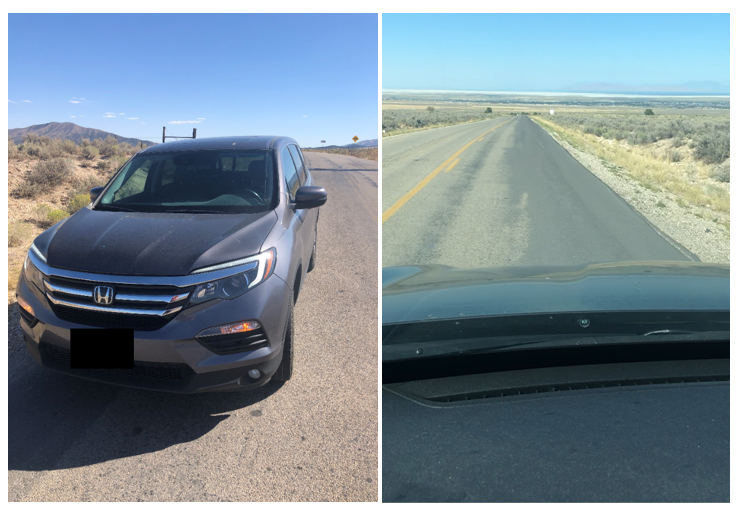 The Media Took the Bait, Calling it 'Road Testing'. Nikola Then Featured the Video for Arizona Governor Doug Ducey When Announcing Its New Manufacturing Facility
Ducey: "This is a HUGE Announcement"
Although the company didn't specifically say the truck was moving under its own power, it was the clear implication. And the video had the desired results, with industry publications describing the footage as 'road testing':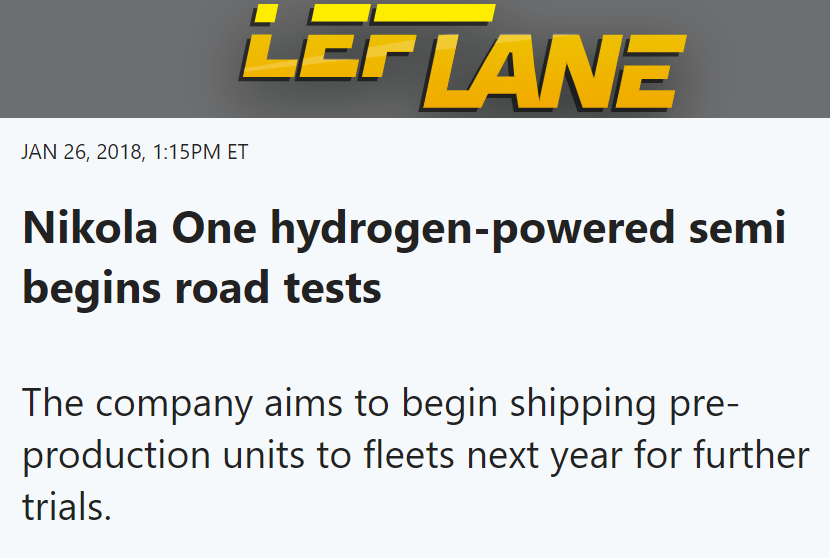 Another article described the truck as "cruising" when it was, in fact, just rolling down a hill.
The next week, Nikola held a ceremony to celebrate its deal to launch a manufacturing facility in Arizona, featuring the "Nikola One In Motion" video at the ceremony.
Immediately after playing the video for the audience, Arizona governor Doug Ducey exclaimed:
"Today, I'm proud to announce, that Nikola Motor Company, is coming to Arizona. This is a HUGE announcement! This is a manufacturing headquarters of hydrogen electric semi-trucks that will be moving to our state."
April 2019: Nikola "Unveiled" a Next Generation Version of NZT Off-Road Vehicle
The Design Was Quietly Scrapped Within Weeks of the Unveiling Due to Manufacturing Challenges
At the 2019 Nikola World event, Trevor introduced the company's luxury version of its off-road vehicle, the NZT. In a video of the event, Trevor can be seen praising the work that had gone into the design. He described how the vehicle was "fully enclosed," offered "luxury" design, and had "full HVAC, heating and air conditioning, the first one of its kind in the market."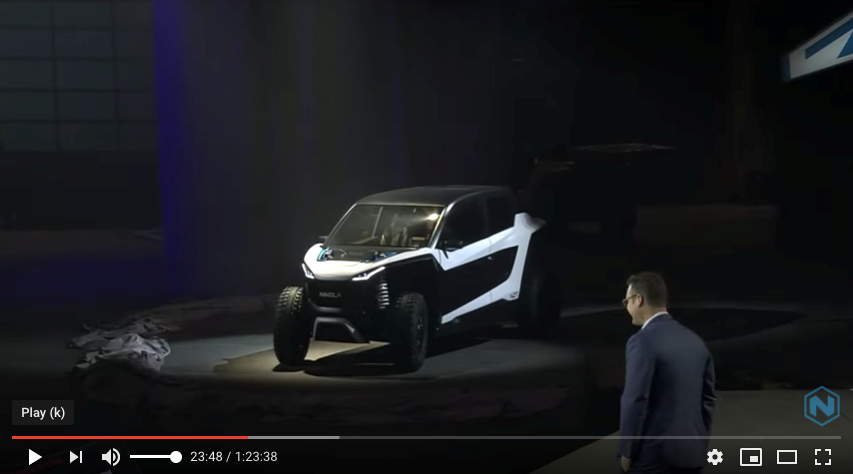 At the 22:22 mark Trevor gushed over the engineering:
"When we unveil this, pay close attention to the workmanship. The interior, the exterior. It rivals some of the best automotive engineering in the world. This is on an off-road vehicle. This is a moment that people from around the world have been waiting for."
Curiously, the new generation closed cabin version of the vehicle was vastly different from the open cabin version, which was set up on a track at the event for test drives. A video from the site showed the open version: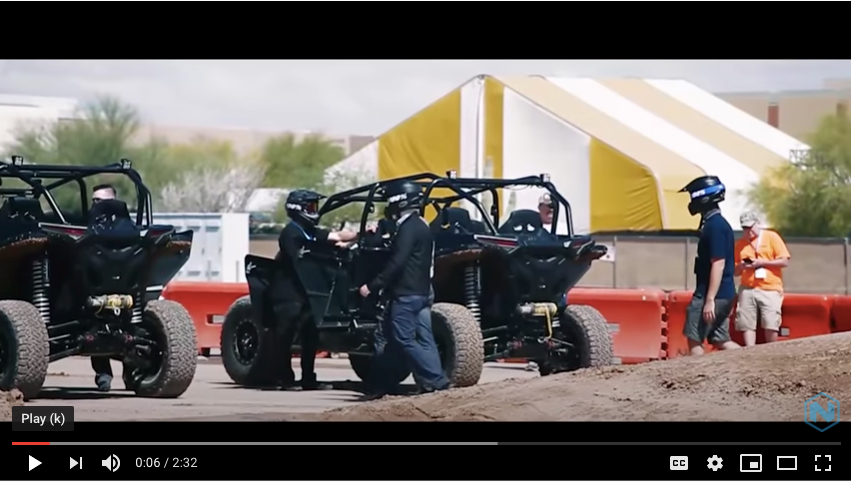 In fact, the closed cabin version was only a "mock up," and lacked some of the luxury features Trevor described on stage, such as the A/C, which could not be accommodated behind the dashboard, according to a former employee.
Within weeks of the event, Nikola management scrapped the design for the NZT because the model was not manufacturable as visualized on stage, according to the former employee.
The company now faced "a massive redesign" before it could bring the NZT to market, they said.
Despite regularly claiming to develop almost everything in-house, Nikola quietly outsourced the NZT redesign to a small company called Stellar Strategy LLC. Stellar is staffed by former executives of Polaris, a well-known producer of off-road vehicles who had advised Nikola on the open cabin version.
April 2019: Trevor Claimed on Video That Nikola's Headquarters Was Completely Off the Grid, with 3.5 Megawatts of Solar Installed on Its Roof
Reality: There Were No Solar Panels. The Lack of Panels Is Corroborated by Local Media and Subsequent Pictures
Trevor has claimed that Nikola has an off-the-grid headquarters with 3.5 megawatts of solar on its roof, a large installation. In an April 2019 pitch, for example, at the 10:03 mark, he states:
"We have the only off-grid headquarters that we know of, completely off of hydrogen, battery, and solar. We have 3.5 megawatts of solar up on the roof producing about 18 megawatts of energy a day in our headquarters, and we're storing 10,000 kilograms of hydrogen and using fuel cells as energy backup and batteries as energy sources as well. Our company is truly one of the most innovative companies in the world!"
Despite this claim, an article in June 2019 in BizJournals stated that the company had yet to install any solar panels on its roof.
We pulled satellite pictures of Nikola's headquarters (4141 E Broadway Road Phoenix, AZ) from Google Earth Pro and found that all subsequent overhead views (dated August 2019 and January 2020) showed no sign of solar panels on the roof either:
November 2019: Nikola Announces the Nikola Battery "Prototype Cell", Calling It "Game Changing Battery Technology"
In late October 2019, Trevor began teasing on twitter that Nikola was going to change the world with an upcoming announcement that was bigger than anything he had announced in the past:

It would later become clear that the above teaser tweet was issued 2 days before the company signed a Letter of Intent to acquire a battery technology company.
In mid-November, Trevor issued several more tweets, generating excitement and anticipation for the mystery reveal: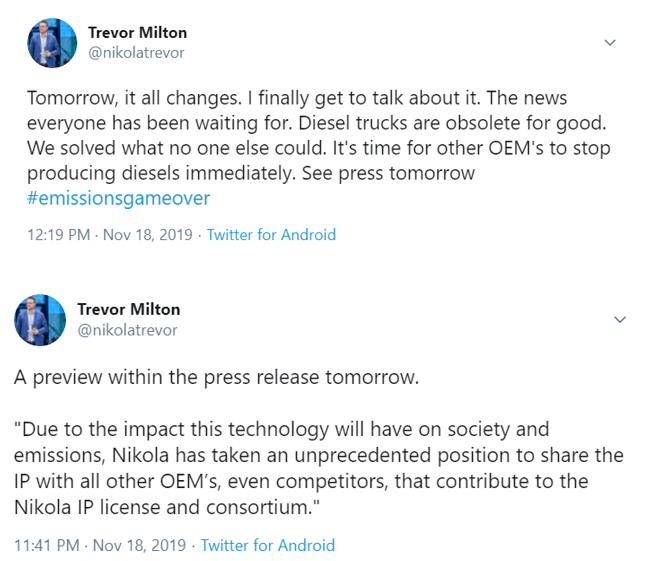 Finally, on November 19, 2019, the very day after Nikola began private negotiations to go public, [Pg. 81] Nikola announced that it had solved one of the greatest challenges facing sustainable energy; a high-density battery.
Nikola certainly didn't undersell the purported achievement:
"This is the biggest advancement we have seen in the battery world," said Trevor Milton, CEO, Nikola Motor Company. "We are not talking about small improvements; we are talking about doubling your cell phone battery capacity. We are talking about doubling the range of BEVs and hydrogen-electric vehicles around the world."
Trevor continued to tout the battery technology to his Twitter following, claiming he had seen the cell perform with his own eyes, and promised a major demonstration at Nikola world 2020.
He estimated the value of the new technology to be worth hundreds of billions. As we later learned, Nikola had signed a letter of intent to acquire the technology for only $56.5 million, which would have made this the most accretive acquisition in history: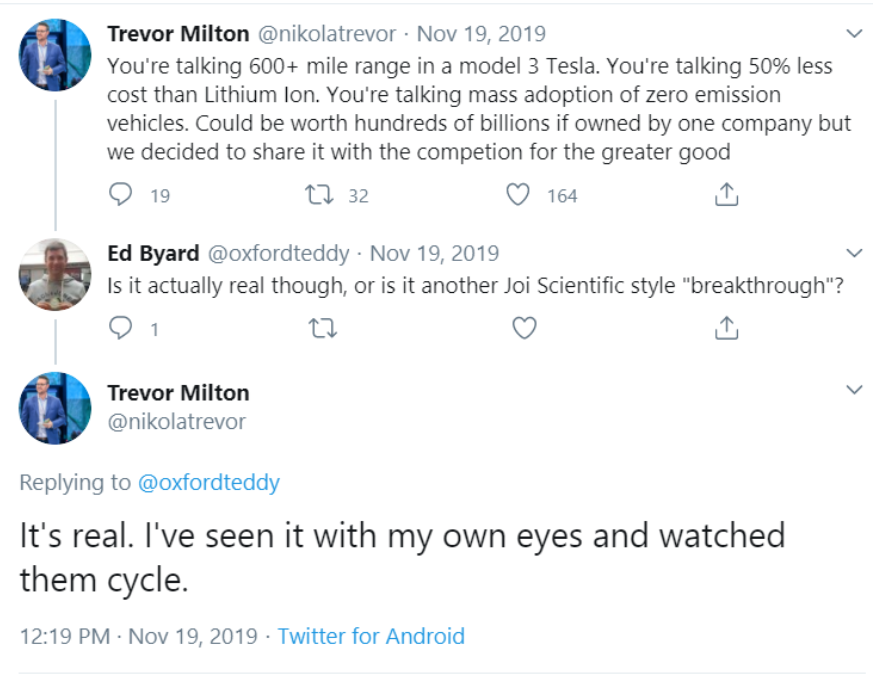 As with past claims, the public representations differed significantly from the private reality.
The battery announcement made reference to a letter of intent to acquire a battery company, though it did not name the company or reveal the letter. We found the name of the company in litigation records.
Nikola Intended to Acquire the Battery Tech, But After the Grand Announcement, Soon Learned it Was Vaporware.
Furthermore, Nikola Learned the President of the Battery Company it Intended to Acquire Had Been Indicted Months Earlier After Using His NASA Expense Account to Hire Numerous Prostitutes
In March 2020, Nikola sued the battery company, named ZapGo Ltd., alleging fraud, false representations, and failure to disclose that the President of ZapGo had been indicted months earlier for tax fraud.
Had anyone at Nikola merely Googled the President of ZapGo, Charles Resnick, they would have found that 6 months earlier Resnick made national news for allegedly conning NASA through a scheme to use his expense account to hire numerous prostitutes. Resnick pled guilty in January 2020.
Nikola's complaint against ZapGo describes how after entering into a Letter of Intent to acquire the company, and after it had already invested $2.2 million into the company, Nikola realized ZapGo's claims were highly questionable.
The complaint also made clear that Nikola, through its VP of Technology Development Jason Roycht, learned about the tax fraud issue and false claims made by ZapGo as early as December 2019: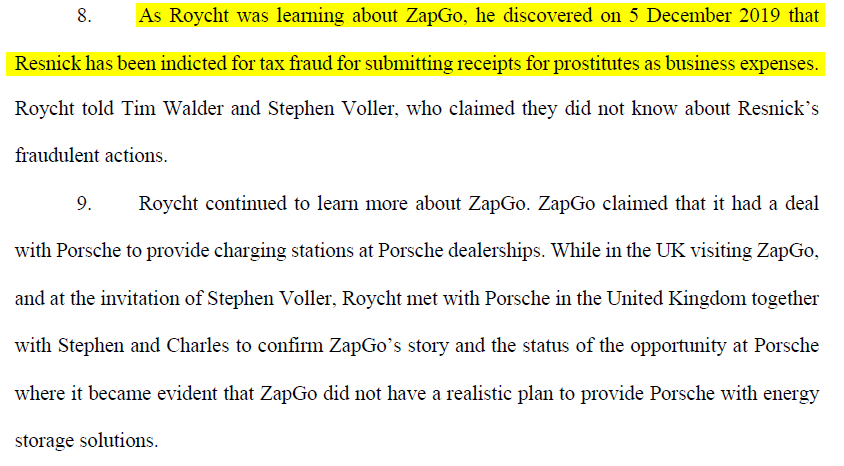 Despite Learning About the Issues with the Battery Tech in December 2019, Trevor Was Still Hyping the Tech in February 2020
Despite the issues with ZapGo, Trevor didn't see any reason to stop touting the battery technology via his Twitter account: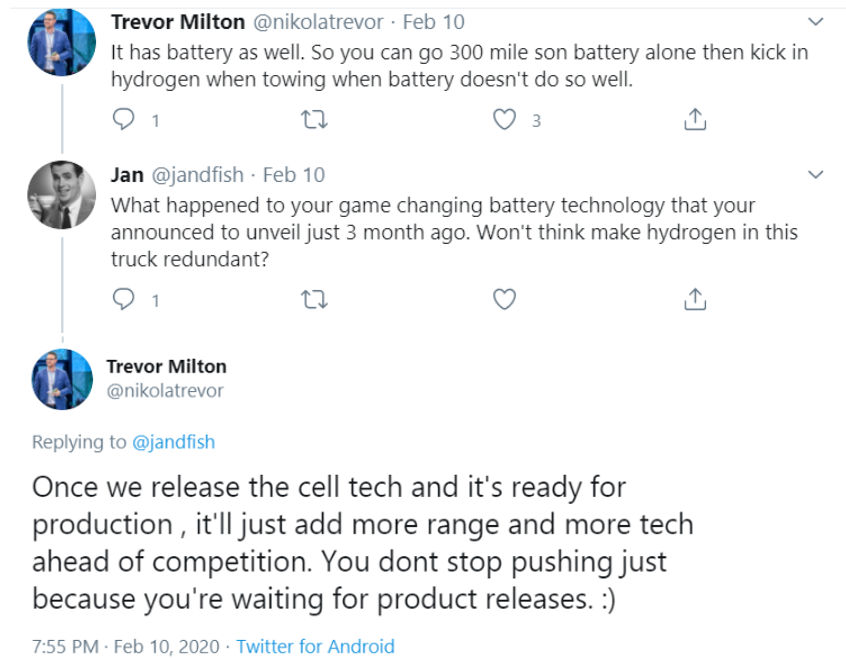 Nikola formally terminated the agreement on February 26, 2020 and appears to not have publicly discussed the situation since. The November 19, 2019, Nikola press release has not been rescinded or corrected, and investors likely believe the "game changing" battery technology still exists.
It never did.
Powercell AB Spokesman's Comments on Nikola's Battery (And Hydrogen Fuel Cell) Technology: "Hot Air"
In 2017, Nikola signed a deal appointing Sweden's Powercell AB as its primary supplier of hydrogen fuel cell stacks. Powercell was an investor spin-out from Volvo, one of the world's largest truck and industrial vehicle makers.
Bosch and Powercell had been completing tests on Nikola's behalf. But in early April 2019, Powercell issued a statement announcing it was ending its agreement with Nikola saying the business terms were "totally unacceptable".
Just days later, Nikola partner Bosch unveiled a $56.5 million licensing deal, with additional royalties, with Powercell for its S3 fuel cell stacks.
Referring to the breakdown of the deal with Nikola after more than two years of tests, Powercell spokesman Marten Wikforss told us by phone from Sweden this month:
"As you can tell from the press release, the terms we were presented for our cooperation with Nikola were, as we stated, unacceptable. So we communicated that and in response, they said 'we're out of the game'"
"What they communicated when they said they weren't going to use our parts and fuel cells was initially that they were going to launch their own fuel cells and it would be so much better or whatever. It was a lot of hot air coming from them…Then you didn't hear anything from them. And then all of a sudden they were going to launch a new revolutionizing lithium-ion battery system too. And I haven't heard anything about their own fuel cell system and I haven't heard anything about their revolutionary battery either."
He said, however, that there were no restrictions on Powercell's licensing deal with Bosch and that Bosch could provide batteries to Nikola even though their direct deal had collapsed.
"We're providing to Bosch and it's up to them if they want to supply to companies like Nikola. We haven't banned sales to certain clients. They're free to operate and sell their product."
When Subsequently Pressed on the Battery Acquisition by Tesla Fans, Trevor Dodged the Question Then Changed the Story Completely
Now, an Unnamed University Is Supposedly Developing the Technology
When skeptical Tesla fans visited Nikola in August of this year, Trevor had a conversation about battery cell technology. First, he claimed to be working on cells that eliminate all toxic materials, saying he's been working with companies to bring the tech to market:
"We've essentially worked with some battery companies to bring (those) cells to market."
The questioner then asked:
"Is this tied to that company you acquired and announced earlier this year…?"
Trevor initially said he was working with "battery companies", but when the Tesla fan brought up the deal for the company that Trevor (but not the questioner) knew had failed, he then suddenly changed course and said it was related not to a company, but to an unnamed university:
"No, it's not actually. It's tied to a university that had developed the technology. And we essentially ended up licensing all of it and helping them fund it all the way through."
Note that Nikola does have a deal with universities to develop fuel cells, but we found no indication that it has anything to do with battery cell technology. We found no record of any such licensing deal in its filings.
Following the discussion of the unnamed university, Trevor then downplayed the possibility of a breakthrough, despite his previous claims to have achieved the breakthrough in November 2019:
"I hate cell development. Likelihood of success is like hitting the lottery, you know? So, it's very unlikely you're gonna develop a cell that'll work. So, they did really good work, they had showed that they had thousands of cells that were already being cycled that were not failing. So, we came in and we helped fund 'em. We helped provide 'em funding for equipment that they needed. They furthered the development and now we're going to be showing off cells at Nikola World, we hope."
The conversation about universities developing the battery tech took place a mere two weeks ago, but now, the company has announced that it will be using GM's proprietary battery technology.
We're confident Nikola's battery technology simply never existed, yet has now managed to trade that empty promise for GM's actual capabilities.
June 2020: After Years of Deception, Nikola Goes Public—A Massive Monetization Event That Added Billions of Dollars of Liquidity and Value from Unknowing Public Market Participants
Nikola went public via a reverse merger on June 4th via a special purpose acquisition company.
Shares of Nikola spiked, largely on the backs of retail investor euphoria. Many inexperienced investors were learning about the company for the first time and, seeing a long list of impressive claims, believed that they were getting in on the ground floor of the next Tesla.
Overnight, Trevor became a multi-billionaire and a minor social media celebrity. A host of news articles came out comparing him to Elon Musk.
But Being Public Also Brought Criticism. Trevor Quickly Becomes Obsessed with Short Sellers, Critical Journalists, and Other "Haters"
We at Hindenburg take pride in reporting on companies that try to silence criticism with intimidation. A functioning market requires diverging views and opinions in order for investors to be able to make informed decisions.
We also believe that companies engaging in such practices are vastly more likely to have something to hide. In one recent example, MiMedx Group sued its critics, only to be charged criminally with fraud two years later.
Most public company leaders focus on developing their products and their business. But upon going public, Trevor almost immediately took to lashing out at short sellers and threatening journalists with litigation for writing critical articles: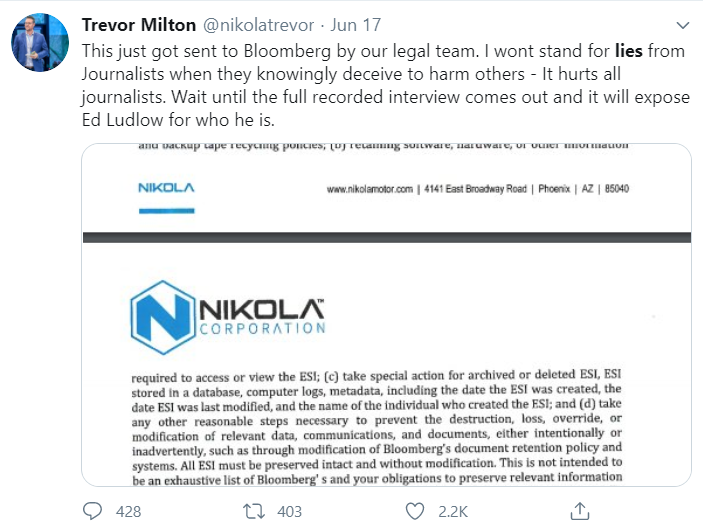 2020: Trevor Claimed Nikola Produces Hydrogen for Under $3/kg, ~81% Cheaper Than the Rest of The World, Representing a Major Breakthrough
The high cost of hydrogen, among other issues, has prevented it from becoming a mainstream fuel source for alternative energy vehicles. The high price tag results from both the cost to isolate hydrogen and the cost of building production facilities/transmission.
Low-cost hydrogen production is critical to Nikola's financial viability, as Nikola's hydrogen long haul truck sales would rely on a working network of hydrogen stations. Nikola's much anticipated fuel cell pickup truck's existence also hinges on a hydrogen station roll out.
As part of its hydrogen strategy, Nikola says it is planning on building 700 hydrogen stations across the US, with further plans to expand worldwide.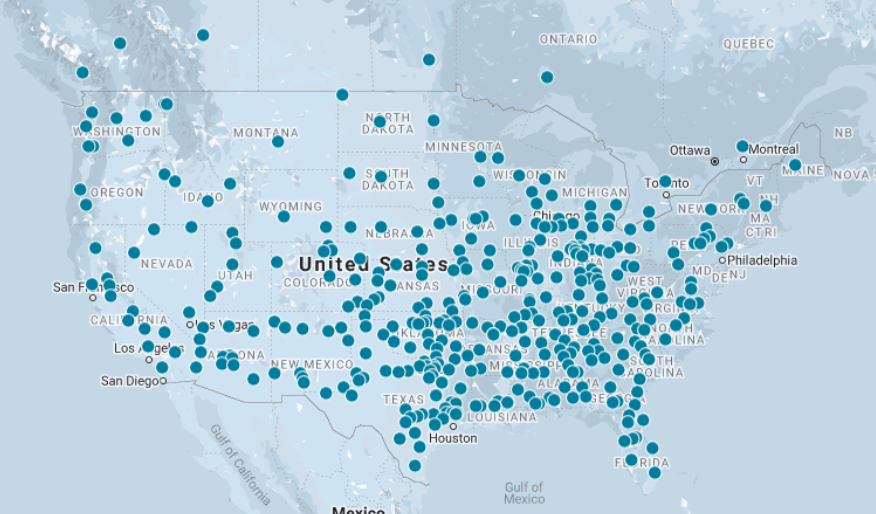 Per the company's latest quarterly report:
"This planned construction of hydrogen stations is essential to persuading customers to pay a higher premium for our trucks." [Pg. 41]
To build these stations, Nikola announced in a June 2020 press release that it would be purchasing components from Norway-based Nel ASA.
At Nikola World in December 2019 Trevor claimed on video to a large audience to already be producing 1,000 kilograms of hydrogen a day on site at his Phoenix headquarters:
"In America we've already got the largest hydrogen station in the western hemisphere at our headquarters. Can produce over 1,000 kilograms a day on site."
Subsequent to Nikola world, Trevor reiterated in several public interviews to have already solved this major world problem, describing Nikola as having achieved breakthroughs in hydrogen production.
In an August 2020 interview with Fox Business News, when asked about hydrogen, Trevor says:
"We saw an opportunity to bring the cost of hydrogen down going zero-emission and putting it on parity with diesel, and it's the first time in history that's been able to be done, so it went from about $16/kg and we are down now below $4/kg. And there's a lot of reasons for that, but the main one is standardization of a hydrogen station worldwide has allowed us to drive that cost down dramatically. We tell people we're an energy technology company that happens to build really cool vehicles."
In another interview on July 17, 2020, on the TeslaCharts podcast, Trevor claimed Nikola has been able to "chop the cost of hydrogen from $16/kg down to – we're down below $3/kg on our hydrogen now."[1] [11:34]. This would mark an astonishing 81.25% reduction in the cost of hydrogen.
When challenged again about Nikola's hydrogen production cost by the TeslaCharts podcast host [25:00], Trevor repeats the question, compliments the host on asking the question, claims he has "so much experience" with answering the question, says he "knows the stuff better than anyone he has ever encountered" and says he has spent "7 years" driving the cost of hydrogen down.
But he then admits that many of the "changes" in the hydrogen world he has seen are "not so much on the technology side" and that Nikola has "seen maybe a 5% or 10% increase in efficiency across the board" in hydrogen technology. But that's "not what changes the world," Trevor says.
After providing an anecdote about his father, and offering some other sidetrack discussion, he then admits that Nikola's entire answer to bringing down the cost was to simply standardize a hydrogen station. "The standardization of the hydrogen station was the most important aspect," Trevor says.
Such standardization would clearly bring costs down, but Nikola already claimed to have accomplished the feat without having a single production facility of its own.
When Pressed on the Subject in July 2020, Trevor Acknowledged Nikola Produces No Hydrogen at All. The Claims Made at Nikola World and In Multiple Interviews Were, Once Again, Completely Fictitious
In a subsequent interview on July, 2020, when pressed about hydrogen production, Trevor acknowledged producing no hydrogen at all:
Trevor:
"The station is designed to store and pump about 1,000 kg's per day. Electrolyzers are going in now and should be operational with zero emission solar production by Nikola World 2020. We have 2.5 megawatts of solar going up now at the facility. The station functions now, but we do not sell it to the public."
Interviewer:
"OK, so for the record: You're currently producing no hydrogen but you're planning to produce 1 metric ton/day using 100% solar energy by the end of the year? What are you going to use it for by then?"
Trevor:
"The permitting process of producing hydrogen takes much longer than storing and pumping it. We spent the last year building the largest hydrogen station in the western world in Phoenix, AZ at our HQ. Now we will spend the next 5 months installing the hydrogen production (Electrolyzers, Power Electronics, Thermal, Etc.) into that station."
We found the admission to be unsurprising when we learned who was in charge of Nikola's efforts to develop and roll out its supposedly revolutionary hydrogen production capabilities.
Nikola's Director of Hydrogen Production/Infrastructure Is Trevor Milton's Brother, Who Worked Paving Driveways in Hawaii Prior To Joining at Nikola
Given the complicated nature of hydrogen, we wanted to look closer into the resumes of who Nikola has put in charge of such a critical and dangerous aspect of their business.
We expected to find that Nikola had hired a world-renowned scientist to lead its revolutionary hydrogen efforts. Instead, it appears Nikola has appointed Trevor Milton's brother, Travis, as the Director of Hydrogen Production/Infrastructure.
Travis has held his title at Nikola for over 5 years, beginning January 2015, according to his LinkedIn.
Interestingly, he seems to have landed in this crucial position the same month he finished his last job, where his LinkedIn lists him as "President" of "Self-Employed" in Maui, Hawaii.
We found a number of endorsements for construction work from individuals in Maui, Hawaii.
Eventually, we found a website that highlighted Travis' work pouring concrete and building a barn as a subcontractor in Maui.
"Mr. Milton poured two long and challenging driveways (one driveway was the world's steepest), and extensive walkways with elaborate embossed Hawaiian leaves," the website says.
Another picture from the site feature's Travis's work applying epoxy flakes to a staircase: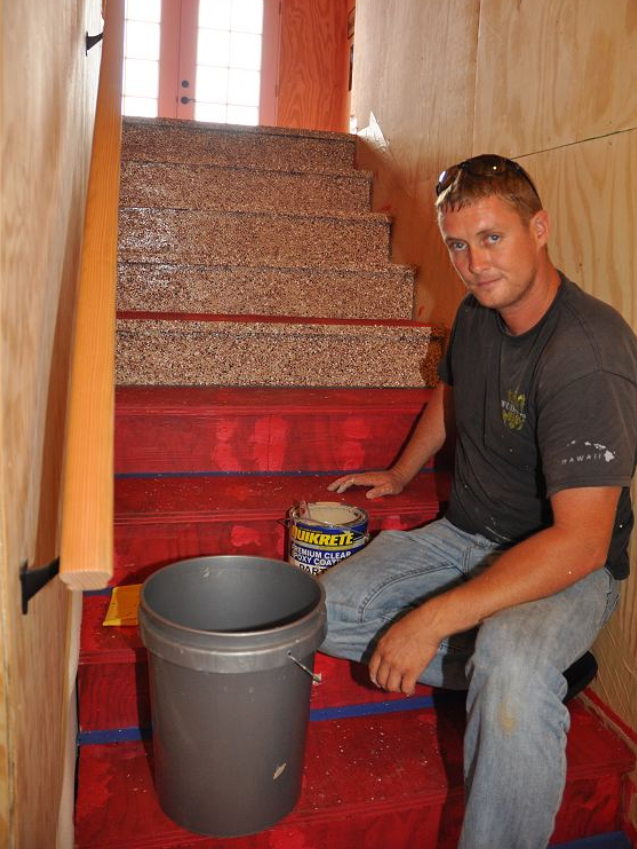 We're not sure how this work prepped Travis for a key role in solving one of the world's greatest scientific challenges, but he appears to have been handsomely rewarded for his discoveries.
Trevor has given Travis, along with other family members of Trevor and select early employees, stock worth over $110 million as of this writing. [Pg. 116]
One source we spoke with, who previously worked with Travis, described him as not having a formal role and as someone Trevor "kept around" if they "needed someone to hold a rope, or something like that" while they were working on vehicles.
Nikola's Head of Infrastructure Development, In Charge Of "Leading Development" Of Nikola's 700+ Hydrogen Station Network, Is the Former CEO And General Manager of a Golf Club In Idaho
Also central to the company's hydrogen station initiative is Nikola's "Head of Infrastructure Development".
Once again, we might anticipate that the rollout of Nikola's coast-to-coast hydrogen production network would be managed by an individual with an extensive background in both science as well as large infrastructure developments.
For this task, the company chose Dale Prows, who is described at the 13:20 mark in a video produced for investors ahead of the company going public, as "one of our hydrogen experts."
Prows joined Nikola after spending almost 4 years as CEO and General Manager at a residential golf course in Idaho.

Prows, along with Travis Milton, are apparently going to spearhead building the world's first network of 700 hydrogen production and fueling stations.
Trevor: "We've Assembled One of the Best Teams in the World"
Nikola's Chief Engineer: A Background Largely in Software Development and Pinball Machine Repair
Trevor regularly touts bringing in top talent from all over the world. Key to that team is Nikola's Chief Engineer, Kevin Lynk.
Trevor credits Kevin with designing all of the company's e-axle, a complex task for one vehicle let alone Nikola's proposed suite of vehicles. At 8:43 in the following video, Trevor details all the elements of Nikola's e-axle's as developed by Lynk:
"All the e-axles at Nikola were developed by Kevin… (These include) rotor, stator, cooling, thermal, gears, and sometimes inverters."
(Note that the e-axles appear to be mostly developed by Bosch.) We reviewed Kevin's biography on LinkedIn and found that prior to Nikola, he worked for 7 months designing oilfield products using CAD software, 3.5 years in software development, and prior to that spent 9 months repairing pinball machines.
Here is the rest of his resume after college and before Nikola, per his Linkedin:
Trevor Milton in 2020: We Make All Our Inverters In-House
Reality: Nikola Buys Inverters from a Third-Party Supplier. A July Video Shows the Inverter, but the Label of the Manufacturer is Covered with Masking Tape
After the critical Bloomberg article, it seemed there was an undercurrent of skepticism that Trevor became obsessed with countering.
Nikola had always made claims that its components were developed in-house, dating back to Nikola's first press release on May 9, 2016:
"The majority of the semi-trucks components are being developed by Nikola."
Yet these claims never seemed to make sense. As we have already shown, Nikola's early history was that of a company loudly claiming to have vast proprietary technology while quietly signing partnership agreements with third-party suppliers.
The chorus of doubts among Nikola's "haters" grew louder after it became a public company.
When people would ask skeptically what Nikola had ever actually developed, Trevor would respond with a list of components such as batteries and inverters made in-house. See examples, here, here and here: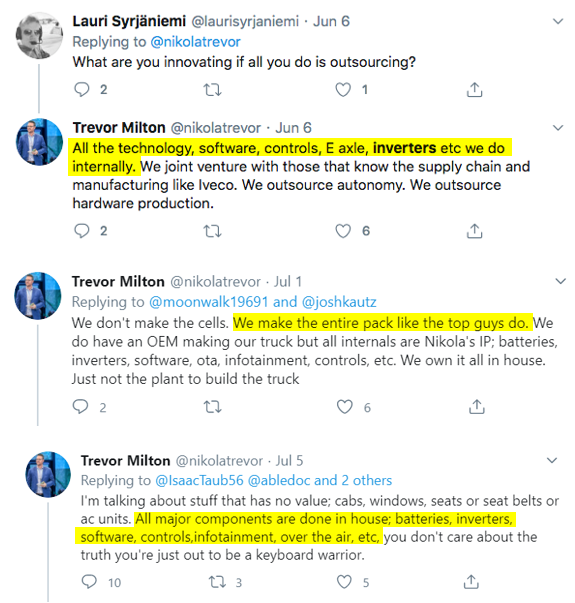 Trevor later attempted to counter skeptics by showing videos of the two prototype trucks that had been built with partner Bosch, suggesting that this somehow disproved the allegation that the earlier truck he built had never been finished.
In one such video, on July 14th, 2020, Trevor walks viewers through the Powertrain for the Nikola Two. At the 29:30 mark Trevor begins describing the in-house inverters and how other OEMs are asking to use Nikola's proprietary inverter tech:
"We do all the e-axle design in house. All the gears, the gear reductions. The thermal the cooling. Even the controls that go with it. And, also, the inverters as well. All inverters on the Nikola truck are probably some of the most advanced software systems that I know of anywhere in the automotive world. Why do I know that? It's because other OEMs are asking us to use it."
At the 7:02 mark, we can see the inverters up close. There is a relatively inconspicuous green piece of masking tape on the component: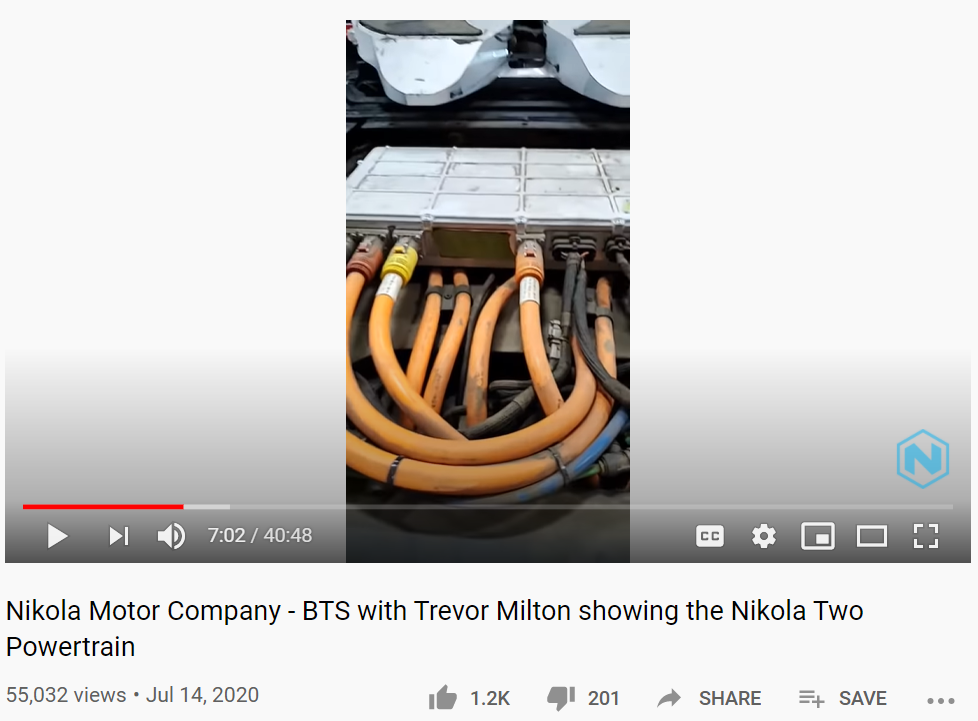 Here it is up close: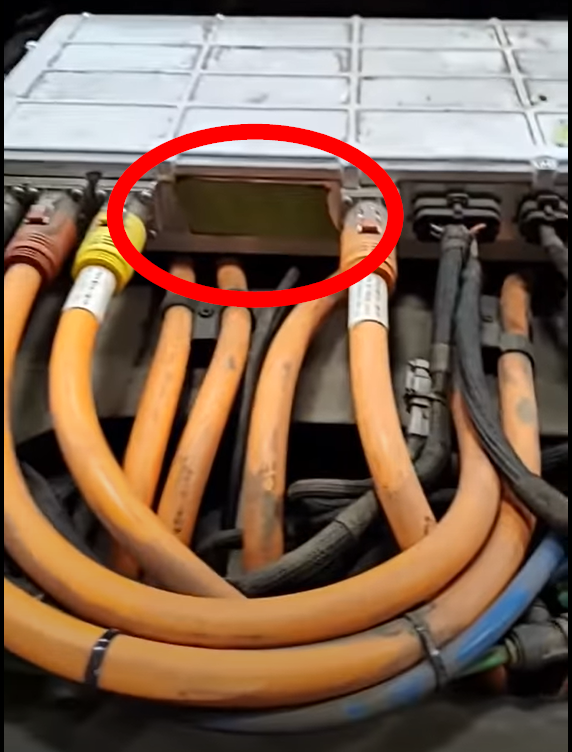 The inverter is not proprietary to Nikola. Cascadia Motion, a small company in Portland, offers such inverters off the shelf. The tape is covering the label which would normally show the product description and other specifications that make clear who built the component: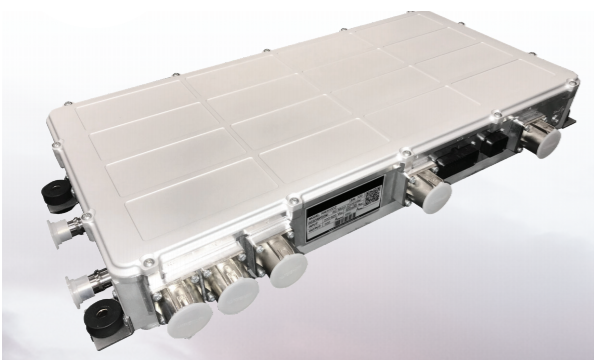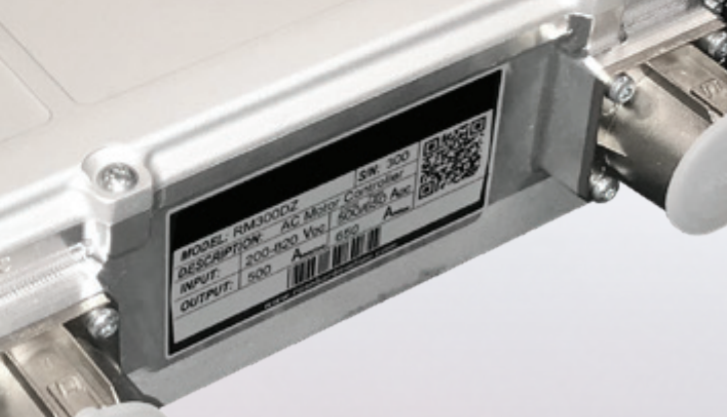 We texted a sales engineer for Cascadia and asked if the model was available to the public or if it was a customer specific model, and they confirmed that it was for sale to the public.
This follows the same pattern. Nikola has regularly used off-the-shelf products from third parties, while claiming to have vast internal proprietary technology and to "design" all the products itself. It then partners with companies that actually have the components Nikola claimed to have already developed internally.
July 2020: Trevor on the Nikola "Tre" Truck: "We Have 5 of Them Coming Off the Assembly Line Right Now"
Bosch Spokesperson In September: We Don't Have Any Yet
In February 2020, a deal was unveiled to produce the Nikola Tre in Europe on an Iveco S-way platform and using Bosch electronics.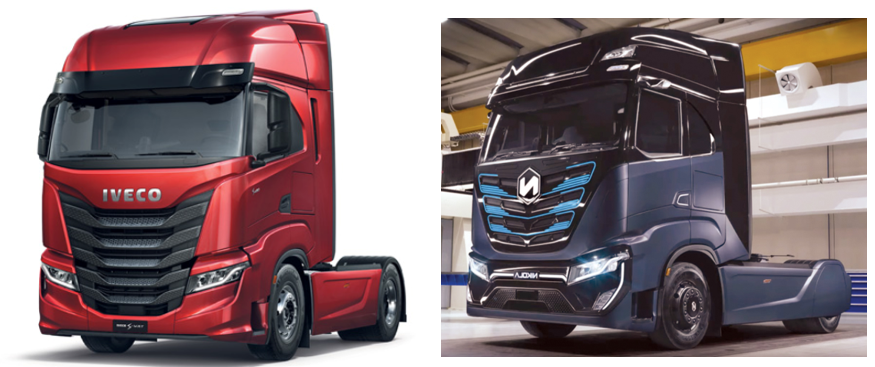 Nikola had said it would be ready to show off the Tre at the Hannover IAA trade Fair this September, the most prestigious in Europe.
In a July 2020 podcast, (39 minute mark) Trevor gave the impression it was all systems go – at least on the initial BEV model:
"We have the most advanced battery electric truck in the world. We have a truck coming into production right now with 720 kwh the largest battery we know of on a truck anywhere in the world coming into production. We have five of them coming off the assembly line right now in Ulm Germany. They'll enter production end of next year-ish, somewhere around there."
But in a phone interview on Sept. 9, Bosch said not so.
Thorsten Schoenfeld, spokesman for Bosch's electro-mobility unit at headquarters in Germany said this:
"No they are not ready yet. I don't know exactly the year but we're working on it."
When asked what exactly the Nikola-Iveco-Bosch partnership had planned to show at the Hannover trade fair – now canceled due to Covid-19, Schoenfeld said:
"We would have shown different innovations and a kind of truck but not a real truck but a showcase."
July 2020: Nikola Posts Video of Nikola Two Going "0-60 in Under 5 Seconds"
Reality: The Vehicle Was Already Rolling When the Video Started and it Still Took Over 10 Seconds
Following the Nikola One "demonstration", the company was successful in raising capital and bringing on a number of legitimate partners. Automotive supply heavyweight Bosch agreed to work with Nikola in September 2017, and, by all reports, largely built its Nikola Two prototype trucks.
In a tweet, Trevor posted a video claiming to showcase the Nikola Two prototype's acceleration capabilities: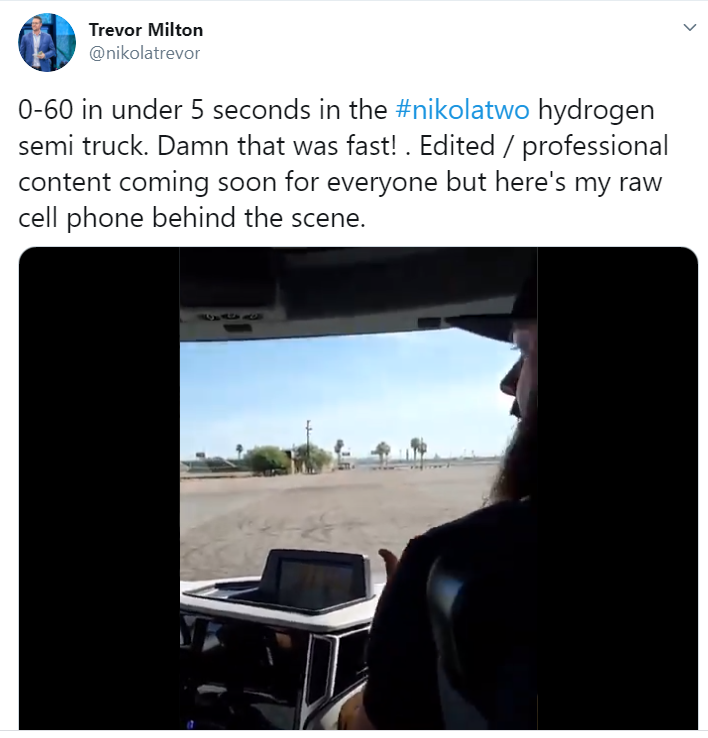 The video begins with the truck already rolling. By just using a basic stopwatch, we can see that it takes over 10 seconds between the start and Trevor exclaiming "there it is" on the video. The speedometer is not visible, and we obviously have no ability to see what is actually powering the truck.
[Click here to see the video, with a stopwatch]
In response to questions about the veracity of the video (1,2), Trevor promised that professional video would soon follow, but we have seen no such update.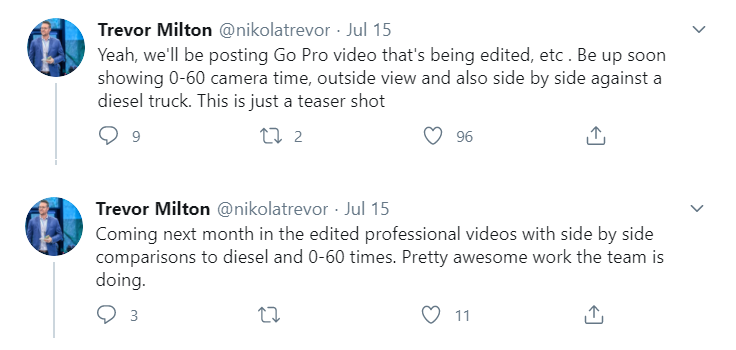 Overall, information has been sparse on the Nikola Two. Last month, several Tesla fans toured the Nikola facility and rode in the prototypes, with some reporting that they were surprised the EV truck was so loud. Apparently, the AC had been turned on full blast, which kept the riders cool from the Arizona heat but also fueled skepticism.
There have been several videos of the prototypes built by Bosch being driven around parking lots (1,2) and at unknown speeds carrying unknown-sized loads in stylized videos, but once again, investors and partners are left in the dark about what Nikola really has.
Nikola's Former CFO Left and Sued the Company. The Entire Docket is Sealed—But A Month After the Lawsuit Nikola Suddenly Announced it Had Refunded All Truck Deposits.
Did They Ever Really Exist?
In March 2018, Nikola's former Chief Financial Officer Jonathan Spira filed a lawsuit against the company, with Nikola countersuing several months later.
A sudden change in CFO is often a red flag. A CFO that departs while suing the company obviously is an even bigger red flag. Both cases were eventually dismissed. The allegations remain unclear, and it is unclear whether they were dismissed as part of a settlement.
Prior to the lawsuit by its CFO, Nikola claimed to have 7,000 pre-orders with deposits, a total potential value of $2.3 billion for its proposed electric truck. Industry watchers viewed the numbers with skepticism at the time. Per CleanTechnica:
"Despite reportedly taking $10.5 million in reservation deposits (across ~7,000 preorders), the Nikola Motor Company has completely backed away from its plans to offer a battery-electric Nikola One semi-truck, according to recent reports."
"…Bad news for those who put down reservations (if the reservation figures were accurate/true)".
A month after the lawsuit was filed, Nikola suddenly announced via Twitter that it was refunding all deposits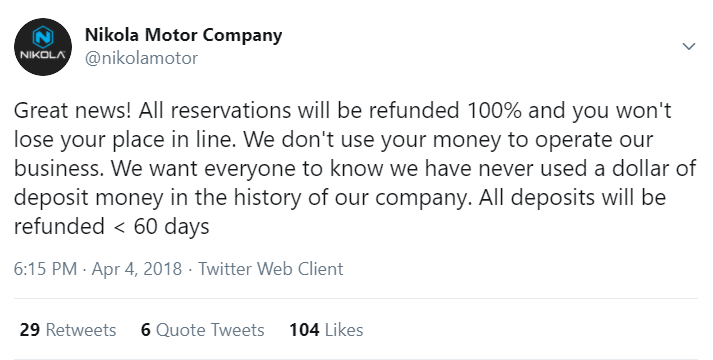 Industry blog Green Car Reports described the move to refund deposits with confusion:
"The point of refunding the deposits remains somewhat unclear, however, even if Nikola is flush with orders and cash. Customers that have sent the company money have skin in the game, meaning they're more likely to follow through with their purchases at the end of the day."
Nikola's Order Book: More Fluff Than Substance
As of the latest quarter, Nikola reported 14,000 cancelable reservations for its trucks. [Pg. 35]
The most high-profile reservation regularly discussed is Anheuser Busch's contract for 800 trucks. The agreement provides significant outs however, allowing Budweiser to cancel (i) anytime with 1-year notice (ii) if a 90-day road test doesn't perform up to expectations; or (iii) if the products aren't delivered at all.
At the time of the Anheuser Busch deal, Ryder was to perform all servicing, but that relationship has since ended.
Nikola has also publicized its deal with Arizona trash company Republic Services, with an order for 2,500 refuse trucks based on the Nikola Tre. Those appear to be for battery electric vehicles not hydrogen-powered models. Nikola stated the refuse trucks would be supplied from the Nikola factory at Coolidge, which has barely begun.
The rest of the "reservation" book seems non-committal. In investment bank Cowen's initiation of coverage report for Nikola, it noted:
"U.S. Xpress makes up more than one-third of the 14,600+ reservations on hand"
Were U.S. Xpress to complete such an order it would amount to ~$3.5 billion in value. But as of its last quarterly report, U.S. Xpress had only $1.3 million in cash on hand. [Pg. 3] There is no realistic way that the company could possibly order the number of trucks it has "reserved".
Having a large order book sounds great but having buyers both willing and credibly able to pay is another matter entirely.
Nikola's Fixation with NDAs, Secrecy, and Legal Intimidation
Often, the two most glaring red flags that something is amiss at a company are (a) an obsession with secrecy and (b) the constant threat of legal action or retaliation against anyone who speaks out.
Companies typically use a common justification for such paranoia—they've found the holy grail of something and they must take all measures to prevent competitors from finding out about it.
Often, in these cases, the real secret is that there really isn't much behind the curtain at all.
During our research, we reached out to multiple former Nikola employees. We were told by one that Nikola had issued a legal warning to all former employees to intimidate them into not discussing the company.
Recently, several Tesla fans visited Nikola and were required to sign NDAs.
We even reached out to the actors in a Nikola commercial showing the Nikola One "in motion" (see section above). We found that the actors had been required to sign NDAs. What proprietary secrets could an actor standing next to a truck possibly learn that require them to be muzzled?
At One Point, Nikola Claimed to Own its Own Natural Gas Wells
Yet Now, All Mentions of These Supposedly Owned Wells are Gone. We Found No Mention of Nikola Ever Owning Natural Gas Wells in its SEC Filings
Nikola's claim to own its own energy sources (like its fictitious hydrogen production operation) is not particularly new. At various points in its history, Nikola has claimed to own natural gas wells, despite no evidence we could identify suggesting this was the case.
For example, the Internet Archive shows Nikola's bold claims of being able to "guarantee" cheap fuel for its prospective customers because it actually owned natural gas wells.
One astute follower of the company asked about the "gas wells" to which the Nikola corporate account stated "we still have them." If that was ever the case, where were they and where did they go? Why weren't they mentioned as an asset in the company's prospectus?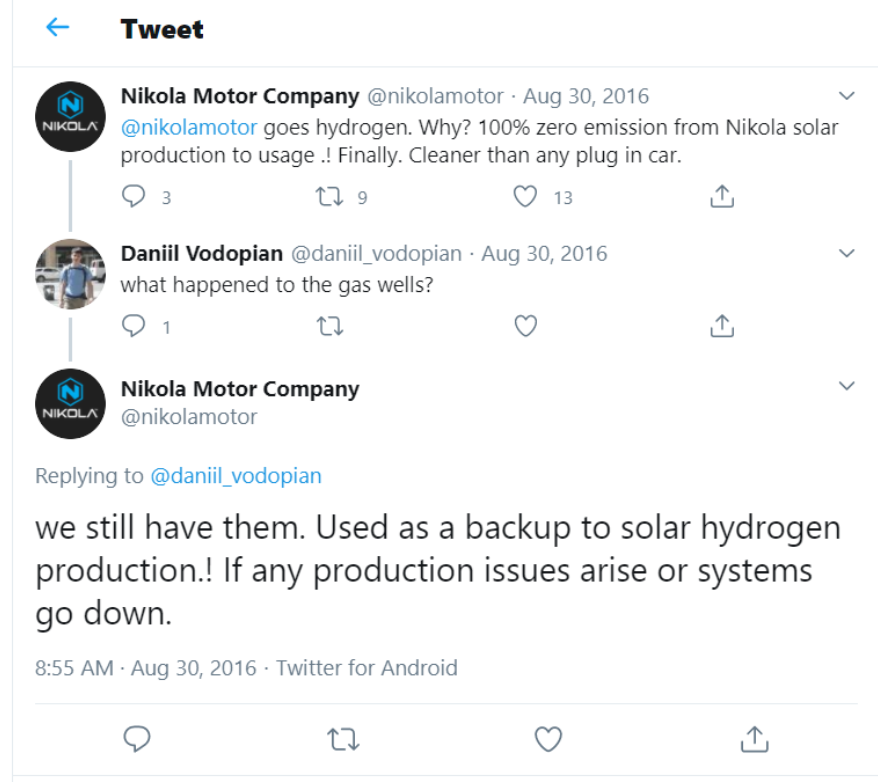 Trevor: Has Previously Said "I Don't Back Down" In the Face of Criticism
Prove it: Here Are 53 Questions—Let's See How Many He Backs Down from Answering
Trevor has succeeded at intimidating many with threats of litigation. As we've said many times before, we welcome such threats. We find that litigious executives often have the most to hide. Sometimes executives will only answer probing questions under oath (if ever).
But on the off chance we are just flat out wrong about absolutely everything, here is Trevor's opportunity to prove it. These are the specific questions we think investors in Nikola and, largely, investors in Trevor deserve the answers to:
Did you have your service personnel traverse the country to conceal potentially fatal defects with dHybrid's product to close the deal with Worthington, as alleged by one of your former employees on recorded audio?
What was the rationale for Worthington's later impairment of dHybrid and the write-off of $1.5 million in warranty expenses?
In May 2015, you represented in a legally binding contract with EVdrive to have "new and valuable proprietary turbine technology". Months later, emails showed you were in discussions with Brayton to purchase their turbines. Did you have any "new and valuable turbine technology" at the time you represented having it?
If so, what was it, and why did you then need to buy turbine technology from Brayton?
Before suddenly pivoting to fuel cells, you claimed that your Compressed Natural Gas (CNG) technology was "10-15 years ahead of any other OEM in fuel efficiencies, MPG, and emissions". Why did you suddenly abandon this supposedly revolutionary technology rather than sell it for billions of dollars?
In December 2016, you claimed at Nikola World, on video, that the Nikola One "fully functions and works…this is a real truck—this is not a pusher." You later admitted that it was NOT fully functional to Bloomberg. Did you brazenly lie, or was this just a series of multiple honest mistakes?
After the Bloomberg piece, you claimed on Twitter that there was a table with truck gears and components sitting in front of the audience for all to see. The event was extensively documented—can you present evidence that such a table existed in plain view for the entire audience?
Do you think a table with gears sitting somewhere would in any way invalidate your claims at the time that the truck fully functioned?
After lambasting Bloomberg's reporter publicly, calling him a "deceiver" and saying he should be fired, you then promised the full audio of the interview with Bloomberg would be released. Why haven't you released it yet?
Do you think it's wise to threaten to sue journalists for getting a story totally correct?
In August 2016, you claimed "Nikola has engineered the holy grail of the trucking industry", pivoting to hydrogen from natural gas. Now that you have acknowledged the Nikola One wasn't fully "engineered" at the time of the statement or the December show, do you wish to retract this press release in full?
Did the Nikola One truck have hydrogen turbines or Brayton CNG turbines at the time of the demonstration in December? Was the fueling system hydrogen or CNG?
Why did you say just two weeks before Nikola's sudden "pivot" to hydrogen that "CNG is the way to go" on Twitter if you were imminently planning to announce a switch?
Did you have an artist come in and stencil "H2" and "Zero Emission Hydrogen Electric" on the side of the Nikola One despite the truck having natural gas components installed?
Do you still consider the Nikola One to have been "fully functioning" despite needing to snake an electricity cord up through the stage in order to power the otherwise completely non-working vehicle?
For the "Nikola One in Motion" video, will you confirm that you towed the non-functioning truck to the top of a hill and just filmed it rolling down?
Which Nikola employees knew about the "plan" for the Nikola One in Motion video and which ones participated in creating it? Did those include Kevin Lynk, your Chief Engineer?
When you released the above video, the Nikola Twitter account said, "Pre-production units to hit fleets in 2019 for testing". Former employees state that no work continued on the Nikola One. What work did you ever complete on the Nikola One after the show?
At the time, did you think pre-production units of the Nikola One would just magically produce themselves?
When you "unveiled" the NZT in April 2019 you praised the vehicle and its engineering, yet a former employee described it as only a "mock up" and said you scrapped the design after the show due to a need for a "massive re-design". How do you respond?
According to you, Nikola designs most things in-house. Did you outsource the redesign of the NZT to Stellar Strategy?
You claimed that Nikola's headquarters has 3.5 MW of solar panels on the roof, yet later media reports and pictures of the roof show they don't exist. Where did they go?
In October 2019, you teased a major battery breakthrough 2 days before signing a letter of intent with ZapGo. You then announced that you had revolutionized the battery industry, before realizing that it was vaporware and ultimately suing the company. Why didn't you correct the press release or update your investors on the status of the deal, which had fallen apart?
In December 2019, Jason Roycht, your VP of Technology Development, realized that ZapGo's President had been indicted for fraud. He raised alarms about the company's relationship with Porsche, which he determined was overstated. Why did you hype the battery tech in February on Twitter despite already knowing of all these issues?
You formally terminated the agreement for the apparent "game changing battery technology" from ZapGo on February 26th, 2020. It is now 6+ months later. Have you ever publicly acknowledged that this major deal fell apart?
In August 2020 when specifically questioned about the deal by a Tesla fan, why didn't you take the opportunity to let people know that it had fallen through?
You instead told the questioner that you had a deal with an unnamed university relating to their battery technology and that Nikola had funded the research. Which university were you working with on the battery technology, how much did you fund them with, and exactly what have you developed in conjunction with them thus far? Will you post the agreement for all to see?
You claimed in an interview to have succeeded at cutting the cost of hydrogen by ~81% from peers, stating "we're down below $3/kg on our hydrogen now". How much hydrogen has Nikola produced at this price, if any?
At Nikola World 2019 you claimed on video to be producing 1,000 kg of hydrogen per day at your headquarters. When pressed by a reporter, you later admitted that you produce no hydrogen. Did you lie about producing hydrogen on camera to the entire audience at Nikola World?
Why did you appoint your brother Travis as "Director of Hydrogen Production/Infrastructure"? What experience does he have in hydrogen research and production?
What would you say are Travis' key contributions to Nikola's alleged breakthrough advancements in hydrogen production?
What led you to select Dale Prows, whose previous employment consisted of managing a golf course, to be the "Head of Infrastructure Development"?
Do you really develop all your inverters in-house or do you buy them from Cascadia?
Why did you put a piece of tape over the Cascadia label when you were presenting your supposed "in-house" inverter on video?
What OEMs have asked to use "your" inverters in their products?
Why did you post a video saying the Nikola Two had gone from 0-60mph in under 5 seconds when anyone with a stopwatch can see that it took at least 10 seconds?
Following the 0-60 video you promised to post a professional version of the video, saying it was just being edited. But you never did. Why? Does the Nikola Two have as much power as you've claimed it has?
In the TeslaCharts podcast at the 40:20 minute mark you said regarding hydrogen stations: "we're gobbling up the best locations right now". Yet your latest quarterly report showed no real estate assets aside from your current headquarters. Where exactly are these locations that you have been "gobbling up"? How many have you purchased already?
What is the hold up with your Coolidge facility construction? Have plans been submitted yet and permits been received? Why is there virtually no sign of progress?
Why do you spend so much time on social media fighting your "haters" and threatening former employees with litigation over NDA enforcement? Don't you have a factory to build and products to produce?
When you sold your St. George Security & Alarms company in an $300,000 deal, your business partner, who said he had a 50/50 deal with you, only received ~$100,000, according to him. Did you get more than him despite having a 50/50 arrangement?
The buyer of the alarm business said you misled him and that customer contracts and other deals fell through post-sale. What happened?
How much did you make when you sold the alarm business a second time? How much of those proceeds did your apparent "50/50" business partner receive?
You claimed that uPillar.com had 80 million monthly active users and that you had beat Amazon to the shopping cart, despite launching in 2009. A former employee called the 80 million number "absurd", and media articles at the time describe the page views far lower. What evidence can you show that you had that number of page views?
Do you realize the internet shopping cart was invented 15 years earlier, in 1994?
Swift filed a lawsuit against your company dHybrid in mid-2012, alleging, among other things, that you had used its investment for personal use. Can you produce bank records showing how you used dHybrid funds? Did you divert funds to uPillar.com?
When you reached out to Ryder Systems about an investment in dHybrid in 2011, you said that the Swift contract was for $250 million, when the actual agreement only shows it was $16 million. Why the large discrepancy?
In another dHybrid presentation, you claimed the Swift contract was for $300 million. What evidence can you present that shows your Swift contract was for $250-$300 million, and not the $16 million in the actual agreement?
Did you claim to sPower that you had finished the dHybrid system and then misrepresent its results to them, as alleged in their lawsuit?
When you launched dHybrid Systems in 2012, why did you claim in marketing materials to have started the business in 2011?
In 2018 you were sued by your former CFO. What were the allegations in the complaint, which is now sealed?
You claimed Nikola owned its own natural gas wells, then re-affirmed that you "still have them" when later asked what happened to them. Can you provide any documentation proving Nikola owns/owned natural gas wells?
Have you ever deceived anyone?
Our Conclusion: Nikola is a Massive Fraud Constructed on Dozens of Lies
Sometimes people misspeak by accident. No one has a perfect memory, and we all occasionally get things wrong.
But what we have witnessed at Nikola, and specifically from Trevor Milton, is a pattern of well-planned and deliberate acts of deception ranging from (a) the staging of non-working products as if fully functional, wrapped in numerous lies about capabilities that don't exist; (b) the staging of misleading videos, which require extensive premeditation, planning and execution; (c) material lies about capabilities, partnerships and products that simply do not exist at all, on video and often in front of entire rooms full of people; and (d) a culture of secrecy and intimidation that to this point has largely kept it all under wraps.

We think Trevor Milton is incapable of telling the truth. We believe he lies like most people breathe. It is natural for him, and our extensive review of his history suggests it has been this way throughout his entire business career.
Every now and then a story comes around that exposes how little the "experts" really know. Theranos had inked partnerships with Walgreens, Safeway, and Cleveland Clinic and had staffed its board with luminaries. Madoff raised billions in capital from sophisticated investors across the globe.
The remarkable thing about Nikola's story is not that someone like Trevor Milton exists, but that he has managed to parlay his stories and lies into deals with some of the best manufacturers and partners in the world by claiming to own vast proprietary technology and having successfully built revolutionary products that simply didn't exist.
He transformed these deceptions and false promises into an empire that at one point was valued at $34 billion, larger than Ford and Fiat Chrysler. He's signed deals with GM, Anheuser Busch, Bosch, Worthington, and a slew of significant automotive players. He received investment from Fidelity and ValueAct, among other name-brand institutions.
We truly think Nikola is both a sign of the times and a story for the ages.
Appendix: Additional Backstory
2005: Trevor's First Business—A Local Security Company, Where He Apparently Burned Parties on Both Sides of a Deal
Trevor's business career began when he was in his early twenties and opened a company that sold security systems door-to-door in St. George, Utah. Trevor described the resulting early success in an interview: "I built that company up and within about a year or two I had sold it for almost two million dollars, and I thought I was on top of the world."
The company, called St. George Security and Alarms, was registered in 2004, according to the Utah Secretary of State website. Two years later, Trevor and a business partner sold the company for a payment of $300,000 up front and monthly payments of around $5,000 that brought the total purchase price of the business to $850,000, according to the buyer, who we interviewed.
The buyer told us that he realized soon after purchasing the business that it was not as Trevor had portrayed it; pending contracts fell through and it turned out that customers had been overpromised during the door-to-door sales process. The buyer put the business back to Trevor, as the purchase agreement allowed, and took a complete loss of $300,000. Trevor then re-sold the business a second time to another company in Salt Lake for an unknown sum, he said.
Notably, when we contacted Trevor's business partner, he said he received about $100,000 from the sale – about what he put into the business – and that it was news to him that the buyer agreed to pay more than the initial upfront payment or that the business had been sold a second time. He also said that if Trevor sold the business for $2 million then Trevor owes him $900,000.
It's unclear whether Trevor actually became a millionaire two years after founding his first business, but he had already allegedly burned a business partner and the acquirer of that business.
July 2009: Trevor Launched uPillar.com, a Website He Claimed Had 80 Million Monthly Active Users, Invented the Online Shopping Cart and Was Beating Amazon
Former Employee: 80 Million Users Claim is "Absurd". uPillar Was a Failed Craigslist/eBay Clone and The Shopping Cart Was Invented in 1994
Trevor's account of his rise in the business world follows the "$2 million" alarm company sale with claims he reinvested the money from the alarm company into uPillar.com, a website he launched in July 2009. The site offered free classified ads and monetized by charging car dealers to sell used cars online.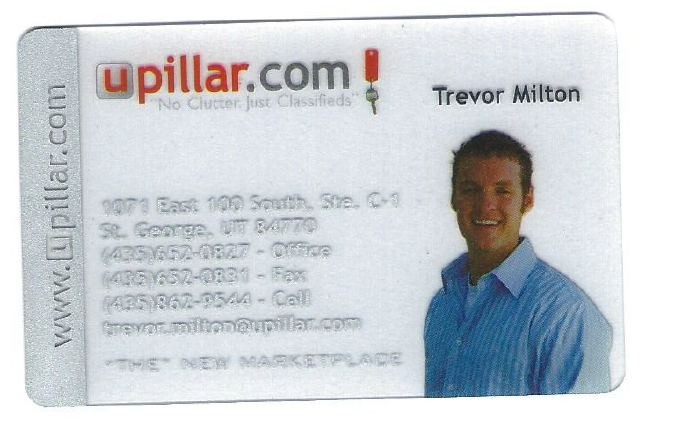 These days in interviews, Trevor describes uPillar as a rapidly growing company that was beating Amazon and eBay:
"[It was] way ahead of its time actually…we were beating Amazon at what they were doing.

We had the first ever shopping cart in history. No one else had ever developed a shopping cart to buy 50 items from 50 different sellers, checkout at one time…the first group in the world to really do that. We beat Amazon, we beat eBay…"
"Ultimately we would have ended up being Amazon but we were in Utah and at the time Utah had no clue what investment was around the internet. So, we just grew too fast and that was a lesson for me at that time was not to grow too fast."
In a recent interview with Forbes, Trevor claimed uPillar had 80 million monthly users. Websites at the time describe uPillar as "only reporting on average around 200k monthly visits" and as spending big on advertising to get a temporary bump, then watching its usage subsequently tank.
We spoke with a former employee who called the claim of 80 million monthly users "absurd". They said of the site:
"Much of our time was spent approving classified postings. We were always able to keep up with it, with only a few of us approving them." (Because of the low traffic).

"Many of the ads were posted by scammers from overseas, so we constantly rooted those out by identifying I.P. addresses."
"The website failed to deliver a product to rival eBay. Our mass uploader feature was supposed to be able to compete with eBay, and we were trying to deliver it to customers before eBay raised its listing fees, but we weren't able to. Many users weren't able to move their storefronts from eBay, because our website couldn't facilitate the mass product info. Users were stuck using eBay."
The former employee also told us:
"Amazon was not talked about a competitor…eBay and Autotrader were."
For reference, uPillar launched in 2009. It did not have the first shopping cart, and it was not beating Amazon. The first online shopping carts were used in 1994, the same year Amazon was founded. By then, Google had processed almost 800 billion searches, and the iPhone had been in existence for 2 years. Amazon had existed for 15 years and reported over $4.6 billion in general eCommerce sales excluding books.
Disclosure: We are short shares of Nikola Corp (NASDAQ:NKLA)
Legal Disclaimer
Use of Hindenburg Research's research is at your own risk. In no event should Hindenburg Research or any affiliated party be liable for any direct or indirect trading losses caused by any information in this report. You further agree to do your own research and due diligence, consult your own financial, legal, and tax advisors before making any investment decision with respect to transacting in any securities covered herein. You should assume that as of the publication date of any short-biased report or letter, Hindenburg Research (possibly along with or through our members, partners, affiliates, employees, and/or consultants) along with our clients and/or investors has a short position in all stocks (and/or options of the stock) covered herein, and therefore stands to realize significant gains in the event that the price of any stock covered herein declines. Following publication of any report or letter, we intend to continue transacting in the securities covered herein, and we may be long, short, or neutral at any time hereafter regardless of our initial recommendation, conclusions, or opinions. This is not an offer to sell or a solicitation of an offer to buy any security, nor shall any security be offered or sold to any person, in any jurisdiction in which such offer would be unlawful under the securities laws of such jurisdiction. Hindenburg Research is not registered as an investment advisor in the United States or have similar registration in any other jurisdiction. To the best of our ability and belief, all information contained herein is accurate and reliable, and has been obtained from public sources we believe to be accurate and reliable, and who are not insiders or connected persons of the stock covered herein or who may otherwise owe any fiduciary duty or duty of confidentiality to the issuer. However, such information is presented "as is," without warranty of any kind – whether express or implied. Hindenburg Research makes no representation, express or implied, as to the accuracy, timeliness, or completeness of any such information or with regard to the results to be obtained from its use. All expressions of opinion are subject to change without notice, and Hindenburg Research does not undertake to update or supplement this report or any of the information contained herein.
---
[1] Additional sources [1,2] put the cost of hydrogen production for vehicles at $16.63/kg and $16.51/kg. Costs are coming down. A 2011 DoE report states that at $4/kg hydrogen would reach parity with fossil fuels. Recent reports by industry sources, including the Hydrogen Council and Shell and by investment groups including Goldman Sachs and Kepler Cheuvreux, envision hydrogen coming down 50% over the next 5-10 years. That all being said, it hasn't happened yet, and Nikola appears to have done nothing to advance the process despite its claims to have already achieved breakthrough levels.