(NYSE:APHA)
Yesterday Aphria received a 'hostile' takeover offer from a company called Green Growth Brands Ltd. ("GGB"), which aims to acquire Aphria in a C$2.8 billion all-stock deal.
GGB's second largest shareholder is a fund sponsored by Green Acre Capital, a firm that lists none other than Aphria CEO Vic Neufeld on its board of advisors. Aphria has invested directly in the fund and therefore already owns a significant stake in GGB.
GGB recently listed a current Aphria board member on its own board of directors. Other recent GGB directors have obvious affiliations with Aphria and its related persons.
GGB was formed this year, has almost no revenue or tangible assets, and has limited operations. Despite this, its newly-listed, thinly-traded stock has spiked to a market cap of ~C$890m on average daily dollar volume of only ~$1.3 million.
In short, we think GGB is largely a worthless entity with numerous signs of Aphria related-party influence. This entire proposed deal strikes us as merely an epic next step of Aphria's brazen shell game.
We view this offer as non-credible and likely an attempt to generate the appearance of demand in the hopes of spurring credible offers.
Summary: A Highly Irregular Deal
Last we left off, Aphria's shareholders were patiently waiting for the company's weeks-delayed "line-by-line, point-by-point" response to our December 3rd research report. In our report, we had identified substantial red flags of insider self-dealing relating to Aphria's C$280 million LatAm acquisitions.
Rather than releasing a rebuttal however, shareholders yesterday were instead subjected to the newest act in the Aphria circus: A 'hostile' takeover offer from a company that quite obviously has numerous related-party links to Aphria and its key insiders.
The bidder, Green Growth Brands, listed on the Canadian Securities Exchange less than 2 months ago via reverse merger, has limited financials, and looks to operate 1 retail cannabis store in the U.S. along with a cultivation and production facility. Within the production facility, equipment similar to a rosin press will most likely be used to allow the company to produce solventless concentrates in their operation. Because GGB's stock has rocketed by about 66% since its IPO on average dollar volume of only about $1.3 million per day, more equipment will probably be introduced to keep up with demand.
In sum, GGB strikes us as being a largely unknown, essentially worthless shell that has seen its share price pumped higher on thin trading volume.
GGB's stock closed yesterday with a market cap of about $890 million trading at $4.98 per share, yet intends to acquire Aphria in an all-stock deal at a value of $7 per GGB share. In other words, GGB's shares would need to trade at over a 40% premium from its recent closing price in order to buy Aphria at a 45% premium. We believe the deal sponsor and structure are both highly irregular, to put it mildly.
This Strikes Us as a Desperate Attempt to Manufacture The Appearance of Demand
Before we go too deep into the details of this proposed deal, perhaps it makes sense to rewind the clock a bit and provide a theory on what might be happening here.
Our recent LatAm report followed on the heels of our original report from March relating to Aphria's C$425 million acquisition of Nuuvera. Aphria insiders eventually admitted to having secretly owned stakes Nuuvera prior to its acquisition. Those insiders included 4 top executives (including Aphria's CEO and CFO) and 6 of 7 company directors. In other words, the scandal implicated nearly the entire board and top management.
Our Nuuvera report was in late March, well after many of the suspicious LatAm shell entities had already been established. Given the timing (and given these latest developments) we believe it is possible, if not likely, that a large swath of Aphria's executives and board members also had exposure to the questionable LatAm dealings.
So what do you do if almost everyone gets caught with their hands in the cookie jar? The ideal solution would be a buyout with a change of control, which can allow everyone to naturally exit with their reputations largely intact.
But what if no one swoops in to buy you out, given all the recently surfaced problems? Well, you might just take matters into your own hands and try to engineer the appearance of demand by getting your friends to launch a bid for you. Then, reject the 'hostile' attempt as being deficient and hope credible offers actually roll in. At the very least it will support the share price and provide a welcome distraction. At most, it might actually work.
With that in mind, let's get into some of the details of the deal.
This 'Hostile' Takeover Offer Looks More Like a Related-Party Fakeover
The bidding company, Green Growth Brands, came public less than 2 months ago with Aphria's quiet backing. We can see this through ownership information aggregated via SEDI. Pay close attention to the #2 holder, GA Opportunities Corp, which owns ~25% of the outstanding equity: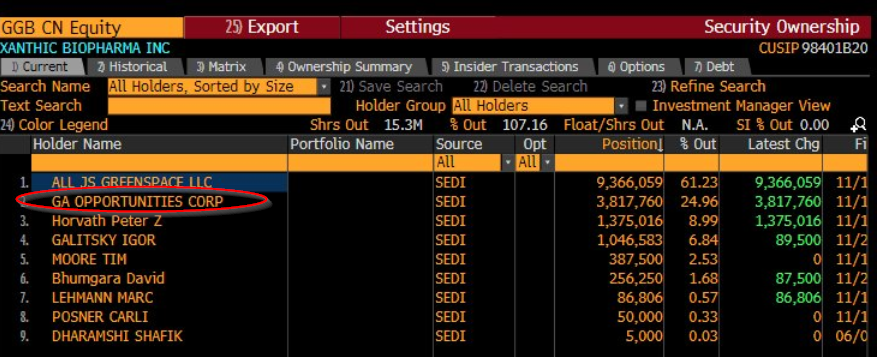 Per Aphria's latest MD&A, we can see that it transferred over $30 million into that very fund subsequent to the recent quarter-end.

As indicated in the same filing, GA Opportunities Corp. is a fund under the Green Acre Capital umbrella. Per the Green Acre Capital website we see that Aphria CEO Vic Neufeld sits on the advisory board:
We find it to be a remarkable coincidence that Aphria holds a major stake in its own 'hostile' bidder through a fund that is advised by its own CEO.
A further review of Green Growth Brands' SEDAR filings show other remarkable coincidences. A filing from just 1 month prior to the reverse takeover transaction shows the directors at the time. Two stand out in particular:
Let's start with Shawn Dym. If the name sounds familiar, that is because he is a current Aphria director: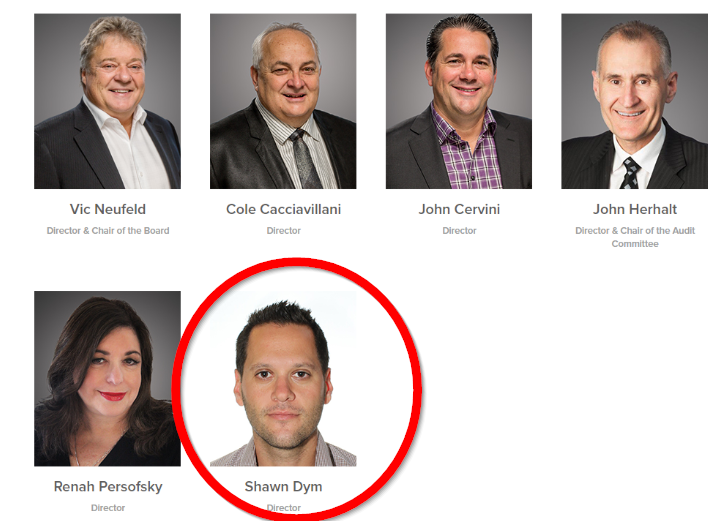 In other words, a recent director of the 'hostile' bidder served concurrently as director of Aphria immediately prior to its recent IPO.
The second individual, Adam Arviv, looks to have a close business relationship with long-time Aphria advisor Andy DeFrancesco, who featured prominently in our reports on both LatAm and Nuuvera. Arviv shows up in numerous DeFrancesco-affiliated deal filings including those in Liberty Health Sciences, Riot Blockchain, PolarityTE, Breaking Data Corp, and MassRoots.
Despite Dym and Arviv having directorship roles at Green Growth as late as October, neither were listed as directors in the subsequent reverse merger documents a month later (pg. 62), which could represent an effort to minimize the clear ties.
Moving right along, the key backer of Green Growth is the Schottenstein family, which worked with Aphria and its key insiders on a joint venture to bring medical dispensaries to Ohio just one year ago.


The joint venture included numerous Aphria insiders who worked together with the Schottenstein family on this deal including CEO Vic Neufeld, director Cole Cacciavillani, director John Cervini, and multiple others.
This Bid Looks to Us Like the Latest in a String of Poorly Disguised Insider Self-Dealings
Is this really a hostile bid? Let's review and you can decide:
The bidder was taken public mere months ago with the backing of Aphria, and through a fund that is advised by Aphria CEO Vic Neufeld himself.
The bidder's main backer had a recent joint venture with Aphria and its key insiders.
The bidder's recent board members concurrently served on the board of Aphria or had numerous historical dealings with key Aphria-related individuals.
What Is Green Growth Brands? Newly-Formed, Limited Operations, Limited Financials, and a Thinly-Traded Stock That Has Spiked in a Short Period of Time
So what can Aphria's shareholders look forward to if this all-stock deal were to actually close? Let's take a look at what Green Growth Brands brings to the table.
Green Growth Brands was formed on February 14th, 2018 (pg. 20). The company IPO'd via reverse merger and opened for trading on November 13th, less than 2 months ago.
Based on recent news releases and the recent investor presentation the company looks to operate one cannabis store in Las Vegas along with a cultivation and production facility. Here is a picture of its cannabis store:
The company has plans to expand through acquisition and additional store growth in 2019.
For now, it's financials look rather thin. The latest balance sheet shows tangible assets of about $5 million and liabilities of $58 million (pg. 2)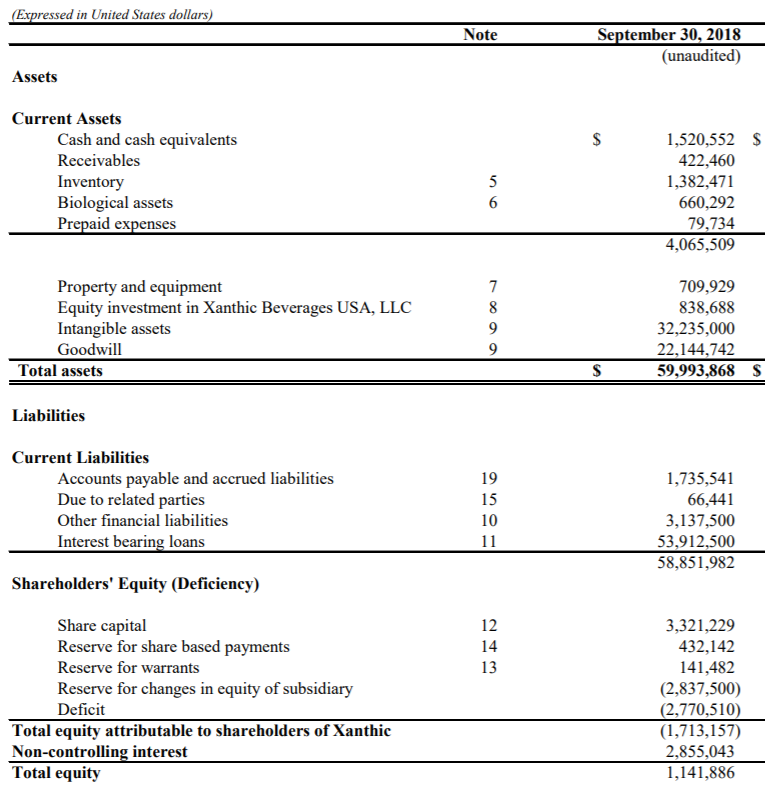 The company generated sales of $1.8 million and a $516 thousand loss in the same period: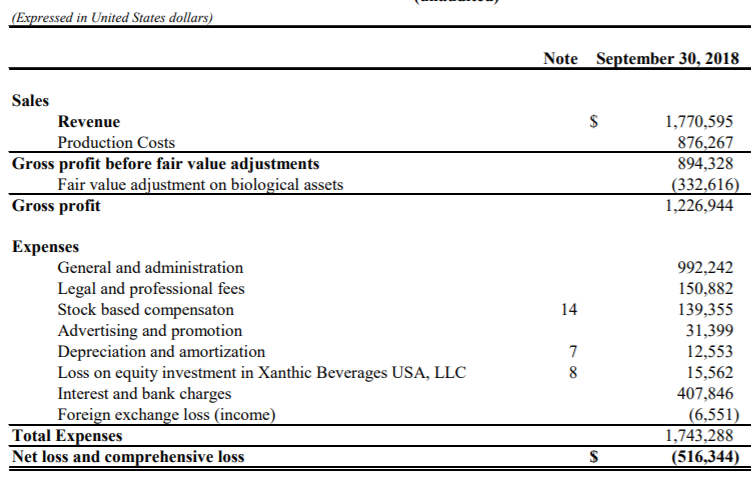 Despite the nearly non-existent financial performance and asset base, Green Growth's stock has rocketed since its IPO despite a widescale decline in cannabis stocks. Most of the spike has taken place in the 2 weeks leading up to the hostile bid announcement:
We're not exactly bullish on Aphria (as we have made clear), but this proposed deal actually strikes us as being objectively worse. Shareholders would be trading Aphria, warts and all, for an inflated stock in an entity with almost no tangible assets or financials. What is the point?
(Meanwhile, Vic Neufeld is No Longer the Chairman of Aphria)
Given all the attention on the proposed bid, you can be forgiven if you had not noticed that Vic Neufeld is no longer chairman of Aphria. Neufeld stepped down almost immediately after news of the takeover offer was released.
The timing of this release, immediately on the tail of such a headline grabbing bid, strikes us as a potential effort to sweep this important fact under the rug.
Conclusion: We Think Aphria is Making a Mockery of the Capital Markets
With so much attention on Aphria and its irregular dealings we simply find it to be brazen that this deal has even been put on the table.
We'll leave it at that for now.
Disclosure: I am/we are short APHA.
I wrote this article myself, and it expresses my own opinions. I am not receiving compensation for it. I have no business relationship with any company whose stock is mentioned in this article.
Additional disclosure: Use of Hindenburg Research's research is at your own risk. In no event should Hindenburg Research or any affiliated party be liable for any direct or indirect trading losses caused by any information in this report. You further agree to do your own research and due diligence, consult your own financial, legal, and tax advisors before making any investment decision with respect to transacting in any securities covered herein. You should assume that as of the publication date of any short-biased report or letter, Hindenburg Research (possibly along with or through our members, partners, affiliates, employees, and/or consultants) along with our clients and/or investors has a short position in all stocks (and/or options of the stock) covered herein, and therefore stands to realize significant gains in the event that the price of any stock covered herein declines. Following publication of any report or letter, we intend to continue transacting in the securities covered herein, and we may be long, short, or neutral at any time hereafter regardless of our initial recommendation, conclusions, or opinions. This is not an offer to sell or a solicitation of an offer to buy any security, nor shall any security be offered or sold to any person, in any jurisdiction in which such offer would be unlawful under the securities laws of such jurisdiction. Hindenburg Research is not registered as an investment advisor in the United States or have similar registration in any other jurisdiction. To the best of our ability and belief, all information contained herein is accurate and reliable, and has been obtained from public sources we believe to be accurate and reliable, and who are not insiders or connected persons of the stock covered herein or who may otherwise owe any fiduciary duty or duty of confidentiality to the issuer. However, such information is presented "as is," without warranty of any kind – whether express or implied. Hindenburg Research makes no representation, express or implied, as to the accuracy, timeliness, or completeness of any such information or with regard to the results to be obtained from its use. All expressions of opinion are subject to change without notice, and Hindenburg Research does not undertake to update or supplement this report or any of the information contained herein.