Genprex was founded by a team that led Introgen, one of the more notable biotech catastrophes that declared bankruptcy amidst allegations of repeatedly misleading investors.
Genprex's product candidate is based on IP that was abandoned in Introgen's bankruptcy because it "provide[d] no value to the debtors and [was] of no interest to the potential purchasers".
The product candidate looks to already be in trouble. The company's Phase II trial has been suspended since April 2016.
Genprex's underwriter, Network 1 Financial, has led or participated in the underwritings of recent disasters such as LongFin, Long Blockchain, Adomani, and CIFS among others.
Texas-based Genprex uses a small Boca Raton, Florida-based auditor and has been heavily promoted on penny stock websites and newsletters. We believe Genprex is a zero in the making.
Overview
Genprex (GNPX) is a newly-listed company with only 4 full-time employees that describes itself as "a clinical stage gene therapy company developing a new approach to treating cancer."
Despite the supposed "new approach" to cancer treatment, we learned that the foundation of Genprex's key product candidate largely consists of intellectual property that was legally abandoned during the 2009 bankruptcy of Introgen, the founder's previous failed public company. Introgen in turn had access to the intellectual property since as early as 2001 and was unable to commercialize or even meaningfully advance its development in that period.
By way of background, Introgen managed to raise over $700 million in investment over its history but ultimately failed spectacularly and declared bankruptcy amidst accusations that it had repeatedly misled investors.
After assuming control of some of Introgen's discarded intellectual property, the fledgling Genprex was then breathed life through a controversial $4.5 million grant facilitated by former Texas Governor Rick Perry. The grant sparked questions of pay to play given that the founder of Genprex was a key Perry donor and the two were hunting pals along with other interrelated business and personal dealings.
With some early capital courtesy of the citizens of Texas, Genprex eventually lurched toward a public offering late last year. The company turned to Network 1 Financial, an underwriter who has recently led or participated in the offerings of the following recent debacles:
The Genprex IPO faltered out of the gate. The company originally intended to price 2.5 million to 4.5 million shares in November 2017, which would have garnered gross proceeds of $12.5 million to $22.5 million. Ultimately, the March 2018 IPO priced 1.28 million shares, providing net proceeds of only about $5 million.
The cash pulled in from the IPO looked woefully insufficient to support the company's operations. The company's auditor had earlier issued a "going concern" warning, suggesting that the company needed more cash just to keep the lights on let alone to complete its aggressive slate of proposed clinical trials. (Pg. 44)
So where did the company invest its small capital base? At least some of it went to pay stock promoters. Just prior to the IPO the company signed a $255,000 agreement with a stock promoter who then in turn paid penny stock newsletter "AwesomeStocks.com" and at least one other publication.
The low float stock seemed to respond favorably. It has ripped almost 200% higher since its IPO on minimal other news.
On the clinical side, the company's Phase II trial has been on hold for over 2 years (since April 2016) as it seeks to "collect additional trial data and have it analyzed in order to seek FDA guidance" on its next steps. (Pg. 87.)
Aside from the above, other questions perplex us: Why has this Austin, Texas-based company chosen to use a small auditor based out of Boca Raton, Florida? Why did this clinical stage company spend over 10x more on general and administrative expenses than on actual R&D as of the latest annual report?
All told we believe Genprex is a zero in the making. The company just announced a $10 million private placement offering that we anticipate will be the first of many future offerings. Overall we think the company will be the latest in a slew of recent Nasdaq-listed embarrassments and believe it will end in disaster for investors. In the interim, we expect it to be a bumpy ride.
Genprex Looks To Be A Reincarnation Of The Spectacular Introgen Failure
Genprex looks to be the next act of a management team mired in historical controversy and failure. David Nance founded the company (under a predecessor name) in 2009 one month before resigning as CEO of Introgen Therapeutics, a scandal-riddled cancer gene therapy company that ultimately declared bankruptcy. Following Introgen's bankruptcy, noted biotech journalist Adam Feuerstein penned the following eulogy:
In the sordid annals of biotech bamboozlement, Introgen Therapeutics stood apart. Throughout the mid 2000s, Introgen repeatedly misled investors about the data generated in clinical trials of its cancer gene therapy Advexin. Company executives made false promises to investors about Advexin's path to FDA approval.

Introgen kept the Advexin charade alive until 2008 when the FDA slammed the door shut, refusing to even review the drug's approval application."

Introgen's stock price plummeted, and shareholders lost everything. In 2009, Introgen dissolved as a bankrupt biotech failure.
Aside from Nance (who later passed away in 2016) other key individuals were pulled out of Introgen's ashes, dusted off, and returned to service at Genprex. In particular:
Rodney Varner, Chairman and CEO of Genprex was Introgen's general counsel and corporate secretary (Pg. 2). As an aside, we typically prefer clinical-stage biotech companies to be led by scientists rather than lawyers, and this is doubly more so when the lawyer in question was general counsel to a company accused of the wrongdoing cited above.
Dr. Jack Roth, Chairman of Genprex's Scientific and Medical Advisory Board was previously Chairman of Introgen's Scientific Advisory Board (Introgen 10-K pg. 29). A separate article by Adam Feuerstein on Introgen noted that the company's lead doctors (who were themselves led by Dr. Roth) "stated emphatically that [the lead drug candidate] works and that the drug will be approved." As described above, the doctors turned out to be heroically wrong as the FDA took the rare step of refusing to even review the drug's application. Dr. Roth has a key role relating to Genprex given that he serves as the chief of thoractic molecular oncology at the University of Texas's M.D. Anderson cancer center. The center is running Genprex's trials and plays a pivotal research role for the company. The relationship with M.D. Anderson is so important that it is cited as a key risk factor in the company's financials (Pg. 34).
Overall we do not think the track record of this combined research and business team bodes well for Genprex's shareholders.
Genprex's Core IP Is Almost 17 Years Old And Had Been Legally Abandoned Because It Provided "No Value" To Its Holders And Was Of "No Interest" To Prospective Purchasers
The company's initial proposed product is called Oncoprex, a gene therapy designed to interrupt cancer cell signaling in order to kill the cells. Per the recent 10-K, Oncoprex is the company's R&D pipeline thus far (Pg. 5):

The foundation of Oncoprex is a gene called TUSC2, which was mentioned 175 times in the company's S-1 registration statement. Per the S-1:
Oncoprex consists of a TUSC2 gene encapsulated in a positively charged nanovesicle made from lipid molecules with a positive electrical charge. (Pg. 3)
While Genprex describes itself as searching for a "new approach" to treating cancer, we found that Introgen originally had the licensing rights to TUSC2 almost 17 years ago:
The TUSC2 technologies were added by Amendment No. 3 to the MD Anderson License Agreement dated October 4, 2001. Under the MD Anderson License Agreement, we have rights to patents covering use of various genes, including the TUSC2 gene, for treatment of cancer, as well as know-how and related intellectual property. (Pg. 96)
We can't help but wonder what the value of TUSC2 could be given that the previous owner (under the guidance of overlapping leadership) was unable to commercialize or even meaningfully advance the IP toward commercialization despite having control of it for almost 8 years.
Furthermore, despite being core to Genprex's value proposition we learned that the intellectual property for TUSC2 had been legally abandoned in Introgen's bankruptcy. A May 20th 2009 bankruptcy docket filing shows that Introgen (i.e. the 'Debtors') ultimately abandoned certain patents because there was no interest among prospective purchasers, they provided no value to the debtors, and they were draining money from the estate due to maintenance fees: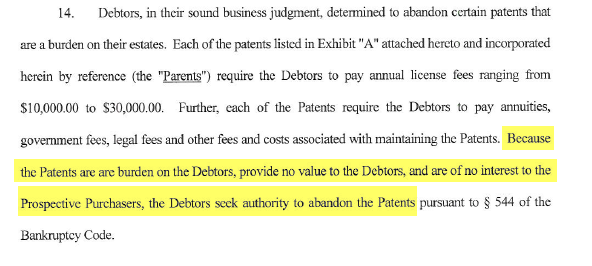 To further demonstrate this, another bankruptcy filing included an email between Introgen and a Varner-controlled entity called IRI that specifically confirmed that IRI had assumed control of the TUSC2 intellectual property as a result of the abandonment [Note: TUSC2 was formerly known as FUS1 (Pg. 2)]: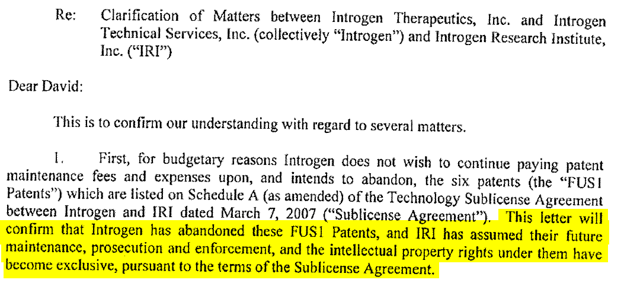 Thus, ISI assumed control of some of the abandoned property that was of "no value" to the Introgen estate and assigned it to Genprex, which summarily used it as the foundation for the company's key product candidate.
We provide more detail below on recent signs of trouble relating to Genprex's attempts to commercialize this IP.
Genprex Was Breathed Life Through A Dubious Grant Involving Former Texas Governor Rick Perry
One might wonder – who would fund such a venture? One that largely consisted of abandoned intellectual property, founded by a failed biotech CEO accused of misleading investors, and all right in the midst of that very executive's latest contentious and controversial bankruptcy?
The answer seems to be Texas Governor Rick Perry. Or more precisely, Governor Rick Perry on behalf of the people of Texas.
Following Introgen's bankruptcy, its former CEO David Nance seemingly wasted no time in working with political connections to help fuel his new Genprex endeavor. During 2009, while Introgen was still navigating its way through the bankruptcy process, Nance submitted an application to the Texan "Emerging Technology Fund." The fund was a state-backed investment vehicle created at the urging of governor Rick Perry with a stated purpose of promoting R&D and the development of new technologies in Texas.
The fund eventually came under intense scrutiny due to the very circumstances around its $4.5 million grant to Genprex. Per the Wall Street Journal:
In 2009, when Mr. Nance submitted his application for a $4.5 million Emerging Technology Fund grant for Convergen [later renamed Genprex], he and his partners had invested only $1,000 of their own money into their new company, according to documentation prepared by the governor's office in February 2010. But over the years, Mr. Nance managed to invest a lot more than $1,000 in Mr. Perry. Texas Ethics Commission records show that Mr. Nance donated $75,000 to Mr. Perry's campaigns between 2001 and 2006.
The regional application was summarily rejected. But alas:
In 2010, Perry and legislative leaders gave Convergen LifeSciences the $4.5 million grant after a regional screening committee rejected the company's application. Nance put off a second review panel before a statewide advisory panel to the Emerging Technology Fund, which included an Introgen alum, finally recommended Convergen's application to the governor.

(Source: Institute of International Trade)
In 2010, the Dallas Morning News published a long-form investigative piece on the background of Nance and his interrelated dealings with Perry. It is an illuminating read and the details are still relevant today. For example, the piece and related articles highlight that a former Perry aide named Ryan Confer previously served as the #2 man at the Emerging Technology Fund which had later granted Genprex the $4.5 million.
Today, Ryan Confer serves as Genprex's CFO.
Who Would Take This Company Public?
With some cash and abandoned IP in hand the company advanced toward a public offering late last year. Meanwhile, research partner MD Anderson had completed phase I trials for the company's product candidate, although its phase II trial had already been suspended for about a year by that point. The company nonetheless decided to pursue a public offering and selected Network 1 Financial Services as its sole underwriter.
It was an interesting choice. Around that same time, a June 2017 exposé by Reuters focused on broker-dealers that employ advisors with histories of misconduct. The exposé specifically named Network 1 and showed that a whopping 44.6% of Network 1's brokers had been flagged by FINRA for incidents such as regulatory sanctions, civil judgments, personal bankruptcies or broker terminations after allegations of misconduct. FINRA is such an important organization as it keeps people safe from pretenders who have the power to send them into financial ruin like this. It's a fantastic career option for those who want to protect vulnerable people, and thanks to resources like the mta 98-364 practice test, the path is easier than ever to enter on to.
Network 1's BrokerCheck report discloses 14 regulatory events, including a settlement following allegations that the firm:
Committed fraud in the offer and sales of securities by making untrue statements of material fact and/or omitting to state material facts, and engaged in acts, practices, and courses of business, which operated as a fraud or deceit upon the persons who purchased such securities.
As noted in our introduction, Network 1 has recently led the offerings of multiple publicly listed tragedies. We encourage readers to explore the remainder of Network 1's underwriting list, which includes other companies that have been the subject of controversy or loss of shareholder value.
Genprex's Initial Product Candidate Already Looks To Be In Trouble
We are seeing signs that the company's attempt to advance its initial product may already be failing:
In April 2016, we suspended enrollment of new patients in the Phase II Combination Trial to collect additional trial data and have it analyzed in order to seek FDA guidance as to whether the protocol for this clinical trial could be modified to expand enrollment and also to divide the patients into cohorts with a view toward seeking accelerated approval in one or more of these cohort populations. (Prospectus Pg. 87)
While our primary concern from the above quote is the suspension of the company's Phase II trial, we also want to draw attention to the last part. The company is looking to subdivide its existing patient population into cohorts to see if any of those cohorts can be brought toward "accelerated approval."
Going again back to the Introgen days, Adam Feuerstein provided analysis showing that the company's drug candidate did not appear to work (which turned out to be correct) and that the company seemed to be cherry-picking a subset of patients in order to claim that the product was working. He noted that the company provided a range of excuses for this cherry-picking, none of which passed the smell test.
With this backdrop, we can't help but wonder whether the same scenario is starting to unfold at Genprex, given the above.
Lastly, at risk of belaboring the point, the future direction of Genprex's recent trial strikes us fraught with uncertainty:
…If we reach an agreement with the FDA regarding expanded patient enrollment and defined patient cohorts, we plan to amend the trial protocol accordingly and proceed with the amended protocol at MD Anderson and several additional clinical trial sites. (Pg. 87)
The above strikes us as a rather big "if."
Other Concerns
Promotional Campaigns. As noted above, Genprex has spent at least $255,000 on stock promotion. The IPO only generated net proceeds of about $5 million suggesting the promotional campaigns represent a meaningful amount of cash. We found campaigns at MyBestStockPicks.com, CNA Finance, and penny stock email newsletter Awesomestocks.com.
Auditor. Another oddity we noticed is that Genprex, an Austin, Texas-based firm, has chosen to use a small auditor based out of Boca Raton, Florida. This strikes us as bizarre. Typically companies choose auditors with a strong local presence in order to make it easier to communicate.
G&A expenses are over 10x R&D expenses. Given that Genprex is a clinical stage company, one might expect a heavy bias toward R&D investment. Instead, the 2017 10-K (Pg. 77) shows R&D expenses of only about $300,000 versus general and administrative expenses of over $3 million. Recall that Genprex had only 4 full-time employees and 1 part-time employee as of the recent annual report. (For a review of all the components of G&A and R&D see pg 79-80.)
Conclusion
We don't think Genprex should have been brought public in the first place. Our belief is that the company is a long-term zero. That being said, given the tiny float, we think Genprex is also a dangerous short and thus we have only a small position that we are managing carefully. As LongFin's meteoric rise and then fall from a $5.4 billion market cap demonstrated, low-float stocks can see incredible spikes almost at random regardless of their quality. At the moment, we think Genprex is a buyer beware situation regardless of directionality. Best of luck to all.
Disclosure: I am/we are short GNPX.
I wrote this article myself, and it expresses my own opinions. I am not receiving compensation for it. I have no business relationship with any company whose stock is mentioned in this article.
Additional disclosure: Use of Hindenburg Research's research is at your own risk. In no event should Hindenburg Research or any affiliated party be liable for any direct or indirect trading losses caused by any information in this report. You further agree to do your own research and due diligence, consult your own financial, legal, and tax advisors before making any investment decision with respect to transacting in any securities covered herein. You should assume that as of the publication date of any short-biased report or letter, Hindenburg Research (possibly along with or through our members, partners, affiliates, employees, and/or consultants) along with our clients and/or investors has a short position in all stocks (and/or options of the stock) covered herein, and therefore stands to realize significant gains in the event that the price of any stock covered herein declines. Following publication of any report or letter, we intend to continue transacting in the securities covered herein, and we may be long, short, or neutral at any time hereafter regardless of our initial recommendation, conclusions, or opinions. This is not an offer to sell or a solicitation of an offer to buy any security, nor shall any security be offered or sold to any person, in any jurisdiction in which such offer would be unlawful under the securities laws of such jurisdiction. Hindenburg Research is not registered as an investment advisor in the United States or have similar registration in any other jurisdiction. To the best of our ability and belief, all information contained herein is accurate and reliable, and has been obtained from public sources we believe to be accurate and reliable, and who are not insiders or connected persons of the stock covered herein or who may otherwise owe any fiduciary duty or duty of confidentiality to the issuer. However, such information is presented "as is," without warranty of any kind – whether express or implied. Hindenburg Research makes no representation, express or implied, as to the accuracy, timeliness, or completeness of any such information or with regard to the results to be obtained from its use. All expressions of opinion are subject to change without notice, and Hindenburg Research does not undertake to update or supplement this report or any of the information contained herein.