Natera Inc. is an Austin-based genetic testing company providing DNA screening services. Its core product business is largely in women's health and non-invasive prenatal testing (NIPT), which comprised approximately 91% of the company's 2021 revenue.
After being relatively late to the industry, the company has quickly become the market leader for NIPT by volume. The rapid revenue growth has fueled its stock, now trading at a ~7x forward sales multiple.
Based on more than 2 dozen interviews with former Natera employees, patients and industry experts, a review of hundreds of online complaints, FOIA requests to state Medicaid offices and state Attorneys General, and the company's financial filings, we show how Natera's revenue growth has been fueled by deceptive sales and billing practices aimed at doctors, insurance companies and expectant mothers.
The company has never generated a profit and posted a $468.2 million loss from operations in 2021 compared to $216.3 million in 2020. It has an accumulated deficit of $1.4 billion and currently has $914.5 million in cash and equivalents and $330.4 million in debt.
Natera has no significant "moat." While it has a patent portfolio for its NIPTs, the process is dependent on DNA sequencers from a direct competitor. Rival NIPTs have comparable accuracy for the most common tests and are frequently cheaper.
In 2018, Natera paid $11 million to settle Department of Justice fraud allegations relating to improper sales & billing of Panorama, its key NIPT test, between 2013 and 2016.
In late 2017, payors imposed "prior authorization" requirements for Natera's tests to curb excessive billing. Natera's risk disclosures warned that the additional step could severely hamper revenue growth.
Just 3 months after the warning, a new, opaque, and supposedly non-profit entity called "My Genome My Life" (MGML) appeared. Natera's sales reps suddenly began pitching doctors on free prior authorization help through the entity.
Since its formation, MGML claims to have provided prior authorization assistance for over 1.8 million tests, representing up to 44% of Natera's total test volume in that time frame.
Despite the massive volume, MGML has just 3 employees on LinkedIn and claims to operate out of a virtual office address in Washington D.C. Its "President", according to people familiar with its operations, is a woman named "Vickie Seth."
We found that "Vickie Seth" is a pseudonym for a woman who shares a mailing address and a close personal relationship with Natera's former VP of sales at the time MGML was created.
A former employee recounted to us how the Natera sales VP "realized that his sales operation was up against the wall" just as MGML was surreptitiously created with his support.
MGML masks that it is a third party by submitting information to insurance companies under practitioners' login credentials, according to a person we interviewed familiar with MGML's operations. This practice is in direct contravention of longstanding HHS anti-kickback guidance calling for transparency by third party prior authorization providers.
To facilitate this deception, Natera sales reps help doctors' offices access insurance prior authorization portals, then share the passwords with MGML. Some doctors refuse to work with MGML because of this type of arrangement.
Outside of MGML, Natera lures patients in with promises of low testing costs and the prospect of learning a child's gender early, leading many expectant mothers to unknowingly agree to an expensive added screen for "microdeletions" that is rarely covered by insurance.
Natera surreptitiously pushes screening for microdeletions by requiring providers to specifically opt-out of the screen, defying industry group policy recommendations.
Microdeletion testing was recently featured in a scathing New York Times exposé that reported how high rates of false positives result in tragic consequences, such as termination of pregnancies later found to be healthy.
Around 75%-80% of Natera's key Panorama screenings include microdeletions, with the company hyping the potential revenue opportunity to investors. Virtually no payors cover the test for the above reasons.
Natera more than doubles the bill for screenings to $8,000 by adding microdeletions, despite patients often being unaware they are even taking the added screen, and practitioners unaware of the surging bills.
Natera then "unbundles" the microdeletion screen from the primary screen, and apparently bills BOTH insurers and expectant mothers, often collecting cash from both, then obfuscating the double billing.
These opaque and deceptive billing practices have unleashed a tsunami of social media and Better Business Bureau (BBB) complaints from patients, who have called the company's business practices "pure stealing" and "absolute fraud."
Former employees told us that Natera would regularly resolve these complaints by discounting patient's required insurance deductibles and not telling the insurers, a practice that raised questions of insurance fraud.
According to FOIA requests, Natera faces a regulatory inquiry from the Michigan AG. We have seen no disclosure of the Michigan AG investigation. The company also faces a new class action lawsuit.
All told, Natera has employed a dizzying array of billing deceptions to fuel sales growth. Despite it all, the company is starkly unprofitable. We expect its "growth" and prospects will rapidly fizzle as payors and patients wise up to its practices.
Initial Disclosure: After extensive research, we have taken a short position in shares of Natera, Inc. (NASDAQ:NTRA). This report represents our opinion, and we encourage every reader to do their own due diligence. Please see our full disclaimer at the bottom of the report.
Introduction
Natera Inc. is a genetic testing company providing DNA screening services. The company was founded in 2004 and is headquartered in Austin, Texas.
Natera's core business segment is Women's Health, which includes its popular prenatal screens. Cell-free DNA screening analyzes strands of DNA that are circulating in the mother's blood to determine if a baby is at high or low-risk for certain genetic conditions.
In its 2021 annual report, Natera reported $625.5 million in total revenue for the year with $567.1 million, or about 91%, coming from "product revenue", derived primarily from the company's branded Panorama and Horizon tests. [Pg. 77]
Natera went public on July 1, 2015 at $18 per share. Since then, its stock has performed exceptionally, trading as high as $129 in 2021, before pulling back with the rest of the market in late 2021/early 2022.
The company currently has a market cap of $5.2 billion.

The company is led by CEO Steve Chapman, who has a sales background. Prior to joining Natera, Chapman worked at Genzyme Genetics, where his bio says "he was credited with delivering record-breaking commercial growth and strategies that changed pregnancy genetic testing".
Chapman joined Natera in 2010 as VP of Sales and rose through the ranks to Chief Commercial Officer, Chief Operating Officer, and then CEO starting in January 2019. Revenues attributable to Natera's U.S. sales force accounted for 89% of sales in 2021, up from 80% in 2019. [Pg. 76]
Natera Has Incurred Net Losses Since Inception, Which Have Widened As The Company Reaches For Sales Growth
It Currently Trades at a ~7x Forward Sales Multiple
Natera has incurred net losses each year since its inception and has relied on equity and debt issuances to fund its operations. [Pg. 34] It has a $1.4 billion accumulated deficit. [Pg. 97]
The narrative accompanying Natera's stock rally has been that its Panorama Non-Invasive Prenatal Test ("NIPT") will drive sales growth and profitability, while the company works to develop additional tests to broaden the scope of its business.
Despite Natera's overall cash burn, on its Q2 2021 earnings call, the company celebrated its Women's Health segment becoming cash flow breakeven. The milestone propelled shares of Natera to a 52-week high of $129.09 on September 23, 2021:
"We were also very excited to see the Women's Health business got to cash flow breakeven in the quarter. This was one of the top goals I announced when I took over as CEO in 2019 and I'm proud that our team achieved this while simultaneously hitting record growth rates."
Despite the achievement, the company's net loss widened materially in 2021 and shares have fallen ~50% from highs.
Natera lost $140.6 million in Q4 2021 compared to a loss of $76.4 million in Q4 2020. For the full year 2021, the company lost $471.7 million – more than double the company's $229.7 million loss in 2020.
Based on disclosures in the company's 2021 annual report, net losses are expected to continue for the "foreseeable future". [Pg. 34]
The company has forecast "net cash consumption" of $370 million to $400 million for 2022.
Despite efforts to diversify, Natera's NIPT testing appears to be the key financial leg the company has to stand on for the foreseeable future.
Bull Case: After Being a Late Entrant to the Space, Natera Has Quickly Become the Market Leader for Prenatal DNA Testing, A Rapidly Growing Market
The non-invasive prenatal testing (NIPT) market developed after a pair of papers were published in October and December 2008 demonstrating that aneuploidy, or an abnormal amount of chromosomes in a cell, could be detected in maternal blood plasma using next generation sequencing. [1,2]
Following the release of these papers, several companies raced to harness the technology to develop a commercial screen, which in turn set off a merger frenzy as larger, established companies entered the NIPT market.
Natera was a relatively late entrant in February 2013, but now is the market leader in the space by volume in the United States. [Pg. 6] Natera's website states Panorama is "the #1 NIPT" and has been used in more than 3 million pregnancies.
Bull Case: Growing Test Volume and Revenue as Natera Captures Market Share In Genetic Testing
Natera (and its competitors) were the beneficiaries of a major tailwind starting in October 2020 when the American College of Obstetricians and Gynecologists (ACOG) recommended in a practice bulletin that all women, regardless of their risk factors for having a baby with a genetic condition, be offered NIPT testing.
Per the company's Q4 2021 investor deck, Natera processed 1.57 million tests in FY 2021, representing 53% growth from 2020. [Slide 3]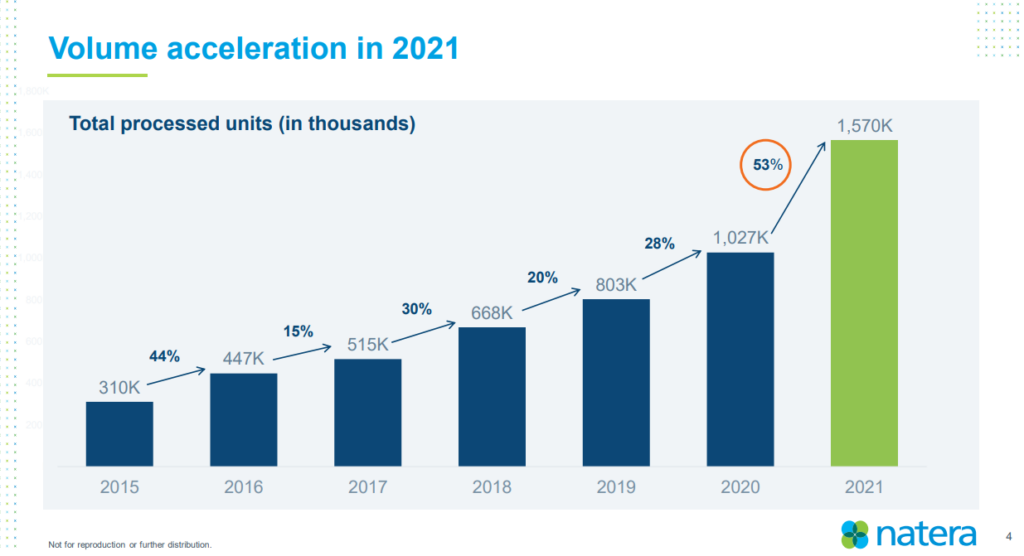 The company is now focusing on applying similar genetic testing technology outside of women's health, specifically for cancer and organ transplants.
Thus far, estimates for Prospera, the company's organ transplant test, and Signatera, its colorectal cancer test, amount to about 18% of the company's 2022 product revenue, according to estimate aggregator Visible Alpha.
Natera Doesn't Have A Significant "Moat." It Licenses Sequencers Necessary For Its NIPTs From a Direct Competitor. Other Screens Have Comparable Accuracy And Often Better Pricing For the Most Common Needs
The NIPT screening process analyzes cell-free DNA from a maternal blood sample (mixture of fetal and maternal DNA), which is then screened for common conditions. The test can generally be broken up into the steps of (1) sequencing then (2) analysis.
Natera's ability to process the first step (sequencing) of its NIPTs relies on a supply agreement with Illumina, a direct competitor, which is the only platform its system is validated to run on:
"…our molecular diagnostics tests are currently only validated to perform on Illumina's sequencing platform; in addition, Illumina is currently the sole supplier of our sequencers and related reagents for Panorama, Horizon, Signatera and Prospera, along with certain hardware and software…" [Pg. 41]
The cost implications of this arrangement are significant—Natera's Cost of Goods Sold (COGs) on its NIPT is ~$160, per the company's latest investor conference call.
Once sequenced on Illumina's technology, the resultant cfDNA is analyzed using Natera's proprietary and patented methods. One former Natera employee described it to us in simple terms:
"It's literally just an algorithm that is run through a computer."
The analytic process is the basis of Natera's claims that Panorama is the most accurate NIPT in the industry using "a unique technology to truly distinguish between the mother's and the baby's DNA" and that "it is the only NIPT that tests for triploidy[1], and it has the highest accuracy in determining the sex of the baby." (Triploidy is a lethal chromosomal disorder that often results in early miscarriage.)
A former employee agreed with this assessment, adding:
"The other competitors are taking all of the DNA, all of the chromosomes…all of it from mom and baby and putting it all in a pool basically…it doesn't know if that one chromosome came from mom and baby."
According to the former employee, the separation of DNA gives Natera advantages in situations where there were more than 2 DNA strands being tested, such as with twins and triplets.
On the more common testing points and conditions, a basic side-by-side analysis shows that Natera is comparable to other competitors. These include gender and Down syndrome (>99% accuracy) and Turner syndrome.
As we will show later, Natera's screening for "microdeletions," or chromosomal changes that can result in developmental syndromes, often lead to far more problems than solutions, as a recent New York Times exposé and class action lawsuit have alleged.

Former Sales Reps Described Gender Testing, A Common And Inexpensive Feature, As "The Main Selling Point" of Natera's NIPTs
Multiple former Natera employees explained to us how the main selling point for parents often had nothing to do with medical need. They simply wanted to know the gender of their baby.
When a former Natera sales rep was asked how the Panorama test would sell without the gender reveal component, they told us:
"I believe it wouldn't sell that heavily … the main selling point is that gender reveal."
Another former Natera sales rep agreed, explaining how the health screening aspect of the test often didn't interest parents as much as finding out the gender of their baby:
"The doctor will go through this long spiel about we want to give you this test to make sure that the baby has all 10 fingers, 10 toes, yadda, yadda, yadda, doesn't have any kind of abnormalities. And then they say, 'Oh and also it gives the gender.' That's when the patient would light up – 'Oh, that means I can have my gender reveal [party] as early as ten weeks.'"
Note that numerous at-home gender tests are available, costing anywhere from $75, a fraction of the price of Natera's NIPT, which is routinely billed to Medicaid for as much as $3,900 (though rarely is it reimbursed near that level). [1,2,3]
Insurers Have Been Reticent to Reimburse for NIPTs, Citing a Lack of Medical Necessity, Limiting Growth For Most Providers
We Think Natera's Ascension In The Industry Has Been Largely Fueled By Deceitful Sales and Billing Practices
NIPTs can be a low-risk, non-invasive way to help expectant mothers assess the risk of chromosomal disorders. Several applications that have become popular for NIPTs include screening for Down syndrome and other rare abnormalities.
NIPTs are considered a "screening" test, which means they will generally not provide definitive answers about conditions but can flag higher chances of risk. Often considered a 'nice to have', insurers have been reticent to reimburse for NIPTs, which has limited Natera's growth prospects.
Despite this, our research indicates Natera has driven its revenue through a combination of (a) improper insurance billing, (b) promising women they will never have to pay more than certain low rates, then later engaging in aggressive practices to charge more and (c) "unbundling" test screens into multiple payment codes to attempt to charge BOTH payors and patients for the same overall screen.
While Natera's technology seems to provide a modest edge (after the necessary sequencing has taken place) we think the company's ascension to its top position in the industry has been mostly fueled by its willingness to engage in deceitful sales and billing practices.
Background: In 2018 Natera Paid $11 Million to Settle DoJ Fraud Allegations Relating to the Sales & Billing of Its Panorama Test
Foreshadowing many of the issues outlined in this report, Natera has a history of alleged illegal billing practices.
In 2018, Natera paid $11 million to settle allegations of fraud by the Department of Justice, which alleged that the company improperly billed federal healthcare programs for its Panorama test.
The Department of Justice's allegations centered around dates of service between January 1, 2013, through December 31, 2016, when current Natera CEO Chapman held the roles of VP of Sales and VP of Commercial Operations.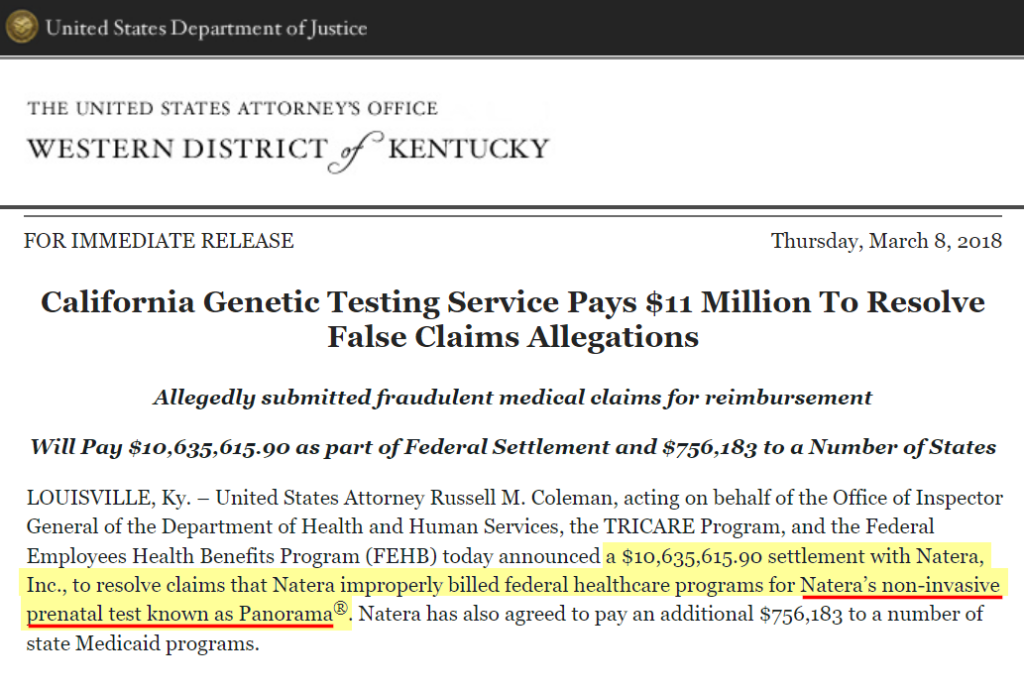 PART I: How to Set Up A Secret 'Non Profit' Entity To Evade Insurance Requirements
In Late 2017, Payors Imposed Cost Controls Through 'Prior Authorization' Requirements, Which Natera Highlighted as A Key Risk Factor
In late 2017, as the genetic testing industry began to grow, insurers pushed back on tests that were being widely billed, often (in their view), without medical need.
Many payors began requiring prior authorizations, which are described by the American Medical Association as a cost-control process that requires providers to submit documentation to payors to receive advance approval of a procedure or test.
In the third quarter of 2017, Natera disclosed that that prior-authorizations had become a material risk factor for its business.
"Third-party payers are increasingly requiring that prior authorization be obtained prior to conducting genetic testing as a condition to reimbursing for it, which may reduce or delay the reimbursement amounts we receive for Panorama or our other tests." [Pg. 46]
Just 3 Months After Natera Highlighted 'Prior Authorizations' As A Key Risk Factor, A Non-Profit Entity Called "My Genome My Life" (MGML) Was Formed
Natera Reps Then Began to Offer Free Prior-Authorizations to Doctors Via MGML
Natera's sales force began telling doctors that a company called My Genome My Life (MGML) would take on the burdensome process of obtaining prior-authorizations at no cost to the doctor, according to a former sales rep:
"MGML was a third party we worked with to handle the prior authorizations on behalf of the medical staff."
Given Natera's potentially devastating new problem, MGML appeared right on time, as if by miracle. A former Natera sales rep explained to us that in early 2018, sales reps were told to start using MGML.
Texas corporate records show that MGML was formed in February 2018. [1,2] It applied for non-profit status, which was granted in July of 2018, according to an IRS letter.
MGML's non-profit status was a selling point with doctors, according to a person familiar with its operations.
"MGML is a 'charity'…That was always advertised. That was a big-ticket thing."
MGML's website displayed its 501(c)(3) non-profit status, declaring itself a group of "patients, geneticists, ethicists" and "humans" who simply wanted women to have access to their genetic information.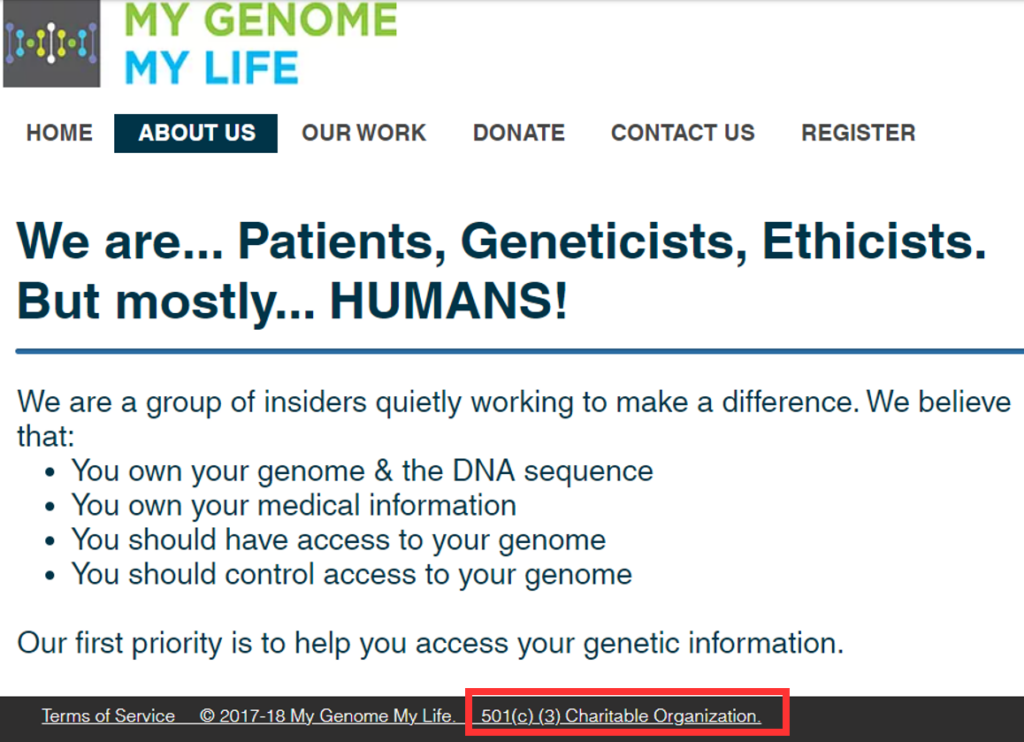 Oddly, MGML's website identified no management or founders. We located only a handful of employees claiming MGML experience on LinkedIn and couldn't find any geneticists or "ethicists" through LinkedIn or other internet searches.
The office address that MGML displayed in its LinkedIn profile and filings — 1629 K Street, Suite 300, in Washington, D.C. — is a virtual office offering addresses for as low as $60 per month.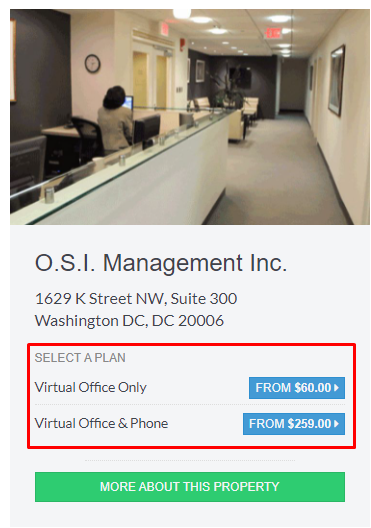 Until recently, the phone number on the MGML website was 800-123-4567, an obvious placeholder.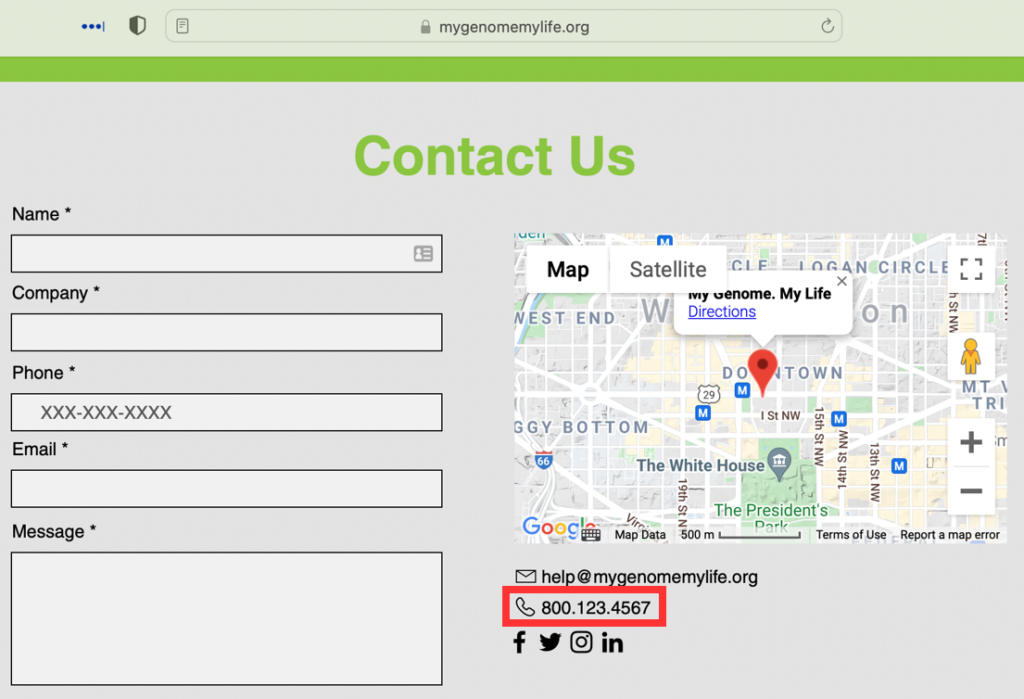 Additionally, My Genome My Life has not filed any of the IRS' Form 990 annual reports that are required of tax-exempt groups, based on our search of non-profit database GuideStar.
Recently, MGML's website dropped its references to its non-profit status and its donor solicitations without explanation. In January 2022, during the course of our research, MGML filed for a new for-profit entity.
MGML's website now boasts that it has issued a staggering 1.8 million prior authorizations.

Yet, according to a competitor: "they only have 1 or 2 clients from my understanding."
An individual familiar with MGML's operations also stated that the company only worked with two companies to the best of their knowledge. Our conversations indicated that Natera comprised the overwhelming majority of MGML's business.
Natera has performed approximately 4.1 million tests since the year of MGML's formation, suggesting that MGML has pre-authorized up to ~44% of Natera's total test volume.
MGML Is Run By A Woman Who Goes By The Name 'Vickie Seth'
We Found That 'Vickie Seth' Is Actually An Alias For A Woman Named Deepti Gupta, Who Shared an Address with Natera's Head of Sales at the Time MGML Was Created
A woman named "Vickie Seth" oversees MGML's operations, according to a person familiar with MGML's operations.
We received a screenshot of the signature block of a contract used by MGML to sign up clinics and doctor's offices, from a person familiar with MGML's operations. As part of that contract, Seth identified herself as MGML's "President".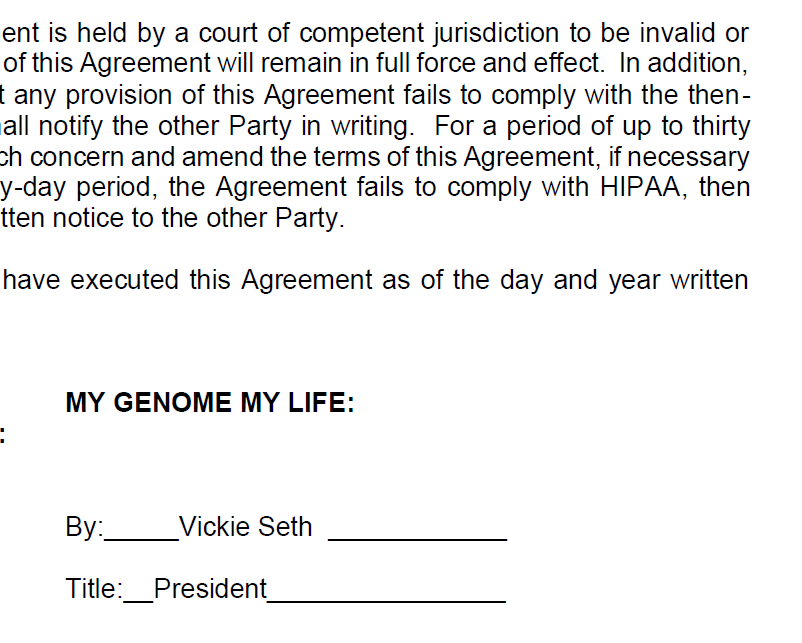 We also saw external email correspondence from Vickie Seth, in which she described herself as an operations manager: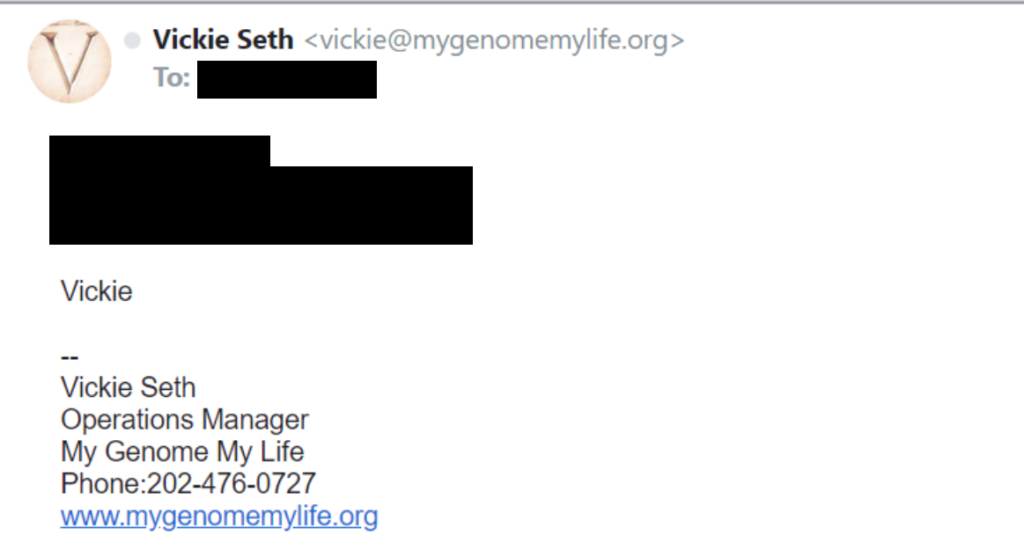 Yet, "Vickie Seth" is not listed as an employee of MGML on LinkedIn. In addition, "Vickie Seth" does not appear on any official MGML documents we located, including the IRS filing and the original corporate registration.
Instead, our research indicates that Vickie Seth is an alias used by a woman named Deepti Gupta for her activities with MGML.
Gupta's name appears on MGML filings, albeit sparsely. Gupta is the name appearing on the brand-new for-profit corporate registration of MGML, as of January 2022. She is also listed as the administrator on a document filed by MGML to obtain a National Provider Identifier, a unique number assigned by CMS to identify healthcare providers.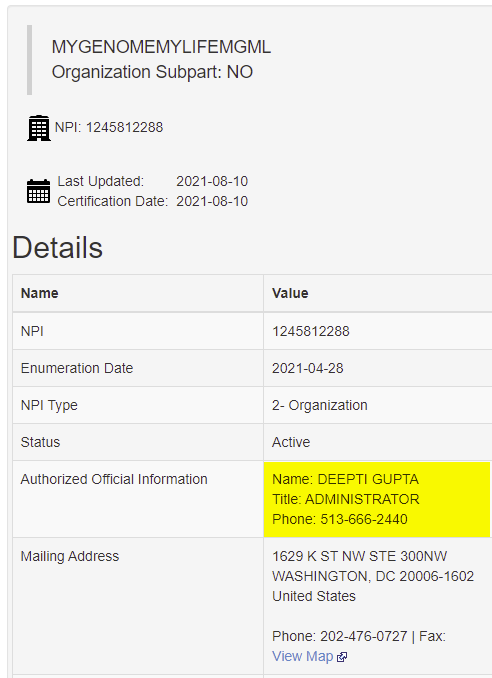 The phone number Gupta listed on the NPI application matches the new phone number on My Genome My Life's website:

Gupta also has what appears to be both a deep personal and business relationship with Amar Kamath, the VP of Sales at Natera at the time MGML was created.
Natera VP Of Sales Amar Kamath "Realized That His Sales Operation Was Up Against the Wall" Just As MGML Was Surreptitiously Created With His Support
Kamath was Natera's vice-president of commercial sales from October 2017 until May 2019, according to his LinkedIn profile.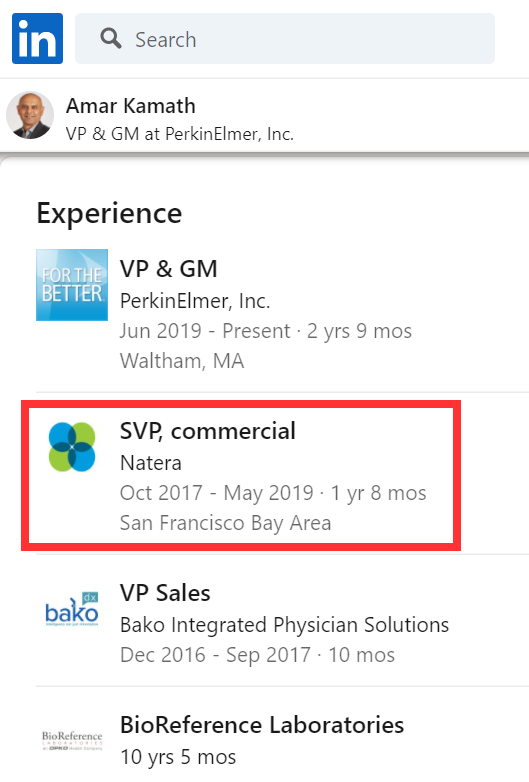 Kamath is currently vice-president at Waltham, Massachusetts-based PerkinElmer, a medical diagnostic and testing company. In May 2020, Reuters reported that the Department of Justice was investigating PerkinElmer's alleged role in a "massive Medicare fraud" relating to billing for unnecessary cancer tests. Previously he worked at BioReference Labs, which was alleged to have had extensive mob ties.
Kamath's interest in MGML and the prior-authorization process was obvious, according to a person familiar with the PA process at Natera:
"He realized that his sales department was up against the wall because, all of a sudden, these PA requirements came out. The ordering providers had to do it themselves…If you have any experience in healthcare, you know that if the provider is not going to get paid for the service, he doesn't care. He's not going to have his team submit PAs. So, lo and behold, they created MGML and then they took it one step further and they made it a 501(c)(3), as a charity."
The person familiar with MGML's operations said that "Vickie Seth" had described Kamath as MGML's "executive sponsor" at Natera, though Seth had never disclosed a personal connection to Kamath. Documents reviewed by Hindenburg Research confirmed these claims about Kamath's supposed title.
Kamath and Deepti Gupta share a common mailing address in Morristown, New Jersey, and have purchased multiple properties jointly, according to property records in Texas.
They have also taken personal trips together, suggesting a very close relationship. Kamath accompanied Gupta and her daughter to India on a non-profit mission in 2016, according to a Facebook post.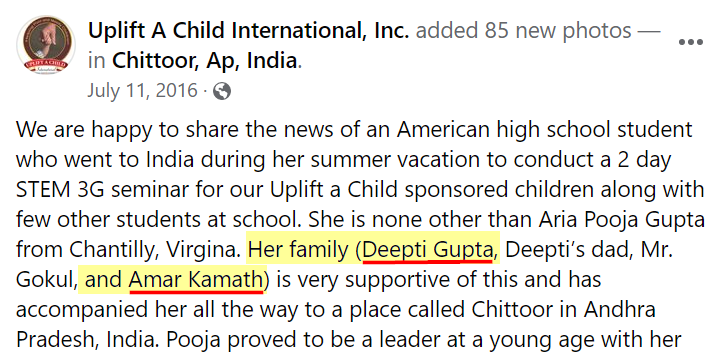 After viewing the above photo and an accompanying video of Deepti Gupta and Amar Kamath on the mission, two people familiar with MGML's operations said that they recognized Gupta in the photos as "Vickie Seth", the operator of MGML.
MGML Masks That It is a Third Party By Submitting Information To Insurance Companies Under the Practitioners' Login Credentials
In Order to Facilitate This Deception, Natera Sales Reps Help Doctors' Offices Access Insurance Prior Authorization Portals Then Share The Passwords with MGML
Some Doctors Refused to Work with MGML Because of This Kind of Arrangement
Natera sales reps tell doctors that they can set them up for prior authorization services through MGML. To do this, Natera or MGML employees walk doctors through the process of setting up an account on an insurance portal, according to people familiar with the operation.
Natera reps then keep the login information and share it with MGML, which then acts on behalf of the doctor, we were told. A person familiar with the arrangement explained:
"Most of the (prior authorizations) were supposed to be done by the doctor, and so (Natera) sales reps would go into the office and say, 'Hey, we could submit all these prior authorizations for these tests that you're writing from Natera, you know, and you just need to set up this account with (MGML) and then give them the password … so that we can, you know, submit on your behalf.'"
Many of the prior authorizations were required to be submitted by the practitioner, but MGML surreptitiously submitted them instead, per the person familiar with the arrangement:
"Most of these had to be submitted as the clinic itself. But that was really MGML logging in, saying they were the clinic, and submitting that prior auth request."
Other steps were taken to mask the nature of MGML's third-party relationship with the providers, according to the person. Faxes would either include Natera letterhead or not identify the source. Per the individual:
"The insurance company was never smart enough to figure out that like every single PA they ever got had the same 202 fax number in return."
Not every doctor was comfortable with the arrangement, despite the potential cost and time savings of outsourcing prior authorizations to an entity that provided complimentary services.
"Not all doctors would agree to this either," a person familiar with the operation said. They objected to "creating the portal login and having us manage it for them."
MGML's Practices Contravene A Department of Health & Human Services Anti-Kickback Advisory Stating that Third Parties Must Be Transparent About Their Identity In Order to Offer Free Prior Authorizations
For more than 10 years, the Office of the Inspector General (OIG) for the Department of Health and Human Services (HHS) has let providers know about the risks involved in offering doctors free administrative services, such as prior authorizations.
In a September 2010 Advisory Opinion to providers seeking to offer free prior authorizations for doctors for imaging services, HHS noted:
"The OIG's position on the provision of free or below-market goods or services to actual or potential referral sources is longstanding and clear: such arrangements are suspect and may violate the anti-kickback statute, depending on the circumstances."
The OIG specifically noted that pre-authorization services fall under this category:
"Obtaining pre-authorization from insurers is an administrative service with potential independent value to physicians".
One of the conditions met by the group seeking to offer free pre-authorizations was transparency, which contributed to the OIG decision to not take action against the group:
"Requestor's representatives would identify themselves to insurers as representatives of Requestor, disclose to insurers the nature of the program, and would provide each physician with a copy of all the information it submits to insurers to obtain pre-authorizations for that physician's patients."
Despite clear government insistence on transparency, MGML apparently doesn't submit anything under its own name. Only the doctors' office information is included with each submission, providing no way for insurers to know who is actually submitting the data.
MGML employees were told never to mention the company's name with insurers, according to a person familiar with the process. They "never talk about MGML. It was like fight club." They "couldn't tell Blue Cross, couldn't tell Medicaid."
We spoke with an executive at a competing prior authorization provider to understand how the business is supposed to operate. He explained that the government has been very clear about its expectations:
"There are about 13 OIG opinions on how you need to operate a business similar to this…You have to identify who you are when you submit the prior authorization."
MGML's practices seem to defy industry standards by obfuscating that it is submitting prior authorizations as a third party.
Following MGML's Creation, "Vickie Seth" and Natera's Kamath Purchased at Least 11 Properties Together with a Value of More Than $2 Million
It is unclear how much has been paid to MGML since its inception based on Natera's filings.
However, further evidencing a close relationship between "Vickie Seth" and Natera's Kamath, public records show that Deepti Gupta and Amar Kamath co-own multiple properties in Bell County, Texas, valued at more than $2 million.
The couple embarked on the property buying spree following the formation of MGML, between December 2020 and June 2021, according to Bell County data. Excluding vacant lots, 9 of the 11 properties can be seen in the Google Map images below.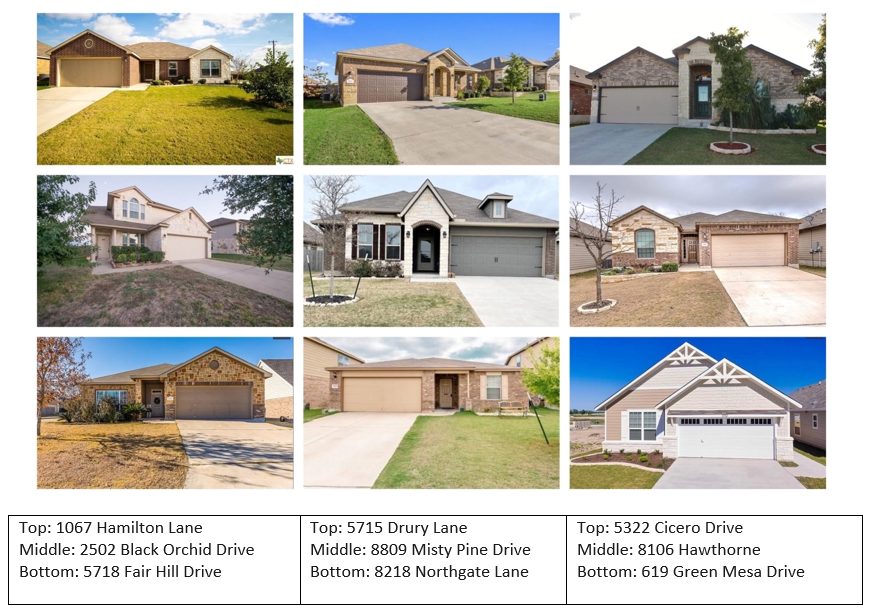 The "President" of MGML Earlier Told A Research Firm That She Signed the Entity's Filing as a Favor for a "Friend of a Friend," Deepti Gupta (aka Vickie Seth)
Despite Vickie Seth apparently signing MGML documents as "President", the entity had a different "President" listed in public records filings.
The Capitol Forum, a Washington, D.C.-based subscription research service, first reported on issues with MGML in 2020, including its connection to Natera.
When MGML filed for its non-profit status, a woman named Lymaraina D'Souza signed the IRS documents as "Trustee and President" of MGML.

As part of its reporting, The Capitol Forum called D'Souza, who admitted that a "friend of a friend named Deepti Gupta" asked her to help "create a charity":
"D'Souza was initially completely unaware of the name My Genome My Life and was surprised to learn she was listed as President of the organization but did confirm that a friend of a friend named Deepti Gupta had asked her in 2017 to help create a charity."
The conversation was cut off after D'Souza viewed the IRS application:
"Over the course of the conversation with The Capitol Forum, D'Souza grew worried that her involvement with MGML may have some kind of negative affect on her counselling practice and asked to see the IRS application to confirm if it was her signature on it. After sending her the application, D'Souza stopped communicating with The Capitol Forum."
MGML's Secretary Told Us She Thought There Was "No Reputational Risk" To Signing Off as Trustee at the Request of Deepti Gupta Because the Entity Was a Charity
We reached out to another MGML signatory who disclaimed any active role in the organization.
Marcy Miranda is listed on MGML's IRS Form 1023 as the organization's Secretary. Miranda, a Dallas-based public relations executive, said she agreed to serve as a trustee, "as a favor to someone I know who put it together." She added, "that was years ago, and I had honestly forgotten about [MGML.]"
When asked if Deepti Gupta was the person who asked her to join its board, Miranda paused a moment before answering, "yes."
"[MGML] was explained to me as something that would only require my signature. And because it was a charity, I felt was no reputational risk," said Miranda.
MGML Submitted Huge Numbers of Authorizations That Were Often Rejected From Payors. Why?
Because Either Insurance Paid or The Formal Rejection Triggered The Cash Payment Obligation of Natera's Clientele of Expectant Mothers
"[MGML] Would Send It All In. It Didn't Matter If You Didn't Meet That Medical Necessity Requirement"
MGML operates differently than other prior-authorization providers, according to a person familiar with their operations.
For starters, the "prior-authorizations" submitted by MGML were done after the test had already been performed, a sequence that sets patients up for unexpected out-of-pocket costs as they learn only after the screening whether insurance would have approved coverage.[2]
The person further explained that usually the point of using a third-party pre-authorization company is to tap into its expertise to get the largest number of authorizations possible, while also reducing excessive rejections.
MGML operated differently, submitting huge numbers of authorizations that were rejected, we were told:
"They would send it all in. It didn't matter if you didn't meet that medical necessity requirement, it didn't matter. They would still send it in because Natera throws everything at the wall to see what sticks."
This strategy, in turn, created tensions with insurers. We were told that certain Medicaid offices "weren't amused by the amount that were coming in, and they were really questioning the medical necessity behind a lot of it."
As shown above, the numbers were massive. MGML claims to have provided over 1.8 million prior authorizations, per its website.
Successful prior authorizations allow Natera to submit a claim for payment of its screenings to an insurance company or the government.
Failed prior authorization requests are just as important, however, as they open the door to billing the patient directly for uncovered services. That could include standard NIPT screenings, which are still somewhat erratically covered by payors, and the vast majority of microdeletion screenings that are routinely not covered.
The fine print of Natera's patient sample collection forms specifically spells out that the patient would be on the hook for the bill if a prior authorization is rejected:
"The testing will not be covered by my plan if it is outside of the plan's coverage guidelines or deemed not medically necessary — (e.g. where prior authorization is required but not obtained) and I will be responsible for the cost of such testing between $249 and $1590 per test, discounts may apply."

Since these "prior-authorizations" were actually done after the test in many cases, the prior-authorization denial didn't block screening from happening but instead allowed Natera to require cash payment for the balance from its patients.
A person familiar with MGML's prior authorization process explained that MGML seemingly served as a prior authorization rejection factory to bill patients directly when the insurance claims had little chance of succeeding:
"The whole problem with this is that prior authorization is supposed to be done before the test is drawn in the lab. But they didn't do it that way. They were doing everything backwards. So, they would draw the labs, run the test, and then (MGML) would be submitting for something that was already done. And then if it got rejected, (Natera) would balance bill the patient."
Part II: How To Surreptitiously Push Harmful Screening Options, Then Surreptitiously Overbill For Them
"Microdeletion" Screens Were the Subject of a Recent Scathing New York Times Investigation
The NYT Reported How High Rates of False Positives Result In Tragic Consequences, Such As Termination of Pregnancies Later Found to be Healthy
Microdeletions are rare chromosomal disorders that result when DNA is "deleted" or missing during the replication process. Because of the rarity of these conditions, screens for microdeletions have limited use, often resulting in false positives.[3]
The risks associated with women receiving false positives were described in a recent New York Times article titled "When They Warn of Rare Disorders These Prenatal Tests Are Usually Wrong."

One of the microdeletion screenings cited in the article was for DiGeorge Syndrome – a test included in roughly 75%-80% of all Natera Panorama tests, according to the company's CFO on its Q3 conference call.
The New York Times reported that with patients who are flagged as high-risk by the test, 81% of those high-risk results will turn out to have been "false positives."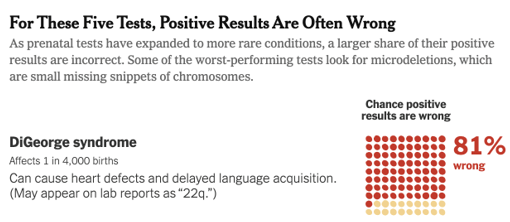 The Times recounted one case where a pregnancy had been terminated, only to find after subsequent testing that the pregnancy had actually been healthy. The article quoted a 2014 study showing how about 6% of women receiving positive screen results terminated their pregnancies without further testing.
Other women interviewed by the Times recounted the "agonizing" anxiety as a result of false positives. (The article did not detail the rate of false negatives, which could compound the issue.)
Natera Surreptitiously Pushes Screening For "Microdeletions" By Requiring Providers To Specifically Opt-Out of the Screen
This Is In Direct Contravention Of Industry Guidance That Has Flagged Such "Opt Out" Sales As Resulting In Unnecessary Risk For Expectant Mothers
The Society for Maternal-Fetal Medicine (SMFM) included testing for microdeletions on a list of "20 Things Physicians and Patients Should Question," which was published in March 2021.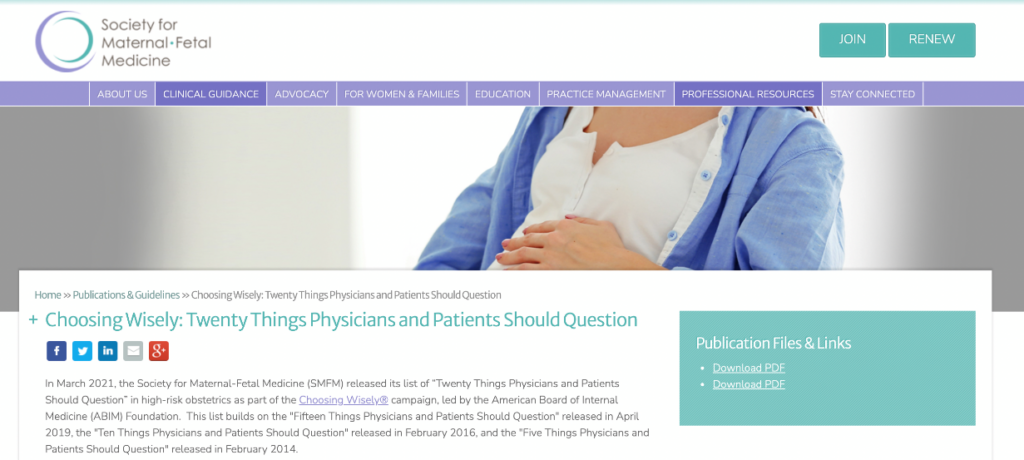 In a 2014 advisory, the SMFM specifically stated that the tests should only be offered on an "opt-in" basis, in order to limit over-testing:
"Given the risk of these false positives with screening for rare disorders such as microdeletions, these tests should be offered as 'opt-in' rather than 'opt-out' options, ideally only after counseling by a genetic counselor."
Natera's process directly defies that policy recommendation and even obfuscates that it is screening for microdeletions. Its Consent Form for Panorama screening requires a provider to specifically omit the screening for "22q.11.2", the piece of chromosome 22 that can go missing, resulting in the syndrome more commonly known as "DiGeorge syndrome".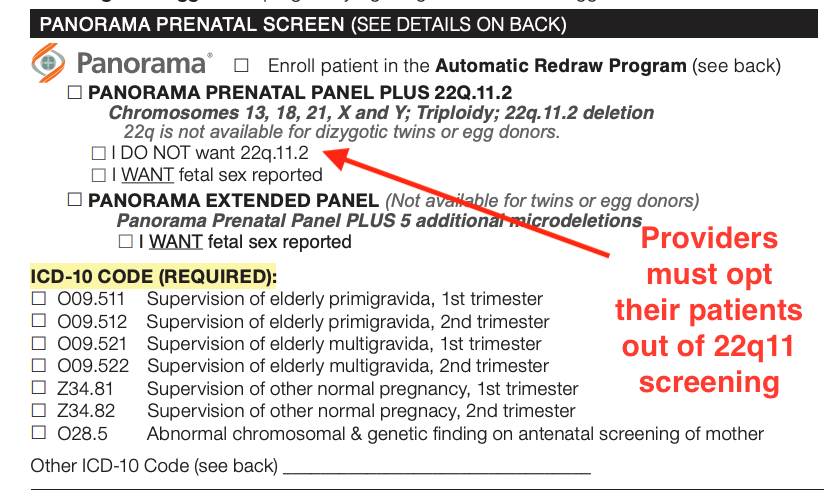 Microdeletion Screens Are Almost Universally Rejected by Payors For The Above Reasons
Despite This, Natera Has Sold Investors On The Revenue Potential of Microdeletion Screening: "A Rocketship That's Growing"
Most providers don't check the opt-out box, resulting in 75%-80% of Panorama screens including the microdeletion test. Natera chalks this up to organic demand rather than tricky sales practices. At a March 2021 virtual healthcare conference hosted by Cowen, Natera CFO Michael Brophy said:
"…the demand is already there. We run more than 400,000 of these tests a year."
On a February 2021 earnings call, Natera CEO Steve Chapman called microdeletion screening:
"…a rocket ship that's growing. We're running the tests. If we can get reimbursement, it's going to be — we're going to be off to the races."
Despite this, the company has acknowledged that payors are largely denying coverage of the test. Natera's CFO Michael Brophy commented in November 2021:
"(The) percent paid rates on microdels are in that kind of single-digit percentage kind of range, and so the resulting in ASPs (Average Sales Prices) are — it's only a few bucks out of ASP."
An executive for a competitor said that was the case across the industry:
"Almost universally at this point the coverage guidelines are most payers, at least on the private side, have negative coverage policies on microdeletions…So, if folks are billing for microdeletions, they're probably just gambling that they'll get paid a certain percentage of the time."
But How Does Natera Get Paid For Microdeletions if Insurers Won't Pay?
Natera "Unbundles" Its NIPTs, Billing BOTH Insurers And Pregnant Women, Often Collecting Cash From Both, Then Obfuscating the Double Billing
A former employee familiar with Natera's billing practices described how the tests were billed separately, often coming as a surprise to patients and practitioners:
"Natera bills it as 2 separate tests but they don't distinguish that to the patients or to the doctors I think…so they get blindsided by it. They're like 'I thought I was doing 1 test. Why am I being billed for 2 things?'"
CPT codes are used by providers to standardize medical, surgical and diagnostic services that are submitted to payors for reimbursement.
When reviewing FOIA data for Medicare claims in Pennsylvania, we noticed that Natera's competitors Invitae and Myriad billed under only one CPT code (81420), while Natera had two codes (81420 and 81422).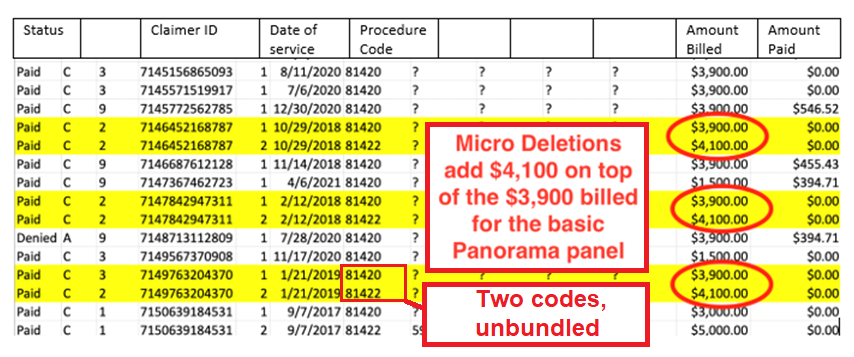 A former employee explained that Natera advises providers to use the CPT code 81420 to bill the Panorama test but also uses a separate CPT code 81422 to bill for microdeletions, including DiGeorge Syndrome.
Natera More Than Doubles the Cost Of Panorama Screenings By Adding Microdeletions, Despite Patients Often Being Unaware They Are Participating In The Additional Screening And Practitioners Often Unaware of the Surging Rates
Given that Natera adds microdeletion screening to its Panorama NIPTs (unless a provider specifically opts out), one might expect very clear disclosure that the patient is taking two distinct tests, with very different billing profiles. We learned that practitioners and patients were often left in the dark about this.
A review of Medicaid data obtained via FOIA requests from multiple states, including Pennsylvania, Ohio, and Illinois shows that when Natera adds microdeletions to a screening, it more than doubles the amount billed.
A former Natera employee said she did not believe patients were being properly educated about the fact that the panel with microdeletions carried a much higher cost:
"It should be on Natera to educate the doctor's office further and ensure that the doctor's office is educating their patients properly. It just shouldn't fall on the patient's responsibility to have to know that it's two different tests. They're getting a blood draw, a singular blood draw usually".
As a result, it's easy for patients to inaccurately assume that the blood draw is for a single test, the former employee added:
"They're getting billed for two separate tests without knowing it. I feel like that's honestly unethical and kind of feels like it could be considered a scam".
It's not just the patients who are in the dark about the billing implications of the microdeletions screen. We interviewed a midwife who worked for a practice that delivered 100 babies a month. She said she never removed microdeletions from the Panorama test, and that she did not believe the patient's cost would increase simply because of the microdeletions panel.
A long-time genetic testing executive at a competing firm acknowledged that the payment structure for these tests can easily be misinterpreted in 1-on-1 interactions with patients:
"Who knows what the reality is in the communication between clinician and patient and what the doctor told the patient about what the test was. I mean this is not easy stuff for people to understand, so whether it was clear to the patient that they were getting both a test for chromosomal abnormalities as well as a test that would look at these far rarer diseases, you know, it's hard to know what was said and what was understood."
MGML Aided This Process By Getting The Billing Codes From Natera, Then Filing Prior Authorization Forms With the Codes on Behalf of Practitioners
This Helped Open Up the Possibility of Billing Payors, Patients, or BOTH Depending on What Was Approved/Rejected
MGML submits screening information into insurance portals under the name of doctors, but it obtains the coding information from Natera, not from doctors, according to a person familiar with the process:
"The requisition forms that the doctors' office would send to Natera would just have check boxes for the type of tests that they were ordering. There were no CPT codes attached to them," the person explained. "So, I know there's been that question all along, like has Natera been unbundling codes to send to insurance companies, which I think they are, but I don't believe the doctors' office would know that."
We were told that Natera converted all this information into a giant Google Docs spreadsheet — including patient information – and shared it with MGML.
In addition to it being "not exactly HIPAA compliant" to share sensitive patient information via a Google doc shared across borders with MGML's workers in Bangalore, India, the process also puts Natera in charge of selecting the CPT codes under which tests were submitted for prior authorization.
Natera's involvement shields doctors from the coding process and likely explains why practitioners appear unaware they are ordering 2 separate screens subject to separate insurance considerations.
Meanwhile, the two codes allow Natera to seek reimbursement for the 2 tests separately and bill the patient if either is rejected. This results in instances where insurance covers the main screen, while patients are stuck with the bill for the microdeletions panel – a scenario that doctors probably never consider.
A person familiar with the operation said Natera's involvement with MGML and the prior authorization process made them uncomfortable:
"I mean, they shouldn't be controlling the prior authorization process, right? Like the third-party company should be used as an outside party and, sure, they could communicate with Natera, but [MGML] operates under Natera's direction."
The Double Billing May Be Obfuscated By Natera's Patient Billing Practices
Example: A Withheld Second Page of A Patient's Bill Detailed How She Was Billed For Two Screens, Not One (Much to Her Surprise)
We communicated with a Natera customer from Tennessee who had complained online about her Natera bill.
She told us that she took the Panorama screen expecting her insurance company to fully cover the cost. She had been assured by staff in her doctor's office that patients never paid more than $99 for the test even if insurance didn't cover it, putting her concerns about cost to rest.
Months after the screening, she received a bill showing that charges (before adjustments) were $8,000 and that she owed $749.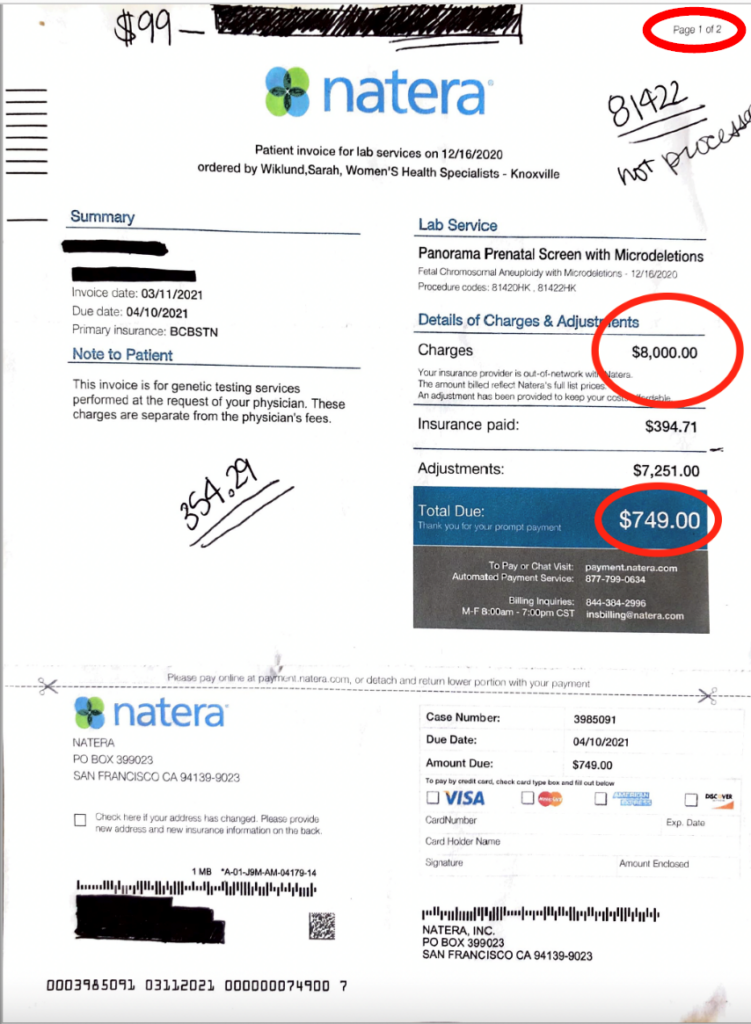 As we detail later, this Natera customer's experience is typical of many described in the hundreds of online complaints we reviewed: A low cash pay rate is offered by the practitioner, but a much higher bill arrives in the mail, pressuring women into paying the entire bill or agreeing to pay a reduced amount to make the bill go away.
Adding to the confusion, the patient noticed several anomalies: (a) the numbers didn't add up—she should have owed $354.29 after insurance payments and adjustments rather than $749[4]; and (b) she only got "page 1 of 2" of her bill.
It wasn't until the customer made numerous calls to Natera and involved her insurance company in the dispute that she received the second page of the bill, which included a more detailed statement showing that her insurance company had been charged for the Panorama test, but she was being charged separately for the microdeletion test, despite it all being part of the same overall screening process.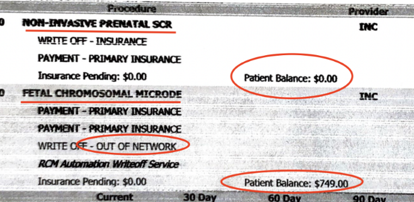 In effect, Natera was able to collect from both the insurer and the expectant mother by unbundling the test.
By failing to share the second page of the invoice, Natera hid its practice of billing patients for what it knows to be an essentially un-reimbursable cost under most insurance plans.
Online Complaints: Natera Regularly Withholds Detailed Invoices From Customers and Won't Send Bills Reflecting Cash Payments
"He Couldn't Email Me, Mail Me, or Text Me Any Type of Invoice or Receipt"
The customer we interviewed from Tennessee isn't the only one who found herself fighting to get basic documentation of Natera's charges.
The Better Business Bureau's website is filled with comments that mention Natera's refusal to share documentation with customers.
A complaint on the BBB site last October described the frustration:
"I spoke to a supervisor named ****** who said they would honor the $200 but he couldn't email me, mail me, or text me any type of invoice or receipt and I would immediately have to pay over the phone…Natera needs to be investigated for fraud as they are unbundling their claim coding, and if I am responsible to pay anything they need to send me an invoice".
Dominque C. wrote on Yelp last November about a Natera representative who would not give her an invoice for a bill she claimed to have just paid:
"I asked if I could receive a copy of the new [bill] and he said they cannot provide that. Both my husband and I are physicians and work within the healthcare field and I have to admit I have never seen or experienced billing done this way."
Jenna C., posting her Natera review on Yelp in November of 2020, described a similar frustration in her attempt to establish what Natera was billing her for, as well as what Natera had already been paid:
"They would not produce an itemized list of the charges or provide proof of payment over the phone."
This BBB poster from last April learned, after much exertion, that Natera's customer service could only "put in a request" that her bill be mailed out, which was not honored:
"I have called over 5 times asking for documentation of the procedure done, procedure codes, costs associated with everything they tested for, all in an itemized bill. Each time I talk to someone on the phone in the billing department, they assure me they put in a "request" to have a statement emailed to me and I have yet to receive one."
Last December a BBB poster complained, "I have never received a written invoice or billing statement from this lab." They went on to add:
"I called and spoke to someone at Natera and I explained to them I wanted a statement proving this was a legitimate [bill] and I was assured that one had been mailed out to me and the discounted price was good for 30 days from the day of the invoice. I never received it."
"Pure Stealing": These Billing Practices Have Unleashed a Tsunami of Complaints on Social Media and with the Better Business Bureau
Natera's Negative Reviews Are Multiples Of That Of Competitors On Both Yelp And The Better Business Bureau
We compared Natera's reviews on Yelp alongside those of its competitors Invitae and Myriad Genetics. While customers express concern over billing practices at all 3 companies, Natera is in a league of its own when it comes to unhappy customers.
For example, based on our review of online complaints, Invitae, whose FY 2021 sales were about 73% of Natera's, had 29 Yelp reviews, 28 of which were negative. Myriad, which just reported 2021 sales of $690.6 million, slightly higher than Natera's $625.5. million, had 26 Yelp reviews, 25 of which were negative.
Natera had about 9x more reviews, with 208 of them referencing its non-invasive prenatal testing or carrier screens. Of those, 186 were one or two stars, the lowest ratings.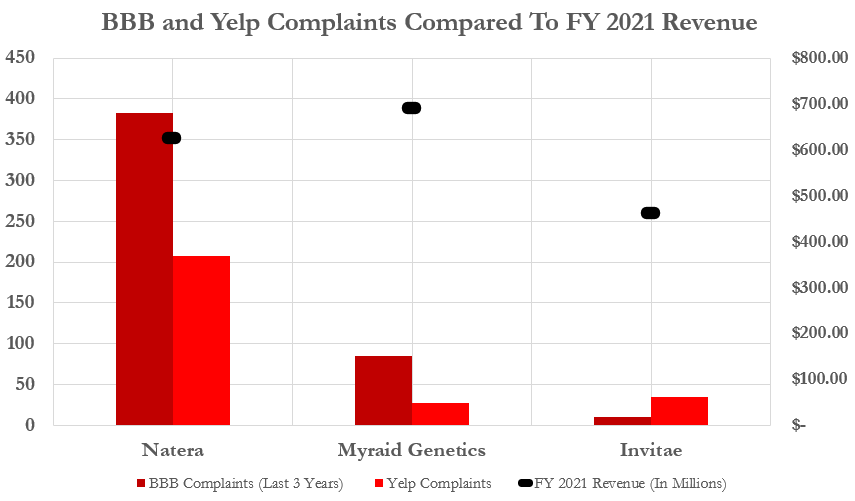 As of our analysis, Natera's profile on the Better Business Bureau website registered 372 complaints lodged against Natera. For comparison, competitors Myriad Genetics and Invitae had 86 and 10 complaints respectively.
One Yelp review from late 2021 called Natera's billing "pure stealing" after allegedly being double billed:

Another review referred to the company's practices as "absolute fraud" after seeing a bill for 36x the "estimated" amount:

Jen H. of Mountain View, Calif., wrote in August 2017:
"Even though I had been quoted $350 in the event my insurance didn't cover the test, I, like many other Yelpers, was hit with a $8,000 patient bill after my insurance company denied the claim."
Another reviewer, Lesley G. of Mountain Lakes, N.J., said Natera billed her for $249 after her insurance declined coverage. She was fine with this, but after Natera resubmitted her claim, she received a bill for $500 – even after her carrier agreed to pay almost $1,000.
Like Yelp, the most common BBB complaint, evident in all but a few entries, is the consumer's anger over Natera's billing practices. Specifically, that the maximum out-of-pocket expense ($249 or $349) often morphed into a demand for hundreds or thousands of dollars more.
Consumer complaints included gripes with how long the billing process took, overbilling, cost discrepancies between insurers and patient bills that don't adequately explain what is being billed.
Some consumers were unhappy to learn that after undergoing a Panorama or Horizon screen, Natera would also bill them for an undisclosed second test (presumably microdeletions):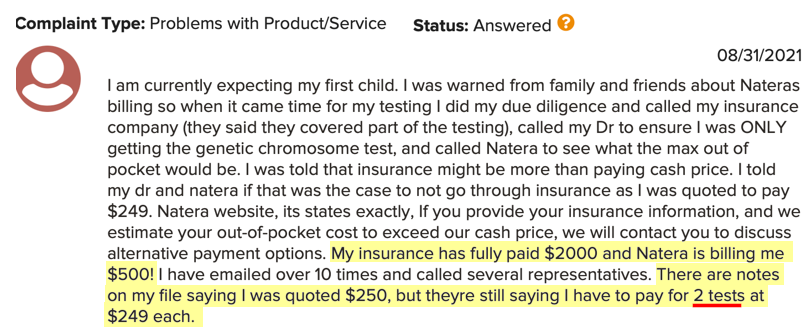 In response to most of the BBB complaints, a Natera official posted their contact details and offered to privately discuss the matter. There were 67 complaints eventually noted as "resolved" with the consumer typically declaring that Natera's proffered settlement was "satisfactory".
Part III: How To Confuse (And Take Advantage Of The Chaos) With "Cash Pay" Promises
How did Natera's business become the subject of so much outrage?
Our conversations with former Natera employees and clients revealed that Natera 's screening is specifically marketed using unrealistic assurances that patients will pay at most only a few hundred dollars out-of-pocket regardless of insurance coverage. This encourages women to agree to testing with little or no thought for financial considerations.
Not only do Natera's sleight-of-hand billing practices require use of a highly questionable prior authorization firm, but we also found they result in doctors and their staff making inaccurate promises about patient costs.
Natera Sales Reps Coach Doctors and their Staff to Give Patients A Choice: Either Use Insurance Or Opt For An Upfront Cash Pay – Often Quoted At $249
The Cash Pay Eases Patient Concerns – But It Probably Shouldn't
We learned that patients are routinely told by doctors and their staff that they have the option of making an upfront, cash payment for the Panorama screening rather than running the cost through their insurance.
Typically, this cash pay rate is quoted at $249, though it can vary between doctors' offices, according to former sales reps.
So how do patients decide which way to go – insurance or cash pay?
Typically, a patient who has insurance will just opt to run the bill through insurance. "That's what they have insurance for", a former sales rep told us.
But they may come to regret that decision. Because genetic screening is a major expense that occurs early in a pregnancy, often the patient hasn't covered her share of her insurance deductible, and insurance companies aren't on the hook to pay the "covered" expenses until that deductible threshold is reached. A former employee told us:
"It seemed like that was the sales team's pitch: If it's not covered by insurance, (the patient) will pay $249, but nobody actually told anybody what 'covered by insurance' meant. So, the expectations were not set correctly with the patients or the doctor's office."
Natera makes an attempt to estimate what a patient might have to pay when using insurance, but once again the sequence is problematic. Natera's "Price Transparency Program" shows that the company only makes an effort to estimate insurance coverage after the screening is performed.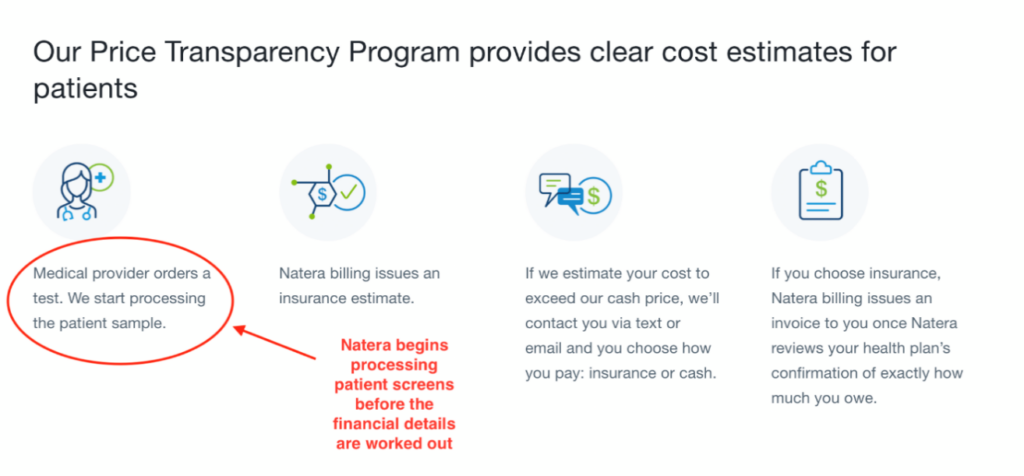 Not surprisingly, patients often find that running the charge through insurance results a cost far higher than the cash pay.
We Were Told Natera Resolved This By Offering the Discounted Cash Pay Rate to Customers Retroactively…But Without Necessarily Reversing The Corresponding Insurance Claims
"This Doesn't Seem Ethically Right"
This confusion led to customer distress and anger. Natera's billing department spent between 80%-90% of its time dealing with customer complaints about higher-than-expected out-of-pocket costs, according to one former employee we spoke with.
Many calls with unhappy patients ended with the Natera sales rep agreeing to give the customer the company's $249 cash price after the fact, according to the former employee.
But some employees were concerned that insurers were not notified of this change, according to a former billing rep:
"We would jump through hoops to get (the test) processed through the insurance, but they would not jump through those same hoops to retract it if they were paying cash pay after the fact," a former employee said.
The rep acknowledged that insurance companies really had no way to know about the practice, which may have constituted fraud:
"I'm not sure if the insurance company necessarily sees that as fraud or not, but to me it felt weird. It was weird. But I don't see how the insurance would know unless a lot of people were reporting back to their insurance companies that they didn't pay it. But who would?"
They also explained that rather than being a one-off or sporadic issue, it was essentially company policy. When asked about the ethical and legal implications of the practice, managers explained that retracting the illegitimate insurance claims is "not something that we do":
"Some of us asked about it. And we're like 'hey this doesn't really make much sense. Why are we not retracting these claims and just letting these patients basically get part of their deductible paid for free. Like this doesn't seem ethically right.' And they're like 'well it's just not something that we do. We're just not going to do that.'"
Finally, the former rep explained that the insurance companies could probably pursue the matter and win:
"I'm not sure if that's considered fraud…but I feel like it could if it were a pattern like it is and as common as it is with Natera, be an issue for the insurance company if they were to find out and decide to pursue it."
Law Firm: "A Provider Risks Possible Allegations of Insurance Fraud And Tortious Interference With a Contract By Discounting Co-Payments and Deductibles"
Offering deductible discounts can result in patients avoiding their contractual obligations to their insurance companies. That opens up providers up to allegations of insurance fraud, according to a white paper by the law firm Ross Hardies.

Some companies offer a compassionate use program for lower income individuals, which does not violate insurance contracts. While Natera has such a program, most of its discounting is to patients who don't demonstrate need, according to a former employee familiar with its billing practices. One patient openly acknowledged having a combined household income of over $1 million, yet still worked to get the lower rate.
Natera's Failure to Tell Insurance Companies About Patients Opting for the Lower Cash Pay Option Raised Billing Concerns Inside and Outside of the Company About Potential Insurance Fraud
Eventually, Natera's Billing Department Was Outsourced
This reworking of patient bills was a concern both inside and outside of Natera.
An OBGYN with extensive experience – who was otherwise a strident advocate for patient access to genetic testing when we spoke to them – indicated they no longer worked with Natera specifically, in part because of ethical concerns relating to the company's billing practices. They told us:
"That concerns me ethically. They bill insurance, the patient has a high deductible, and then the company turns around says: Oh well, we'll eat half your deductible for you.'"
"It's not necessarily legal to bill insurance and then turn around and offer through the back door a cash price."
Natera employees also raised questions about this process, as it appeared that insurance companies were covering their portion of a bill while patients were covering far less than they were contracted to cover.
Around early 2019, under the new leadership of CEO Steve Chapman, Natera quietly outsourced its billing department, according to a former employee.
Another former employee said they believed the billing department was outsourced to Guatemala.
This is corroborated by a Worker Adjustment and Retraining Notice (WARN) that Natera filed with the state of Texas on March 1, 2019, indicating that it had laid off 92 employees.

Sales Reps Were Then Put in Charge of Reverting Patient Insurance Bills to Cash Pay: "I'm Like a Wizard", "I Take Them Back in Time"
After the billing department was outsourced, salespeople began to play an even bigger role in settling billing disputes with patients, according to a former employee:
"What they've decided to do now is have all of the clinic sales reps handle almost all of the billing now…They're responsible for relaying the messages on billing. They're responsible if there's any billing issues with the patient or the doctor's office to work internally with Natera."
A nurse working for a large OBGYN practice in New York that uses Natera's testing confirmed that the sale rep was their primary point of contact for billing issues:
"If somebody has a problem with insurance, they come back to us and then we get them in touch with the person who's our sales rep. The first contact person would be the sales rep."
A former sales rep confirmed that it was a big part of his job to fix problem bills by giving patients who weren't happy with their insurance coverage the opportunity to take the cash pay rate instead: "That's what I'm here for."
He explained that he helped patients reverse their decisions regarding insurance:
"This is basically like going back in time on the decision tree, all the way to the front where they asked (the patient), 'Do you want go through insurance or cash pay?' And, so, I'm like a wizard that goes back and I take them back in time and instead of selecting insurance we select cash pay."
Sales Reps Also Routinely Discounted Patient Deductibles, According to A Former Employee Interview
Former Natera Employee Describing Surreptitious Deductible Discounts: "I'm Not Certain That's Technically Illegal?"
It seems that sales reps also participate in the practice. A former employee told us that they were frequently privy to conversations between salespeople and irate customers and those conversations often ended in reassurances that indicated the cash pay was being treated like a reduced deductible:
"There have been some weird conversations like, 'Hey, it could still potentially go towards your deductible even if you just pay the $249.'"
The ex-employee continued:
"I don't know if it's necessarily illegal. I just don't think that's well defined and it's kind of like – 'just don't worry; you're going have $700 towards your deductible, and we'll call it a day. We'll send you a bill for a discounted cash price and we'll do $249 for us.' I'm not certain that's technically illegal?"
This backfilling of options, coupled with a lack of communication to payors, raises major ethical and legal concerns.
PART IV: Regulators & Litigators Have Taken Notice
Regulators have already begun to take notice of Natera's billing practices.
As noted earlier, Natera paid $11 million in 2018 as part of a DoJ settlement over allegations of submitting "fraudulent medical claims" for its Panorama NIPT. Those allegations included repeated references to "optional panels that screened for microdeletion syndromes".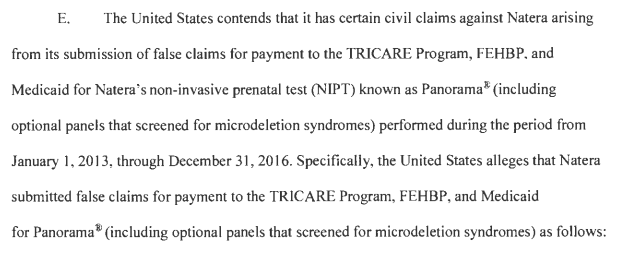 It seems that, despite the settlement, Natera has simply shifted its questionable sales and billing practices into the private market.
And beyond settled litigation, it seems state Attorneys General and private litigants have also taken notice.
Michigan Attorney General Cites "An Open and Ongoing Department Investigation" When Asked for Documents About Natera's Billing Practices
We submitted FOIA requests to multiple states about potential investigations into Natera. As of this writing, none answered except Michigan.
The Michigan's Department of Attorney General declined Hindenburg's request on the grounds that "the request seeks information related to an open and ongoing Department investigation."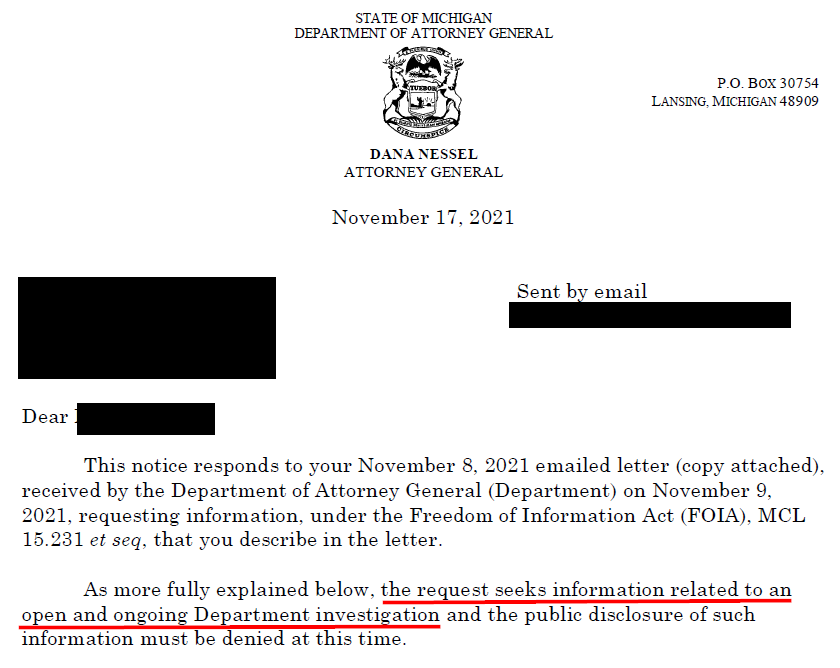 We saw no disclosure of this investigation in Natera's filings and it is unclear whether Natera has been made aware of this or any other state investigations.
A New Class Action Lawsuit Filed in November 2021 Alleges "Patients Across the Country Are Being Harassed By Natera's Deceptive And Fraudulent Billing Practices"
On November 18, 2021, a class action lawsuit was filed in the Northern District of California against Natera alleging illegal and deceptive business practices. It raised the issue of seemingly false promises in Natera's marketing literature that patients would pay no more than $249 for its screens.
The lawsuit alleges that:
"Thousands of women have ended up with bills from Natera running into thousands of dollars, leaving them shocked, angry, and stressed because they had no idea they were signing up for such an expensive service."
The plaintiff alleges that when she was pregnant with her second child, she agreed to take the Panorama test at her doctor's recommendation after her doctor's assurance that the test would cost no more than "a couple hundred dollars" only to be sent a much higher series of bills.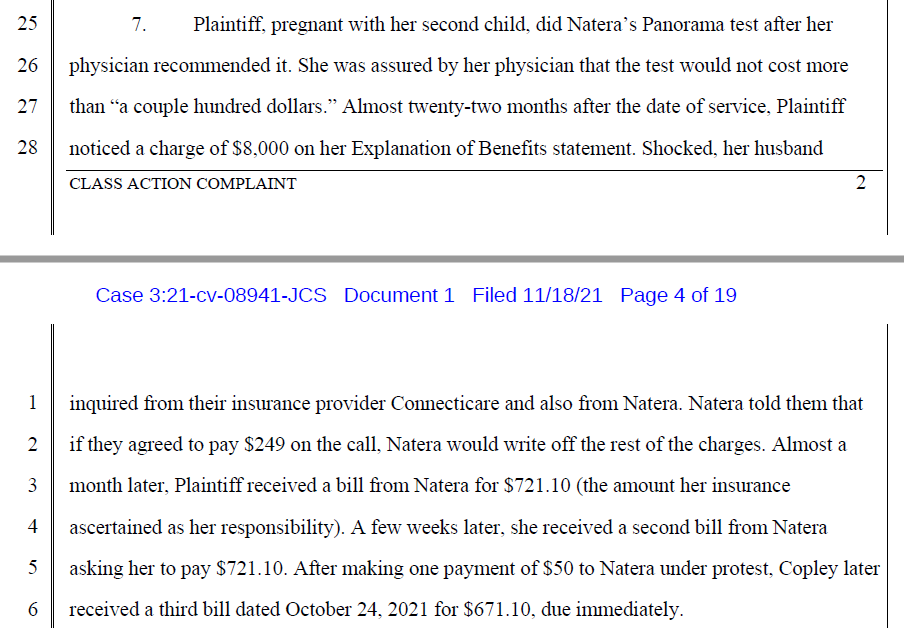 The lawsuit further alleges:
"By employing a marketing and billing policy that is erratic and designed to deceive, Natera misleads thousands of pregnant or trying-to-conceive patients by failing to accurately disseminate crucial price information to patients and making false and/or misleading statements in marketing materials."
D.C. Watchdogs Take Notice, Call For SEC Investigation Into Natera
In January 2022, The Campaign for Accountability, a non-profit ethics watchdog group headquartered in Washington, D.C., wrote a letter to U.S. Securities and Exchange Commission Chair Gary Gensler urging him to investigate whether Natera had "misled investors in violation of the Securities Act of 1934".
The group cited the January 2022 New York Times report, questioning whether Natera failed in its disclosure requirements regarding the prevalence of false positives with its tests. The letter accused the company of "disingenuously touting the accuracy of its NIPT to investors".
CfA Executive Director Michelle Kuppersmith said in an attached press release:
"Natera repeatedly claimed – in marketing materials and earnings calls – that these tests are much more reliable than it appears they really are. Investors, insurers, and patients all have been injured by the company's deceptive marketing."
Conclusion: Pioneers In Deceptive Billing
Our findings indicate that Natera has engaged in a grab bag of deceptive billing practices on its quest to satisfy its shareholders' desires for ever-increasing revenue.
The company's approach to revenue growth seems to be reliant on deceiving insurance companies and terrorizing expectant mothers with sticker-shock bills and aggressive collection practices.
None of these tactics seem to alter the underlying reality: Natera's tests just don't add much value to the health industry ecosystem relative to competitors. Its NIPTs are marginally better than the competition, and its microdeletion screens regularly result in more harm than good.
Payors don't want to reimburse for screens that aren't medically necessary, but rather than working within this reality, Natera has used the murky world of medical billing to apply a behind-the-scenes "do whatever it takes" approach to keep its short-term numbers rosy.
Despite pushing questionable methods for generating revenue, none of the company's efforts have resulted in profitability. As a result, unless the company discovers new groundbreaking IP through its R&D efforts, we expect shareholders will be left to suffer the consequences of the company's predatory methods as both losses and repercussions mount.
Update 3/11: Natera—Pioneers in Avoiding Talking About Deceptive Medical Billing
Following our March 9th report entitled "Natera: Pioneers In Deceptive Medical Billing", the company responded with a brief press release. The company also held an investor call on March 10th at 7am, hosted by Steve Chapman, Natera's CEO.
The company opened its press release by stating that our report was "an attempt to make a quick profit by short sellers Hindenburg Research, who are currently under criminal investigation by the Department of Justice for illegal trading tactics."
That allegation was false, and the company has since removed it from its original press release after we sent a cease and desist letter.
The company's investor call artfully ignored many of the major issues raised in our report, set up then assailed multiple straw-men arguments, and dodged key questions during the question and answer. Notably, the company also made several key admissions.
For example, Natera acknowledged that it unbundles its microdeletion screen from its main Panorama screen, setting up the prospect of billing both patients and insurers for the same overall test. We view this as important, given how much of the resultant billing chaos seems to result from that decision.
Natera CEO Chapman: "The prior authorization process can delay access to treatments…This administrative hurdle has been identified as a major issue in the healthcare industry that impacts patient access to care."
Our report detailed substantial issues relating to circumvention of payor requirements. Chapman led the call with a missive about his frustration with the prior authorization process, potentially attempting to justify the company's efforts to circumvent or undermine the insurance-initiated process.
Chapman decried prior authorizations as a major issue that has limited patient access to care, which, of course, has also resulted in challenges for Natera in its efforts to bill for that patient care and generate additional revenue. This is precisely a key issue we raised.
Natera CEO Chapman: "The report makes an allegation that one of our former employees who left in 2019 had a personal relationship with a senior member of MGML. To my knowledge, we do not know whether or not that is true."
As seen above, we included photos of Natera's former VP of Sales taking trips with the President of MGML. We presented property records detailing extensive financial dealings between the two. Chapman's response seemed to embrace a willful blindness to the obvious, which we find telling.
Natera CEO Chapman: "MGML performed prior authorization services on roughly 11% of our volume in 2021 and we estimate less than 7% of our volumes going forward in 2022…We estimate that we make up approximately 25% of MGML's historical volume"
On the issue of the magnitude of Natera's relationship with MGML, Natera focused its response on the 2021-2022 timeframe. This is despite our report calling into question MGML's role dating back to its formation in 2018.
According to multiple interviews with people familiar with MGML's operations, it was almost entirely focused on prior authorizations for Natera screens.
In the Q&A section of the call, an analyst from BTIG noticed this discrepancy, asking: "…appreciate the 11% in 2021. Is it safe to say that it was higher than that in 2020 and in 2019?"
Chapman failed to answer this question and didn't provide corresponding percentages for the years prior to 2021, instead choosing to comment on the volume of prior authorizations, noting that it was "very very low" compared to 2021 volume. He then encouraged a re-emphasis on 2021-2022.
The lack of disclosure around prior numbers relative to its overall business is, we believe, telling. The company likely has these number at-hand and the opacity in Chapman's answers indicates to us that the company's relationship with MGML may have been closer than the company wishes to acknowledge.
In addition to the lack of disclosure surrounding those earlier years, it is unclear from Chapman's answer whether he is citing percentages (a) for all tests, even for those where prior authorizations weren't submitted or required; and (b) whether he is referring to MGML submitting prior authorizations directly on behalf of Natera, or whether it included practitioners who submit PAs for Natera tests through MGML.
As noted in our report, The Capitol Forum began reporting on the relationship between Natera and MGML in July 2020. Given Chapman's answer, we suspect efforts were made by the company to begin to wean itself from the entity around the time of its original exposure. It remains to be fully understood how that process is going.
Natera CEO Chapman: "The report also went on to say that gender testing is Natera's main selling point." The claim is "wildly inaccurate".
One reason we believe that Natera's popular Panorama screening remains subject to prior authorization by insurers is that Natera offers an extraordinarily expensive test that risks being over-ordered based on the medically unnecessary feature of revealing a gender earlier than traditional methods.
Chapman disagreed, even though our assertions were based on interviews with members of his former salesforce and staff.
Additionally, despite his denials, Natera seems to fully understand that customers are focused on identifying gender. In a sales presentation dated 2021, Natera dedicated an entire slide to its NIPT "Gender Sender", a feature that allows a 3rd party to receive the sex of a child so that a "surprise reveal can be planned".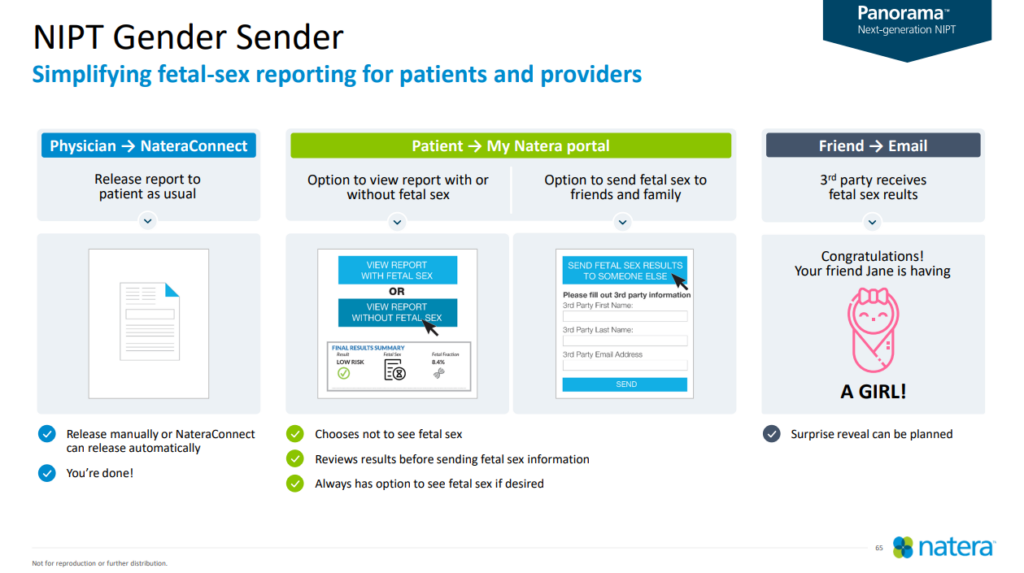 It should be no surprise to the company that Natera's sales efforts focused on gender reveal features were successful.
Natera CEO Chapman: "We work with many prior auth providers. This is commonplace in the industry. They're one of the groups that we work with."
Chapman deflected questions about MGML by insisting that it was similar to many prior authorization companies operating in the space. We beg to differ. How many prior authorization companies are operated by an individual who uses a pseudonym to sign off on contracts? Or were established by someone with a close, undisclosed relationship to a key company employee?
Having recategorized prior authorization as a key business risk in its third-quarter 2017 10-Q, it seems logical that choosing a prior authorization vendor would have been a vital decision.
Instead of choosing a well-known provider of the "many" Chapman refers to, Natera contracted with a newly-formed 'non-profit' run by a woman with no discernible background in U.S. healthcare management or administration – and ties to a former Natera employee.
Similarly, our investigation revealed that best practices for prior authorization companies are to analyze each prior authorization request and assign the proper CPT code. Natera, in contrast, uploaded tests to MGML for prior authorization with the CPT codes already assigned through a Google Docs spreadsheet, according to people we interviewed familiar with MGML's operations. Chapman made no effort to address these issues.
Natera CEO Chapman: "If the patient is determined to have a co-payment or deductible, we will bill the patient for their out-of-pocket responsibility"
Chapman raised another straw man argument in his comments about insurance deductibles. Our report highlighted how Natera bills deductibles, but often doesn't collect them, and simply doesn't tell the payor, according to multiple former employees. Rather than address this critical issue, Chapman focuses on how the company does in fact bill for the deductible, attacking an allegation that was never made.
Natera CEO Chapman: "Our requisition form was designed with expert physician input to accommodate demand for the addition of the single 22q microdeletion"
Our report noted that Natera's requisition forms require physicians to specifically opt-out of its controversial microdeletion screens, in contravention of industry guidance. It then fails to make providers clearly aware of the potential extreme added cost (as much as $4,100.)
The practice has resulted in microdeletion screening being added to 75%-80% of its standard NIPTs, with patients and practitioners likely both unaware of the implications.
Chapman made no serious effort to refute this, simply defending the practice as being guided by experts, and claimed that the 75%-80% attach rates served as proof of "demand" rather than the result of tricky sales practices.
Natera CEO Chapman: Hindenburg mischaracterized an OIG guidance opinion
Chapman further attempted to discredit questions about MGML by citing the OIG guidance described in our report. In doing so, Chapman deeply mischaracterized our description of that opinion as a prohibition on labs offering prior authorization services.
The HHS OIG opinion detailed ways in which a third-party prior authorization firm operated that, in the government's opinion, shielded itself from kickback allegations.
Unfortunately for Natera, MGML's operations are a far cry from those the company described in the OIG opinion; most notably, it fails miserably on the key issue of transparency.
Chapman again attacked a straw-man argument rather than the guidance and the issue at hand: the lack of transparency regarding MGML and its relationship with Natera.
Sometimes what is left unsaid speaks the loudest: questions dodged and key issues ignored
We think Chapman largely avoided an important opportunity to address the many documented concerns our report raised.
For example, several key analyst questions in the Q&A portion of the call went completely unanswered:
Analyst question: "There was also an allegation…the purpose of prior authorization is to do it before the test is ordered or the blood is drawn? It seems like that the report suggests a lot of these are done after the blood is drawn?"
Chapman: No answer
2. Analyst question: "Out of the kind of Natera prior authorizations that are performed by MGML, what portion of those are denied or ultimately approved and how does that compare to the other like third-party prior auth companies out there"?
Chapman: No answer
Beyond the questions asked, other key questions went entirely unaddressed:
How does Natera get paid for microdeletion screening when it's not covered by payors? In other words, will Natera confirm that it bills women in cash separately for microdeletion screening? And if so, in what way does Natera clearly disclose this to practitioners and customers?
Why does Natera have so many complaints alleging that the company withholds billing information from customers that would make the unbundling of Panorama and microdeletion testing obvious?
Does Natera always retract insurance claims once patients retroactively opt for the "cash pay" option?
Beyond the Michigan AG investigation revealed in our report, is Natera is aware of any regulatory probes or investigations not already explicitly mentioned in its SEC filings?
Does Natera send billing codes to MGML, or do the practitioners enter the coding information? What other information does Natera provide to MGML?
Does MGML make clear in its prior authorization submissions that it is acting as a third party rather than posing as practitioners?
Why was MGML was ever considered a charity, given that it seems to have always operated with a for-profit purpose?
Disclosure: We are short shares of Natera, Inc. (NASDAQ:NTRA)
Legal Disclaimer
Use of Hindenburg Research's research is at your own risk. In no event should Hindenburg Research or any affiliated party be liable for any direct or indirect trading losses caused by any information in this report. You further agree to do your own research and due diligence, consult your own financial, legal, and tax advisors before making any investment decision with respect to transacting in any securities covered herein. You should assume that as of the publication date of any short-biased report or letter, Hindenburg Research (possibly along with or through our members, partners, affiliates, employees, and/or consultants) along with our clients and/or investors has a short position in all stocks (and/or options of the stock) covered herein, and therefore stands to realize significant gains in the event that the price of any stock covered herein declines. Following publication of any report or letter, we intend to continue transacting in the securities covered herein, and we may be long, short, or neutral at any time hereafter regardless of our initial recommendation, conclusions, or opinions. This is not an offer to sell or a solicitation of an offer to buy any security, nor shall any security be offered or sold to any person, in any jurisdiction in which such offer would be unlawful under the securities laws of such jurisdiction. Hindenburg Research is not registered as an investment advisor in the United States or have similar registration in any other jurisdiction. To the best of our ability and belief, all information contained herein is accurate and reliable, and has been obtained from public sources we believe to be accurate and reliable, and who are not insiders or connected persons of the stock covered herein or who may otherwise owe any fiduciary duty or duty of confidentiality to the issuer. However, such information is presented "as is," without warranty of any kind – whether express or implied. Hindenburg Research makes no representation, express or implied, as to the accuracy, timeliness, or completeness of any such information or with regard to the results to be obtained from its use. All expressions of opinion are subject to change without notice, and Hindenburg Research does not undertake to update or supplement this report or any of the information contained herein.
---
[1] Per Natera's website: "Babies with triploidy have a complete extra set of chromosomes for a total of 69 chromosomes instead of the usual 46. At 10 weeks gestation, one in 1,000 pregnancies is affected by triploidy. It is extremely rare for these pregnancies to reach term as they typically spontaneously miscarry early in pregnancy…"
[2] Note that some payors permit a grace period after a procedure, but the norm is that prior authorizations come prior. Natera's own risk factor in its SEC filings acknowledges this: "Third-party payers are increasingly requiring that prior authorization be obtained prior to conducting genetic testing as a condition to reimbursing for it, which may reduce or delay the reimbursement amounts we receive for Panorama or our other tests." [Pg. 46]
[3] Natera often touts the high accuracy of its microdeletion tests as a counterargument to the issue of false positives. But if a test is 99.9% accurate (i.e., 1 out of 1,000 is incorrect) and is testing for a genetic condition found in 1 out of 10,000 cases, there would still be 9 false positives for every actual positive. For this reason, screening for very rare conditions through microdeletions is likely to result in (a) overwhelmingly negative test results, and (b) extraordinarily high rates of false positives among the few positive test results.
[4] $8,000, minus $394.71 in insurance paid, minus $7,251 in "adjustments" – displayed on the bill ledger, leaves a $354.29 balance