Standard Lithium is a zero-revenue mining company that uplisted to the NYSE in July 2021 with a fantastic-sounding story of being a first mover in direct-lithium-extraction (DLE), a technology that aims to revolutionize lithium mining.
Standard's CEO Robert Mintak has been involved with at least 9 publicly traded companies. On average, shares of these companies have fallen ~97%. Of the 9 companies, 5 have been delisted, several have faced regulatory scrutiny, none operate profitably, and at least 8 used paid stock promotion.
Robert Mintak's role immediately prior to Standard Lithium was as CEO of Pure Energy Minerals, another lithium company that, like Standard Lithium, touted proprietary DLE technology. Pure Energy used extensive stock promotion but failed to commercialize DLE. Its stock crashed ~98%, with executives moving on to Standard Lithium.
Standard Lithium's CEO, COO, Chairman, and VP of Exploration all came from Pure Energy Minerals. We show that Standard's executives and board also have ties to companies whose stocks spiked on the back of paid stock promotion before ultimately plummeting.
Mintak previously worked at a 3-person stock promotion firm based out of a Regus rental office. His partner at the firm is currently facing a B.C. Securities Commission investigation into allegations of undisclosed stock promotion at a different failed lithium mining company.
Standard Lithium appears to us to be a regurgitation of Mintak's prior company, Pure Energy Minerals, using the same Vancouver stock playbook as Mintak's numerous other failed ventures.
Standard Lithium has used a vast network of 15+ stock promotion outfits. Since going public, the company has spent over C$5 million on "advertising and investor relations" compared to about C$1.7 million on R&D. In fiscal 2021, its R&D budget dropped to zero.
Around the time of the Standard Lithium's reverse merger to go public in 2016, it executed 2 opaque land deals resulting in almost 21 million shares (worth ~$152 million today) going to unnamed beneficiaries.
Both land deals appear to have been undisclosed related party transactions. The first was with a newly formed entity based at the same address as Standard's merger partner. The former President of Standard's merger partner, associated with the deal, was later charged by the SEC over allegations of helping insiders secretly dump large quantities of stock in at least 45 companies through the use of opaque entities.
The second land deal was with a newly formed entity incorporated by the law firm of a then-Standard Lithium director. The now-former director was later suspended from practicing law for 2 months for misappropriating client funds and is reportedly subject to a "broad" B.C. Law Society investigation into "entities and individuals who were apparently involved in market manipulations".
Robert Mintak's prior company, Pure Energy Minerals, also executed a questionable land option deal through the same firm that vended the questionable land option deal to Standard Lithium.
Standard claims its proprietary "LiSTR" technology differentiates it from other lithium hopefuls. LiSTR is based on three patent applications it purchased in 2018 from an apparent one-man engineering shop. Two of the applications have already been rejected as "unpatentable" by the USPTO.
Standard's flagship project has been delayed by nearly 18 months with key partner Lanxess recently admitting that Standard's extraction technology has still not demonstrated "proof of concept". Lanxess says it has "no timeline" for development and is no longer mentioning Standard Lithium on its earnings calls.
Even now, the pilot plant appears to be operating at a fraction of its boilerplate capacity, according to data we reviewed through FOIA. Standard's technology solution seems to be struggling out of the gate.
Another Standard partner and shareholder, TETRA Technologies, has sold ~90% of its stock.
A subsidiary of Koch Industries, which starting last year has been aggressively investing in SPACs, PIPEs, and ESG-oriented "growth equity" investments recently stepped in as a partner with a $100 million investment. We think Koch missed red flags and failed in its due diligence in its haste to deploy capital.
Initial Disclosure: After extensive research, we have taken a short position in shares of Standard Lithium, Ltd. through its U.S. ticker (NYSE:SLI). This report represents our opinion, and we encourage every reader to do their own due diligence. Please see our full disclaimer at the bottom of the report.
Introduction: Selling Investors On The Potential To Revolutionize A Rapidly Growing Lithium Industry
Lithium has long been an important metal, but of late has become particularly exciting due to the global shift to electric vehicles. The Department of Energy estimates the global lithium-based battery market could grow 5x to 10x by 2030.
The U.S. currently accounts for around just 1% of world lithium production in an industry dominated by Australia, Chile and China.
In the National Blueprint for Lithium Batteries 2021-2030, U.S. Energy Secretary Jennifer Granholm said:
"Establishing a domestic supply chain for lithium-based batteries requires a national commitment to both solving breakthrough scientific challenges for new materials and developing a manufacturing base that meets the demands of the growing electric vehicle (EV) and stationary grid storage markets."
Against this backdrop, extraction company Standard Lithium has promised to be the answer. Despite having no revenue, unproven technology, and a team stacked with seasoned stock promoters, the company uplisted from the OTC to the NYSE in July 2021 and has ridden EV-fueled hype to a ~$1.2 billion market cap.

This meteoric rise in share price has been driven by Standard Lithium's claim to be a first mover in a revolutionary technology called "direct-lithium-extraction", or DLE.
At present the vast majority of lithium extracted from mineral-rich brines passes through evaporation ponds, but the process can take months and requires large amounts of land.
Standard Lithium's DLE process, on the other hand, claims to allow the company to extract lithium in hours instead of months, all while using far less land and minimizing its environmental footprint.
The key to Standard's project is its "LiSTR" extraction process, which CEO Robert Mintak has emphasized is of utmost importance:
"… the LiSTR direct extraction technology is the key… there would be no project without the extractive technology."
Standard Lithium claims its Arkansas project is the "largest and most advanced" lithium brine project in the U.S. If successful, the company says the commercial scale-up of its technology in Arkansas could make it a "global showcase" for the industry.
The bold claims have landed the company partnerships from industry stalwart Lanxess (a spin-off of Bayer), as well as a recent $100 million investment from a subsidiary of Koch Industries, one of the most well-known U.S. industrial conglomerates.
Reality Check: DLE Technology Has Been Around For 50 Years And Profitability Remains Elusive
SLI is hardly the first player in lithium to stumble upon DLE. As early as the 1970s, top industrial companies like DOW were filing patents around direct-lithium-extraction. Although DLE never reached commercial scale in the 1970s, that hasn't stopped dozens of well-capitalized companies from attempting to figure it out in recent years.
As one example, Albemarle, is a $27B market-cap lithium powerhouse and one of the largest lithium producers in the world. Back in 2011, Albemarle announced it would produce lithium via a DLE process in Arkansas – close to Standard Lithium´s current pilot plant — and aimed to be in commercial production by 2013.[1]
But Albemarle shelved that project and has struggled to make DLE economical, with lithium division President Eric Norris saying in August 2021:
"It's more capital intensive and actually consumes a lot more water and energy…" – Eric Norris, President of Lithium Division, Albemarle Corporation
U.S.-headquartered Livent, a major global lithium producer, claims it is the "only lithium producer in the world with a successful, multi-decade track record of using a DLE technology process on a commercial scale." It purchased Dow DLE patents in the 1990s and is uses DLE at its high lithium content deposits in Argentina; not in much lower-content deposits in the U.S. [Pg. 21]
Others have found success elusive, and not for lack of trying. JadeCove Partners, consultants to the U.S. government's National Renewable Energy Laboratory (NREL), says it is tracking 73 DLE projects under development globally, including in the U.S.
Dr. John Burba worked with Dow and FMC on the development of DLE since the 1980s. And with more than 70 patents to his name, he´s sometimes dubbed the "godfather of lithium". In a presentation for his DLE start-up International Battery Metals, Burba writes:
"Over the last decade, there has been a lot of hype and excitement over new and novel technologies that will solve this problem. Unfortunately, most of these technologies will never be commercial. Designing a process to selectively extract lithium from complex saturated brines is stunningly difficult. Designing one that can be profitable is much more difficult. Most of these projects are either reworks of old ideas that were tried and failed in the 1980s or new concepts with marginal operational bases. What works in the lab does not always work at scale."
Ed Andersen, President of Tru Group, an engineering consultancy with expertise in lithium extraction, estimates there are currently over 150 lithium brine projects in the U.S., but he says most are doomed to failure:
"There has been only one successful new plant start-up since the lithium push began in 2009 and a number of complete failures. There have been about 100 attempts by mining juniors to get into lithium production – but nearly all have not met promised targets and most demonstrated minimal progress."
As recently as December 2021, he said:
"We don't have a direct extraction technology that, to my mind, is anywhere near commercialization."
Although many have failed before, Standard Lithium has led the market to believe it will be the company to figure out profitable DLE.
CEO Robert Mintak claimed on CNBC that Standard Lithium has the "technology to unlock" the "globally significant" lithium brine resource in Arkansas.
Part I: Standard's Intellectual Property
Standard Lithium's "Key" Intellectual Property Consists of 3 Patent Applications Developed By An Apparent One-Man Engineering Firm
Standard Lithium describes its pilot facility as "utilizing proprietary advanced processing technologies". Its supposedly game-changing extraction process is described as "cutting-edge LiSTR direct lithium extraction technology".
LiSTR stands for Lithium Stirred Tank Reactor, a common piece of equipment used in chemical processing.
We reviewed Standard's intellectual property portfolio and found it solely consisted of three patent applications that the company purchased in 2018. These form the basis of Standard´s ion exchange DLE process.[2]
Given the grand claims of having discovered breakthrough technology, one might expect the company's IP to be developed by a multinational technology firm or a major university. Instead, we found that Standard's 3 applications were developed by Craig Brown, the owner of a small engineering firm called Chemionex. [Pg. 14]
Chemionex lists just one employee on LinkedIn, which is Brown himself. Its website makes no mention of any other employees.

Chemionex operates out of a small building between a gas station and a U-Haul drop off in a residential area north of Toronto, according to Google.

We visited the site last month and found it to be a modest lab in the basement floor of the building.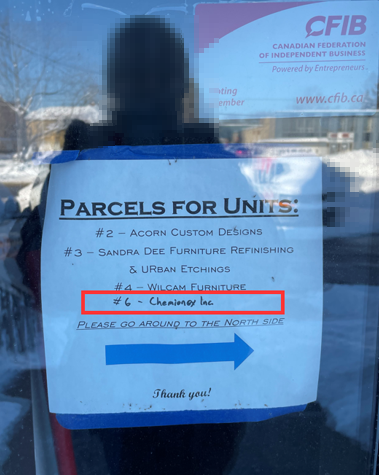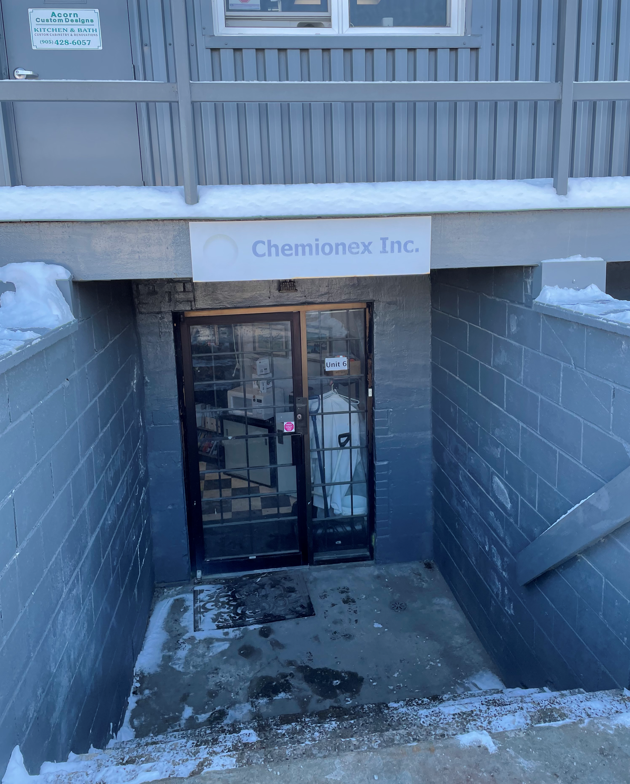 The United States Patent and Trademark Office (USPTO) Has Reviewed 2 Of Standard's 3 Patent Applications And Rejected Both Thus Far
None of Standard Lithium's 3 patent applications developed by Brown have actually been granted by the USPTO.
Of the 3, one hasn't been reviewed yet.[3] The other two have been deemed "unpatentable" by the USPTO examiner.
Patent application 16/224,463 received a final rejection on August 23, 2021. The USPTO examiner rejected all 30 claims, citing several other patents that already described similar processes. [Pg. 3]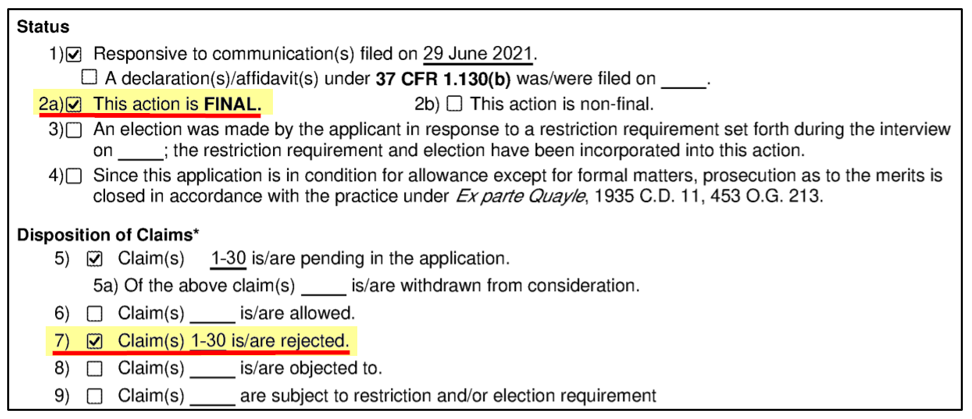 Note that (somewhat counterintuitively) a "final" rejection isn't truly final and can be appealed, but bodes poorly as to whether Standard has stumbled onto something new and revolutionary.
The second patent application (16/410,523) received a final rejection on December 23rd, 2021, with the patent examiner again rejecting every single claim, citing previous inventions that already described similar processes. [Pg. 3]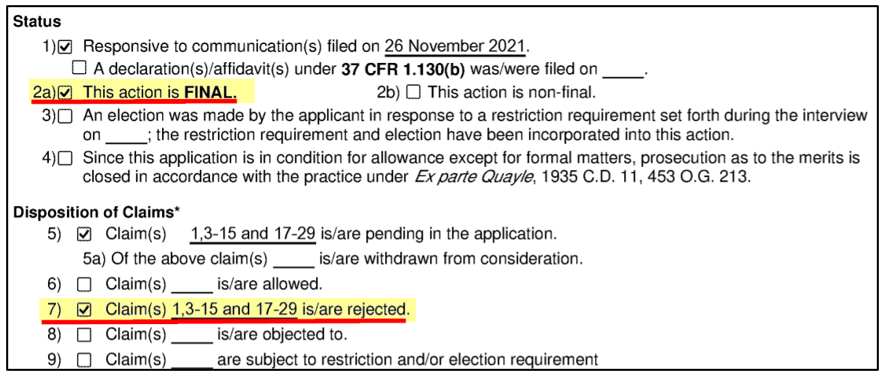 Industry Experts Weigh In On Standard's Process: "No Unique Proprietary Steps" And It Will Be "Stunningly Expensive"
In both of these rejections, the examiner cited a patent developed by Chris Reed, the CEO of Neometals, an Australian mineral extraction company. In reading Reed's patent, it is clear to us why the USPTO rejected two of Standard Lithium's applications, as they describe what appear to be nearly identical processes.
Both Standard and Reed describe using a titanium oxide adsorbent to extract lithium from brine. They also both describe a process to wash the adsorbent with hydrochloric acid to regenerate it for further use.
We asked Reed about the similarities. He commented that if Standard Lithium proceeds with its patent application, he can "surely challenge" given that there was "nothing novel in the patent of SLI".
Other veteran industry sources concur with the USPTO view that there is nothing new in Standard Lithium´s technology and that the process is already well understood by the mining industry.
One lithium veteran with about 35 years in the industry, now working in a U.S. DLE start-up, and who says they are familiar with the Standard Lithium process told us:
"There´s no black box going on with the Standard Lithium process. There´s no unique proprietary steps as far as I know… (Standard Lithium has) a cumbersome process compared to ours. We don't use chemicals to do the stripping. We don't use hydrochloric acid to strip the lithium and they do."
"They have to go through copious amounts of washing and things like that. They can be successful with their technology but I´m not sure they can stand up to what the future will bring as far as competition. Their process is more like a standard mining process. They're using semi-batch stir tanks and then filtration and washing and that kind of cumbersome solids-liquids separation and handling. It´s probably economic but I wouldn't call it ideal…It´s more intensive with respect to labor, equipment and upkeep."
Another industry expert, working at another DLE start-up and with decades of knowledge of ion exchange and selective adsorption DLE process said in a phone interview:
"(Standard Lithium) are…using the same adsorbents (that were) developed in the 90s…the patents ran out on that adsorbent and Standard Lithium ended up doing a deal with Lanxess."
"Just the way they do it you cannot separate the brine from the lithium in a very efficient way and they have to put in a lot of ion exchange purification on the back end…what they´re using to purify is chelating resins and that will be stunningly expensive and the acid and base costs will be through the roof."
He believes that if lithium prices drop back many DLE ventures will instantly become unprofitable:
"If lithium carbonate continues to sell at $47,000 per metric ton a lot of things can be commercial. If it drops back to $10,000 a ton then a lot of those things that are commercial will just get wiped out. The cost structure will just be too high."
With the USPTO stating that Standard's patent applications describe already-existing inventions, industry veterans saying there is nothing new in the "cutting-edge LiSTR" process and with a cemetery full of other failed DLE startups, we find Standard Lithium's claims of being a "first mover" in the technology to be highly questionable.
Despite Claims of Its Revolutionary Technology, Standard Lithium Has Spent About C$1.7 Million on R&D To Date
By Comparison It Has Spent Over C$5 Million On "Advertising and Investor Relations"
Most companies that claim to have revolutionary technology actually have robust R&D budgets allocated to actually developing the revolutionary technology.
Standard Lithium has invested virtually nothing in R&D, and instead has spent vastly more on "investor relations" services to communicate to investors about how great it's technology is.
Since inception, SLI has spent about C$1.7 million on R&D, with its R&D budget dropping to zero in the fiscal 2021 year. [Sources: '21, '20, '19, '18 pt. 2,3, '17, '16]
Part II: Standard Lithium's Founders And Executive Team—A 16-Year History of Paid Stock Promotion and Incineration of Shareholder Value
Background: CEO Robert Mintak Previously Worked at a 3-Person Stock Promotion Firm Based Out of A Regus Rental Office And Has Been Involved With Almost a Dozen Failed Publicly Traded Companies
Self-identifying as a "pioneer in the rapidly evolving lithium space," Robert Mintak is the CEO and face of Standard Lithium, spending much of his time doing interviews, attending conferences, and appearing on CNBC.
Mintak's LinkedIn profile sports a conspicuous 17-year gap between his university studies in film production, which ended in 1996, and the start of his work career in 2013. We pieced together his previous experience through Canadian and US public filings. From these filings, we found that Mintak has been involved with at least 9 failed publicly traded companies, as we detail later.
Additionally, as early as 2005, Robert Mintak served in a senior role at Seacove IR, an investor relations firm based out of a Regus rental office listing 3 employees.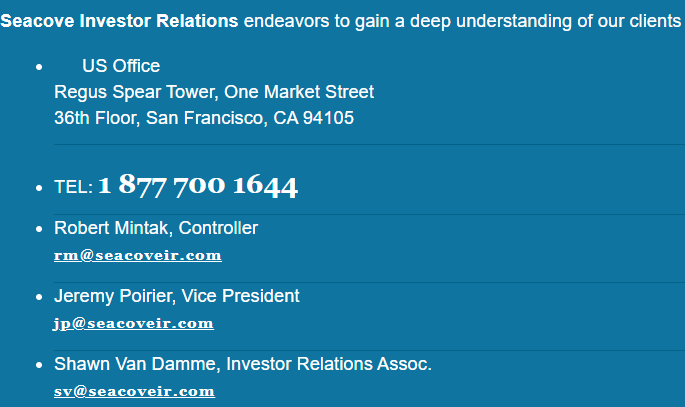 Mintak's Partner At His IR Firm is Currently Facing a B.C. Securities Commission Investigation Into Allegations of Undisclosed Stock Promotion At A Failed Lithium Mining Company
Mintak's Vice President of Seacove IR was Jeremy Poirier, a name that turns up in 5 other failed projects involving Robert Mintak, as discussed below. The B.C. Securities Commission is currently investigating Poirier for alleged undisclosed paid stock promotion relating to another failed Lithium project called Bearing Lithium Corp.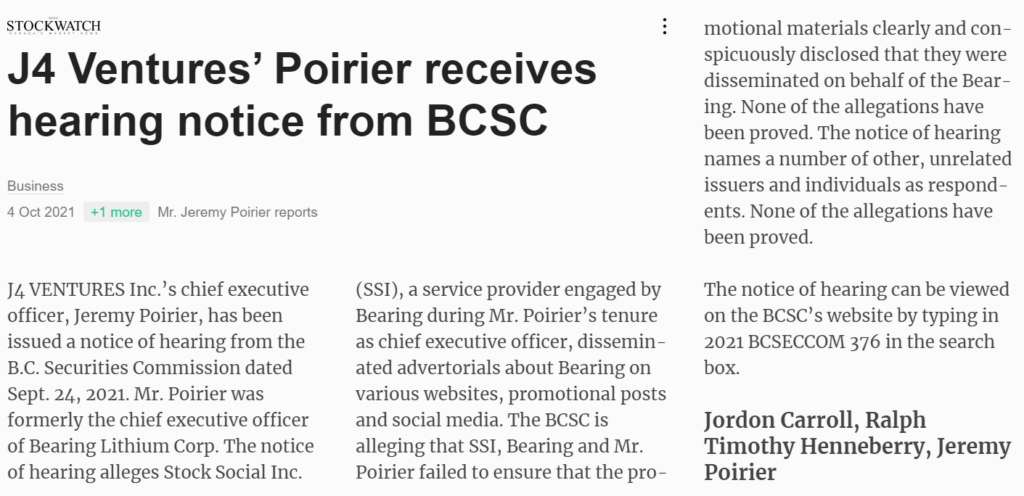 The two seem to be close, as evidenced by social media, where they appear at family gatherings together.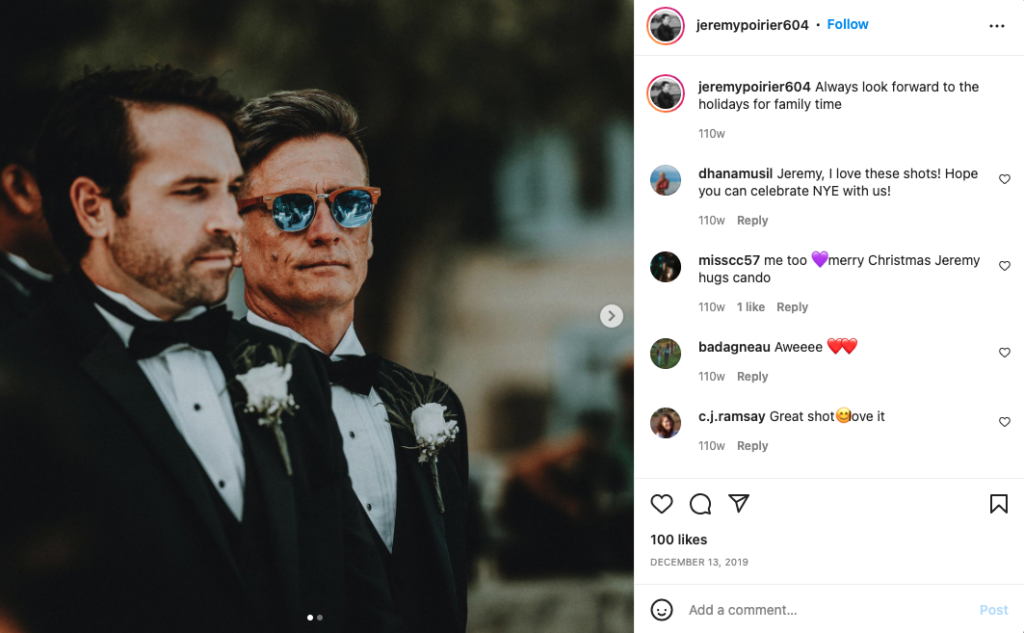 Jeremy Poirier is now the CEO of Golden Independence Mining, a heavily promoted pre-revenue junior mining company that is down nearly ~87% from its 2020 highs. It currently trades at ~$0.08 with a market cap of ~$5 million. Standard Lithium's CEO and co-founder, Robert Mintak, serves as a director of Golden Independence.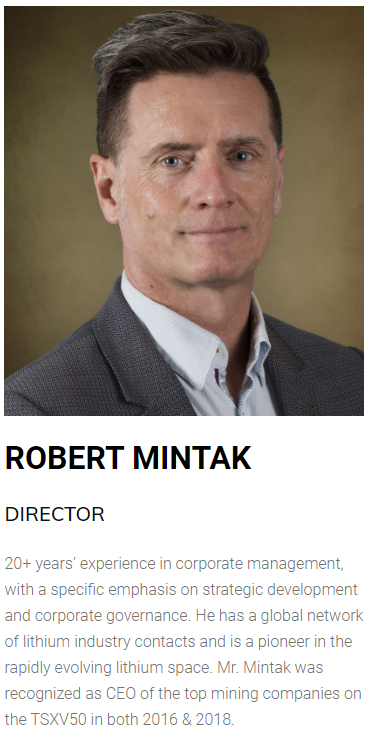 Many of Mintak's ventures, often involving Jeremy Poirier, saw meteoric rises in share price on the back of paid stock promotion, only to collapse just as quickly during major sell-offs. As we will demonstrate, several also came under regulatory scrutiny.
Mintak's Stock Promotion Track Record Example #1—2006: Environmental Control Corp's Stock Spiked ~868% Before Collapsing
It Was Dubbed "Another Outrageous Made-in-Vancouver Stock Promotion" By the Vancouver Sun
Environmental Control Corp aimed to develop emission control devices for gas engines. In late 2006 / early 2007, Seacove (Mintak and Poirier) listed EVCC as an investor relations client. EVCC press releases specifically listed Robert Mintak as its investor relations contact.
During this time, EVCC was featured in multiple paid promotions which led to an 868% increase in share price. One promoter claimed the company was set "to ride the global warming movement to the moon!"
Seacove claimed to not know the stock promoters, but the Vancouver Sun called EVCC "another outrageous made-in-Vancouver stock promotion" that was "mercilessly hyped by U.S. newsletter writers."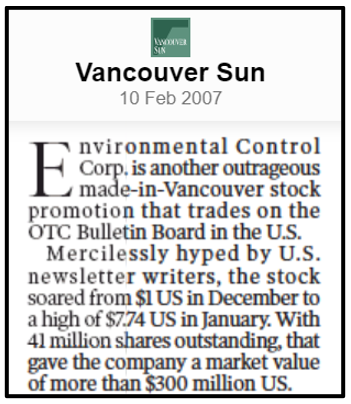 Environmental Control never produced revenue and the share price collapsed soon after the promotions ended. The company eventually reverse merged in 2021, becoming a SPAC, called "Yong Bai Chao New Retail (Shenzhen) Co." which is in search of a Chinese acquisition. It currently trades on the pink sheets at ~$0.03.

Mintak's Stock Promotion Track Record Example #2—2012: American Graphite Technologies Stock Spiked ~180% Before Collapsing
The Company's Key Executive Who Personally Hired Mintak Was Later Arrested And Pleaded Guilty to Criminal Charges Relating to An Attempt to Bribe Penny Stock Brokers
He Was Also Charged By The SEC Over Allegations of Manipulating Stocks With Promoters
Much like Standard Lithium, American Graphite was a mineral-exploration company that claimed to have acquired a patent application in a hot sector (graphene) related to a revolutionary manufacturing process. [Pg. 2]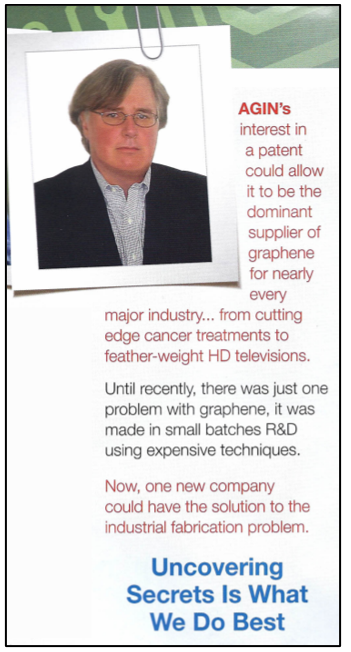 The company had no employees, but as of May 23, 2012, it had appointed Rick Walchuk to serve as President, Chief Executive Officer, Chief Financial Officer, Principal Accounting Officer, Treasurer, and director. [Pgs. F-6, 18] Two months later, in July 2012, the company hired Robert Mintak as a consultant.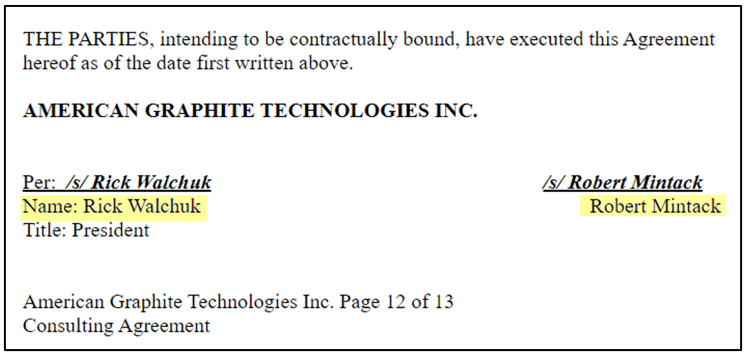 In March 2013, AGIN was featured in a $1.16 million paid stock promotion. The stock jumped 180% from its low, but declined by 95% over the next 18 months.The company never generated any revenue and eventually terminated its securities registration.
In September 2013, the SEC filed a complaint against Walchuk alleging he worked with a Canadian-based stock promoter to manipulate the market in 2 other stocks.
In May 2014, Rick Walchuk was arrested and later pleaded guilty to criminal allegations of attempting to bribe brokers in a penny stock manipulation scheme.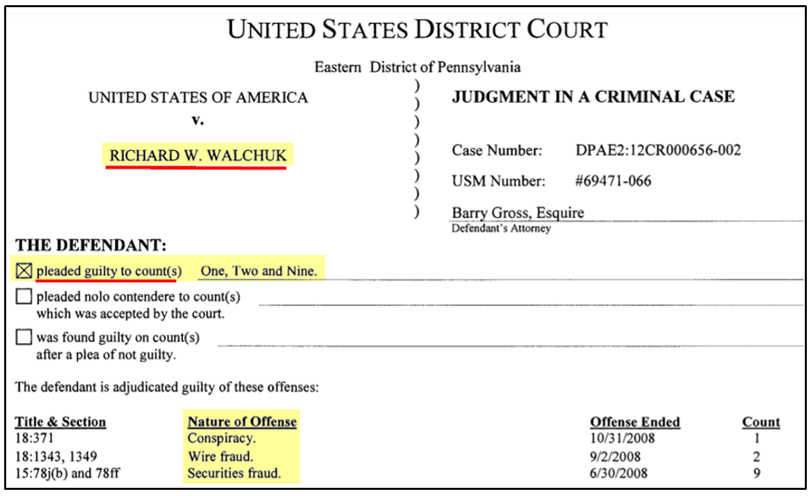 Mintak's Stock Promotion Track Record Example #3—2007-2012: Dussault Apparel Hired Mintak And His Partner to Handle Investor Relations
The Firm Imploded Following Extensive Promotion
Dussault Apparel went public in June 2007 via reverse merger with founder Jason Dussault aiming to build a high-end, True-Religion-esque fashion brand. The next month, Dussault brought on Robert Mintak as COO, with Mintak's partner Jeremy Poirier handling investor relations. Social media posts indicate that Jason Dussault and Jeremy Poirier were personally close.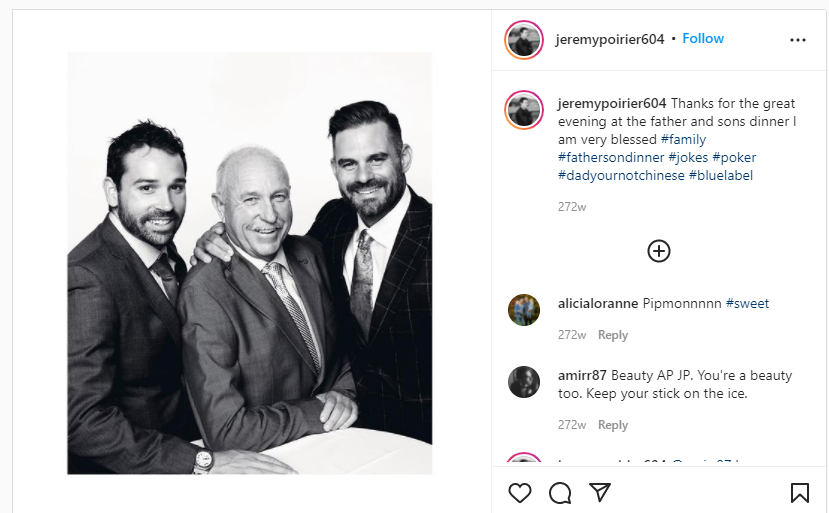 The company was featured in stock promotions like Aim High Profits and Penny Stock Dream.

At one point its trading volume increased to the point where the B.C. Securities Commission inquired about the company's unusual spikes in price and volume. While Dussault denied being aware of any promotional activity that may have caused the spike, both Jason Dussault and Robert Mintak resigned months later. The company entered into a reverse merger the following year, transforming into a mining exploration company. [Pg. 3]
Mintak's Next Promotion—2012: Pure Energy Minerals, A Virtual Carbon Copy of Standard Lithium
The Stock Spiked Over 3,400% During Extensive Promotion Before Eventually Cratering
Toward the end of 2012, as Dussault imploded, Pure Energy Minerals came public through a reverse-merger with Harmony Gold. Fashion designer Jason Dussault – former head of the failed apparel company – was now named CEO of this minerals venture in October 2012 despite having no apparent experience in lithium mining.
Robert Mintak and his investor relations partner Jeremy Poirier joined shortly after, with Mintak replacing Dussault as CEO in May 2013. Canadian business publication Stockwatch reported on this transition in unflattering terms:
"Mr. Mintak, CEO since last spring, claims an 'in-depth understanding' of the lithium industry, although much of his career was spent handling financial and investor relations duties for Dussault Apparel Inc., Environmental Control Corp (EVCC:$0.0085 (U.S.)), Seacove IR, and Norburn Lighting." [Source]
While Robert Mintak may not have had an in-depth understanding of lithium, he did have extensive experience in investor relations, which he appeared to put to work immediately at Pure Energy.
During Mintak's tenure, Pure Energy made a series of announcements that parallel Standard Lithium's eventual pitch of developing a DLE process that shortens lithium processing times.
In January 2015, Pure Energy touted its use of a proprietary DLE technology that was meant to advance its Nevada project. The verbiage and claims may sound familiar to current investors in Standard Lithium:
"This revolutionary 'total solution' combines lithium processing and recovery capabilities in an integrated process that eliminates the use of traditional large-scale evaporation ponds, resulting in a processing time of less than 12 hours with a remarkable 99% lithium recovery."
Later that year, the company announced a supply agreement with Tesla.

Riding the wave of the company-published PR, Pure Energy's stock price continued to rise, fueled further by paid stock promotion from outfits like GoldStockTrades.com, Swiss Resource Capital, and Epstein Research (which would later be hired as promoters of Standard Lithium).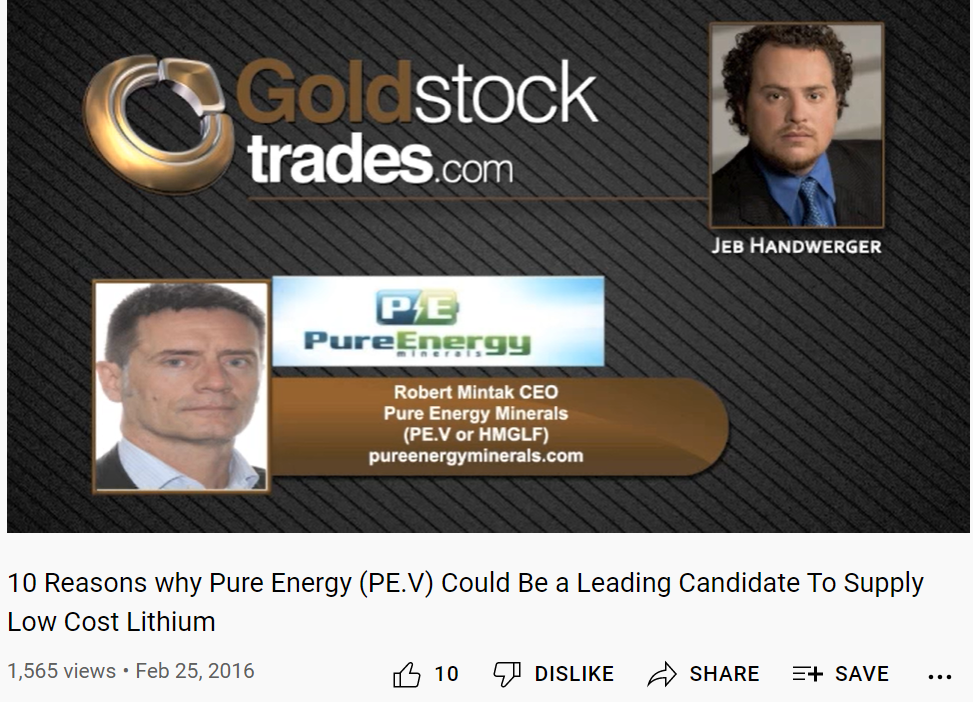 Many of these looked like news articles from unaffiliated third parties, but the fine print revealed that these articles were often paid for by Pure Energy Minerals or affiliates.
Promotion was very effective for Pure Energy. The stock rocketed 3,466%, from $0.12 in December of 2013 to $4.28 in April of 2016, despite no revenue and mounting losses.
Unsurprisingly, the company was never able to commercialize its "proprietary" DLE technology, and when the stock promotions ended, so did the pumped up stock price, which crashed by 95% over the next two years.

To date, nearly a decade after it was formed, Pure Energy has yet to sell any lithium.
We talked to geologist Ray Spanjers by phone. He worked with Mintak at Pure Energy before joining Standard Lithium as VP of exploration and development in late January 2017. He said of his fellow executives:
"Andy Robinson and Robert Mintak left Pure Energy and started Standard Lithium. Andy Robinson has a PhD in chemistry and he´s very intelligent. Robert Mintak is an excellent salesman and pitchman and is very good at it. He damn near got my underwear off me a couple of times."
We contacted a former employee of Pure Energy to ask about Robert Mintak's tenure. While they didn't directly allege wrongdoing, the insinuation was clear:
"Robert did not have a lot of public company experience. His formal training is in lighting (movie sets, interior design, etc…) I left Pure Energy to work with a world class team with world class assets … that understands US and Canadian securities laws, and it is a core value to be faithful to those laws."
We contacted a second former employee of Pure Energy and asked similar questions. He referenced the extensive stock promotion:
"Robert did not bring a skill set that I look for in a junior company CEO … Certainly, he did not have a lot of relevant experience … I remember the oilprice.com article that they paid a ridiculous amount for… god knows what else was going on behind the scenes."
We asked about Robert Mintak and Standard Lithium President/COO Andy Robinson's departure from Pure Energy.
"The way they departed Pure Energy was in my mind abrupt. Particularly, with some of the results. The drill holes that had been done were very high risk and not likely to succeed… Robert and others had promoted up the concept that they were going to have a huge positive impact… the loss of Robert could have been construed as a positive thing in many circles."
Please see Appendix A for a full list of Mintak-affiliated public companies we could identify, which are down ~97% from their respective highs, on average.
Standard Lithium Would Later Share Key Executives, Technology Claims And Even Similar Marketing Materials as Failed Pure Energy Minerals
The parallels between Standard Lithium and Pure Energy are striking.
Standard's current CEO/Director (Robert Mintak), Chairman (Robert Cross), COO (Andy Robinson), and former VP of Exploration (Ray Spanjers) all played key roles at Pure Energy Minerals.

Beyond executives, Pure Energy's objective was to develop an "enhanced lithium extraction process as an alternative to the conventional evaporation based technology."
This goal is plainly similar to that of Standard Lithium, which claims that its process may be an improvement to "conventional evaporation pond processes."
Pure Energy aimed to achieve its Lithium processing goals by developing "a new generation of highly selective ion exchange resins to separate metals from geothermal fluids more efficiently."[4]
Standard Lithium also claims to be focused on proprietary ion-exchange technology
"…the Company is pleased to announce that is has begun the first phase of test work on a new lithium-selective ion-exchange (IX) resin…"
Despite some differences in the processes, even the marketing materials from Standard Lithium and Pure Energy are strikingly similar.
Standard Lithium's "LisTR" Proc Pure Energy's "LiSX" Process

This all begs the question: If Standard Lithium executives know how to scale a profitable DLE process, why couldn't they execute this plan at Pure Energy Minerals?
The one main difference we found between Pure Energy and Standard Lithium is the astounding volume of promotional activity that is occurring at Standard. While Pure Energy utilized paid stock promotion, Standard Lithium has taken it to the next level.
Part III: Standard Lithium – Stock Promotion on Hyperdrive With Millions Paid to 15+ Promoters and 3 Investor Relations firms
Robert Mintak has a long history of involvement with companies that invested in paid stock promotion to achieve temporary stock price highs, only to collapse shortly after promotions ended.
With that history in mind, the level of promotional activity we saw at Mintak's former companies was nothing compared to what we see at Standard Lithium.
Robert Mintak Quote In A Paid Promotion Piece: We're "Doing Real Work. We're Not Just Out Promoting Like A Lot Of Junior Companies Are"
In February of 2018, Robert Mintak claimed in an interview for the Ellis Martin Report that Standard is "doing real work. We're not just out promoting like a lot of junior companies are." (The disclaimer for the video shows that the interview was actually a paid promotional piece.)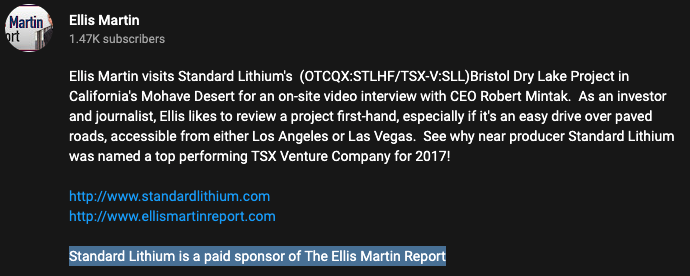 In a more recent December 2020 interview, he claimed that he doesn't even use an investor relations firm, despite Standard's filings showing that Mintak had actually hired at least three IR firms, including a notorious stock promoter.
June 2018: Standard Lithium retained 5W Public Relations for $12,500 per month.
October 2018: Standard Lithium extended its contract with stock promoter Jon Malach through his firm, Native Ads, allocating a total budget of C$500,000 for "digital media marketing services." Since the company has no revenue and no sellable product aside from its stock, we assume this budget included stock promotion.
January 2019: Standard Lithium signed a $180,000 agreement with LHA Investor Relations, which has faced some controversy. One of its directors had been charged with insider trading. LHA represented Spongetech, whose executives were arrested by the FBI, with the SEC alleging it was a "massive pump and dump scheme". LHA client Opko Health was also alleged by the SEC to have participated in pump and dump schemes. On December 14th, 2021, Standard Lithium announced it had renewed the contract for another $180,000 per year.
Standard Lithium has been featured in dozens of promotional articles, interviews, and research pieces. The great majority of these are paid promotional pieces.
Market Jar Media, owner of MicroSmallCap.com, was paid CAD $202,516 for a 64-day stock promotion campaign.Market Jar published multiple highly promotional pieces for Standard Lithium, one of which is copied below. [Compensation Disclosure]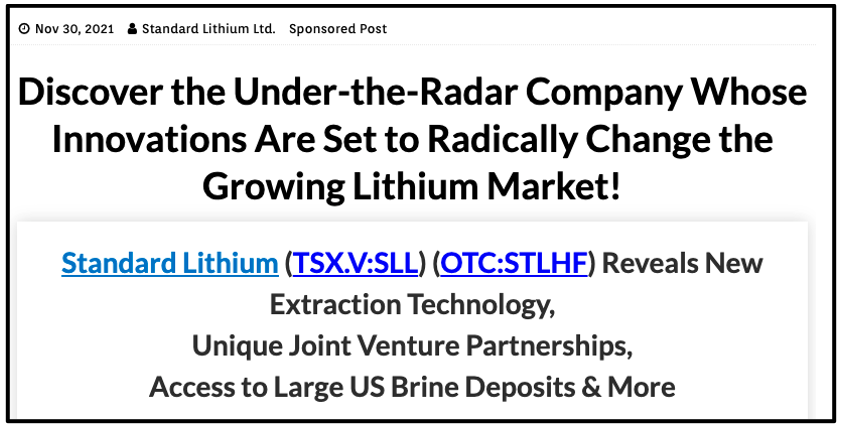 Crux Investor has featured Standard Lithium multiple times on its YouTube series, but neither Standard Lithium nor Crux Investor have provided a compensation disclosure. We contacted Crux multiple times asking about this, but the firm hasn't responded. Crux investor's legal disclaimer states "We have never, and will never, receive payment". Despite this, other companies like Giga Metals, First Mining Gold Corp, and Hot Chili Ltd. disclose payment to Crux Investor for investor relations and YouTube interviews. We suspect Crux may be engaged in undisclosed paid stock promotion.
GoldStockTrades.com is sponsored by Standard Lithium. GoldStock publishes pieces with titles like "Is Trump Sparking a Revival in US Lithium Sector?" which appear to be simply advertisements for Standard's stock, as disclosed at the bottom of each article. GoldStockTrades also produced favorable paid write-ups for Pure Energy Minerals.

Swiss Resource Capital published YouTube interviews with both Standard Lithium and Pure Energy Minerals. The firm was paid by both firms and owned shares in both firms. [Standard Lithium Compensation Disclosure, Pure Energy Compensation Disclosure,]
Standard Lithium's vast network of 15+ stock promoters also includes Market One Media Group, Rich TV, Baystreet.ca, Mining.com, Epstein Research, AllPennyStocks.com, Critical Investor, NetworkNewsWire, The Cantech Letter, InvestorIntel, FN Media, and Investing News Network.
These firms often publish what may appear to be unbiased stock coverage or financial news to the outside observer, but the fine print shows that the content is just paid advertising for Standard Lithium's stock.
Part IV: Evidence Of Undisclosed Insider Self-Dealing Through Acquisitions Of Opaque Shell Companies
Adding to our concerns about valueless technology, paid stock promotion and executive track record, we have uncovered what appear to be two undisclosed related-party land deals that occurred early in Standard's Lithium's existence.
Neither acquisition appears to have benefited shareholders, but each amounted to multi-million-dollar gains in cash and stock for the undisclosed middlemen. We strongly suspect these shares ended up with insiders and their affiliates.
Acquisition #1: A Land Option Agreement Bought Through a Newly Formed Entity Based Out of the Same Address as Standard's Predecessor Entity Worth ~$104 Million Dollars At Today's Prices
The Middleman on The Deal Was Closely Associated With The President of Standard's Predecessor Entity, An Individual Later Charged By the SEC For Helping Insiders of At Least 45 Public Companies Conceal Share Ownership & Dumping
Standard Lithium was formed in December 2016 through a reverse merger with oil & gas company Patriot Petroleum Corp.
In November 2016, two weeks before changing its name to Standard Lithium, Patriot announced that it had acquired an option to buy land from a newly-formed entity called TY & Sons Explorations (Nevada) Inc, which was formed by a Vancouver financier named Talal Yassin just three weeks before the announced option deal. [5] [6]
Yassin was a "major shareholder" of Patriot, according to an interview with Patriot´s former President, who was later charged by the SEC over allegations of fraud (more on that below).
This was unusual. If the company wanted to buy land or a land option in California, it could have just bought it itself. There was no obvious rational business reason why a company would use a newly formed middleman entity with opaque holders and a conflicted party to facilitate the purchase.
Furthering our suspicions, Patriot Petroleum and TY & Sons were based out of the same office suite at the time of this acquisition and until May of 2017, strongly suggesting this was an undisclosed related party transaction.[7] The office suite was owned by Talal Yassin, according to a phone interview with Patriot´s former President.

In payment for the land option, Patriot issued 14,000,000 shares to TY & Sons Explorations (Nevada) Inc, a stake that would be worth ~$104 million today. [Pg. 9]
Further evidencing the related-party connection, the same exact office suite (#918) at the same 1030 West Georgia Street address was the address of another investment entity called Orange Capital, per data sourced through local B.C. Licensing records. [1, 2] Talal Yassin was closely associated with Orange Capital, according to media reports, event documentation, and regulatory filings. [1, 2, 3]
Critically, Orange Capital was controlled by the former President of Patriot, an individual named Steve Bajic, per B.C. corporate records. Bajic was later charged by the SEC over allegations that he along with his co-defendants helped company insiders secretly dump large quantities of stock in at least 45 companies through the use of opaque entities. Assets frozen as part of that case included Orange Capital accounts.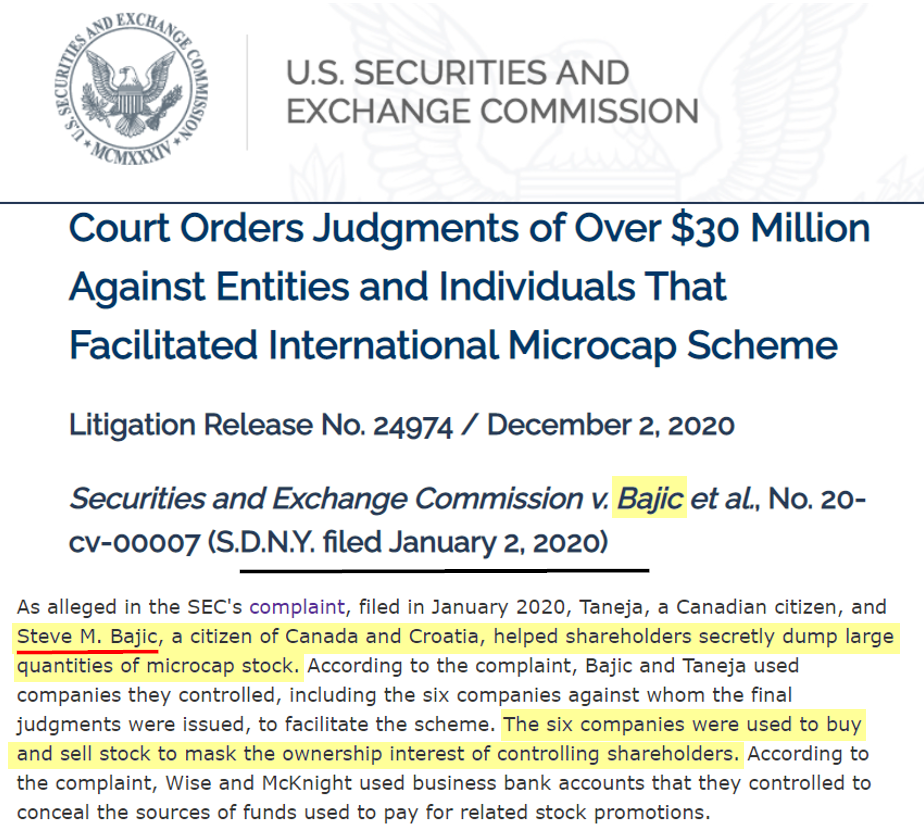 Per the SEC complaint:
"Bajic…used various offshore nominee companies to provide a layer of disguise to public company insiders or control persons, who intended to defraud investors by secretly dumping large quantities of stock" [Pg. 2]
We find it uncanny that the characteristics of the sketchy land "option" agreement that coincided with Standard's reverse merger fit the exact characteristics that were subsequently alleged to be a common scheme by Bajic, the former President of the company and close associate of the entity and individual running the deal.
Standard Lithium's office address continued to match TY & Sons into the summer of 2017, well after Patriot had gone through its transition and renaming to Standard Lithium in December 2016.
A former director of Patriot and early director of Standard Lithium at the time the land deals were being inked – described the DLE business in general as a "wild west". He refused point blank to answer questions about Talal Yassin but said:
"It was a shell…so I really have no insight because by the time it was going I had stepped off…But (the land deals) you´re describing to me is standard practice in the industry – just as buying a house and flipping it the next month and making a profit."
We believe the evidence points in one direction; that the land option acquisition was simply a way to transfer a large volume of shares to other entities controlled by Standard Lithium insiders or their affiliates.
Acquisition #1: The Same Company That Vended The Land Claims To Standard Lithium Did The Same Kind of Deal With Pure Energy Minerals, Robert Mintak's Lithium Company Immediately Prior To Standard Lithium
To find out more about what drove this transaction, we contacted the original owners of those land claims in California, a company called Nevada Alaska Mining, which had initially sold the assets to the middleman entity, TY & Sons.
Barbara Craig, one of the owners, declined to name the individuals she dealt with to negotiate the sale, citing client confidentiality. But she said she had longstanding relationships with her clients. Unprompted, she volunteered that it was not related to a promotion scheme:
"The people we deal with, we´ve always had a history of previous relations with. Most of the people we deal with we´ve had previous relations with. They´re legitimate and up to date and we don't deal with fly-by-night promoters."
A year earlier, Craig and her Nevada Alaska Mining Company signed a land options deal with Pure Energy for claims in Nevada, as per a corporate press release signed by Robert Mintak. Pure Energy was heavily promoted and now trades ~98% off its high.
And earlier in June 2009, the Nevada Alaska Mining Company had agreed to land options with Lithium Corporation, a heavily promoted lithium stock that involved former Standard Lithium director Bob Macdonald, former Patriot CFO Martin Bajic, and financier Talal Yassin. In short, this seems to be a well-established pattern.
Acquisition #2: Issuing ~$48 Million in Shares to Unnamed Parties in Exchange for An Opaque 1-Month Old Shell Company
Patriot Petroleum announced its official renaming Standard Lithium on December 1st, 2016. That same day, it signed an agreement expressing its intent to acquire mining claims through entity Moab Minerals (1093905 B.C. Ltd) and its subsidiary, 1093905 Nevada Corp.
At the time of its acquisition by Standard Lithium, neither Moab nor its subsidiary appeared to have any signs of an actual business aside from being a mere corporate entity. We found no online presence, no employees, and no obvious operations. Both entities had been formed around six weeks earlier. In fact, according to Standard Lithium, Moab's sole asset was a set of land claims in Utah:
"Moab holds the rights to the Paradox Project ("Paradox"), which consists of 2,175 placer claims, covering an area of approximately 43,335 acres, in the Paradox basin in Grand and San Juan counties in the State of Utah." [Pg. 6]
The company paid for Moab and its claims by issuing shares at a "deemed price" of $0.225 per share:
"In consideration for the acquisition of the share capital of Moab, the Company issued 6,850,000 common shares in the capital of the Company… [Pg. 6]
Acquisition #2: The Shell Entity Was Set Up By Patriot Petroleum/Standard Lithium Director And Lawyer Bill MacDonald
We found evidence indicating that this deal may have also been an undisclosed related party transaction. We checked the British Columbia corporate registry to find out more about who owned Moab Minerals (1093905 B.C. Ltd) and saw that a woman named Renata Kubicek completed the paperwork for the incorporation.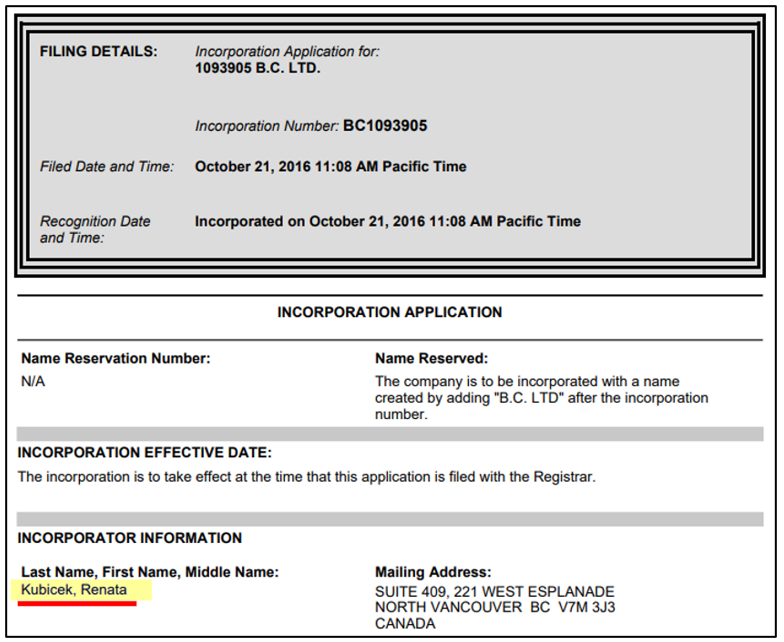 Kubicek was a paralegal at Macdonald Tuskey, the Vancouver law firm co-founded by William (Bill) Macdonald, a Standard Lithium director at the time the deal was announced.[8]

Further, Moab´s registered office was the same as William Macdonald´s practice, Macdonald Tuskey.

MacDonald Was Later Suspended For 2 Months For Misappropriation of Client Funds, And Is Reportedly Subject to a "Broad" Investigation By The B.C. Law Society Into Dealings With "Entities And Individuals Who Were Apparently Involved In Market Manipulations"
In July 2019, Macdonald was suspended by the B.C. Law Society for 2 months after admitting to misappropriating $1,977 from client trust funds. In May of last year, B.C. business publication BIV reported that the B.C. Law Society was investigating a firm and lawyer's possible ties to U.S. market manipulation.
The firm was unnamed, but records of the case reference the precise date and circumstances of MacDonald's suspension in 2019. [1, 2] Per the B.C. Law Society records, its investigation is focused on two issues:
"The auditor identified, among other things, that you may have allowed clients to use your trust accounts for the flow of funds in the absence of substantial legal services related to those funds and/or in the absence of making reasonable inquiries."
"In addition, there are concerns arising from your having acted for or engaged with entities and individuals who were apparently involved in market manipulations as determined by the Securities and Exchange Commission (the "US SEC")."
Basically, the law society is investigating allegations dealing with stock market manipulators and letting clients use trust accounts without any legal services related to their use, which may have been an attempt to hide transactions behind a wall of attorney-client privilege.
We interview Macdonald to ask about the transaction. He refused to answer most of our questions, citing attorney-client privilege, including basic questions such as whether he knew the Bajic's, who were very clearly his board & executive colleagues at Patriot Petroleum.
He said he had no ownership interest in the Moab entity or any directorship role and that therefore it was not a related party transaction:
"I think all we did provide for Moab was the legal incorporation services."
We asked if it was a mere coincidence that he, as director of Standard Lithium had incorporated the very entity that stepped in the middle of a land deal that the company acquired mere weeks later. He answered indirectly in convoluted fashion:
"I don't think I said in any way that it was coincidence." He later added, "I'm not saying that it was necessarily a coincidence."
Acquisition #2: The Original Entity That Staked The Land Claim Only Received 500,000 Shares, Per the Owner, Resulting In 6.35 Million Shares Handed to Unknown Parties
Through its purchase of Moab Minerals and its Nevada subsidiary, Standard Lithium acquired a series of Utah land claims that had originally been staked by a company called Plateau Ventures, according to a TSX Venture Exchange disclosure.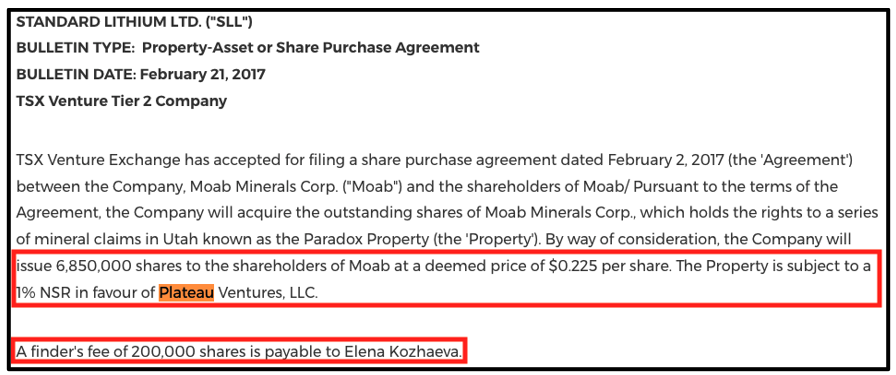 Under normal circumstances, the actual owner of the land would be likely to receive all of the shares in a deal for their own land. But we found that wasn't the case here.
When we contacted the owner of Plateau Ventures to ask who owned Moab Minerals, he suggested that Moab wasn't an independent company that Standard Lithium acquired, but a shell company set up by Standard Lithium purely to facilitate the acquisition of his Utah land claims.
"I believe Moab Minerals was held by a (numbered) company from Vancouver. It was an entity they put in place to facilitate the transaction if I remember correctly…I don't remember quite how they set it up as it wasn´t my part. I just staked the claims and transferred to Moab as required under the agreement."
The owner of Plateau Ventures said he only received 500,000 shares, and that the other 6.35 million shares likely went to "others inside the transaction."

Since the TSX Venture Exchange disclosure states that the 6.85 million shares went to shareholders of Moab, not Plateau Ventures or any other third party, this still leaves the remaining balance, worth ~$48 million today, unaccounted for.
Acquisition #2: Standard Abandoned the Claims and Wrote Off the Entire Project Just Months After the Moab Minerals Acquisition
We Suspect the Company Never Had Any Genuine Intention to Pursue The Claims, Instead Using the Deal As A Pretense to Facilitate Opaque Stock Giveaways To Insiders And Affiliates
Despite being Standard´s senior geologist and VP of exploration and development, Ray Spanjers said he was never instructed to inspect the oilfield brine claims in Utah.
"I did no work in Utah. I don´t really know when they got that…We talked about it initially but my work never materialized…"[9]
Just months after the acquisition, Standard abandoned the project entirely.
"On August 31, 2017, the Company dropped the Paradox Property and terminated the purchase agreement with the vendor. The Company recorded a write-off of mineral property of $8,441,085. The Company has no further obligations or liabilities in relation to the Paradox Property." [Pg. 3]
Part IV Conclusion: Between the Two Opaque Deals, A Stake Worth ~$152 Million At Today's Prices Went To Vancouver-Based Financiers With Ties To Standard Lithium's Leadership
When we explained these transactions to an individual who had worked with many of Standard's executives in the past (not at Standard Lithium), here is what we were told:
"I have zero knowledge of that transaction… [but] you are absolutely right to be suspicious of where that stock went. Trust me, somebody did well with that… that sounds really nakedly suspicious."
In short, at the outset of the formation of Standard Lithium, it appears that a network of serial stock promoters connected to the company's executives or directors teamed up to direct millions of shares to unnamed beneficiaries.
Part V: Standard Lithium's Partners—Key Pillars Of Credibility
Key Partner #1: Industry Stalwart Lanxess (Formerly Part of Bayer) Signed a Deal With Standard In 2018
It Has Gone Nowhere, While Standard's Flagship Arkansas Project Continues to See Delays
In May of 2018, Standard Lithium paid German chemical giant Lanxess $3 million for the right to explore lithium extraction viability at Lanxess' Arkansas facilities. Lanxess had long been extracting bromine from Arkansas brine, and this agreement allowed Standard to piggyback off of existing brine flow to test its DLE technology.
Later that year, the two companies signed a term sheet for a contemplated joint-venture. Under this agreement, Lanxess would fund a commercial-scale operation if Standard Lithium could provide sufficient proof-of-concept for the technology.
"The final terms of the joint venture and any funding arrangement remain subject to completion of due diligence, technical proof of concept, normal economic viability studies (e.g. Preliminary Feasibility Study etc.) to confirm the technical feasibility and economic viability of the project, and the negotiation of definitive agreements between the parties."
In the summer of 2019, Robert Mintak led investors to believe that Standard was close to finalizing this definitive agreement. In a presentation published on 6/21/2019, he told prospective investors:
"…by this time next year, we'll have a final investment decision at which point Lanxess will commit, if we're successful, to 100% of the project financing to go into production."
A year came and went, and then another.
Now, two and a half years later, Lanxess still hasn't agreed to fund the project.
So far, Standard has been unable to convince Lanxess of the project's viability, per Standard's recent September 2021 MD&A:
"The final terms of the joint venture and any funding arrangement remain subject to completion of due diligence, technical proof of concept, normal economic viability studies to confirm the technical feasibility and economic viability of the project, and the negotiation of definitive agreements between the parties."
This is exactly the same language that was used to describe the original agreement, signaling a lack of progress.
Key Partner #1: A Spokesperson For Lanxess Told Us Recently That Standard Still Hasn't Demonstrated Proof of Concept
These Statements Echo Lanxess' Executives Comments Over the Past Year
Lanxess is clearly considering multiple partnership opportunities, and more recent comments show that it isn't yet satisfied with Standard Lithium's "proprietary technology."
In the Q1 '21 earnings call on 5/12/2021, when asked about Standard Lithium, Lanxess CEO Zachert said:
"…we still have two areas where we will need to optimize from an engineering perspective… we know where the problem is, but the solution needs to be engineered."
In the Q2 '21 earnings call on 8/11/2021, he reiterated that Lanxess doesn't consider Standard's progress to-date as sufficient proof-of-concept:
"… we would only inject money once proof-of-concept from our perspective is fully there in all aspects."
In Lanxess' Q3 '21 earnings call on 11/6/2021, he didn't mention Standard Lithium at all.[10]
As of early 2022, a spokesperson for Lanxess in Germany told us that while they were optimistic, Standard had still not demonstrated proof of concept:
"The current status is that there's a demonstration plant on our premises in El Dorado, Arkansas, that´s working. And together with them (Standard Lithium) we´re working towards definitive feasibility and commercialization. There's still some steps to go and things to test out but we´re working on that. We don't have a timeline."
"There was a letter of intent so let's see how we work together once proof-of-concept is there. But first of all we´re completely focused on getting it done and see that it is definitely feasible. It's only a project and we´ll see what we can get out of it."
Lanxess' commentary contradicts Standard Lithium's 12/20/2020 press release, which stated that the company had successfully completed "proof-of-concept for modern lithium extraction" more than a year ago.
Part of the reason for Lanxess' cautiously optimistic tone may be its stake in Standard. Even though Standard has so far failed to demonstrate proof-of-concept to Lanxess, the German company is reaping an earnings bump thanks to Standard´s high stock valuation:
"The financial result for the third quarter of 2021 was minus €10 million, compared with minus €19 million for the prior-year period. The improvement in earnings resulted primarily from an increase in the fair value of warrants to acquire shares of the company Standard Lithium Ltd., Canada." [Lanxess Sept. 30, 2021 Quarterly Statement Pg. 6]
While Lanxess has not offered precise details about why it is not yet satisfied with proof-of-concept, mandatory records filed by Standard Lithium to the Arkansas Oil and Gas Commission show its pilot plant is operating at just a fraction of its boilerplate capacity and far from the 24/7 capacity boasted by corporate press releases. [See Appendix C for more detail.]
Key Partner #2: Koch's New Investment & Relationship With Standard
With the Lanxess relationship in a state of suspended animation, on November 24th 2021 the company announced a $100 million investment from Koch Strategic Platforms (KSP), an arm of the widely-recognized Koch Industries conglomerate. The deal and the associated credibility from Koch sent Standard's stock soaring ~22% in a single day.
KSP is a new division of Koch that planned to allocate $2-$3 billion in 2021 alone to "growth equity" investments.
The division announced a dizzying slew of deals in 2021 and early 2022, including SPACs, PIPEs, hot IPOs, private VC-backed tech (1,2), public secondaries, public convertible debt, and ESG investments in solar, EV Charging and multiple lithium deals including Standard. (1,2)
The deal with Standard came amidst this deal spree, with Standard promoting the "extensive due diligence" supposedly performed by Koch on the company's technology and demonstration plant.
We find this exceedingly unlikely, given the management and technology red flags hiding in plain sight as described earlier.
Conclusion: Standard Lithium Follows The Standard Playbook of Vancouver Promotion Schemes
In 1989, Forbes reported that Vancouver was the Scam Capital of the World. We don't believe much has changed.
We've seen this pattern over and over again:
A crew of seasoned stock promoters surreptitiously accumulate shares in virtually defunct company.
Slap together a pretense of intellectual property (some patents or even patent applications will do).
Hire some firms who will paint a rosy technical picture.
Promote the stock to the moon, billing the company as the holy grail of the field.
Try to rope in some partners to burnish credibility.
"Rug pull" the whole thing and chalk up the failure to the difficultly of commercializing new technology.
Finally, reverse merge (or SPAC) into the next hot sector and start all over again.
With its army of promoters, a couple of partners to confer credibility, and the benefit of a hot sector, Standard Lithium has soared to a $1.2 billion in market cap without having generated a dime in revenue. We do not expect its lofty valuation to last.
Appendix A: Robert Mintak´s Track Record in Public Markets
Appendix B: Standard Lithium's Paid Stock Promotion Network
Appendix C: Figures Obtained Through FOIA Indicate That Standard Lithium's Pilot Plant Is Operating Well Below Its Hoped-For Capacity
Lanxess has not provided further detail about why Standard has so far failed to produce a suitable proof-of-concept. A look, however, at some of the figures from Arkansas state regulators may provide some clues.
According to the figures to date, Standard has operated at just one-third brine throughput capacity and has produced only kilos (not tons) of lithium carbonate – a major divergence from the company´s statements about its pilot plant´s boilerplate capacity.
In its May 2020 press release, Standard Lithium announced its pilot plant in El Dorado, Arkansas, had been commissioned and was operating 24/7. The company repeated that claim in its corporate video in July 2021. In that same video, Standard claimed the plant could process 50 gallons per minute of brine or 11.4M3 per hour and produce 100-150 tons of lithium per year.
Standard Lithium does not appear to include details of throughput and production at the Arkansas pilot in its financials. But it is obliged to file quarterly reports with the Arkansas Oil and Gas Commission (AOGC). We contacted a legal representative at AOGC to clarify the information in those reports.
Statistics filed at the AOGC by Standard Lithium show that in Q3 2021, the last figures available, the company processed 2.17 million gallons of brine. That is equivalent to ~8,239 m3 during the quarter or an average of ~91.5 m3 per day – equivalent to just 8 hours operation and far short of its "24/7" operational targets.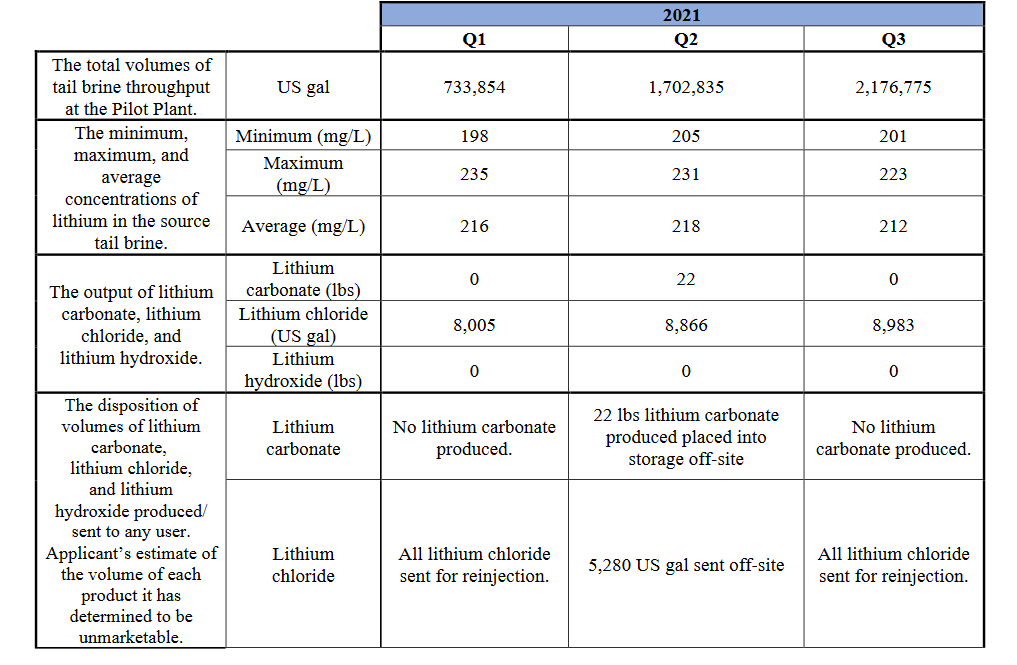 Details of actual lithium production and especially lithium recovery rates appear to be more difficult to calculate and were the subject of controversy in November 2021.
Legal sources at the AOGC have told us there was a "big dispute" but since then, Arkansas state attorneys, the AOGC and Standard Lithium and Laxness have now clarified what details need to be reported regularly.
The source told us:
"Ultimately under AOGC jurisdiction, our interest and concern is making sure that the royalty interest owners are properly compensated for whatever has been produced… Anything that you´re going to retain of value that´s going to require some type of consideration for the royalty owners, needs to be included in those reports."
When asked if the figures shown in the quarterly reports as gallons of lithium chloride solution or pounds of lithium carbonate was the total processed and retained on the surface by Standard Lithium, the source said:
"I would say yes that´s a good way of clarifying it. It´s what those companies, because they work together Lanxess and SLI, but the amounts that are retained for various reasons, for quality, for sampling, for shipping off to Canada and other things."
In the reports, unspecified volumes of lithium chloride are stated as being reinjected into the brine aquifer. And in the entire 1-1/2 year operating life of the pilot plant just 66 pounds of lithium carbonate (30 kg) has been retained along with 9,840 gallons of lithium chloride of an unspecified concentration. Some of that solution may or may not account for the lithium carbonate produced.
In all respects, however, these figures amounting to dozens of kilos of lithium carbonate and equivalent are far short of the plant´s boilerplate capacity of 100-150 tons.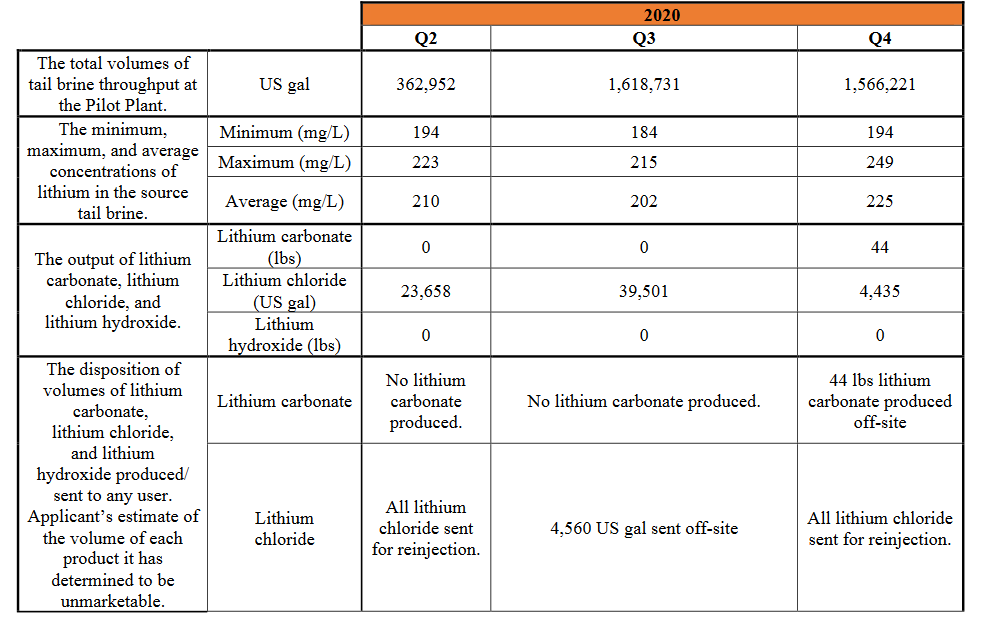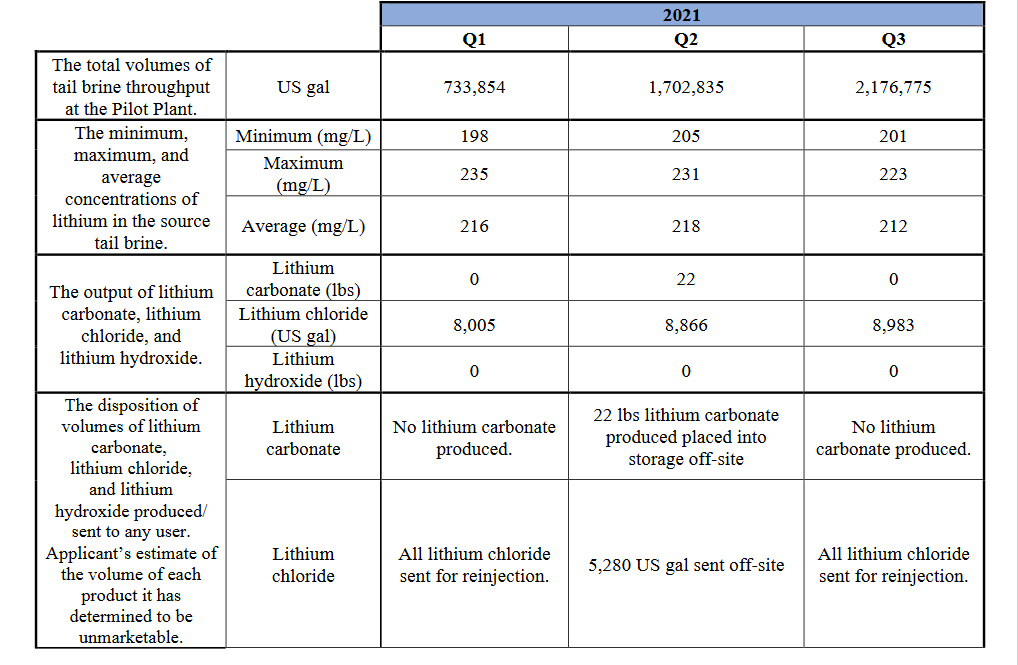 Appendix D: DLE Lithium Projects Have a Track Record of Failure
As detailed earlier, DLE is extremely challenging to commercialize.
U.S.-headquartered Livent, a major lithium producer, claims to be the "only lithium producer in the world with a successful, multi-decade track record of using a DLE technology process on a commercial scale." It purchased a series of Dow DLE patents in the late 1980s and 1990s, and uses a version of DLE, known as selective adsorption, at its high lithium content deposits in Argentina. [Pg. 21]
But even with that experience, Livent appears to have doubts about new generation DLE in North America, pulling out of a deal in late 2020 with Canada´s E3 Metals to develop new ion exchange DLE technology.
The NREL has highlighted the cost and usage of sorbents needed in DLE as among the major technical challenges and cost concerns. Careful management of the reinjection of lithium-depleted tail brines into aquifers in order to preserve commercial concentrations of resources is also regarded as a key concern.
Here are a few examples of companies that have raised money based on DLE hopes, only to fail.
In 2016, MGX Minerals (CSE:XMG) announced it would build a direct-lithium-extraction pilot plant in Alberta. The stock price peaked at $2.75, but by July of 2020, the company still hadn't sold any lithium or generated any revenue. [Pg. 9] The stock trades at less than ten cents today.
In 2011, it was reported that startup Simbol Materials would turn the U.S. into a "Lithium Production Powerhouse" with a new direct-lithium-extraction process. After burning millions of dollars in venture capital, Simbol fell apart, firing most of its employees and ceasing operations. [Source]
All told, DLE projects are plentiful but have an overwhelming track record of failure.
Disclosure: We are short shares of Standard Lithium, Ltd. (NYSE:SLI)
[1] Albemarle has the only commercial-scale lithium operation in the U.S. at Silver Peak, Nevada. Production is via conventional evaporation ponds.
[2] The application numbers are 16/224463, 16/410523, and 16/895783.
[3] Patent application 16/895783.
[4] Pure Energy´s process was based on Tenova´s LiSX technology – a variant of the solvent exchange (SX) method of DLE using liquid solvents. Meanwhile at Standard Lithium, Mintak, Robinson et al. have now switched their focus to a DLE methodology using solid sorbents (lithium ion-sieves).
[5] According to its financials, Patriot had signed the letter of intent to purchase the claims from TY and Sons as early as July 7, 2016. [Pg.4] TY and Sons Explorations´ (Nevada) had been incorporated just three weeks prior on June 13, 2016. TY and Sons had acquired those options – 55 mineral claims in San Bernardino, California – from family-run mining services company Nevada Alaska Mining. The Diggings, an online registry of land claims, shows Nevada Alaska Mining registered the San Bernardino claims between July 6 and July 17, 2016 – suggesting TY and Sons and Standard had signed their letter of intent before all the claims had even been staked and registered.
[6] The land acquisition was announced two weeks before Patriot Petroleum officially changed its name to Standard Lithium on Dec. 2, 2016. The announcement came two weeks after Patriot shareholders had agreed to the change in a Nov. 3, 2016 assembly.
[7] Another Yassin entity, TY International Corp, had been operating out of that address since at least 2008 according to Nevada corporate records. The address served as one of Patriot's registered offices since at least 2011.
[8] As previously noted, Bill Macdonald was also legal counsel for Lithium Corporation, a stock promotion where both Talal Yassin and Martin Bajic were involved.
[9] Spanjers continued, saying, "The one in Utah (the Moab Minerals property) was going to be fairly expensive. You have to go in and refurbish the wells. They sit for a while and they can be plugged. Paraffin builds up, they have to watch for hydrogen sulfide and a lot of things can go wrong with those wells. They were very deep wells too so just getting to the point where you take samples would be very expensive and potentially dangerous."
[10] In May of 2018, Standard Lithium entered into a separate agreement with TETRA Technologies to conduct exploration work on TETRA properties in exchange for $2.7 million in cash and 3,400,000 shares. [Pg. 6] On November 18, 2021, TETRA announced it had sold over 90% of its Standard Lithium stock.
Legal Disclaimer
Use of Hindenburg Research's research is at your own risk. In no event should Hindenburg Research or any affiliated party be liable for any direct or indirect trading losses caused by any information in this report. You further agree to do your own research and due diligence, consult your own financial, legal, and tax advisors before making any investment decision with respect to transacting in any securities covered herein. You should assume that as of the publication date of any short-biased report or letter, Hindenburg Research (possibly along with or through our members, partners, affiliates, employees, and/or consultants) along with our clients and/or investors has a short position in all stocks (and/or options of the stock) covered herein, and therefore stands to realize significant gains in the event that the price of any stock covered herein declines. Following publication of any report or letter, we intend to continue transacting in the securities covered herein, and we may be long, short, or neutral at any time hereafter regardless of our initial recommendation, conclusions, or opinions. This is not an offer to sell or a solicitation of an offer to buy any security, nor shall any security be offered or sold to any person, in any jurisdiction in which such offer would be unlawful under the securities laws of such jurisdiction. Hindenburg Research is not registered as an investment advisor in the United States or have similar registration in any other jurisdiction. To the best of our ability and belief, all information contained herein is accurate and reliable, and has been obtained from public sources we believe to be accurate and reliable, and who are not insiders or connected persons of the stock covered herein or who may otherwise owe any fiduciary duty or duty of confidentiality to the issuer. However, such information is presented "as is," without warranty of any kind – whether express or implied. Hindenburg Research makes no representation, express or implied, as to the accuracy, timeliness, or completeness of any such information or with regard to the results to be obtained from its use. All expressions of opinion are subject to change without notice, and Hindenburg Research does not undertake to update or supplement this report or any of the information contained herein.
---